Bofrost Cup On Ice 2003
Part 2
Text by Joy and Mireille Geurts
Photos © Joy

Next to show their jumps and throw jumps were the pairs, starting off with a throw triple and ending, for the winners, with a combination of a triple axel and a double jump.




Suddenly the presentation was, additionally to only German, also in English. We got an explanation what a throw jump is: "The guy throws the girl up in the air and doesn't catch her when she comes down." Thus the first level was a triple toe. Level two was another triple throw. Level three a side by side double axel and other double jump. Level four was a side by side triple-double combo and level fiveconsisted of a triple twist lift.
On first level Julia Obertas & Sergei Slavnov (RUS) and Elizabeth Putnam & Sean Wirtz (CAN) got a perfect score. The one from the Canadians was "so high that you could walk underneath it" (of course according to the MC). Second level was a hard one. The German couple Rebecca Handke & Daniel Wende didn't make it, just like their countrymen Eva-Maria Fitze and Rico Rex who really crashed. They seemed hurt after this… Elizabeth & Sean got a perfect score again!




Third level and 3 couples left. Unfortunately the so far so perfectly scoring Canadians didn't make it (only 9 points) and had to say goodbye. At the next level Julia and Sergei had two disastrous attempts and got no more then 1 point. So only the other Canadian couple Valerie Marcoux and Craig Buntin made it to the last level.  They had already won of course, but still did very good with a triple twist lutz worth 17 points.
By the way: the announcer advised the audience to "not try this at home".
So numbers 1,2 and 3 here respectively were Marcoux/Buntin, Obertas/Slavnov and Putnam/Wirtz.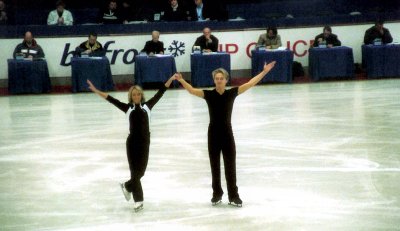 The pairs had their little victory ceremony as well. For the tiny person Julia is, the bouquet of flowers they got there was too big for her. She was really unstable under the weight of it and wobbled a bit¬Ö
They also got the opportunity to speak out:
*** QUOTES *** STIMMEN ***Pairs Jumps/Elements
Valerie Marcoux/Craig Buntin (CAN), 1st: ¬ĄThis is my first start in Gelsenkirchen, Valerie is here for the third time already. We like the German audience and the reaction of the spectators give proof that they like the jump competition. We skaters like this competition anyway." (Buntin)
Julia Obertas/Sergej Slavnov (RUS), 2nd: ¬ĄWe're a bit disappointed that we've been eliminated so early. We like this event with a combined jump competition and free skating." (Obertas)
Elizabeth Gale Putnam/Sean Wirtz (CAN), 3rd: "One can't compare free skating and a jump competition. They're totally different but they complement each other to form an interesting competition." (Putnam)
Rebecca Handke/Daniel Wende (GER), 4th: ¬ĄThe judging system is very tough. We had presented a relatively good throw, at least for us, but I touched the ice with the second foot. Unfortunately the judges are really tough. We would have liked to present the other jumps as well. This event is also good for the spectators because the speaker explains everything in detail." (Wende)
Eva-Maria Fitze/Rico Rex (GER), 5th: ¬ĄThe jump competition is progressive, more youthful than the other programs. This is why I like it. " (Fitze)

Of course there was a break to resurface the ice. At this point the audience cheered and clapped for the Zamboni¬Ö
Finally for tonight the men were up to show their tricks. We (the audience and the presenter) all got a fright when the music suddenly started. It got way louder then before. Maybe they tried to keep the audience awake, because it was such a long night but there was absolutely no need for that!
Participating where Jeffrey Buttle (CAN), Stefan Lindemann (GER), Kristoffer Berntsson (SWE), Tomas Verner (CZE), Gregor Urbas (SLO), Alexei Vasilevski (RUS) and Silvio Smalun (GER).
Their first task was to jump a triple loop, flip or lutz,
Unfortunately Alexei and Tomas didn't make this level. All remaining men made next level, a triple ¬Ė triple combo. Not all perfect, but good enough. Kristoffer jumped so close to the boards, we were wondering if he could get any closer without crashing into them¬ÖThe next level, triple axel, was deciding for Kristoffer. Alas he didn't land it well enough and fell on his second attempt.
Level four was a triple axel combined with a triple toeloop. Goodbye here to all, remaining only Stefan. It was hard for the MC to say goodbye to Germany's own Silvio, and he did that with a grumble. Lucky for him his other countryman Stefan had undoubtedly won! Stefan even set a new personal and national record by landing a quad in a competition for the first time in his career and being the first German to accomplish this!
Second in the men's jumping event was Jeffrey Buttle and third Tomas Verner. And of course a victory ceremony couldn't be missing here.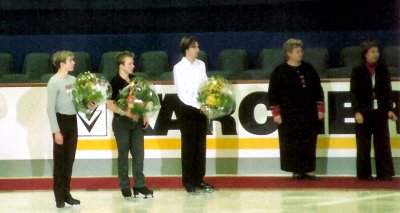 And naturally a press conference for them as well:

*** QUOTES *** Men Jump Competition

Stefan Lindemann (Erfurt/GER), 1st:"We're able to fully concentrate upon our jumps. We don't need to integrate them into a program. For me it's the most difficult part to do just that, incorporating those jumps in my programs. With such a jump competition I can present them without being under pressure."

Jeffrey Buttle (CAN), 2nd:"Even though the atmosphere during this jump competition is rather relaxed it still is competitive. I wanted to finish in first place tonight but it didn't work out."

Gregor Urbas (SLO), 3rd: "I like this jump competition and the fact that every skater gets a second chance. I believe that this competition will have a future, it's more than just an alternative to the usual short programs."

Silvio Smalun (Oberstdorf/GER), 4th:"It really is an interesting competition. Some of the parts are too long though. It's a pity that I didn't make the fourth round since I wanted to present the quadruple ¬Ė this is my personal aim."

As stated in earlier quotes, all elements were shown on a video screen, so the audience wouldn't miss a thing. However this didn't always work the way it was intended. Some jumps were shown one time, some two; it wasn't really consequent. Also cause of hilarity was the fact that the lights were supposed to go off during the repeats on the screen and come on again for the next try or skater. Indeed, supposed to... it didn't really happen all the time: sometimes the lights weren't turned off at all, or too late, or they weren't turned on again. Sometimes confusing and mostly worth a good laugh, not only for the audience but for the skaters and announcer as well.
Another fun thing was the showing of the marks. Some of you might remember the time and age before computers and screens. The members of the jury then had to show their marks by holding up small score cards in the air. The showing of marks for the elements during the jumping event were executed in the same manner, even using the original score cards from the 1932 Olympic games.

The entire night went by really fast and it seemed like one big party on the ice. Most skaters were very relaxed and seemed to have a lot of fun. Especially remarkable here was Jeffrey Buttle, who wore such a big, infectious smile, it had us all smiling as well. The overall atmosphere in the audience was very good: everybody seemed to enjoy and having a blast. And the audience was very obedient as well, when the announcer said "clap" or "cheer" or "yell something", the audience clapped, cheered and yelled. Luckily he didn't give instructions to jump or something like that...
So to return to the earlier question: "must we like it?" The answer is definitely "yes!"
Especially because of the whole atmosphere of the competition and the way the organization and the announcer brought it to the audience. It was absolutely worth your while to go there and by any means recommendable if this event will continue to exist.
The continuing parts of the Bofrost Cup on Ice were the usual competition elements, like everybody knows. The rest of the contest was also a lot more serious, instead of the fooling around and playful atmosphere we experienced that Friday night. Still it was a great time being there for the rest also.
The press information centre gave some remarks as well about the start of this event:
Gelsenkirchen spectators with good response to jump competition
Gelsenkirchen (pps) The world première of the combined jump competition and free skating has mastered the "compulsory". At least according to the spectators. This is the result of a survey, carried out by Sonja Engelke of the local radio station "Radio Emscher Lippe (REL) during the ladies' jump competition at the "bofrost Cup on Ice" in Gelsenkirchen. "Spectators who are visiting a figure skating event for the first time do not have a comparison but they are quite taken with the jump competition." But even the "insiders" among figure skating fans agree. Engelke: "Though they believe this competition to be a bit unusual, they still find it interesting."
*** Previously published by Europe on Ice