Bofrost Cup On Ice 2003
Part 3
Text by Joy and Mireille Geurts
Photos © Joy
Saturday's competition began with the pairs free program. Unfortunately it started with an announcement about Eva-Maria Fitze and Rico Rex:
"German champion-pair Eva-Maria Fitze / Rico Rex have withdrawn after the jump competition on Friday night. Their results in this part of the competition lay in the fact that Rico is still suffering from effects of an injury he sustained at the 'Nebelhorn Trophy' early September in Oberstdorf. After they fell during the Jump competition, they didn't feel sure enough for the free program. The strain on the male partner for thrown-elements weights so heavy that he should be absolutely fit."
This left the first couple Rebecca Handke and Daniel Wende to be the only pair in their warm-up group. Somebody sitting next to Daniel Weiss, who was commenting for the German television, introduced all the skaters in this part of the contest. However, this was just an ordinary introduction, stating who he/she/they were and from which country they come and was, unfortunately, not near as amusing as the way the MC previous night made it to be.
Since there were now only 4 couples left, this part of the day was over very quickly. The ranking order remained the same as after the jumping contest.
Vic Ceremony (held later)
*** QUOTES ***Pairs***
Valerie Marcoux / Craig Buntin (CAN), 1st: "Somehow we love to skate in front of German spectators. They really give us a lot of support. At the beginning of this season we started practising with a new coach and this has been a great step forward. We're hoping to qualify for the Olympic Games. I think we should pay some German spectators to cheer us on during our Canadian nationals." (Buntin)
Julia Obertas / Sergej Slavnov (RUS), 2nd: "We didn't show our full potential today, perhaps 50 percent of what we can do." (Slavnov)
Elizabeth Gale Putnam / Sean Wirtz (CAN), 3rd: "We're quite happy with the result. Presenting the spins and jumps we made some minor mistakes. The marks were okay. We will work on it in the next weeks." (Wirtz)
Rebecca Handke / Daniel Wende (GER), 4th: This was our third competition within two and a half weeks, our first large one ever. It's already fantastic to skate for a home crowd. I think we came through well. Hereby you must also consider that we only heard on Tuesday that we were to start here in Gelsenkirchen. Within three days we had to make our program 30 seconds longer, which wasn't easy. Now we're focusing on the German championships in January in Berlin, where we want to be right at the top. After that follow the Junior WC in The Hague. " (Wende)

Next up was the men's free program. Stefan Lindemann won this convincingly. Jeffrey Buttle remained second just as he was after the jump element. The rest of the results are, from 3rd to 7th: Silvio Smalun, Kristoffer Berntsson, Gregor Urbas, Tomas Verner and Alexei Vasilevskiy.
Vic Ceremony (held later)
Of course they had to speak out in a press conference as well:
*** QUOTES *** Men ***
Stefan Lindemann (Erfurt/GER), 1st: 'Tm so happy that I was able to present a clean quad in my program and I hope that this mental block I had will now be history. Compared to my performance at the Grand Prix event 'Skate America' I'm pleased with today's presentation. To be honest, I've really waited for a competition as the one here in Gelsenkirchen. Hopefully I can show a similar good performance at the Grand Prix event in Paris. The jump competition was a lot of fun for all of us."
Jeffrey Buttle (CAN), 2nd: "Unfortunately I've made same mistakes today. I've had two very good competition days here in Germany; especially the jump competition on Friday was fun. I'm sure that this kind of event has a future. My goal for this season is a rank among the best eight, perhaps even six best skaters at the World Championships in Dortmund."
Silvio Smalun (Oberstdorf/GER), 3rd: "I'm quite happy with my performance but, of course, I have to improve until the German national championships. Today I missed some jumps, among others the triple-triple combination. My next competition is the Grand Prix in Moscow and then the German nationals. However, I'm giving all my attention to the Worlds in Dortmund"
Last to skate a free program on Saturday were the ladies. Most changes in ranking between Friday and Saturday were here. Just two of the girls kept their ranks as they were after the jump element, namely Susanna Pöykiö (2nd) and Denise Zimmermann (6th and last). Joannie Rochette grabbed first place, coming from 4th. Julia Sebestyen improved from 5th to 3rd, Carolina Kostner had to settle for 4th and Elina Kettunnen took 5th place.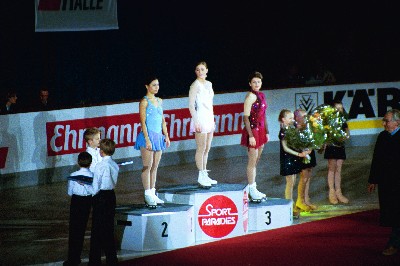 Vic Ceremony (held later)
They also spoke a few words:
*** QUOTES *** Ladies ***
Joannie Rochette (CAN), 1st: "It wasn't a perfect performance but much better than at Skate Canada last week when I finished in tenth position. I didn't have much time practising between Skate Canada and the 'Bofrost Cup on Ice' and this is why I'm quite pleased with my performance here."
Susanna Pöykiö (FIN), 2nd: "I'm disappointed because I know that I can do better. It was a long day and I had problems keeping focused. And then, being on the ice, I couldn't concentrate."
Julia Sebestyen (HUN), 3rd: "I had same problems with the order of jumps in yesterday's competition. The loop isn't my best jump anyway but it was third on the program. However, I presented a clean loop in today's free program as well as five triple jumps. This makes me rather optimistic. Now I'll focus on the European championships back home in Hungary and hopefully I'll be able to qualify for the Worlds in Dortmund. I have some very good memories of Dortmund; the 1995 Europeans were my very first international senior competition. I was 14 years old then."
Denise Zimmermann (GER), 6th: "I was very excited, but on the ice I'm always much more sure of myself. I'm happy to have been allowed to skate here, being a junior. It was a good experience."
Saturday's last and Sunday's first event were the ice dancers with respectively the original and free dance. In the Bofrost Cup on Ice there was no Compulsory Dance.
This year's OD is the Swing-combo, which contains lots of entertaining music, so it isn't hard to clap along and cheer for the skaters. With this kind of music you have several little parties on the ice, which makes it quite enjoyable to watch.
Although Kati Winkler fell during the OD, the German couple Winkler/Lohse still received the highest marks. Canadian Dubreuil/Lauzon came second and Faiella/Scali from Italy placed third. In prolongation of what was started by the jump competition, a small victory ceremony was held. Except... after the jump elements the ceremony was held on the ice, but now the podium was used. Well, it was on the ice anyway, after having served the final ceremonies for the other disciplines.
*** QUOTES *** lce Dance - Original Dance***
Kati Winkler (Berlin/GER), 1st: "We started info the Original Dance rather relaxed. It's a pity that I was stuck with the blade and stumbled. That's bad luck. Tomorrow's the free dance and until then the tiny mistake is surely forgotten."
René Lohse (Berlin/GER), 1st:"Everything went fine, with the exception of this tiny mistake. Now we know that we have to pay attention to this sequence in the future. We have shown a good original dance even though it was a bit flawed by the mistake."
Marie-France Dubreuil / Patrice Lauzon (CAN), 2nd: "Of course we've already shown better performances but on the whole we're quite pleased. Tomorrow we want to give our best. Our next competition is the "Trophée Lalique" in Paris" (Lauzon)
Federica Faiella / Massimo Scali (ITA), 3rd: "We're happy. This is our third competition after the national championships and Skate Canada. Today's performance was our best so far." (Scali)
*** Previously published by Europe on Ice
Copyright © 2004 - 2018, Absolute Skating
All rights reserved.