The great skating talents of Belgium
Part 1
Text by Magdalena Osborne and Mireille Geurts
Photos © EMJO and Joy

Figure skating is certainly not the most popular sport in Belgium where soccer and tennis rule, and like in so many other countries, skating lacks sufficient support and funding. But not all is lost. Glimmering in the sky are already star and six time Belgian champion Kevin van der Perren and his coach Vera Vandecaveye. And young hope-for-the-future Ruben Blommaert received a golden opportunity to display his talent in the "Stars on Ice" shows in Antwerp last November.
| | |
| --- | --- |
| Ruben arrived at the Sportspaleis with his mother, and we watched him taking the ice to practice with the big stars. He was doing a solo spot and a number with Kevin. They interacted with such ease and seemed to have a blast together and we wanted to know more about this young skater. We asked Kevin to let Ruben know we wanted to see him, and Kevin told Ruben to put his shoes on and climb from the ice over the boards and iron gates that separated us! Luckily he didn't have to make that climb, we later found each other anyway and Ruben turned out to be as natural off the ice as on. | |
Coming from a family of 4 children, he chose skating while his older sisters were busy with horses and swimming, and his twin brother is an active ballet dancer. At the time of the Antwerp shows he also had performances, so the parents took turns watching their boys. Luckily both boys had 2 days of performing so the parents could see them both, they just didn't get to watch each other.
Ruben started skating at the rink in Brugge and was coached together with Kevin by Linda van Troyen. But she recently left Belgium and Ruben found another coach in Sylvie De Rijcke. And Kevin still helps him out when they train at the same rink.
Ruben is a novice skater and has already won the Belgian novice champion title. The 2005 Belgian championships were held the week after Stars On Ice and he won again! He's a busy man but between practice sessions he had time for a chat with Mireille.
How did you get into skating?
I started skating when I was 6 years old. I liked watching it on TV but I also liked skiing. I live in Brugge and there is a skating rink there but no ski slopes so I ended up choosing skating.
How did you feel about being invited to skate with the Stars on Ice?
I was really honored and very thrilled to get the chance to skate with all these great people! They have all been World and Olympic champions so I really enjoy being able to share the ice with them. I will skate my short program but also a special program together with Kevin van der Perren.
Who is your skating idol?
Kevin of course! He has great jumps and combinations and I can learn a lot from him. I feel very honored to skate with him again. I used to train with him when we were both coached by Linda van Troyen. But then he moved to the US to skate with Morozov and I went on to Sylvie, she coaches at the rink in Gent, which is the closest to Brugge. Kevin is still helping me a bit too, helping me with difficult parts and correcting my mistakes. I really enjoy having such a great skater teaching me.
What is your biggest dream in figure skating?
My biggest dream is to be just like Kevin and Stefan Lindemann and achieve good placements at the European and World championships. I would really dig that.
Then he's off again. At the tender age of 12, Ruben is already an accomplished show man and charmed the audience with fast footwork, jumps and unbeatable charisma. He was enjoying himself and was cheered on by the crowd who loved his performances.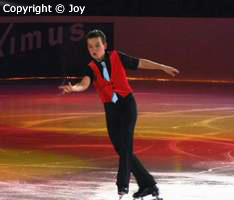 Seated on the stands watching the SOI practice sessions was also Vera Vandecaveye, Kevin's coach. The shows were only a week before Cup of Russia where Kevin was scheduled to compete and the two had been working very hard to prepare.
"Kevin has had such a busy schedule this fall with competitions in Europe and then Skate Canada and now these shows and Cup of Russia. Then there are Europeans and Worlds and more shows. It's been very hard on him but we'll see what he can do."

Kevin's participation in the show last year was such a success that somewhere between competing and battling injuries he now found the time to return.
"Kevin did these shows in Antwerp last year, and already in May he was asked to do them again. About a month before the shows we decided he would skate his short program. The second program, the Matrix, was Kevin's own idea. He told me he wanted to skate to that music, but since Joubert did it last year, he needed to do something different so he came up with the chase and the police sirens. Kevin's short and long programs were choreographed by Morozov, but the Matrix he made on his own with a few tips from me. In practice he's always trying new things to music."
A future choreographer?
"I think he would like that, yes! He has an exciting project going, he's putting a show together for his club and it's a very good experience for him. It's the Lion King and it'll be held in May."