Salomé Brunner – Queen of grace
Part II
Text by Magdalena Osborne
Photos © EMJO & CĂ©line Oreiller
Speaking of Stéphane, I had to ask how she ended up in his camp, and she didn't mind one bit talking about him and Peter Grütter.
| | |
| --- | --- |
| | "Back when I was a skater, Peter was already a coach and he was also a good friend. He's a very special and sensitive coach; he always knows what to say at the right time. We've had many years of friendship. And he is good friends with Chris and Jayne and helped me get on their tour. I think he had in mind that when I came back from the tour I would do the choreography for his students. Well, when I came back I started coaching in Zürich, I was like a normal skating teacher. I did that for a few years, but it didn't feel right. Then Peter invited me to work with his students as a choreographer at holiday camps and things for a week, sometimes two weeks at the time, and that's when I met Stéphane. That was back in 1996 and he was quite little then, only 11. And ever since then I've made his programs." |
His Truman-program from last season was changed before going to Moscow, and I found out what brought that on:
"Stéphane had this fascination with the Truman music back in June of last year. We made the program and then he was injured and didn't perform it much. Before the Swiss Nationals in January, he told me he would only use the Truman-program for the Europeans and then no more, because the Truman theme was over for him. The Nationals didn't go well and he wanted to perform Truman better at Europeans, and then replace it. The theme had fascinated him in June, but then it didn't feel right for him anymore.
| | |
| --- | --- |
| | After the Europeans we had one week of Art on Ice shows in Switzerland, and during the days we listened to music like mad. Since we both worked in the show we had this time together, and during that week we decided that King Arthur would be his new program, and it was created in the first part of February. But you know, he's already getting bored with it, so he will have new free programs for next season. A skater at his level can't come back the next year with the same program, people will want something new." |
King Arthur was certainly great and now fans are dying to know what he will come up with next, but at the time not even Salomé knew for certain.
"He has picked out the music and has the feel of it. He knows where he wants to do what element, he has a vision. For certain parts of the music he has a certain idea. I don't know how far those ideas have come yet, but once we get on the ice together we can work it out. When he was on the Champions on Ice tour, he said he did nothing else during the days but listen to music. He listened to many different styles and he picked the music for both his programs. He will have at least three new programs for this season, one short and two long, or maybe even two short programs also, we're not sure yet. He sent me a message from the COI tour saying that he was looking forward to start working again. After the tour, he took two weeks of vacation and now he's getting his mind together for working. He's excited about preparing for the Olympics, but it's a long and demanding season! Stéphane should do his Grand Prix events, and he will as long as his body allows him to, but there's also the final and Europeans, the Olympics and Worlds."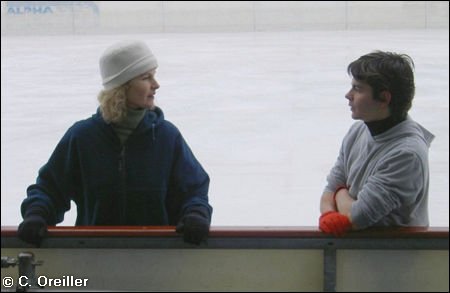 The commotion around Stéphane since he became the World Champion, which for some was totally unexpected, was overwhelming, but Salomé managed to remain calm.
"I never thought about his potential in terms of medals, but I knew he was a very passionate and also impatient skater, which is good and bad. It works like a motor and keeps you going; but it can also be bad because it can be destructive. A lot of pressure can build up and then nothing feels like it's possible to achieve. On the other hand, if you are too patient with yourself it gets too comfortable and no progress is made."

Since the other two medalists didn't have quads, I asked her opinion on that and of the Code of Points.
"Actually, I didn't think about the others not doing quads, not at the time. I was so concentrated on Stéphane and didn't notice much of what was going on around him. Afterwards I had to watch videos to see what the other skaters did. But the preparation time before a performance is very demanding, and with Stéphane I need to be there 100%. The men's competition was a bit strange anyway…
| | |
| --- | --- |
| We spent a lot of time last year, trying to figure out the Code of Points, and which moves get higher points. It's a complicated system, especially with the spins, and in the end it doesn't make much sense. Some skaters can do a very slow, ugly spin, but still get level 2, and some have fast and beautiful spins and only get level 1. But I don't think this new system made such a big difference, at least that was Peter's and my opinion at the end of the season. It's still people judging, and it hasn't changed things or made as much difference as they promised it would. It's a bit disappointing. | |
But there are some things to think about, like the high difficulties in the second half of the program, since they will earn higher points. And also to make difficult transitions. But the judges have to observe so much all the time, I think it's difficult for them to catch everything. They have way too many things to see and think about, all the criteria for the spins, and the footwork and the changing speed… There are so many details to pick up on, and to get an overall impression too; that's in my opinion almost impossible for one person to do."
At the World Championships, Eurosport commentator Gwendal Peizerat criticized the ladies' free programs and said they were all classical and too much alike. Some agreed with him and some not, but Salomé had her own thoughts.
"I don't think very many of the ladies programs look much alike, but I do think that many of the ladies are pushed too far in the technical area. They try to be more like the men with difficult jumps and triple-triple combinations, and can't concentrate enough on their own strong points. It's tough to be a lady, but there are some who manages this beautifully, like Susanna Pöykiö, she did a lovely, feminine job but with high technical difficulty. Unfortunately, I felt she wasn't paid well enough for it, and neither was Carolina Kostner."
It had been a pure delight listening to Salomé telling me all this and although very rushed for time, she took a few minutes before we parted to answer some quick questions.
Do you have people come to you and ask if you will make their programs?
I do now! Especially after Worlds, but actually even during last year. I don't want to do any more high level men's programs though. Ladies is different. I don't want to make a program for someone who is a close competitor to Stéphane; that would not feel right. So on the same level I prefer to have only a few skaters so I don't compete against myself. I have had to turn people down.

Who all do you choreograph for?
On an international level I have Stéphane, Lina and Sarah Meier. (Sarah is the Swiss champion)

If you could choose any skater to choreograph for, who would it be?
I'm quite happy with things the way they are!
Who are some choreographers you admire?
Christopher Dean and Jayne Torvill! I learned so much from them by observing their work; they were the first very original choreographers. Now I see so many dance teams doing movements I have already seen many years ago in Torvill/Dean's programs. But I like very much what Denkova/Stavisky are doing, they are different!
Chris Dean is now choreographing for Stars on Ice, have you seen the show?
I saw it many years ago in Oberhausen, Germany, and already then it was great and I liked it a lot. Maybe next year, with the 20th anniversary of the show, it'll be my year to see it again.
The sport is in a slump in the US right now. Have you noticed this in Europe also?
In Switzerland the interest for figure skating has gone up! But I don't feel that the declining interest is true for Europe.
Can you see yourself doing anything else in your life?
I already feel like I have two jobs, one with skating and one with taking care of my family, so I haven't really thought about a third one! It's hard to imagine another passion, but my body is getting older and in a few years we will see. But Peter is still planning on continuing for many years so…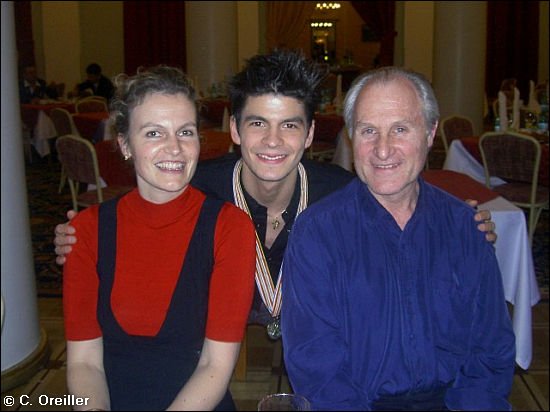 This reporter and surely many other people hope Salomé will continue for many years to come. The sport of figure skating has turned a little more artistic, and the people involved in it a little kinder and friendlier because of her influence. She is indeed the Queen of grace.