Proximus Stars on Ice Press Conference 2006
Text: Mireille Geurts & Titia Tolsma
Photos ┬ę Mireille Geurts & Titia Tolsma
"It's the fourth time?" Kevin turns to us for confirmation when a fellow journalist asks him how many times this would make for the Proximus Stars on Ice shows to be held in the Sportpaleis in Antwerp. We have to think for a second as well and it's hard to believe, but yes, it's indeed the fourth edition of the PSOI shows already. And it'll happen in less than 6 weeks!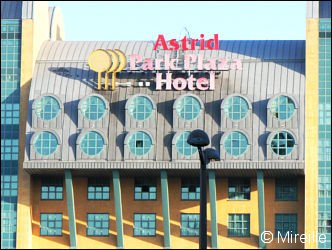 This official press-conference took place on Monday, October 9th, at the excellent Astrid Park Plaza hotel in Antwerp, Belgium. The hotel is the annual home of the PSOI cast and crew, as well as of Absolute Skating. Representing AS, Mireille and Titia met with the IMG vice president Igor Takacs, Proximus' marketing consultant Didier Matgen and with Kevin van der Perren, who for the second time will be the ambassador of the show. Together with a bunch of other journalists and media-people, we listened to what the panel had to say:
Igor Takacs thanks the represented media for coming and directs a special welcome to the panel. He then gives a brief history of the great Stars on Ice concept, how it was created back in 1984 by Scott Hamilton and how it turned into an Emmy Award winner (2003).
Didier Matgen represents Proximus; a telecom company which, since the beginning of the European Stars on Ice, has been the largest sponsor of the show. Without Proximus there wouldn't be a European addition of Stars on Ice. Proximus invests in cinema events as well as in music and sports to bring (upcoming) stars closer to the public. And like last year, Proximus' clients receive a special invitation to the show, which will be held on November 18th and 19th.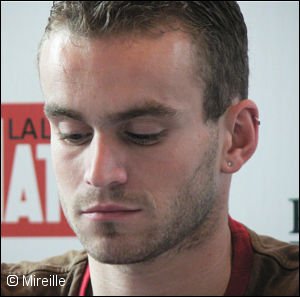 Then Igor presents the cast. As mentioned in our Game, most of the cast members were already announced: Kevin van der Perren, Tatiana Navka & Roman Kostomarov, Irina Slutskaya, Brian Orser, Margarita Drobiazko & Povilas Vanagas and Romain Gazave. But now Olympic Champions Tatiana Totmianina & Maxim Marinin and Josef Sabovcik are added, and one more female single skater is pending. Igor: "It's the best cast we've had so far. We are able to present Olympic gold medalist, Olympic performers and former Olympic skaters. They will bring the Olympic atmosphere to Belgium."
The news this year is the participation of a live DJ from Brussels. He will play music while people enter and exit, during the breaks and also during some of the show numbers in the second act. "It's something new and we like it", Igor says. Romain Gazave's act will be very special and different as he plays the piano and skates. He'll play the Proximus theme by Wim Mertens, the annually returning music used for a group number. And in the light of presenting young talents to the audience, Ruben Blommaert will once again appear in the show, just like he has for the past two years. Sabine Appelmans and Pierre Roberts will be the hosts of the show again as well.
Now comes time for the question and answer part of the press conference, and Igor breaks the ice by asking Kevin's opinion on the cast. "Oh it's a great one! It's awesome the IMG succeeded in bringing medalists from Torino as well as former Olympic medalists".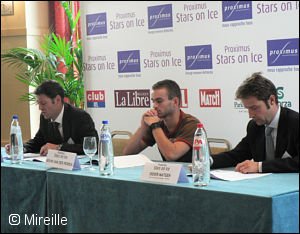 Speaking of Torino, how did Kevin experience the competition? He explains that he'd really hoped for better results. Considering what he's capable of he should have been able to make the top 6, so it could have been better. "But it definitely could have been worse as well!" he laughs.





Of course we must ask if he's already decided what to skate to in Antwerp, and he has to laugh again as he knew this question would come - from us. But he has no idea yet; he wants to come up with something new. Igor explains that the skaters may choose their own music to perform to, as this is the most convenient way for both parties, but the main concept of the show is the Olympics. Of course most skaters have their favorite routines already. "But there's always a way to fit them to the theme", Igor says. To create the group programs, the skaters and choreographer are asked to arrive in Antwerp a few days early. Since the IMG owns the show, they can ask the choreographer to design something new.
There aren't a lot questions, many journalists already spoke to Kevin before the press conference started. And everyone knows they'll have the opportunity to speak with the entire panel personally, something that seems to be preferred this year. So in conclusion Igor asks Kevin what his upcoming schedule looks like and Kevin answers: "First I have Skate America and then the PSOI-shows. After that I'll go to Japan for a second Grand Prix event, and of course prepare for Nationals, Europeans and Worlds."
And that ends the Q&A part, as well as the press conference. It's now time for individual questions and the buffet. While Kevin is overwhelmed by journalists almost forming a line, we have a little talk with Igor and Dries Mahieu, the new IMG Project Coordinator.
We discuss the surface of the ice since it'll actually be a bit smaller than last year. But it's not clear yet if that will have any effect on how the audience seating will be arranged. The IMG is still trying to open up for more shows in Europe, things are hard but picking up. Especially the Netherlands and Sweden are mentioned, but no specific details. Being from the Netherlands ourselves, we talked a little about how the success of an individual skater can spark the audience and sponsor interest, and vice versa. Sure thing is that they're working on it! The popularity of shows like "Dancing on Ice" certainly helps, something Kevin's been asked a lot of questions about as well. One of the Belgian stars participating trained at the same rink as Kevin during the summer, so they asked if he got involved, a topic we'd already covered.
Kevin had performed in the so-called "Dancing on Ice" result show the night before. He was also asked to skate together with Jenna (McCorkell)in the final show next week, but they had to decline as they'll be away (Jenna will compete at the KSM). But Kevin likes the shows and is happy with the interest it generates (24 new signups at their skating club alone!). He admires what the stars learn in such a short time, especially mentioning the guys. But don't we all know that it's harder for them than for the girls, with the lifts and all?
Of the expected 19.000 spectators at the PSOI, 12.000 will be from the Proxi club. The IMG is really lucky to have Proximus as sponsors. Igor also tells us this year they have a different media partner. The show will be aired on RTL this year, but so far it doesn't look like it'll be live. Sporza on Canvas will air the usual summary on Dec 24.
We talk a little about the AS game and Dries laughs and mentions he played the jigsaw puzzle. But he wasn't fast enough; someone else at his office beat him so he'll try again. Go Dries!
When inquiring if Brian Orser will skate as well as choreograph, Dries responds that they will surely ask him. Our suggestion to have him and Josef do a backflip together is interrupted by Kevin stating he'll join them. Flabbergasted we ask if he can do a backflip, and he responds "Sure, I've been practicing!" Dries jokingly says it's noted and while we're still stunned at the news Kevin laughs "Of course not, silly". Hmm, evil guy.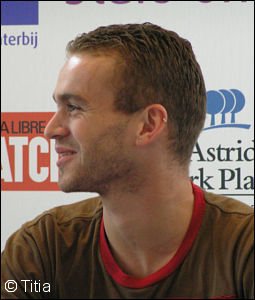 Chitchatting along, we tell him we like his new green & black costume, it's the new one for the long program? At first he wonders how we know, then it hits him, of course, he wore it at "Dancing on Ice". Speaking of costumes, we ask if he could consider wearing the same one he used in his show in Liederkerke, but he says no, "Mom won't allow it" and we all laugh.
Before Kevin has to go home to feed his dogs, we manage to ask him one more serious question; his opinion on the split panel judging at the Nebelhorn Trophy. He didn't compete as he was sick, but he was there. "I don't see the difference. The marks for the components are the same as usual so I don't think much will change for the skaters."
Satisfied with all information we leave the Astrid Park Plaza Hotel. In our hand is the received voucher for a free night for our soon-to-be game winner, one very lucky person.
Bye bye Antwerp, see you in November!
Don't miss the opportunity to win tickets to the show and a night at the fabulous Astrid Park Plaza hotel! To play the Absolute Skating/Proximus Stars on Ice game, go here:
For more information about the PSOI shows and how to order tickets: http://www.proximusstarsonice.be/en/default.asp