Training with the best - Carolina Costner and Tomas Verner in Malmö, Sweden
By Magdalena Osborne
Photos © EMJO
In a non-Olympic year the World Championships is the biggest and most important competition. The skaters look for the best coaches and training conditions to help them prepare, and the anticipation as well as the pressure builds. The German coach Michael Huth accepted the invitation to bring his team to Sweden to train in Malmö for a week and of course EMJO and Magdalena couldn't keep away. Here's their report:
There are still patches of snow on the ground and the chilly winds remind all the visitors that they are way north of Oberstdorf. Inside the training rink temperatures are even lower, but the good news is that the hockey team will be gone all day leaving the main arena at the skaters' disposal. The first practice session starts at 9 am and we catch a sniffling Lina Johansson in the hall.

Lina: I've got a cold and don't feel so good. I can't train at full capacity, but I didn't want to miss the opportunity to train with the best!

That's easy to understand. European silver medalist Tomas Verner is working on his short program but for now skipping all the jumps. His blades glide smoothly and his arm movements show proof of extensive ballet training. Laura Costa, the team ballet teacher, oversees all he does and often instructs him. She's in Sweden for the first time and likes what little she's been able to see of Malmö so far.
Laura: It's a nice city, but very cold! In Italy it was 20 degrees (Celsius) when I left!

That kind of heat would be heaven, but it's certainly not found inside the arena. The skaters don't seem bothered, but for Laura it gets cold standing by the boards. Still, she's happy with her stay and the ballet training.

Laura: The students are doing well, but they usually don't do ballet every day here. I think it would be good if they did more because now skating involves more performing and not just jumps so ballet can help. In Oberstdorf we train every day. We often work in front of a mirror; we go though the program and look at the little things.
In a corner of the ice Michael, wearing shoes, works with European champion Carolina Kostner, Lina and Kristoffer Berntsson. The latter wouldn't miss this opportunity either and traveled from Gothenburg. The German champion Kristina Wieczorek and young Jennifer Urban, both Michael's students, are thrilled for the chance to tag along to Sweden. But apart from a couple of parents (and us) the stands are empty. The people in Malmö just don't know what they're missing.

The renowned Canadian choreographer Lori Nichol takes over Carolina's training. They work on the beginning of the Geisha program trying to get every movement of the arms right. Lori is on the ice showing the way and Carolina follows. They stay at it for another hour and it's interesting to observe just how much little details mean to the overall impression of a program. Lori is very thorough and leaves nothing to chance. Things are looking mighty good, just like they did in Warsaw. (Video)
Lori: I was very excited and proud of Carolina when she won. I thought she skated very well, but of course I'm a choreographer so immediately after I appreciate it I always start looking for what to do to fix it, so there's no rest.
A lot of time was spent working on the armsÂ…
Lori: Yes, the feet will pretty much have to stay because it's so close to Worlds, and she's so used to doing what she does. But I'm adding certain things to the arms to keep it fresh, and to make sure the full character is being explored.
But Laura Costa laughs when I mention arms.
Laura: Yes, in ballet we work on the arms too, arms are very important. I don't do anything with skates, so the ballet is my job. Grace, extensionsÂ…
| | |
| --- | --- |
| Tomas keeps working on the opening jump which for some reason doesn't want to happen. In the meantime Kristoffer and Lina polish their step sequences. The music coming from the sound system changes constantly, whoever at the time stands the closest to it puts in the CD with their music. Sometimes we only hear a few measures of the Geisha before it's replaced with a samba or Turandot. While watching the session we noticed with a smile that Carolina and Tomas have a special routine when falling. They stay on the ice for a good, long time and then get up very slowly as to make sure nothing is broken. They also help each other up. And Tomas and Kristoffer, who are good friends, take every opportunity to have fun. Keep that in mind for later. | |
Vlasta Koprivova is Tomas' coach. She speaks warmly of him and refers to him as Tommy while telling me about the Huth group coming to Sweden to train.
Vlasta: Tommy trained with Michael last summer in Oberstdorf and both were happy with the outcome and decided to continue the collaboration. Coming here Tommy's first question was "Will Kristoffer be there too?" They are good friends and it's very good for Tommy. It's great he can train with Caro, but he also needs to skate with other boys. Kristoffer is a good skater, he has good technique. I know he has spent time with (Viktor) Kudriavtsev and it shows.
Tomas has had a very successful season and Vlasta is proud but not altogether satisfied with the results.

Vlasta: He did well at Skate Canada and in Russia too. I was with him in Canada and he skated really well in the short program, but wasn't paid for it, his marks weren't as high as they should have been. He did a quad and a triple Axel but just didn't get paidÂ…

The different elements paid better at Europeans. Tomas achieved a new personal best and after the short program he was first. After the free skate he had lost only to Brian Joubert.
Vlasta: After Warsaw Tommy was so happy, he kept saying "I got silver!" The journalists were nice to him and he did well during the press conference. In Prague he got to do several interviews for TV, newspapers and radio, and he was a guest on a very popular talk show. The host of the show can be very tough, but Tommy handled the situation well and after his appearance there many newspapers wrote good things about him, he earned people's respect.
At age 20 Tomas is in no way a newcomer. He competed in both Europeans and Worlds already back in 2002 and he has five senior Czech Republic National champion titles. But fame is coming closer.
Vlasta: When we came to the airport people came up to him and asked him questions like how does he think he'll do in Japan and what quads he's planning on doing. It's the first time that has happened and it was neat!
Famous or not, Tomas is still a pretty mellow guy. For more information about him, check out his official website http://www.tomasverner.com
In the early afternoon the next session begins. Lina, Kristin and Jennifer train with Michael. He has them skating in circles working on turns and edges. They are very concentrated on what they do and it surely isn't as easy as it looks. Carolina keeps working with Lori, they play the Geisha music again and work on spins and spirals and then go back to the arms. An hour later the boys are back and they work with Michael - jumps and arms. Carolina and Lori are still at it with the arms but then decide to move on to the steps. Carolina is like a fairy on the ice and anything she does looks so beautiful, it's almost magical to watch. But it doesn't take long before the attention turns to the arms againÂ… Perfecting each move in a program requires enormous amounts of patience and they have it.
It's already been a long day but Lori takes all the skaters in for a seminar, and when they are finished it's time for yet another ice session. She calls it "creative movement". The students warm up with various slow moves as shown by Lori. She has to hold her long coat up so the students can see her legs and feet, which, together with her never ending enthusiasm creates a great setting for a fun session. And it is a bit more playful than earlier. Some of the moves are on just one foot forming an "early spring tulip". All the exercises are legbusters and Tomas drops to the ice on purpose. The next exercise is improvisation to music. "The feeling begins" is played two times while the skaters all move to the music in their own way. Tomas and Kristoffer are hilarious and EMJO has a video clip to prove it. The second piece of music is Spanish guitars. The girls are very down to earth trying graceful moves and they interpret the music well. The guys are nutty and have a blast and it's absolutely wonderful to watch! (Video)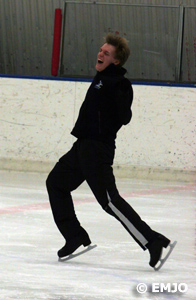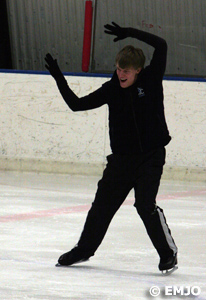 As a grand finale all the skaters and coaches pose for EMJO's camera. The skaters then take off to stretch and we get some closing remarks from Vlasta and Lori. There are now only a few more days left before Worlds.
Vlasta: Yes, we'll soon go to Japan. It's hard to say what our chances are there; Tommy will be up against many good Japanese and American men. But he has good technique and his programs are well choreographed. Of course the others have that too... But our country and federation are so small, that makes it harder for us, I fear Tommy won't be as well known as some of the others.
Tomas does have a quad toe though, and I heard he was also working on a quad Salchow.
Vlasta: We started practicing the quad Salchow but two years ago Tommy broke his leg so we had to concentrate only on the quad toe. When we trained in Beijing Tommy was working on the quad Sal again, but then he got sick.
So we probably won't see the quad Sal in Japan, but maybe next season. Tomas will spend his summer at the IceDome camps in Oberstdorf, Germany and Leppevirta, Finland. And he'll get some vacation, ten whole days completely off!
Vlasta: And in April we won't train on ice at all, it'll be all floor exercises and conditioning. In April he'll also skate in half a dozen shows, Michael has arranged it. That will be good; Tommy really needs the money since skating is a very expensive sport, it's hard on his family. He does get some money from the federation, but they don't have a lot of money either. It's a tough situation. When he was younger he received grant money from the ISU, but now that he's a top skater he gets nothing from them, only when he was a junior.
Hopefully Tomas will win some more medals and cash in some of the prize money. He will be busy for sure and Vlasta too. Will she get any vacation?
Vlasta: Me? I think not.
For Lori it's the other way around. Competition time is almost a vacation.
Lori: I've worked and traveled a lot through the year so when the skaters are at competitions it's my time to be home with my family.
Well, at home or in Japan, we wish all the skaters and their teams the very best!