All I want for Christmas is... Kevin and Jenna?
Photos © Absolute Skating
I hate Christmas.
Well hate, that's a strong word…let's put it different, dislike. Each year I dread it, undergo it and yes survive it.
Now what am I doing at a Christmas themed show called "Christmas Wishes" you ask?
Well it was figure skating… and from Ice Fantillusion presented by Kevin Van Der Perren and Jenna McCorkell, I wouldn't even consider not going.
It's also not like Belgium is that far away...
I in fact went several times, to the 2 shows, as well as to the dress rehearsal, which didn't end up being dressed at all. Get your mind out of the gutter now, I just meant not in costumes. Not all skaters had them on yet, and were skating in their training clothes, or they wore a vest/sweater/coat on top of it, because it was freaking cold in the ice rink. At one point Kevin even came over to ask if it was too cold... well yeah. His fiancée had just told us she was completely frozen, and our fingers didn't feel that hot anymore either.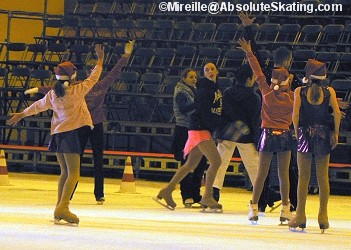 Taking photos is a nice job, but it requires taking off your gloves, unfortunately. Granted, it was freezing outside, and the doors were mostly open. I don't know if the heating in the rink was more on the days after, but it surely wasn't this cold during the shows, merciful Zeus.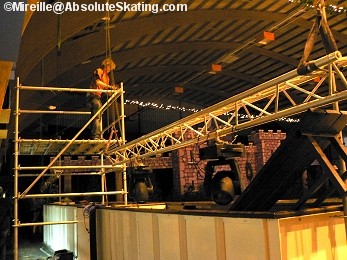 The dress rehearsal was quite messy, to be honest, but that's also how it's supposed to be. Yours truly was a tad late, thanks to nice traffic jams in the Netherlands, read tad late as in reaching close to the time the dress rehearsal was scheduled to be ended, but luckily, for me the lights had arrived late, so they started a lot later and not all went as planned, so it all took longer. It's always good to take photos at a rehearsal before being at the actual show, as any photographer will be able to tell you, so it was rather convenient. Not for the poor skaters and the organisers though.
I got my first look at the beautiful detailed décor and felt myself warming up to the Christmas theme a tad already. It was a beautiful castle, surrounded by Christmas trees and they were decorating those with lights. I couldn't wait to see it with all lights and the show lights installed, and it surely was worth the wait, as you can see in the pictures.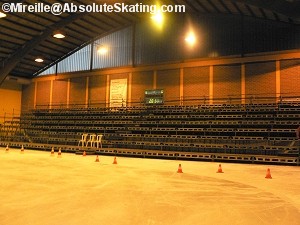 I did notice the boards were still up, despite what he had told Titia and me in advance, so it was one of the first things I asked about when we ran into Kevin. "Well yeah" he shrugged "would have liked to see it different, but as it is, we already have to take off all the décor and setting after the show Saturday evening and to build the boards back up after that is done as well too??" I could see that, it probably would get already long after midnight as it was, let alone add that to the tasks as well. "But do you see how we extended the tribunes?" he asks proudly. "Yup, a bit" I nod, almost double the size of last year...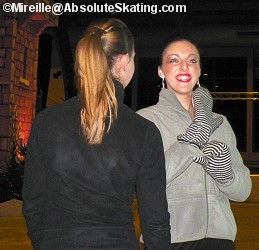 Bumping into Ruben Blommaert and a bit later his mom, I learned he will be going to Europeans in Zagreb, with Kevin. Way to go Ruben, that's a great experience, and love to see you there! They also shared with me his brother Sander would participate in the show too, a bit confused at first because I know he's a dancer, but seconds later a remark made earlier by Kevin on the phone that the dancers would arrive a day later made a lot more sense. Yeah yeah, coin dropping, light bulbs and all that rot…
Caught up a bit with the poor frozen Jenna, who aside frozen looked magnificent as usual, even tho she was fretting if she could wear a certain hair decoration in a certain program, but after being confirmed by Kevin to what dress she'd wear during that program, she breathed a sigh of relief, joking to me it's all about the hair.
Her fellow countryman and friend Alex Wilde was also there again, just like in May in Hasselt. He appears to have gained some groupies in Belgium, or let me put it differently; a lot of girls followed all his moves closely.
I asked him why he didn't enter British nationals this year and he told me he had taken a year off, but would be back, running amok next year. He practiced some after the DR and ended up playing around with some of the girl skaters, testing some pair moves. I showed him a few pictures and threatened to start a rumour he'd not come back as a single skater, but was trying out as pairs. He laughingly said "go for it" so I did, on our MB. Nobody believed it tho…I wonder why...

I also got a peek at the program booklet, curiously flipping through it I noticed the last scene before the intermission was called "Koffie en Gebak"which translates into english to "Coffee and Pie". I looked up questionly at a smirking Kevin, telling me with glee that everybody wanted to know what that was, and only he knew and no, he didn't tell me what it was either, the bastard! Am one of the photographers, am supposed to know what's going to happen, so to take the best pics possible damnit! *rant off* (Just trying to hide I was dying with curiousity????)
A messy dress rehearsal usually stands for a great show, and that was surely the case again this time. On Friday I went with my sister Joy, for her a first time experience at one of the Ice Fantillusion shows. Not that she hadn't heard plenty about it already, from mine and Titia's mouths and she was soon to find out we didn't say a word too much.
Last minute arrangements from the organisation to get us at a good spot to take the desired pictures, because the ice rink wasn't just sold out, there was in fact a waiting list and lots of people even found it worthwhile enough to have a standing place, just to be able to see the show.
Kevin didn't like that much though, he prefers to have his visitors well taken care of, maybe he still has to find out just how much certain people would do for witnessing his sport?
Already in the break between the first and the second act, I noticed how well impressed Joyce was. I heard some muttering about how he has the time to choreograph and oversee all this, next to competing in the ISU eligible system and all that is involved with that. Well beats me too, every time, but it was nice to have it pointed out from a fresh voice, since I wasn't thinking about all that yet. OMG, hope I am not getting blasé about this!

In the break, they had some trouble with the carpet the dancers did their performances on, it had frozen to the ice and when it was replaced, it damaged the ice, leading it to have to get resurfaced again before the show could start. Very noticeable to me was, nobody and I mean nobody in the audience seemed to mind. The atmosphere was just soo great, Zamboni guy got an applause for the extra effort, and the show resumed a tad later, as planned.
Since we had to drive back home after the show and the weather was not too great, very foggy, we couldn't hang around long after the show.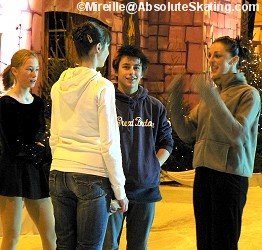 We did run into Alex again on the way out and he asked me if I had taken some good pictures of him. <picture to the left taken earlier that day> I said Joyce probably had, but I didn't because I videotaped him. >>Watch that here!<< (of course, youtube)
I did manage to ask this time why he had taken the year off from competitive skating and he explained it wasn't going well with his skating and he didn't know for sure if he was going to continue, but lately things picked up and really started to go better again, so he was looking forward to competing again. I was glad to hear, I love his skating style.
As said, we left rather swiftly and that was probably a good decision to make too, as it was, we have been fiddling with all our equipment till after 4 am to get all things ready for the day after, since I'd be going again, this time with Titia, like old times.
She picked me up on Saturday afternoon, watched some of the pictures and videos taken the day before to prepare for her own job of taking pictures that evening and then we got on our merry way to Aalst and Liedekerke. Checking in at the hotel in Aalst, before we drove to the rink in Liedekerke brought back great memories and immediately made us feel at home. Walking into the ice rink, Titia got quickly snatched away by Kevin, proudly showing off his décor, yelling to me I'd already seen it. Yup very true.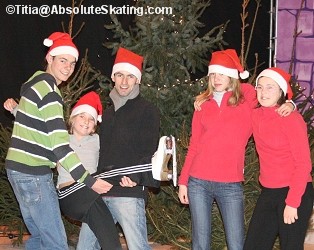 While watching the practice, we managed to get Jeroen Vandevelde (last year known as the crab, this year playing a lovely penguin) to assemble some of the skaters to pose for us in Christmas hats. Thanks Jeroen!
Kevin returned and we talked a bit more, while continuing to watch the people on the ice. He explained he had a hard time coming up with stuff for this show, because it is not one story he is telling, as he is used to do. He did incorporate some different 'blocks' of themes, or little stories you could say in both acts, but it's not one overall story as was the case with the previous shows. He also said some people preferred this, which we can honestly say we don't. Don't get us wrong, it was a great entertaining show and we loved it, but the other sort is.. just more Kevin. It's hard to explain, for us, it just is. Asking about the troubles with the carpet, he said he now had to move the dance performances all to the first act, to avoid the same problems as the night before. Seemed like a shame before the show started, a bit out of balance, but ended up not even noticeable in the actual show.
Some pre-show preparations
Mentioning the actual show, you might be wondering by now what it all was about. Several 'thematic' scenes were divided into 2 acts which got on the road after an announcement by ms SantaClause herself.
It starts out all dark, lights appearing on the ice carried by skaters, slowly all the Christmas lights get turned on, twinkling everywhere. With a little help from Alex, even the ice gets a little fired up and all that gets closed by a beautiful program by Jenna and Kevin 'telling us' that this was just how they dreamed their Magical Christmas.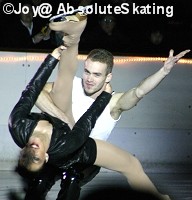 From that on we move to fun and glitter; The Golden Sixties. Lollipop girls and locomotion interchange with Grease. We get a first look at how the ballet turns out on the ice and all we can say is, magnificient. Very well choreographed and perfectly suiting the theme, we couldn't make a choice between the cute ballet groups version of Danny and Sandy, or Jennas and Kevins one, even if we wanted to.
When we think of Christmas, let's be honest, a lot of us think of presents. And when it comes to children, then we think of toys. These toys have the habit of coming alive in the Christmas period, which leads us to Toy Story. Toy Soldiers, Barbie girl, Alex on Quidam, Puppet on a String, you name it. Barbie girl, being portrayed by the cutest Barbie we've ever seen, and let's not forget about Ken. Kirana Noerens did a great job performing a puppet, making us look if there really were no strings attached.
Let it snow, let it snow, let it snow, yeah we moved on to Winter Wonderland. Kevin suddenly can't skate, leaving Jenna and the snowmen all wondering, we are thinking it must be the winterclothes…A too cute for words program from the dance group on Jingle Bells, followed by Kristen Verbists 'have yourself a merry little Christmas' and Kevin -in a very familiar to us costume from past competitions- portraying 'Music was his first love and will be his last' (John Miles). We wonder what Jenna has to say about that subject… Apparently it makes her 'Frozen', either that, or she got never defrosted from the dress rehearsal on Thursday. Just kidding, of course.
A fun group program closes this theme and leads us to the guest performance of the evening, Idols and Dancing on Ice winner Dean skating with ms Staf Coppens. For those of you outside of Belgium (and maybe the Netherlands) Staf Coppens won the first Belgian/Dutch Dancing on ice, continued to skate with his partner in the show, Monique Van der Velde and they did perform in Kevins show in May together as well. Only now Staf is a very proud daddy-to-be and Monique pretty far along in her pregnancy, which lead to this new, but very fun coupling.
Moving on to what this previously ranting reporter was talking about; Koffie en Gebak. As explained earlier, this means coffee and pie. Well believe me, we've seen the pies, think I missed the coffee tho. Tho, after seeing the treatment the pies got, I am kinda glad about that…. Bad bad boys…
The scene started innocent enough with Jenna and the girls skating on the music the Candyman, but ended in quite a mess as soon as Ruben, Jeroen, Alex & Kevin show up, armed with the said pies. And Kevin by now has learned that naughty planning can be fun, but also backfire, when to his surprise all pies but his own ended up in his face the first show...
How could we hold back this video from you? To enjoy it, click here!

After the break we get immediately thrown back into the cold December mood, by an aesthetic perfomance from Sander and his partner Nina. Like mentioned earlier Sander is Ruben Blommaerts brother and as we had seen several times before, the resemblance is certainly there. We had never seen him dance tho and boy can we say mommy and daddy Blommaert got 2 talented kids there? The dancegroup "Ballerino" used the beautiful 'Once Upon a December' for another nice program, this time combined with the elegance of Ellen Mareels skating around the carpet. Perfect combination, good match!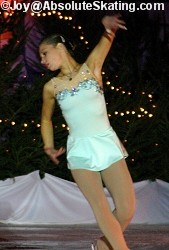 The only way to get less cold is to start moving, so on to Swinging Christmas we go, a 'Pretty Woman' in the form of ms McCorkell appears on the ice and after showing that she certainly has what it takes, she takes a seat to enjoy the male pretty that's about to come on the ice. A cool 'showing off' Ruben, completed with a mock imitation of Evgeny Plushenko's 'Sexbomb' competes with an almost soppy romantic Kevin showing on "Only You" he wants only her. That touches pretty Jenna's heart and after pushing poor sulky Ruben off the ice, they together have the Time of their lives. >>Watch the video here<<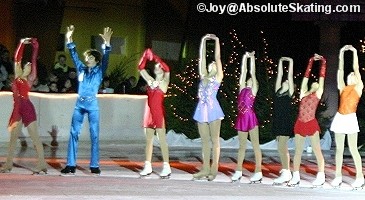 Jazz is then in the house with a funky Ira Van Nut, Hot Honey Rag, and an elegant Barbera Klerck on Adagio pass by, followed by a pretty quick recovered blue 'Explosive' Ruben.
>>Video!<< From swinging to Romantic Christmas, all the competitive skaters join up with Staf and Dean to kick this theme off with 'Owner of the lonely heart' really bringing us in the romantic mood, which suits perfectly for the 'red' theme that followed; Jenna skating a gorgeous program on 'Lady in Red', Kevin performed on a Dutch song called 'Rood' (Marco Borsato) and then the group dressed in red forms a flag parade, this leading to Jenna and Kevin pairing up one more time, in "Time to say Goodbye". Noo not yet please!
Of course it is not, how can a show like this end without Partytime!? Alex starts this right off, with fire and his usual fun tricks, this man really gets the audience going here. Then there is "Let me Bongo you". Does this sound familiar? Might be, Safri Duo, Short Program used by Kevin in competitions for some time, combined with a Robbie Williams song. The steps got adjusted for the entire group to skate, and altho it was not as easy for all to execute as for Kevin himself, this was a really enjoyable sight. >>A sight you must see for yourself. Vid here!<< The entire cast joins again, to say goodbye, wishing everyone a Merry Christmas.

(Shakin' Stevens) This being a terrible catchy tune and the skaters having so much fun, I didn't mind that this song was playing through my head for the next seven days to come. Not sure the people around me shared those sentiments tho….

After the show we had plenty of time, because of staying overnight in Belgium this time. Which was a good because we'd wait for Kevin and Jenna to join us for our usual question and answer session during these adventures. Going upstairs to the lovely canteen, we bumped into Alex again. This time I told him I certainly managed to take a great picture this time.. and when he looked at me expectantly I added "of your butt". Laughs all around and we continued on our path upstairs. Found a table pretty quickly and sat down warming our hands on the delicious hot chocolate their bar serves.
Soon we were joined by Kurt van Tricht and his friend Marco, catching up on all the tidbits around the show and the skaters in Liedekerke. Gladly so, since Kevin and Jenna took quite their time, having plenty to arrange after the shows were over. By the time they - accompanied by Alex – were able to join us, it was soo late that we all were really too tired to talk 'business' much. Besides, we already knew quite a lot. Kevin was definitely happy with how it turned out, we did ask and he tiredly confirmed, but his sparkly eyes had already told us that story.
We asked Alex if he likes performing in Belgium, which he confirmed. To why, he laughingly said, it's nice there is an actual audience at the show. We must agree to that, the place is quite jam-packed for 'just a local event'. He couldn't make a choice between all the special tricks he does on the ice, he loves them all equally and still regrets he can't do them in competition. Have to say, I'd love to see an ISU judge respond to one of the men eating fire in their short program…
Since we had speculated if there would be another Christmas show with Kurt & Marco, we now asked about that, Jenna excitingly saying, yes, Kevin wasn't so sure yet. They will have to skip this annual May show though, since they are getting married in Ireland that same weekend, so we wouldn't be surprised if they aren't able to hold out till May the next year.


Asking about ideas for the next show, he responds he doesn't have any yet, almost making Titia and me drop under the table. We are so used to him already having outlined the entire next show before the current one is over even. But "nahh" he says "not yet, am too tired." With shiny eyes, Jenna looks at her fiancé then turning to us "3 to 5 days" she says, "then he will wake up and the ideas come pouring out". Kevin shakes his head denying that, but we also see he knows she is right. Cute couple.
We ask about wedding jitters and Jenna confirms there are plenty, she already had nightmares. Poor her, that is bound to get worse when the date comes closer. First there is some other big stuff to pass by, Europeans to start with. "Oh no" Jenna says "British nationals first. The federation won't give me a pass to Europeans before I skated there." Considering she has already reached higher personal bests than last season and then she was allowed to go, we feel that's a bit ridiculous, but that's federation politics … And of course she just skated to the #1 spot last weekend.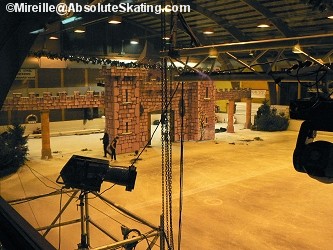 We end the evening showing them some of what we taped, since they never get to see that themselves until much later. Quite funny, that ended up with an audience of 7 people watching with, and it's only our own amateuristic taping, we hadn't even seen ourselves yet!
Then it was time to leave, even though nobody really wanted to, but it was almost 4 am again, so really time. During waiting we had seen how quickly and efficient the setting and tribunes had been taken down, to ready the ice rinks for the normal ice sessions in the morning. A bit sad sight, not that we don't like the regular ice rink, but it means it's indeed definitely over. Bye bye, beautiful castle surrounded by Christmas sphere.
This was again a show that combined fun and original choreographies, this time accompanied by little themes and stories which are thoroughly enjoyable. The music used is often funky, just like Kevin likes, and the entire picture displays so much of Kevins and Jennas hearts and passions, that it manages to touch us each and every time again.
So, does this mean I am looking forward to next years Christmas? Well not exactly, no, but to the next Ice Fantillusion shows? Hell yeah!!!
So many impressions, so little space to show all... and the album will be delayed. So if you haven't yet, check out the scene impressions on Kevins site >>here<< and take one last look at some more pictures in the beautiful wallpaper below. To view/save it in larger format, please rightclick and select 'save target as'