It's about time, Kevin!
Photos © EMJO
| | |
| --- | --- |
| | Although his name is Kevin van der Perren he's also known by other names, like Mr. Triple-triple-triple or Mr. Long eyelashes. He has been discovered and rediscovered by skating fans and judges around the world several times during his skating career. He's done really well at times, and less so at other times when things didn't work out the way he planned, or he was forced to withdraw due to injuries. Before the European Championships in Warsaw his coach stated they'd be happy with a top five placement, but everything came together and Kevin finally secured a well deserved spot on the podium. |
Meeting and having a conversation with Kevin is an experience to remember and by now we've had many. Gwendal Peizerat described Kevin as having "a very strong personality". He calls himself moody but it's not necessarily a bad thing. Most of the time that mood is set on joke mode and everyone in the room laughs a lot when he's around, it's impossible not to. Of course he can be serious too ' when he wants to. We talk about his training and I compliment his improvement in spins. His face cracks wide open.
I'm so happy to hear you say that 'cause spins is what I spent all of last summer working on! I was spinning and spinning and spinning and spinningÂ…
Alright, I get it! And it did pay off. I watched him do some scratchspins in Antwerp and told him how much I'd missed seeing those in competition.
I know, nowadays everyone does the same flying sitspins and camelspins. But a nice scratchspin will get a level 3, and it's fairly easy to do. It also gives you a bit of a rest so I might use them more.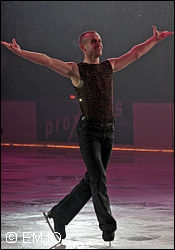 During the fall Kevin competed in two Grand Prix events, the first was Skate America.
Under the circumstances a 4th place was good. The short program wasn't bad but the free was. But I had broken the blade and then the boot, so I changed skates just a few days before the competition and the new ones weren't good yet.
The second event was the NHK in Japan.
Japan is always good: the organization is good, the food is good, the transportation works, everything is good! And there's a lot to see, the Japanese skaters are just wow! But Japan is sooo far to travelÂ…
He finished 6th in Nagano and learned one thing: His new free program for the season wasn't received the way he expected.
The judges liked the beginning, the end and the costume for my "Reflections on earth" program, but they didn't like the middle part. It's slower and they said it wasn't my style. But I was told to do something different, and that that would be a good thing! Well, whateverÂ…
He shrugs his shoulders and laughs. Sometimes you just can't win since judging always comes down to opinions. But he did resurrect the "Pirates of the Caribbean" program from last year and isn't sorry.
It was ok to go back to "Pirates". I still like the music and it's a good program, and a good costume! It's a bit heavy but other than that it's perfect.
Master photographer EMJO enthusiastically nods and agrees; red is a great color on the white ice. And Kevin's short program in Warsaw was indeed great, and although clearly undermarked he was fourth after Verner, Joubert and Davydov. And when all was said and done he went home with a bronze medal, his first from Europeans. So the switch back to "Pirates" obviously worked. The question is what would have happened if he hadn't switched, would he still have medaled?
No. I don't know why, but there was something wrong with that program. The judges didn't like it. Now I could have been stubborn and just fought on with it, but where would that get me in the end?
We'll probably never find out, but I've always wondered what goes through a person's mind while standing on the podium.
I got that question in every interview since, but honestly I have no clue. Things went so fast. One moment I won bronze, then I had that interview with Gwendal and another talk and suddenly I was on the podium. I only know I was very happy!
And he should be, it was about time he medaled and maybe just the motivation he needed to keep going. After Torino he wavered whether he should stay eligible or not, but now he's sure:

I am still eligible and not going anywhere till 2010!

That is sure good to hear!
But even with the success at Europeans in mind, other recent events in Kevin's life makes it hard to limit a conversation to just skating. Last year he got engaged to his long time friend, British skater Jenna McCorkell. Jenna moved to Belgium and they plan to get married next spring. Of course I want to know more, but I don't want to openly pry and try the soft approach with a comment on how interesting the fall was as far as his private lifeÂ…
Yeah, let's see, I painted the living room andÂ… it was really exciting!
Laughter in the room. Ok, so forget the soft approach; just spill everything about Jenna!
He looks confused.
Jenna, who?
The room explodes with laughter. He is a joker, but he knows very well what I'm talking about and finally agrees to cooperate.
What do you want to know?

Eh, everything? Like how the big question was popped, did he get down on his knees?

Actually no. My first thought was to ask her in Disneyland, we were going there the month before with her parents. But the ring had to be picked out, paid for and picked up, and there wasn't enough time to do all that, so that idea fell through. I'm not very good at these kinds of things so I asked a friend what to do. Then I hid the ring in a dish of ice cream.

That was veryÂ… inventive. And how did Jenna react?
Well, I had kind of, just jokingly, mentioned it before. It wasn't just a joke but I think she thought it was. But she said 'yes' and the wedding will be in her hometown in Northern Ireland next spring. I know, it's a ways away, but it's a tradition there to book things far in advance.
The happy couple will live in Belgium though. Kevin bought a house and spent Christmas moving in there with Jenna although the kitchen and the bathroom weren't finished. Does it even work to live in a house without a functioning kitchen or bathroom?
It does if your parents are your neighbors! We just went over there until things got finished in our house.
Jenna now also trains for Vera Vandecaveye, Kevin's coach, and Jenna's been able to acclimatize just fine.
Yeah, luckily for me! I asked her if we should live here or there and she said here. Good thing since I've tried living somewhere else before and it just didn't work out. So this could have been the one thing to come between us but it's no longer an issue, phew!

He laughs again and wipes imaginary sweat off his brow. But there are of course other issues involved in moving to another country, one is the language.

She is learning Flemish, she can already say some things and she's doing quite well with the dogs as well!
Ah yes, Quad and Luna. At first they scared the living daylights out of poor Jenna but that has changed.
She used to be scared of all dogs, but now she can touch them and walk them when I'm not around, so no problem!
Before we part he is given the opportunity to address anyone reading this article. Anything he wants to say? He thinks really hard for a moment and then lights up.

People can charter a flight and come and see my show this spring!

Excellent idea, rumor has it that several of the shows are already sold out. The annual Liedekerke club show has this year turned into Kevin's own show, with a "World celebration" theme, meaning it'll be a journey around the world, under the sea, to paradise and other exciting places. A definite do-not-miss event, watch for more information coming up on Absolute Skating.
For now Kevin's preparing to make the looong trip to Japan again and he has his mind set on a top ten placement.

Good luck at Worlds in Tokyo, Kevin! The AS crew already have their fingers crossed!