Rostelecom Cup 2009 - Day 1
Moscow, Russia
By Maria Bagdasarova
Photos © Ivan Daniliuk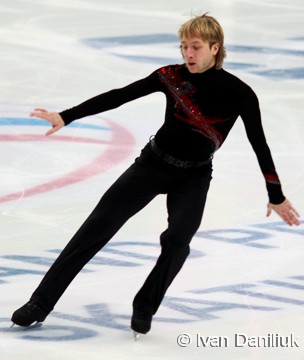 Having taken the baton from Paris, Moscow hosts the second event of the ISU Grand Prix of Figure Skating, the Rostelecom Cup, this weekend.
2006 Olympic Champion Evgeni Plushenko headlines the Men's competition. Evgeni who has not competed internationally since his triumph in Torino in 2006, began his run to claim his second Olympic title with taking a commanding lead in the short program. Performing to Concierto de Aranjuez by J.Rodrigo, the three-time World champion landed a clean quadruple toe loop - triple toe loop combination and a solid triple axel, and got a level four for the change foot combination and sit spins, and a level three for a flying sit spin and both of the intricate step sequences. Plushenko's only mistake came when he doubled his triple lutz attempt. The Russian earned 82.25 points (43.80/38.45) that gave him a comfortable 6.75 point lead coming into the free skate. "I'm happy with my comeback. I missed the atmosphere and adrenalin of the competition during my 4 year absence. I'm pleased with my performance today. I'm really happy to have landed a combination with a quadruple jump and a triple axel. I lost my focus a bit after the first two jumps, that is probably why I doubled the lutz. I'll try to avoid such mistakes tomorrow. However, I'm flattered to be the only one to land a quad," Evgeni Plushenko commented.
Takahiko Kozuka (right) of Japan stands in second place with 75.50 points (40.30/35.20). The 2006 World Junior Champion delivered a clean performance of his choreographically demanding routine to Bold as Love by Jimmy Hendrix featuring a triple lutz – triple toe loop combination, a triple axel and a triple flip. Kozuka earned a level four for his change foot sit spin and a level three for flying sit and change foot combination spins, but both step sequences were graded only a level two.
Johnny Weir (left) finished third with a routine to I Love You, I Hate You by R. di Blasio scoring 72.57 points (36.72/35.85). The 2008 World Bronze medallist landed a triple lutz – double toe loop combination, a triple flip, but put his hand down on a triple axel and was awarded only with levels three and four for the non-jumping elements. "I'm disappointed with the mistakes on my jumps, but it's my first competition of the season. I hope to stay calm and trust my training tomorrow," Weir said.
Qing Pang/Jian Tong of China took the lead in the Pairs' event performing a lyrical routine to Je crois entendre encore from "The Pearl Fishers" by Georges Bizet. The couple from China beautifully executed a triple twist, a throw triple loop and a level 4 lift with a difficult entry, but could not avoid mistakes as Jian Tong doubled a side by side triple toe loop. The 2006 World Champions earned 65.40 points (35.16/30.24) which put them ahead of the reigning World bronze medalist Yuko Kavaguti/Alexander Smirnov. Tamara Moskvina's students lie in second place with 61.62 (33.10/29.52) points having delivered a strong, however not a flawless performance to The Swan by Camille Saint-Saens. Close to the couple from St Petersburg are the 2007 Junior World Champions Keauna McLaughlin and Rockne Brubaker of the USA (61.34 - 36.26/25.08).
Julia Sebestyen of Hungary unexpectedly won the short program in Ladies event. The 2004 European Champion delivered a clean skate to a Song from a Secret Garden and Libertango by Astor Piazzolla featuring a triple lutz – double toe loop combination, a triple flip and a double axel giving her 57.94 points (32.90/26.04).
"I'm happy with my performance today. My goal was to skate clean and I did that. I'm pretty surprised to be in the lead," Sebestyen commented.
Alissa Czisny finished second with an expressive performance to various pieces from "Mask of Zorro" and "Legend of Zorro" soundtracks. The 2009 American National Champion successfully landed a triple lutz – double toe loop combination, but received a negative GOE for a wrong edge on the triple flip and a turnover on the landing of the double axel. Szisny scored 57.64 points (32.44/25.20). "My performance was fairly good today, not the best one, but I tried to fight for each jump," Czisny explained.
Miki Ando of Japan is third after the Short Program with 57.18 (28.98/28.20). The 2007 World Champion attempted a triple lutz – triple loop combination and a triple flip, which both did not get credit from the Technical Panel. "I'm obviously disappointed with my skate today, but I knew I would not land my combination clean as I went into it with less speed than I usually do in practice. But I'm happy with the component mark I got today despite the mistakes," Ando told the press.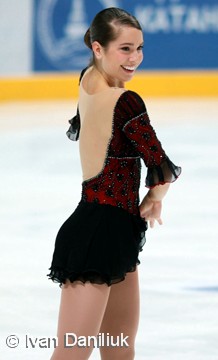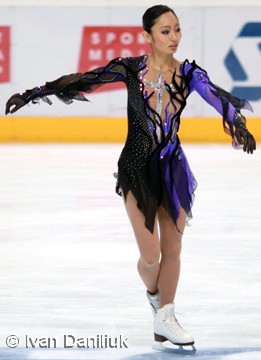 In the Dance competition Meryl Davis/Charlie White from the USA took a commanding lead after the two segments and almost decided the outcome. The 2009 US National champions delivered a precise and smooth performance of the Tango Romantica Compulsory Dance (37.87 points) and an entertaining routine of the Indian folk Original Dance (62.21) which earned them 100.08 points overall. "It was a very nice performance. We're got some level threes, which we'll try to turn into level four next time, but we're happy about our OD today," Charlie White commented. Anna Cappellini/Luca Lanotte of Italy finished second with 85.31 (32.73 for the CD and 52.58 for the OD). The 2007 Skate Canada silver medallists picked an Italian carnival theme for their Original dance and pleased the crowd with the in-character, but not flawless performance. Ekaterina Rubleva/Ivan Shefer lie in third place with 81.25 points. The National silver medallists delivered a solid Compulsory Dance and managed to maintain the level in their "Valenki" Original Dance.
2007 Junior World Champions Keauna McLaughlin and Rockne Brubaker