"Stockholm Ice" attempts to make figure skating Swedish sport number two
Part I
June 11, 2010
By Natalia Klintland
Photos © EMJO
As Magdalena Osborne promised in the promo article about "Stockholm Ice", AS reporters would not miss the first ever high quality figure skating show in Sweden. We came to Stockholm a day before the show. Some skaters who had flights from Moscow just arrived to the hotel. They looked tired because they a had show in St. Petersburg, then went by night train to Moscow and had the show there the same evening.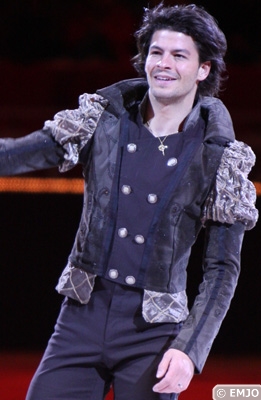 Stéphane Lambiel was one of those skaters and I asked if he had fun in Moscow, since his sister was there as well.
'No, it was only work for me. Shows and rehearsals all the time, you know.'
'Do you have many fans in Russia?'
'Yes, in fact they arranged a meeting with me. I thought it would be like ten people but when it turned out to be a crowd of more than hundred fans sitting there and waiting for me, I was absolutely thrilled. They gave me presents and lots of roses. Actually my entire room was filled with roses.'
Now you can imagine that even though the competition season is over top figure skaters still have a tough schedule if they want to make money by skating shows.
It turned out that Aliona Savchenko Robin Szolkowy, Tatiana Volosozhar, Stanislav Morozov, Nikolaj Majorov, Adrian Schultheiss, Kristoffer Berntsson, Sarah Meyer, Jamal Othman and Viktoria Helgesson safely arrived to the hotel, leaving only Evgeni Plushenko missing.
Then we went off to the arena for the first practices, because it is very important to witness rehearsals and practices in order to get the full picture. The preparations there were already in full swing when we arrived and I would like to share a few moments with you. Some people set up lights and checked music. The presenter Fredrik Granqvist read through his lines. The Russian comedian Kotini Junior and the Canadian trick skater Jason Graetz worked on the transitions between the numbers trying out the scene lights and running around to make some corrections.
'We always create the comic transitions ourselves and have to adjust them specifically to every arena they are working on. The same thing has to be done for every skater so the scene lights are exclusive for every ice rink. It was a little bit complicated with new technicians but we've made it work. The scene lights are very important for a show and even more important that light effects emphasize skating but not take over the show. The main lights technician from Art on Ice did his job very well,' Kotini said.
Young and promising Swedish skater Nikolaj Majorov did a run-through of his program and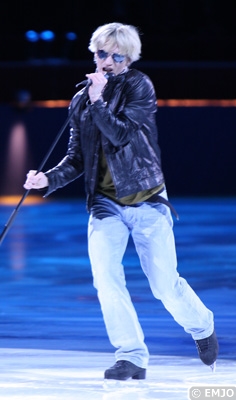 then listened carefully to instructions of his coach who happens to be his dad at the same time. He looked very confident among big names right around him and seemed to be a real showman.
Kristoffer Berntsson practiced his program wearing sunglasses and a leather jacket and having a mic on the ice, which obviously indicated a rock-star. I wondered how hard it is to skate in sunglasses because his practice wasn't entirely fault-free.
'Yes, I admit it is very difficult. The scene lights don't make things easier.'
'Will you be wearing them in the show?'
'Absolutely, they are part of my character.'
'What about your costume?'
'I will wear the same.'
I looked at his grey jogging pants and thought: 'Well, rock-stars are eccentric people.' He noticed the doubt in my face and smiled.
'I will wear jeans.'
Tatiana Volosozhar and Stanislav Morozov did a couple of throws. He seemed to throw her
as easily as she was a stuffed toy. I asked him, if he would be able to throw her for four rotations. He answered, that even five rotations would not be a problem for him, the problem would be for her to land it properly.
It was quite unexpected to meet Salomé Brunner at the arena and I could not resist the temptation to talk to her. She came here in Sweden to work on exhibition programs with Sarah Meier, Jamal Othman and AOI skaters. Stéphane Lambiel did a run-through of his programs and Salomé was coaching him too. Then he took a short nap lying on his back in the middle of the ice but as soon as the music of the grand finale began he started dancing. It looked like the music forced his body to dance. Various skaters skated their programs and discussed some details with the producers. Technicians were fixing their stuff. Business as usual, you see.
The next day it was showtime!!!

Go to Part II