Kurt Browning: "I just don't think that skating should be predictable."
July 15, 2012
By Tina Tyan
Photos © Tina Tyan & Insight Productions
Part 2
As a commentator and mentor, Kurt Browning has insight and sympathy into being a viewer of skating, but at heart he is still very much a performer. In recent years, he has toured in Europe and Asia, as well as in cities across the US and Canada. In just the last year, his schedule has taken him from South Korea to Japan to China. He has found the experience of skating outside of North America to be very rewarding.
"To go to Europe is... I mean, they have their special people, and we have our special people that we love and respect and are our generation of skaters that we look up to, and so do they. So if you can go there and leave an impression in someone else's backyard, it's pretty cool," he said.
"And then, just simply put - when you go to Asia, it's crazy fun because the audience is such a different feeling. And to have fans waiting for you to get on the bus? It's like time travel for me, it's like going back 15 years in time...it's fun!" he laughed. "When Geoffrey [Tyler] and I went to Korea, it was nuts. It was an experience. I said, you do something for 20 years, you think you've pretty much felt what everything feels like, but skating in front of those audiences those three days was really cool. We were floating every night. Just floating home."
For the last 3 years, Kurt has been a co-host on Battle of the Blades, the hit CBC show pairing hockey players and figure skaters. Despite great ratings and positive buzz, CBC placed Battle of the Blades on hiatus this year due to major budget cuts. Kurt wasn't surprised that this happened.
"I knew it wasn't going to come back because CBC was making huge cuts, and it's a very expensive show, so even though the numbers were really good, I kind of knew in my gut that it wasn't going to get - it's just too expensive," he said.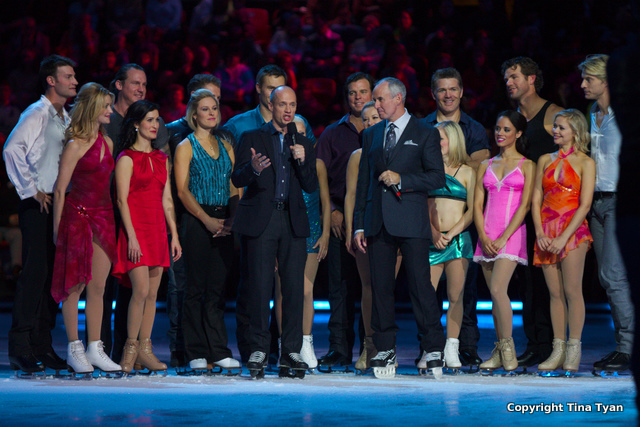 Co-hosting TV shows, touring around the world, teaching seminars, and commentating figure skating all have been a fairly regular part of Kurt Browning's schedule for years. In 2011, however, Kurt took on a whole new venture, choreographing and co-directing not one, but two full touring shows, Celebration on Ice and Stars on Ice, with his good friend, actor/musician Geoffrey Tyler.
In typical Kurt fashion, the fact that he ended up choreographing two shows wasn't particularly planned. Celebration on Ice more or less came about due to Kurt texting producer Jean-Michel Bombardier on impulse in the midst of a conversation with Geoffrey. Kurt and Geoffrey had been talking and coming up with some fun ideas, which moved Kurt to ask Jean-Michel who the choreographer for Celebration on Ice was going to be. When the original choreographer, Brian Orser, couldn't do the show, Jean-Michel called Kurt up and offered him the job. Kurt accepted it as a joint venture with Geoffrey.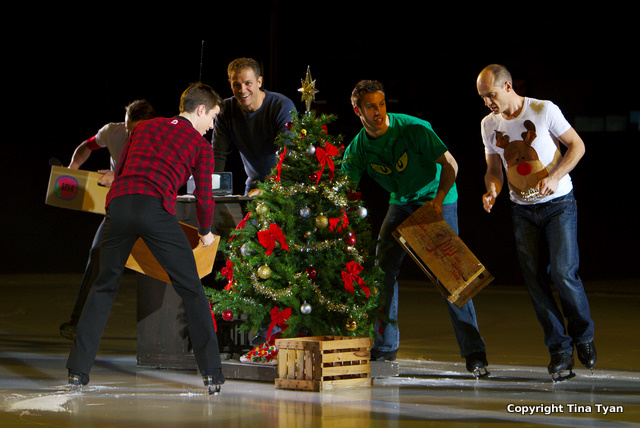 "It was actually great because we learned a lot about how to work together. And so it helped us to do Stars to do that. But it was LONG hours. Really long, long hours on the ice at the Granite Club. Like, we'd do 8 hours of choreography and writing notes, and the beer afterwards would taste so good. But we loved it. He loves to create, and I guess I do, too, and we made a Christmas show that was really unusual, and the skaters had a blast, and the people were kind of surprised to see the live music mixed in and the casualness."
While Celebration on Ice more or less fell in Kurt's lap, doing Stars on Ice was a more considered decision.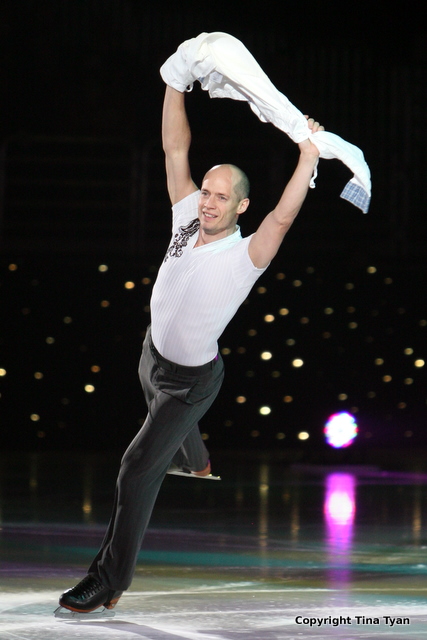 He explained, "I had ideas of doing my own tour and decided not to, but I still got that itch to choreograph something. And I thought, if it is the end of my career, it would be nice if I could control it, which would mean doing Singing in the Rain again. Maybe skating to Supertramp finally, which I'd been wanting to do since the mid-90s. Not as a solo, but as a group. I thought, you know, there's only one way that's going to happen, and that's if I'm the boss. So I thought when I got the job - when they gave me the job - that it would be a one-time deal, that I would just choreograph Stars and do my ideas. Then that didn't happen 'cause the choreography time was too short, and we had no title sponsor. So I had to come up with a new show. Now, maybe next year, I'll do it again. I have to decide, we'll see. But it seems like they want me back, so that's good."
That consciousness of coming towards the end of his career has driven a lot of Kurt's decision making in recent years.
"I've really kept myself busy on purpose. I took a lot of work. A lot because it's at the end of my career, so I'm enjoying skating. I don't know if my knee will hurt, or if I just decide that's it, or it's time for me to cut back... so I've said I'll do those shows. And I'm going to China because I've never been there!" he said. "So, I'm too busy. Way too busy. This year's the first spring/ summer of my life where I've really got to think about, all right, what am I going to do about my skating career. Do I see an end to it, or how do I want to finish it?"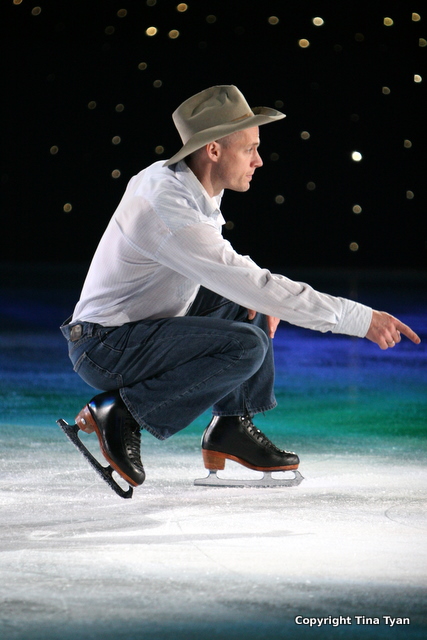 He continued, "It wouldn't be my swan song 'cause, as [former Stars on Ice choreographer] Michael Seibert once said, who knows, maybe Disney wants you to play the Wicked Witch, you know? Or the Evil Sorcerer... You don't want to say that you're retired in case something like that comes up. It would be fun if Ashley Wagner won Worlds and said, 'would you be the Old Man in the Mountain in my TV special?' Right on! So I don't want to quit, because I want to be open to options."
Even if he doesn't quit, Kurt Browning will eventually have to scale back on actively performing. He doesn't have a clear cut plan on where he wants to take his career from that point.
"I love kids, and my seminars are a lot of fun. So if I could figure out a way to bring that into my life, then I will. And I hope that I commentate for as long as people want to listen to it or as long as it feels right," he said.
Despite his past choreography work for solo skaters and current role as main choreographer on the Stars on Ice tour, Kurt doesn't envision choreography as his full time career.
"I don't want to be a choreographer. I want to be a part of skating, but... you know, to work like [choreographers] David Wilson or Lori Nichol or even Jeffrey Buttle is working so hard right now, doing a lot of choreography... I don't see myself as that person. And even my role as choreographer within Stars on Ice, I would gladly be co-choreographer and let someone else take the lead. I think it's important that it's not the same person for 8 years in a row," he explained. "I'd like to stay in choreography, but I don't think I think of myself as a choreographer. I'm somebody who has something to offer, and in the right environment, I do a very good job. But it has to be the right environment, and it's not something that I'm going to do as a living. It's not my goal."
He is open, however, to being a part of a creative team, or pitching ideas for ensemble numbers, or working on particularly interesting challenges.
"(Yuzuru) Hanyu is coming to work with Brian Orser. And so they've asked me if I can choreograph an exhibition number for him. I'm like, that's a challenge. All right, yes, I'd like to do that! So that's the kind of thing that I'd like to do to stay in touch with skating when I don't perform anymore. And TV specials. I miss TV specials. I love making TV specials. I wish we had money so I could be the Wicked Witch. The cross-dressing Wicked Witch. I would love that!"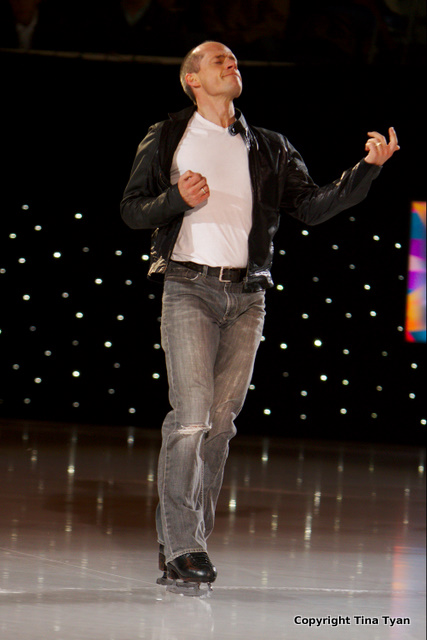 Whatever he ends up doing in his career, fans should likely expect the unexpected.
"I just don't think that skating should be predictable. I don't like when people go, 'Ladies and gentlemen, Kurt Browning', and you sit there, and you already know what you're going to get. I've always hated that."
For the next while, at least, Kurt plans on relaxing for a bit. When asked what his plans were for the summer, Kurt said: "I don't know. I have a 10-year project, that my wife calls it, and it involves the little bit of land around our cottage. [It] has all these rock piles from when they cleared the land 100 years ago for pasture. And they're not pretty to look at. One of my favorite things, like some women like shoes - I like rock walls. Whenever I get to a city, I don't know, I just really love rock walls. So I'm building my own rock walls all over the cottage. I get up at 5 in the morning, and I go out and put on music, and I just build. And come September, I'm always pretty cut because I've been lifting rocks all summer. And so this summer, I plan on putting more rocks on top of each other. Teaching my kids how to rollerblade. And diving into a lake as much as I can."
Note: this interview was conducted in mid-May. Kurt has evidently decided not to hang up his skates quite yet, as he is now set to compete for the first time in six years at the Medal Winners Open in October. Best of luck to him!
Go to part 1 .

Photo courtesy of Insight Productions