Olympics 2014 - Anastasia and Isabella fight distractions to focus on the short dance
February 17, 2014
By Isabella and Anastasia Cannuscio
Photos © Ludwig Welnicki (Joluskating)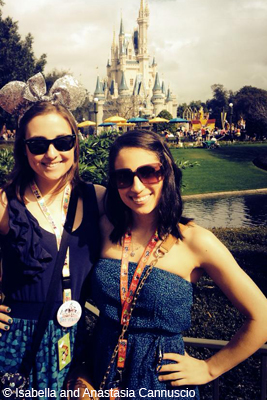 Hi everyone! Our names are Anastasia and Isabella Cannuscio, and we will be reviewing the Olympic short dance!
Anastasia: I'm a senior ice dancer competing on behalf of team USA with my partner Colin McManus. We have competed at Junior Grands Prix, Junior Worlds, Skate America, and other senior international competition. We are currently starting our 7th season!
Isabella: I have been a competitive ice dancer for 11 years, and have recently retired. I have been lucky enough to represent team USA in various Junior Grand Prix and Grand Prix, as well as make it to Nationals the 11 years of my competitive career. Now that I've retired, I am devoting my time to coaching, and looking into becoming a technical specialist and a team leader for Team USA.
Sara Hurtado and Adria Diaz (ESP) 12th - Best Packaging
We love love loved Sara's dress and hair! She fit the character perfectly and really sold that performance! Adria held his own next to Sara, which made them stand out to us. Normally, the men throw on a black/white shirt and call it a day, but we liked how Adria didn't overshadow Sara, and still looked handsome. Other than the packaging, they had an excellent overall SD, with a very smooth Finnstep, as well as keeping us entertained for 2:30 which isn't an easy thing to do (we get distracted easily).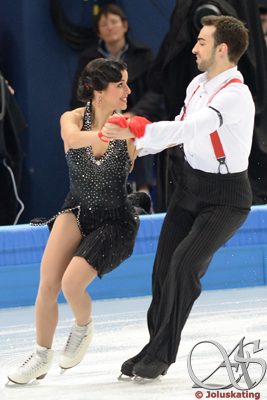 Nelli Zhiganshina (GER) - Worst Costume
We absolutely LOVE the Germans for wanting to try something new and different this year. No one has ever done a continuing story from the SD to the FD, and we're kind of bummed they thought of it first! However, Nelli's costume was a little too risque and the skirt too short for our liking. Our question to each other was: "Did she even have a skirt?" - and that's never a good question to ask...

Alex and Maia Shibutani (USA) 9th
We have both competed against Maia and Alex many times over the years, and they are always a very solid team who rarely make any mistakes (knock on wood!). We thought they nailed the steps, but to us there was something lacking. We feel that since they are a brother and sister team, it can be hard to really "connect" when the music is talking about love, and well, the love is slightly different than the "love" the music is talking about. They have beautiful lines and wonderful speed, and we love their charisma, but unfortunately we don't think it's enough to break the top.

Madison Chock and Evan Bates (USA) 8th - Best Performance... EVER
Yes, we went there.
We thought they gave this SD the best performance of their lives and we admire them so much for that! They really went for it and committed, which was a wonderful thing to see. Their SD just made sense to the point where we didn't have to think, we just sat back and watched.
Isabella: I have traveled/roomed with Madison at a few Junior Grand Prix, as well as a Grand Prix, and I always looked forward to traveling with her and her family. Her parents are the nicest and most supportive people I have ever met, and Madison is the same. I have been rooting for her and Evan over the past two years, and I'm so glad they skated well in the SD!
Anastasia: I agree with Bella! They are absolutely the sweetest people, and I am always rooting for them! As I watched their short dance I was just sitting there grinning from ear to ear (probably looking like a goof)... it was absolutely beautiful! I'm very happy they performed so well, and I can't wait to watch them again in the Free Dance!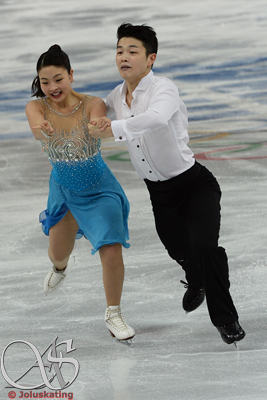 Anna Cappellini and Luca Lanotte (ITA) 6th
So, of course two Italian sisters were going to write about Anna and Luca... how could we not? This team was a hopeful underdog for us. We just LOVE how precise they are, and how into the music they get. Unfortunately, we weren't feeling their SD today. We weren't big fans of the music, and we thought the dress was a bit too much for her since she's so tiny. We admired them for their attack though, and will always have a soft spot for them. :)

Ekaterina Bobrova and Dmitri Soloviev (RUS) 5th
Nathalie Pechalat and Fabian Bourzat (FRA) 4th
We put both of these teams together because to us, they just kind of got mixed in with a lot of the other performances. We thought the French couple started off well, but then we lost interest, the music started to wander from musical to musical, and we just didn't get it anymore. Same goes for the Russian dancers. They started very strong, and then it never grew for us. We both thought they had very strong performances, but nothing stood out. Remember, we get distracted easily! ;)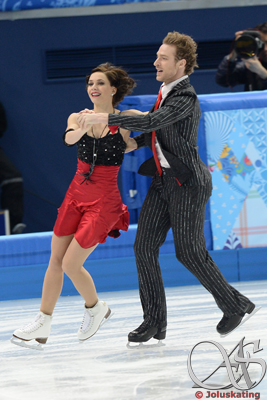 Kaitlyn Weaver and Andrew Poje (CAN) 7th - Most Attractive Male
Isabella: HOTTIE ALERT. Andrew Poje is definitely the hottest man in the event, and I would like to see someone challenge me on that. His stature, his looks, his hair... come on. His name is even sexy. I honestly can't tell you what they did, because I was watching him the whole time. I did sneak a peek at Kaitlyn's dress though... it was underwhelming, so I switched back to Andrew.
P.S. If anyone mentions this to my boyfriend, I'm denying it all! ;)
Anastasia: Umm, I'm single! But Andrew, you may have to get in line behind Javier ;)


Elena Ilinykh and Nikita Katsalapov (RUS) 3rd - Best Dressed - Most Attractive Female
Isabella: Phew, that was a hard name to spell! It took me a good minute, not gonna lie. I thought this team skated beautifully, and I loved every second of their SD! Fun fact, the last year I competed at Junior Grand Prix, Elena was at one of them. We competed against each other in Poland, and all I can remember is how kind she was. Not only was she memorable off the ice, but on the ice as well. She had this attention grabbing personality that made you watch her whenever she stepped on the ice, and I think she still has that quality. I couldn't stop watching their SD! On another note, I as well LOVED their costumes. Her dress was gorgeous, and her hair was perfect.
Anastasia: I love this team! When I saw their Free Dance in the team event I was really hoping they would be able to grab a spot on the podium. I'm so happy they're sitting in third after the short, and I hope they can deliver another strong performance tomorrow! She is obviously drop dead gorgeous and so deserving of the most attractive female award!

Tessa Virtue and Scott Moir (CAN) 2nd
We loved Tessa and Scott's ease in their SD. It was the best we've seen them skate that program, and we really loved it. Since we both represent USA, we've obviously always rooted for Meryl and Charlie over Tessa and Scott, but this time that performance almost made us switch! Our favorite part was their lift... it was phenomenal!

Meryl Davis and Charlie White (USA) 1st
Perfection. Beyond perfection... we think we may have seen ONE extension that was off with each other in the footwork? And we're willing to forget about it. We have no words! We can't wait for the Free Dance tomorrow, with the points being so close it's bound to be an exciting event!
Good Luck to everyone competing in the Free Dance, and congratulations to everyone who competed in the Short Dance today! A quick shout out to the Ladies in the event... for some of you, the Finnstep Twizzles are now a thought of the past, and we congratulate you all for making it through this season! For the rest of the ladies who have to compete it at Worlds... may the odds be ever in your favor.
Olympic photos courtesy of Ludwig Welnicki (Joluskating), for more photos, check out his site here!