Olympics 2014 - Pairs' short program through David Richardson's eyes
February 12, 2014
By David Richardson
Photos © Ludwig Welnicki (Joluskating)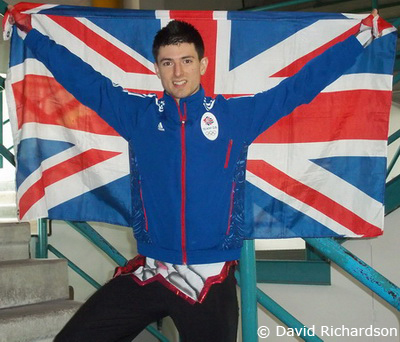 Hi guys, it's David Richardson here. After writing about the team event, I'm really excited to be asked to comment on the pairs' short. Now, as I'm a singles skater for GB, it's not my discipline so you will have to bear with me and ignore my ignorance if I say something silly. :) I'm really excited to watch the pairs though, so let's get started...
So the pairs event started yesterday, and it is a field the Russians expect to win. They have three extremely strong couples and could be looking to swoop more than one medal in this event.
All expectation is on Tatiana Volosozhar/Maxim Trankov to bring Russia their second gold from the Iceberg Skating Palace in Sochi. With a home Games comes huge support and even greater expectations. I think many have queried whether they (Maxim in particular) could handle the pressure.
Well, I guess the answer is yes! Skating 17th from the 20 couples left them knowing exactly what they needed to do in order to secure the first place overnight. From the very first beat of their Waltzing short program, I was never in doubt that they would deliver a spellbinding performance. Their speed, strength, power and precision created an enthralling piece of art that left the Russian crowd in a frenzy. For me they are the most exciting couple, skating with perfect unison and mirroring passion. They received 84.17 points from the judges, a new personal best!!! I'm sure they will keep their form for tomorrow's free skating and earn the Olympic title… at least I hope they do!
While the leaders have almost 5 points of advantage over their rivals, the Germans Aljona Savchenko/Robin Szolkowy, I do not believe the Germans were 4 points better than the second Russian couple, Ksenia Stolbova/Fedor Klimov. The Russians were ferocious, fast and free, while Aljona and Robin seemed to dwindle in the last minute or so of their program, missing their usual energetic finale of a routine. I believe the battle for silver will come from these two strong teams, both wanting to not only secure a podium finish but also close down on the mighty Tatiana/Maxim.
The couples from 3rd down to 7th are separated by a margin of 4.62, which in the IJS (ISU Judging System – ed.) is nothing to make up in the free skating. This means the fight for a bronze medal involves 5 couples – in addition to the aforementioned it's two Canadian pairs (Kirsten Moore-Towers/Dylan Moscovitch and Meagan Duhamel/Eric Radford) and two Chinese (Qing Pang/Jian Tong and Cheng Peng/Hao Zhang).
The experience of Qing/Jian is evident from their display today. Even with a slight mistake on their opening element, the side by side triple toe loop, they re-focused and gave a very mature performance. Their music of Lady Caliph is beautifully interpreted, showcasing their gorgeous symmetry and synchronicity. Their spins for me are ones of the highest quality within the event and don't always get the recognition from the judges.
Meagan/Eric seem to be in 'the zone' right now. They gave another elegant performance to Tribute, a piece written by Eric for his former coach who sadly passed away in 2006, and you can tell that they really feel the emotions of this music. In my opinion they offer the best transitions in the event, really capturing the essence of pairs skating. I tip these for the bronze medal with either the Germans or the Russians slipping into fourth…but what do I know?!?!?! :)
A couple just on the cusp of top flight is the French team Vanessa James and Morgan Cipres. As I mentioned in my article about the team event, Vanessa used to skate in singles for team GB so we have been friends for some years. My fondest memory of her is when we went to a Junior Grand Prix in Den Haag, Netherlands. Incidentally, Lloyd Jones who participates in ice dance for France now was also GB's representative at that event
and I skated against her current partner Morgan in singles too. We had such a fantastic event. We all skated extremely well, producing good performances for our team. Vanessa is a lovely girl and I'm so happy that she has done so well in her career already. After a disappointing team event, I was relieved to see her and Morgan fight back and produce the quality they are capable of. I think they will be at the top end of the results when the 2018 Olympics come round!!
Anyway, tomorrow will, I'm sure, produce the best Pairs final the world of figure skating has ever seen… Enjoy it guys!!! :)
Olympic photos courtesy of Ludwig Welnicki (Joluskating), for more photos, check out his site here!