Europeans 2017, Ostrava, day four:
the French triumph in ice dancing and it's a fifth title for Fernandez
January 29, 2017
By Titanilla Bőd (Új Szó)
Photos © Mireille Geurts & Joy
The reigning champions defended their titles on the fourth day of the European championships in Ostrava: ice dancers Gabriella Papadakis and Guillaume Cizeron earned their third title, while Javier Fernandez dominated the men's competition. Even though he was not flawless, he grabbed his fifth European gold in a row.
No limits in ice dancing
A Finnish ambient band, a Cuban singer and an Icelandic composer - works of these artists are compiled into a seamless whole and create the music to which Gabriella Papadakis and Guillaume Cizeron dance. Some might say it is not typical ice dancing music. French skaters have a different opinion. "What we're trying to do is to make people see beyond what ice dance should or could be. I think, there's no limit to what ice dance can be," Guillaume explained. Gabriella added: "What do you consider good music for ice dancing? First, there is a rhythm in the music even though it is not easy to count. Otherwise we wouldn't be allowed to skate to it. We worked on what the music told us, what it meant to us. We tried to incorporate that in the way we were dancing, doing the elements, everything. It's not just about the rhythm but it is about the meaning, the emotions and the flow. That's what we are really trying to do."
The audience of the Ostravar Arena totally got it: silence fell on the arena during their program, and applause erupted when they finished it.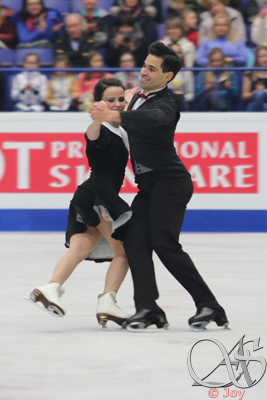 Even though the French couple was in third place after the short dance, they won the free skate and the competition overall. "We had such a good feeling on ice this afternoon. The audience was incredible, really, really warm. It felt so good to be supported and we felt like we could deliver 100 percent with our program adding this magical moment and connection that we have. It just felt really good," Guillaume stated.
To bounce back
The silver went to Anna Capellini and Luca Lanotte of Italy. It wasn't an easy journey for them: the results of the short dance were revised so they had to give back their small gold medal because they got a one point deduction.
"It definitely affected us. We can consider the difficulty of the situation that the ISU and the technical panel found themselves in. We believe that decision was made with the interest of fairness of the sport. We supported it 100 percent and complied and we didn't really flinch. It was very surprising and quite unsettling. Of course the moment of the exchange of the small medals was very strange. We have had such a good day and we were very happy. And then, the next day, we had to readjust. We told ourselves, OK, it happened, let's imagine we were second in the short dance. We wanted to bounce back and not let it be an excuse to be more stressed. We tried to move past it as quickly as possible," Anna said. The crowd loved their playful, lively Charlie Chaplin routine and the Italians were overjoyed when they discovered they got the silver. They overtook the Russians Ekaterina Bobrova and Dmitri Soloviev by a very small margin, 0,08 points.
Pleased Russians
The revised results surprised the Russian pair, too. "When our team leader called us, we were really surprised. It was a strange feeling that we had to exchange the medals. We are very grateful for everyone who reacted with understanding. We have never experienced anything like that in our career," Dmitri recalled. Ekaterina added: "We tried not to pay attention to this. There was a redraw and got another starting number, which we were actually happy with. But we didn't really discuss it with our coaches."
They performed a passionate, powerful dance to the music of Chopin and Vivaldi and they were satisfied with their free dance. "We are pleased with championship. Everything worked out. We gave 100 percent. Today I would say, it was the best performance of the season. Now we'll take a short break and have a look at what we can improve or add. We are happy and pleased and want to say thank you to everybody and also to the competitors," Dmitri said, showing great sportsmanship.
A champion in pain, but in one piece
It definitely wasn't Javier Fernandez's best skate. However, the Spaniard has such a domination in Europe, that he could afford even some wobbly landings and a fall on his second quad Salchow, and still take the title with ease. He earned his fifth title, the last male skater to do so was Ondrej Nepela in the early 70s.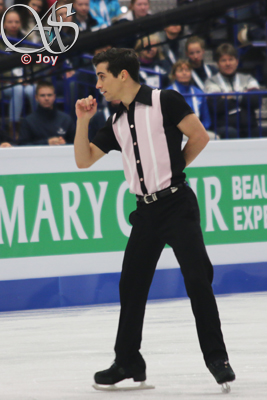 But when he finished his free skate to the Elvis Presley medley, he wasn't very happy. "I was in pain. All my body hurt," he explained later in the kiss-and-cry interview. "I hurt my hip and ribs. I think it was my worst fall in competition. But this is the life of a figure skater; I'm in one piece," he laughed at the press conference.
As for his performance, he noted: "It was definitely not the best free skate of the season. It is hard to chase your season bests and records all the time even if we want it. I did not think I would fall that hard. After you fall, it takes a second until you set up your mind back and you go on with the other elements. I am just a normal skater, not a machine."
Mental preparation pays off
Maxim Kovtun of Russia delivered an almost perfect skate to "Iron Sky" by Paolo Nutini. He landed a quad Salchow and a quad toe loop, but his second planned quad Salchow was only a triple and he doubled his Lutz. Still, it was a solid skate and Maxim deservedly took the silver medal. "I am so pleased, I worked so hard at practices and today I did nearly everything I had planned. I am so happy that I enjoyed skating both programs, that happened to me for the first time in my career. It is a big gap between my and Javier's score, but I missed the third quad. I have to work more, add in jumps, and my big scores will come," Maxim commented on his performance. This season he has worked with a psychology coach and it visibly paid off.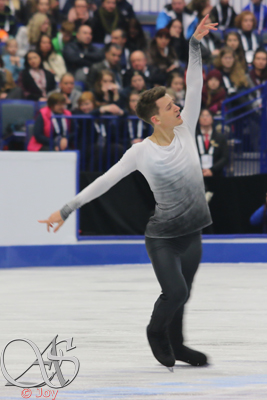 Kolyada jumps to the podium
When Mikhail Kolyada finished his free skate, he hardly believed he could be on the podium. As almost all the skaters on Saturday night, he had several mistakes in his routine. He fell on the quad Lutz, and he popped the Axel. "I'm not upset about the fall on the quad Lutz, because it is still a very new jump for me. In practice it is 50/50 and it is hard to do it in the program. I'm upset about the Axel, I should have rotated it at least," Mikhail said. He was not smiling in the kiss-and-cry, but in the end he grabbed the bronze, because Alexei Bychenko couldn't avoid mistakes either. But Kolyada, who took his first European medal, was harsh on himself: "I am not that happy. I would have been happier if I was fourth but had skated well."
Direction Helsinki
The Europeans in Ostrava brought memorable programs and great moments, an extraordinary pairs' competition, a world record in the ladies', an unusual result revision in ice dance, and not flawless, but a tough fight for medals in the men's event. But skaters, coaches and fans are already looking towards the World Championships in Helsinki, which will indicate who claims the Olympic berths.
Don't miss our social media updates (containing text updates and fun pics) on Twitter and Facebook.