Europeans 2019, day two: sweet victory for Vanessa and Morgan
January 25, 2019
By Titanilla Bőd (Új Szó)
Photos © Oxana Shkrebtienko (LMDJ)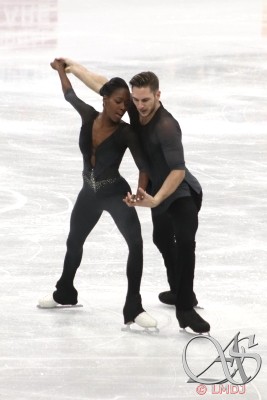 Since 2012 there was always a Russian pair at the top of the European podium. That sequence was broken in Minsk by Vanessa James and Morgan Cipr├Ęs, who finally got their long-awaited gold medal.
A dream came true
It could have been a déjà vu for the French duo. Just like last year in Moscow, they won the short program in Minsk. However, one year ago they couldn't avoid some mistakes in the free skate and slipped to fourth place, missing the bronze by a painful one hundredth of a point.
In Minsk, everything was different. Taking the ice Vanessa and Morgan left no doubt they were here to grab that gold. They skated with precision and emotion, leaving the audience breathless. Even the highly Russian-orientated crowd awarded them a standing ovation after their lyrical yet powerful free skate to "Wicked Game".
"It is a dream come true," Vanessa confessed. "We've dreamt of that forever. We're so pleased to have skated like this for the audience. We are indeed happy that we didn't stop but kept skating, because we finally accomplished our dream after I don't know how many years," she added, still in euphoria.
Her partner was also over the moon. "We sacrificed so much and did so many efforts. It was a dream when we were children to be here one day. It's a moment of joy that I really want to share with the whole team, the federation, my family and my friends," Morgan told the press.
They are the first French pair to win the European title since 1932, but Morgan aims for more: "We finally made history and we're so proud. We'll keep going to hopefully win more titles."
Evgenia Tarasova and Vladimir Morozov earned the silver, while the bronze went to their compatriots Aleksandra Boikova and Dmitrii Kozlovskii. Probably the most disappointed pair of the evening were Italians Nicole Della Monica and Matteo Guarise, who were third after the short, but in the end missed the bronze by 0.14 points.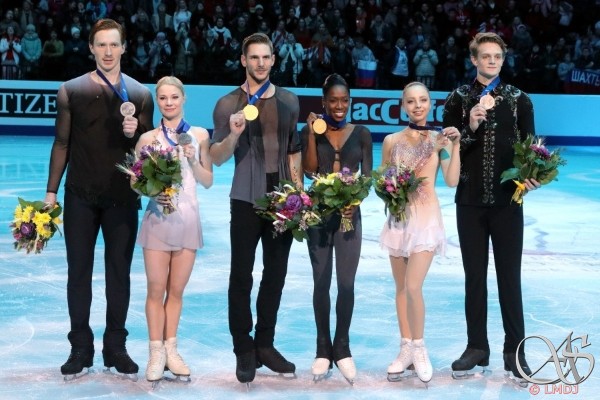 Fighting mode
The men's short program offered some outstanding performances. Adam Siao Him Fa (13th after short), student of Brian Joubert, showed that he definitely has the famous Joubert spirit in him, and his compatriot K├ęvin Aymoz rocked the house with an energetic program that secured the 4th position for him. Daniel Samohin went for a short program with two quads and after two disappointing Europeans is currently in the sixth place. Michal Březina had a decent, yet not completely flawless skate, which was enough for the eighth place, and reigning Russian champion Maxim Kovtun pulled himself together after a fall on the quad Salchow and is fifth before the free skate.
Russian contenders
There is a reason why Mikhail Kolyada is called by some evil fans Mr. Unstable. We've seen him falling apart or at least falling on important jumps. However, in Minsk he was rock solid. Skating to Muse's "I Belong To You", he landed a quad toe - triple toe combination, a triple Lutz and a triple Axel, and his performance catapulted him to the leader's position. He earned 100.49 points. "It is important now not to let out the emotions, I need to keep them for the free. It was a good performance, not without small mistakes, though. It is definitely easier to skate when you're healthy. At this point, I am pleased with what I've done today," Kolyada commented on his performance.
Alexander Samarin was also cold-blooded skating to "Cold Blood" by Dave Not Dave. He opened with a wonderful quad Lutz - triple toe combination, then landed a triple flip and a triple Axel. The score, 91.97 points, meant the small silver medal for him. "I'm quite satisfied but I wanted to show more. I didn't plan to perform quad flip but after the holidays I rested and gained enough energy. When training, everything went okay. I have a very strange feeling trying and mixing something new, like the flip," Samarin explained.
Under-rotation call
Six-time European champion was the last to skate. Is it really possible to perform a competitive program after three weeks of real practice? Javier Fernandez has proven it is. Even though at practice sessions his quads looked a bit wobbly, he landed a quad toe - triple toe combination, a quad Salchow and a triple Axel (although the landing wasn't clean). However, his "Malague├▒a" short program can't be reduced to pure elements - Javi showed his extraordinary passion and dedication that shone through even the smallest movements in choreography.
It was a memorable performance, but the score - 91.84 - and the rank - only third - was disappointing for Javi. He was especially upset because of an under-rotation call on his quad Salchow. "I've been away quite a bit this season but that doesn't mean I've gone through my whole life - I've seen mistakes today in figure skating I've not seen in my whole life. I don't know if they forgot I'm still a figure skater, but I hope somehow they will get their minds together for the free skate, because I think that was a great short and they didn't show it in the pdf," Javier commented in an unusually harsh way on his score, pointing at the protocols. "I had a cheated quad Salchow today that was not. I saw it on the ice and it was not. So that's why judges have slow motion. I saw I got a +2 and a -2 for this quad Salchow, so that's five points difference. I don't know what it means, what has happened in these ten months, but I'm surprised," he added.
Don't miss our social media updates (containing text updates and fun pics) on Twitter and Facebook.