Throwback to Worlds 2022
October 19, 2022
By Reut Golinsky, Jean-Christophe Berlot
Photos © International Skating Union (ISU), Olga Trofimova, Iana Saveleva
Ahead of the Grand Prix season kicking off, we look back at the last few months - World Championships, off-season, earlier autumn competitions; we bid farewell to some skaters, acknowledge and encourage the progress of others.
The World Championships held during the Olympic season are always different and special. There are those who left everything at the Games and hence decide finishing their season earlier, giving a chance to newcomers to debut at the big stage. Those who chose to retire at the end of the cycle come to perform and thank their fans for the very last time. And there are those who use this event as a first step towards the new Olympic cycle.
Camden Pulkinen: carrying Worlds' energy into the new season
Camden Pulkinen was among those who gained from the "after-the-Games" Worlds. He was the second alternate for the US team and so, when both Nathan Chen and Jason Brown decided to take a pass on the event, he was suddenly in. He was called on to compete in his Worlds debut just three days in advance! "I trained because that's what you do as an alternate," he explained. "I was a bit nervous of course, but I knew that physically I'm very well trained, I wasn't really too worried about my physical shape."
It looks like not knowing too much in advance works for him even better (should he do it more often? should they not tell him?). "When I find out at the last minute, it doesn't really give me time to think, it forces me to trust myself and that's what happened today," he agreed.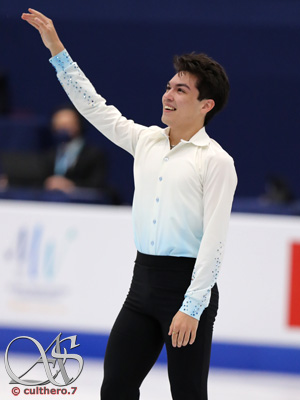 Not to rush things after a good start of the program, not to "get a little ahead of myself," but "breathing and taking it step by step" also helped, he noted.
So, what's new for Camden in 2022/23? Well, everything! New coaching team (Rafael Arutyunyan and Alex Johnson), new programs (SP: "Fly Me to The Moon" by Chris Mann, choreography by Alex Johnson, FS: "Invierno Porteno" by Astor Piazzola, choreography by Shae-Lynn Bourne) and a new school (Columbia University).
"Although I will be going to school for the next two years, I'm still looking towards the next quad, in my mind I'm essentially committed to both skating and school. But I want to challenge myself and see how much I can take on, to challenge myself both academically and athletically. I know that once I'm in New York I will need to be more disciplined about my training."
No doubt Worlds 2022 - and the small bronze medal he got for his exceptionally good free skate there - have been a huge confidence booster for Camden. "It just reinforces the fact that I can do it. And I really hope to carry this energy into the next few years."
Looks like he succeeds so far, starting his season at the U.S. International Classic with bronze. Skate Canada will be his next event.
Kana Muramoto and Daisuke Takahashi: still in the process of growing
This was a second season for Daisuke Takahashi as an ice dancer, and a first one to compete internationally (as NHK Trophy 2020, due to COVID-19, had only three Japanese dance teams competing). "Last season I don't know if I could've said that I was really an ice dancer," Daisuke noted, "but this season little by little I was able to feel like one. In some areas I have less confidence, so there is still a big gap for me, but overall, I was able to show the growth. I still feel we have a lot of potential, I'm not at 100% yet. This season shows that we're still in the process of growing."
Returning to Worlds for the first time since 2013, now as an ice dancer,
felt funny and weird, he admitted. "It has been some time since I was at Worlds and my first as an ice dancer, so it felt funny because it's something I am familiar with but at the same time something completely new. In my second year as an ice dancer, I get to skate with top level couples, so it feels weird. Both familiar and new."
While for Kana this experience made her wonder whether she was just dreaming about these two years altogether. "During the warmup, when our name was called, when the audience heard the name 'Daisuke Takahashi' I really felt that I was skating with a legend. And then we were able to skate in the second half among top skaters. I really wondered: 'Is it real that I am skating with Daisuke?'"
Back then at Worlds the team hadn't decided yet whether they wanted to continue. "It's definitely something we need to discuss as a team," Kana said. "So, after we finish here and go back to Japan, we'll have that talk." "We will need to think more about the future," Daisuke agreed. "But right now, I want to enjoy, dwell in the moment of the Worlds."
During the off-season, the team made many fans happy by announcing they decided to continue. Kana and Daisuke announced their programs - "Conga is Gonna Get You"/ "Ahora"/ "Move" for the rhythm dance and "The Phantom of the Opera" for the free - but we haven't seen them compete just yet. Their first competition will be Skate America, followed by Denis Ten Memorial challenger a week after that.
Josefin Taljegård: summing up an exciting year
From Worlds 2021 to Worlds 2022 it's been an incredible year for Josefin. By finishing 15th in Stockholm, she formally obtained the Olympic berth for Sweden and after some struggles and worries, her participation being up in the air almost till the very last minute, she was able to go to Beijing.
"It's been a really interesting year," she summarised, "the first half of it I was mostly focused on the Olympics and what I've learned about myself is that I often perform better when I don't think about the results. I'm also happy that I added more complicated jumps in my programs this season.
It was a season with my first Europeans, first Olympics, only second Worlds, so it's been amazing. I could reach out to a bigger audience, and I got a lot of good feedback, I'm happy about that."
As for her plans for this season, she wants to improve technically and keep up artistically. "I skated in some competitions with triple Lutz this year so probably I want to have it in every competition next year. I just want to find some new, exciting music that I can really sink my teeth into and do something different again," she said back then in March.
Fast forward to October, she opened her season at Finlandia Trophy where she finished eighth. She kept her short, so we'll be able to enjoy that delightful step sequence for another season. And this is how she described her free skate and that new, exciting music she was searching for: "It's a mix between a few different Elvis songs that I think elevates my performance and brings out different parts of my personality."
One thing is certain, this year - like every year - she is "here to entertain".
Miriam Ziegler and Severin Kiefer: grateful for all of it
Austrian pair Miriam Ziegler and Severin Kiefer had a long and fruitful career, which included representing Austria at four Olympic Games for Miriam - in 2010 as singles skater - and three for Severin, and multiple national titles as a pair together (read more in our in-depth interview with them we did a few years ago).

They announced their decision to retire quite early in the season, so it was known that the Worlds would be their last competition. Their farewell was warm and emotional. "I am incredibly grateful for the time in Montpellier, that we had our last competition here, the atmosphere and the mood... so you can hardly imagine a better end!" Miriam said after their last free skate together. "It was quite difficult today to keep the emotions under control, I am proud of how we managed it," Severin added. "We are grateful for the support in the arena and from our colleagues. It was a wonderful week."
What was a dream come true moment, a highlight of their career for them? "The highlight is the people we've met that shaped us, were by our side all this time," they say. "We've made so many friends along the way. We're just so grateful to have been travelling the world, getting cheers and support. It's amazing, incredible, this whole journey. We're grateful for all of it, also the bad things. Everything that went wrong pushed us to become better. Today might not be the best skate of our career but we were there, and we took it all in."
Any regrets, something they feel they didn't do during their career although really wanted? "I don't think we have any," Severin answered. "Nothing that was in our control. Maybe meeting some of the people earlier, working with them earlier [in our career], having more time with them, but nothing of that was really in our hands."
Both said they want to continue working on the ice, developing pairs skating in Austria, and supporting young pairs where they can. This summer Severin spent a few weeks in North America, working with Bruno Marcotte's pairs in Oakville, Canada and with Drew Meekins and Viktor Pfeifer's students in Colorado Springs, US.
On 24 February 2022, Russia invaded Ukraine in a major escalation of the Russo-Ukrainian War, which began in 2014. Belarus, a close ally of Russia, allowed it to stage part of the invasion from its territory, giving the shortest possible land route to Ukraine's capital, Kyiv. In solidarity with the ISU Members in Ukraine and all those affected by the war, on March 1, 2022, the ISU banned figure skaters and officials from Russia and Belarus from attending all international competitions.
Team Ukraine: "We want to show that we are strong"
Despite multiple obstacles on their way, Team Ukraine, consisting of Ivan Shmuratko, Oleksandra Nazarova and Maksym Nikitin, Sofiia Holichenko, Artem Darenskyi, and their coach Lilia Batutina, were able to come to Montpellier. Days on the road, almost no training since the Games, with constant worry about relatives and friends hiding in bomb shelters, they came not for points or placements but to make a statement.
"It means a lot for us to compete here," Artem said. "We want to show that Ukrainian athletes, no matter in which sport, are here to fight and that we are strong. We are fighting for our country. Ukraine will win and we are fighting until the end. We want to thank Poland, Romania and Slovakia who welcomed so many refugees and we want to thank the whole world for their support."
Of course, it was not easy for them to perform, both physically and mentally. But the horrible experience they were living through taught them to keep everything else in perspective.
"Now, in our world, the words 'difficult' and 'skate' cannot be in one sentence, 'difficult' is to get a message to your friends or when someone close to you is killed, or you cannot find them," Ivan Shmuratko explained. "So, no, it was not difficult to skate here. In life everything is possible, you can change whatever you want. What is not possible to change is when someone is dead. The world should change the values, just like Ukrainians are showing during this month what the real values are. Of course, in the 21st century understanding of the war for the people is surreal, but it is what is happening in our country, in Europe. Each of us must do everything they possibly can to stop it, to stop the terrorism, to stop people being killed by the will of a crazy maniac."
"For us it is so important to tell the whole world what is happening right now in Ukraine," Oleksandra and Maxim emphasised. "We hope we can help people around the world to understand what really happens because we saw it. Just six days ago we were in Ukraine, and our families are still there."
For the first part of their new rhythm dance, created especially for the event, they took the Eurovision winning song "1944" written and performed by Ukrainian singer Jamala. The singer was inspired by the story of her family, who were deported during the ethnic cleansing of Crimean Tatars carried out by the Soviet government on 18-20 May 1944. This song was released amid renewed repression of Crimean Tatars following the illegal annexation of Crimea. "It is a call for the whole world, to tell them, to warn them. Just a month ago no one believed someone could attack a sovereign country in the 21st century [but it happened]. It's a difficult time for the whole world, not just Ukraine. We want to say to all the people who are currently safe to be careful because Russian fascism can reach them, too, it can move to other countries..."
Second part of their rhythm dance was choreographed to a famous Ukrainian song "Oh, the Red Viburnum" which is now seen as unofficial anthem of this war thanks to rendition by Andriy Khlyvnyuk, later also used by "Pink Floyd" in a single and a video released in aid of Ukrainian humanitarian relief. Each verse of this song ends with the words "we shall cheer up our glorious Ukraine!" and this is what Oleksandra and Maxim wanted to convey: "Although we're extremely upset about what is happening, we ask everyone in Ukraine to not give up and to support each other."
Their program left a very strong impression on the public at the arena and spectators all over the world, no doubt their last competitive performance together - as a few months later they announced their retirement - was the highlight of the event and their career. Although they certainly would have wished it to be for different reasons.
Signs of solidarity
The skating community showered Ukrainian skaters with support and love. Special segment was dedicated to them during the opening ceremony, fans brought flags, banners, after each performance the tribunes were covered in yellow and blue - the colours of Ukraine.
Team Austria, including Kharkiv native Olga Mikutina, prepared lovely yellow-blue hearts which they distributed all over the arena.

"We felt we needed to do something," Severin Kiefer said. "It never felt enough... We tried to be supportive as much as we could, tried to find a way to express that within the rules [of the event]. We made as many such little yellow-and-blue hearts as possible and gave them to as many skaters. Twenty-four hours a day we got messages from more skaters, team leaders and teams' staff... Honestly if we made one person hopeful, made even one person feel better for a second with that, it was worth it. It's the least we could do."
In the mixed zone and later during the press conference Ashley Cain-Gribble and Timothy LeDuc talked about yellow-blue ribbons they were wearing on their jackets.
"I think it's important right now to recognize everything that is happening in Ukraine, the horrible things that Russia is doing to Ukraine," Timothy said. "This is our small sign of solidarity, we watch from afar and feel very powerless, this feels like at least something that we can do to stand with them right now." "And we want the athletes that are here to know that we support them, we stand with them," Ashley added. "We had a chance to train with the Ukrainian pair team the last two days, so we just wanted them to know that they are supported here."
Oleksandra Nazarova and Maksym Nikitin were sincerely grateful: "The way all these people, all the teams support us - here or on Instagram, where we get a lot of texts with support every day - it makes us stronger, thanks to that we could skate today. And, of course, this support is not just for us, it's for all the Ukrainian people who are still there, not safe. We hope this support will help our country."
Back then it still seemed like this incomprehensible wrong would be righted any day and life would be back to normal soon. Half a year later the war is still raging, Ukrainian people are being tortured and killed. Sports facilities are being destroyed all over the country, along with many other civilian targets. On July 4th President Zelensky mentioned that "at least 89 Ukrainian athletes, coaches have been killed since February 24," this number is probably higher now. Even by the most optimistic prognosis the war will continue into 2023, but what will happen when it's finally over? With sport, especially figure skating, being a state propaganda tool in Russia, with skaters being used in pro-war rallies and in state-sponsored shows (with the official goals defined as "support for those who have become objects of sanctions for their patriotism and devotion to the country" and "an incentive for the development of patriotism among the audience"), how fast will they be allowed back? Following WWII Japan and Germany were banned from the 1948 Olympics. Will Russia? Based on recent comments from Thomas Bach this might not be the case...
The opinions expressed in this publication are those of the author.
BONUS! Unfortunately, nobody from Absolute Skating could be present in Montpellier, but our friend Jean-Christophe Berlot conducted this interview for us as a personal favour.
Stéphane Lambiel: "A program is one single movement"
By Jean-Christophe Berlot
Stéphane Lambiel has become a much-coveted coach and choreographer on the global stage. Shoma Uno and Deniss Vasiljevs have become his main "poster children". He kindly agreed to answer our questions during the World Championships in Montpellier, where Shoma Uno won his first World title.
Congratulations on winning your first global title as a coach!
It's really Shoma's title. It's an honour for me to have been able to support him. He has and always had all the pieces it takes within him. I just helped him to put them together.
I'm happy to have seen what I've seen today [during the free skate]. When I welcomed Shoma in Switzerland, after his poor showing in Grenoble at the end of 2019, that's the main thing I wanted to show him - the pleasure of skating, and the beauty one can feel while skating. I saw that today, especially during the second part of his program, he showed his freedom!
The "Bolero" music is a grand and dense one. It doesn't allow for a mistake. That is, it requires you to bring a complicated content to be consistent with the music. Shoma elected to present one of the most demanding programs of all time tonight, including five quads. The main challenge was to put both the technical difficulty and the music together. With this technical content it's of course not easy to free yourself from it and use your music the way he did tonight. Shoma displayed a quality of jumps and a personal dynamic that impressed me, especially in consistency with the spirit of his program. Then, once he had landed his biggest elements, I saw him light up. I loved it when his face started shining! He let things go, he was completely free in what he was doing. He expressed a lot of pleasure and gave me a lot of pleasure, too. Skating is a fighting spirit, but with a lot of fun in this fighting spirit.
Has it been a long way to achieve this result?
I would have hoped to see such a performance earlier in the season. I was also happy with the technical level of the elements he delivered; his technique was really sharp.
Shoma always had this particular presence and a specific charisma. He is cat-like in his approach. His choreographers have understood well how his body works and they value that well. The baroque music that accompanies his short program (Marcello's and Vivaldi's oboe concertos - ed.) pushes him in directions he would never have imagined himself. Once he is on the move and connected, one can't help being surprised by the way he integrates things. He has always had a sensitivity to music, a natural emotion.
And a body intelligence that makes creating with him easy. Or, rather, that facilitates creative work with him. You wouldn't choose baroque music without Shoma's talent. That's what makes him really inhabit his program.
What about Deniss?
Deniss is an artist and a perfectionist. He seeks after style and precision - and the freedom of movement. His spins are fabulous, he has exceptional talent. With Deniss, you can do whatever you want! His gestures are so beautiful, and he is so creative. Deniss never executes a program: he embodies it. It's not movement: first and foremost, it starts with an intention. Intention is much more than movement itself.
How did you envision the incredible step sequence in his short program?
The percussive battle of the second part of his short program inspired him a lot, as you can tell. On the ice I never start by thinking of the points. I don't want to think about strategy or anything restrictive first. What is at stake is to let the expression take place. To let go. To mostly listen to the music, to what it tells. Music carries the phrase!
When I listen to a musical piece, I visualise who would skate best to it. I have created a playlist for each one of my students. I always had a real passion for music. Already when I was 6 or 7, I would spend hours listening to music in my garage and thinking how one could move to it. I love the ambiance a musical piece creates. As soon as the first note starts, the ambiance is there.
This is the kind of figure skating I treasure: authentic skating, skating in truth. Shoma and Deniss are this way. They inhabit what they are doing. I give them the freedom to express themselves. I must admit that for me, the way they do it is more important than what they do.
One never knows whether one is ready or not, but we give everything to the maximum. I hope they keep on showing their magnificent skating. No one will take away the fact that they are the most beautiful anyway! (smiles)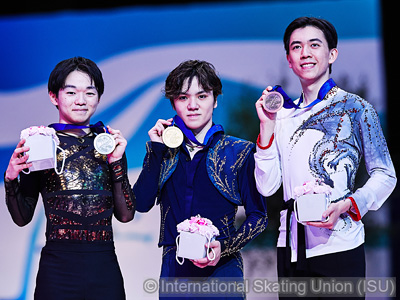 How do you consider the way skating is going?
I'm irritated to see that the quality of skating is being discarded. So often you see a skater doing such and such elements, while his/her music tells the opposite!
Nonetheless, Shoma's World title justifies the direction you're working toward.
Yes, it does. The men's short program here in Montpellier has been a beautiful competition. The women's competition here was also very beautiful, and it offered a lot of hope. Both suggested that skating shouldn't be a battle of quads, but several quads in a beautiful program. You must realise that both technique and artistry come together: if you move well, you'll move well in your technique as well.
What did you think of Ilia Malinin? I asked him how he managed to integrate his quad load into an artistic program, and he answered that he considered a program as one movement with elements inside, rather than elements making up a program...
Ilia is right: a program is one single movement, from start to end. That's what one needs to achieve. But it's not easy to do!