Skating in Sweden – one on one with Kristoffer Berntsson
Text by Magdalena Osborne
Photos © EMJO
What are your plans for the summer?
First there were three weeks of training in Gothenburg with my coach Andrea Dohany. We got three hours of ice time per day. Next I'll go to Flims (Switzerland) to train with Viktor Kudriavtsev.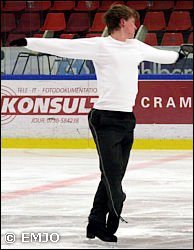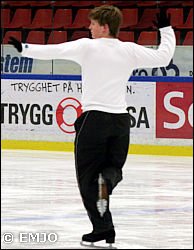 Is there anything in particular you will work on with Viktor?
No, that's not how it works. I have trained with him for years now, and all my life with Andrea. I know what they want and they say the same things, they only word it differently. And that's good, because sometimes that helps me catch new little bits and pieces here and there. I also like the fact that Viktor attracts good students to his camps. Training with a good coach and other good skaters is a great environment to be in.
You train a lot in Russia, have you ever considered going somewhere else, like to the US?
I've actually been to the US a couple of times already. But I've found a coach and training conditions that work for me, so as long as Viktor is in Russia and I can train with him and other top skaters, I'll continue going there.
When you train in your club in Landvetter, do you have the ice all to yourself?
A few times a week I do, and the rest of the time I practice together with other club members. Being on your own all the time would get terribly boring!
Do you and Filip Stiller ever train together?
Not on the ice since we skate in different clubs, but we do some off ice training together. And we just spent a few days vacationing in New York.
And what kind of off ice training do you do?
Besides the gym, I dance. I train with Zerjon, sure, but not only.
What does your fall line-up look like?
The Swedish Figure Skating Association and I have decided that I will participate in the Nebelhorn Trophy in Oberstdorf, and at the Golden Spin in Zagreb. I also got 2 Grand prix assignments, Skate America and Cup of Russia. I was very excited to get 2 events, and I've never been to St. Petersburg!
It's the Olympic season, how will that affect your programs?
Well, it gets harder and harder every year to choose programs and style. Each year I progress and get a little better and I try to reach as far as I can. It has worked so far, but now everyone expects me to come up with something really cool, and that's not so easy. It'll be a lot of hard work!
In the past two seasons, your short programs have been choreographed by a Gothenburg dancer, Zerjon Abebe. Audiences and judges alike have really appreciated this bold style of music and moves. Will you keep working with him?
I do some off-ice dance training with Zerjon, and it's exciting to work with him, because he's like from a totally different world. He has also helped other club members. For this coming season we will again work together on my short program.
And the long?
I have already spent a few days in the US with Igor Bobrin, and we put my free program together.
How do you go about creating a new program?
The music is cut according to the elements. We start with jumps and then maybe steps or a spin. The first part of a program is very important, since many of the big jumps are placed there, but then there's room for other things. With all the required elements, the short program is kind of already decided and there's not much you can do, except make the choreography great.The long program gives you a little more time and freedom to do what you want, although some things, like the spins with all their different positions and variations, now take a long time to execute.
You cut the music yourself!
Yeah, it has turned out that way. I have helped Team Surprise and a few of the club members. It's pretty convenient to have someone nearby who can fix those kind of things. But it's a process, first you pick the music and make a rough cut and practice the program. Then you may have to change a few parts, and cut the music again until it sounds perfect. And if it still doesn't sound perfect you might have to find a pro to do it; last year I had to do that. But finding all the right bits of the music and deciding how long they should be and in what order, that takes a long time, it can be weeks! But since I'm interested in electronics, I enjoy doing it.
Did you attend the World Synchronized Skating Championships 2005 in Gothenburg?
Yes, sure, of course! I skated in the opening ceremonies, it was great! Filip and I skated together and Niklas and Angelika were there too. (Hogner/Pylkina is a successful Swedish junior pair). Then we skated together with about 40 of the synchro skaters. There were lots of people there to watch, including some from the ISU, and they were very impressed.
It was a great event. Team Surprise lost the gold last year, but now they had trained very hard and they won it back by a mile.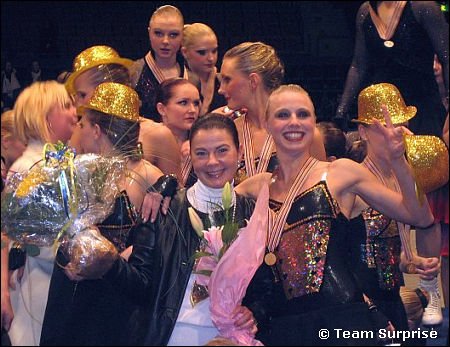 Andrea Dohany with the winning Team Surprise
Sweden is on the skating map again, and through your results at Worlds, Lina Johansson and you have qualified to compete at the Olympics!
Well, maybe. Nothing is for certain yet, and the Swedish Olympic Committee has its own rules. The committee members want us to be in the top 8 in the world. Their reasoning is that the team they send to Torino goes there to medal. You go, compete and do your best, and go home. You can't stay and watch anything else, and most athletes don't even attend the opening ceremonies, or the closing. The committee is very focused on medals. They spend a lot of money on potential athletes who can medal for Sweden, that's their goal. They have no interest in supporting Swedish figure skating as a sport, and if they find a promising curling team they will spend as much money helping them become potential medalists. That's why they've put so much into me and Lina over the last few years; we have really received a lot of support from them. In May I attended the Olympic camp in Stockholm, and the potential Swedish team for Torino was there. It was fun, and I had a good feeling about getting to go. I didn't get to compete in Salt Lake City in 2002, but that season I placed 21st at Europeans. There's a slight difference between that and finishing 14th at Worlds... But nothing is official yet and we will find out more this fall. The committee wants some results from the Grand prix events, and the competition there is really top notch, but by December Lina and I should know for certain if we are going to Torino.
What will you do after the Olympics?
Go to Worlds in Calgary! There's a whole month in between, so of course I'm going! Worlds is one of those big competitions you always have in mind while training and working hard, so why shouldn't I go?
Good point. How much longer do you think you'll keep skating?
I'll continue as long as it goes well and I enjoy it. I'm still making progress and it's fun, I love it. Right now I think I'll continue for many more years, especially if Gothenburg gets Worlds in 2008. Helsinki has also bid, but they had in not long ago (in 1999), and London has also had it (in 1995) so it's our turn now! We're getting a lot of support from Gothenburg and Company, which is a bunch of businesses here trying to attract events to the area. They sponsor the Swedish Figure Skating Association in trying to prepare elite skaters. We have high hopes for this! The Swedes are excellent at organizing events. Europeans in Malmö in 2003 was a big success, as was Synchro Worlds. And it would be so much fun to throw out the hockey teams from the Scandinavium arena for a week. You don't treat hockey like that in Sweden, so it would really show how big figure skating is getting.
And some off ice questions to finish up; how's school coming?
I'm out for the semester. But I have some time to go before I'll graduate, maybe 2-3 years. I need to choose what I will specialize in soon, and that's hard because there are so many interesting subjects to study. I haven't done much in the field of environmental technology lately, and I may not have to start working right away when I graduate. I really haven't planned anything, only that I will not quit skating anytime soon, and certainly not after the Olympics. I'm not done; I feel I can still get better.
Have you completed the military service?
No, I got out of it, my health was too poor. *Big grin*
Really, it's true! Many guys are rejected for "poor health", it can be anything; allergies, poor vision, back problems... I guess I got lucky, they didn't want me! Too bad, I so wanted to do it... not!

There's certainly nothing wrong with his sense of humor! Talking to Kristoffer is always a delight and this reporter wishes him a lot of success in training for the upcoming season and in making the Olympic team.
Be sure not to miss EMJO's exclusive photos, taken at the practice, and also some extras donated by Filip Stiller!