Javier Fernandez - "The Season Ahead"
 
By Suzanne Herrmann
Photos © Suzanne Herrmann
Javier Fernandez is the two-time Spanish Junior National Champion from Madrid. He is aiming to skate strong programs in his first season on the Senior Grand Prix circuit as well as at his first Olympics. He recently began training with Nikolai Morozov at the Ice House in Hackensack New Jersey.
I was fortunate to work with Javier at the Adult Training Camp at Ice House earlier this summer. While I visited again during the Moran Memorial Championships, the annual competition at Ice House, Javier graciously invited me to visit him to discuss his plans for this season as well as a bit about life in the New York City area. Javier has a great sense of humor and he was a lot of fun to speak with!
At what age did you begin skating?
I started skating when I was six years old in a school like a Basic Skills program. In Spain, there are no private coaches. There are two or three coaches for everyone. We practice in groups of 20 to 30 people. We pay for one month at a time. It is not as expensive as here in the United States.
What music are you using for your programs this season?
Short Program
Mission Impossible
Long Program
Pirates of Caribbean
What is the most difficult element in your programs?
I am supposed to do the quad Toe. That will be the one if we finally add it!
Do you practice that element?
Yes.
What is your favorite move on the ice?
The triple Axel.
Do you have a least favorite move?
No.
Who choreographed your programs?
Nikolai Morozov; not the Spanish coach listed on ISU!
Is Nikolai the only coach you work with?
Yes, he is the only one I work with. When I go to Spain, I work with the Spanish coach. When Nikolai is not here we train with Nikolai's friend, the Italian coach. His name is Valter Rizzo.
Does Nikolai push you hard?
He pushes you hard when he knows you can do it. When your face says you are really tired, maybe not as much.
What is your training regimen like?
How many hours per day do you skate?
One day I might train for two hours, another day I might train for five or six hours. The normal day is three hours.
Do you divide sessions between programs, jumps, spins, footwork, or other moves?
No. When I go to the rink and step onto the ice, I warm up a little bit and then I go to Nikolai. He tells me what to do. Maybe I will start with jumps or with my programs. He plans my training.
Do you have an off-ice program?
Not really. Sometimes Nikolai might want me to do something. Usually I just warm up.
Do you do the warm-ups like you showed the adults at camp? [At Ice House's Adult Training Camp, Javier and Valentina Marchei taught the off-ice jumping class and began with isolations and movements designed to warm up muscles].
Yes, sometimes I do. It depends on how tired I am and how fast I need to get onto the ice and do my program.
Is this your first season at the senior level or did you skate as a senior last season?
No. I skated in Senior Worlds and Europeans. This year is my first year with the Senior Grand Prix Series.
Trophée Eric Bompard is your first Senior Grand Prix event. What are your thoughts?
*Laughs* I am scared, haha! No… When people first get to know you is when you go to the Grand Prix events.
Where is your favorite city to compete in?
I like Japan. I have been just once and I love Japan! I like to train there.
What are your goals this season?
I really want to skate good programs in my competitions. Then I will try to get two spots for next year's Europeans and then skate really good programs and place well in Senior Worlds, Olympics and the Grand Prix events.
Do you have to qualify for the Olympics?
No, I already have the spot.
Do you have any advice for other skaters?
Just watch Evgeni Plushenko!
Who is your favorite skater?
Evgeni Plushenko!
What do you think about competing against Evgeni in the Olympics?
NOW we compete in different competitions. For now I still think like that. [Javier spoke about Evgeni with awe in his voice].
What is the fan base like in Spain for figure skating? Are there many skating fans?
The problem in Spain is that the people know they have ice rinks, but they do not know that they have skaters. It is difficult. Usually the fans I have are skaters.
What do most people do in Spain?
Soccer, tennis...
Just not skating?
No!
Do you coach or choreograph here or in Spain?
Yes. I sometimes teach in Spain, but I am not set to work here. However, sometimes I help a Spanish boy here and if someone needs help, I am there.
How is the New York City area compared to Madrid?
BIG.
What do you think of the New York City area?
I like New York. It is an amazing city and so big for one person from Spain. Really, really big! You can stay there all day. It can be stressful.
What is your favorite place to visit in the city?
Manhattan. We just go to see Manhattan. You can go everywhere there! It has everything.
What is your favorite restaurant?
I love Japanese food. I go to get sushi or something.
Did you find a good Spanish restaurant?
Yes. We found two in New York City.
Is there food you like that you should not eat during the skating season?
I am a boy. I am not fat and I do not get fat so I can eat whatever I want! If someday I start to get fat, of course… but right now I eat it all! Sweet things like ice cream and chips. I like all kinds of chips.
Have you ever skated in any other discipline?
No, just singles skating.
What is your favorite thing to do outside of the rink?
I like to play computer games. I also like to go to the cinema or stay here at home with my girlfriend.
What are three songs from your iPod that you enjoy listening to?
I'm Yours (Jason Mraz)... I do not know... Oh! I can tell you one. I like Jesse Cook's music. He can say he is a boy from Spain. Also, I like Porta.
Do you have a favorite TV show?
I do not really watch the television, but I love comedies.
What is a dream you have?
I do not really have dreams about skating. I just practice to do something in my life. Of course I want to be first, but it is not really a dream. I can tell you that I want to have a family, a house—that is more my dream. Everyone wants to win, but that is not always possible.
How long do you want to skate?
First I want to compete in these Olympics, then again at the next ones. After my second Olympics, I will decide if I want to continue skating or not.
Do you think about a job after skating? Or do you want to skate forever?
I want to be a coach. Forever on the ice!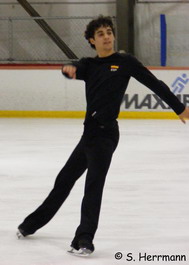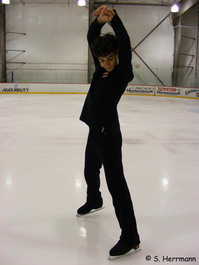 Thank you, Javier, from everyone at Absolute Skating for taking the time to sit down to talk about your plans for this season! We wish you the best of luck at all your events!