Let us introduce: Tamar Katz
Part II
 
By Reut Golinsky
Photos © Tamar Katz
In general how many years do you see yourself in competitive sport? Do you plan to continue until Sochi 2014?
I don't know yet. I am just going to take it as it comes. I don't want to think about it now, I'll think about it after I go to the Olympics (fingers crossed). I have a "Scarlet O'Hara" view to things sometimes: "I don't want to think about it now, I'll think about it tomorrow". I am skating to Gone with the wind this year and my coach sometimes calls me Scarlet because I am so much like her: I am head-strong and stubborn, yet I am determined and passionate. I idolize Scarlet O'Hara, this is the reason I am skating to Gone with the wind. Loved the movie, loved the book, loved that era in American history.
Is it usually you, who chooses your music?
I chose my short program music and Lea Ann Miller chose my long program music to Gershwin's concerto.
And what about dresses?
I wore a dress last season at Worlds, and it was practically an exact replica of a dress Scarlet wore in the movie. Unfortunately, it was very heavy. It used heavy velvet, a big skirt, a wide opening. It was very Scarlet O'Hara and reminiscent of the time, but it received bad comments, so I need lighter material. A company called "Rest" in Russia always makes my costumes and they are brilliant.
Regardless of what anyone says, in skating it's very important to look good, hair, makeup, everything is important. And I'm learning to accept that, I used to think that it doesn't matter, you just have to skate well. But this is not true; you have to present yourself and your character well. I think of it this way: you have about 5 minutes to give the judges the best impression of you as you can, you gotta make them like you.
I absolutely agree with you, skating is always a bit of a show, I'm glad you understand it now. Sometimes someone can have an awful haircut and you can't concentrate on their skating.
...or an awful dress. The program is short and you're only thinking "what the hell is she wearing" and then the program is over before you can figure out what's on her costume.
On the other hand the make-up and smiles might be deceiving...but let me tell you, after all you have to be tough too, no one said figure skating was easy.
I think figure skating is VERY hard! Every time I try to make a few steps on the ice (you can't call it skating) I recall all my critics about different skaters...
But critics are so important. I try not to go on many message boards but after I compete I want to see the audience's general reaction, this way I can improve.
So you really check some forums? This is one of the favorite topics on the forums: "do skaters read us?"
I don't read them that often, only if they relate to me. I check Icenetwork every day, and read discussions about competitions etc. I think skaters do read what you say and sometimes people are very mean, and sometimes it is not true, but sometimes advice can be great. If many different people are saying the same thing then it must be true. And if a skater says they never go on forums I think they are deceiving you: everyone wants to know what people think about their skating, everyone wants to be recognized and appreciated for all the hard work and effort we put in.
As this is an interview for your website and its main purpose was to present your site, tell me a bit about "you and the Internet" in general.
The Internet is a big hobby of mine; my favorite site right now is Pandora radio. Facebook I love also, I have found friends there that I haven't seen or talked to in years and it's great. It allows me to keep in touch with hundreds of people at the same time.
Do you have friends here, in Israel? Did you have time to make friends here?
Yes, of course, I have many friends in Israel.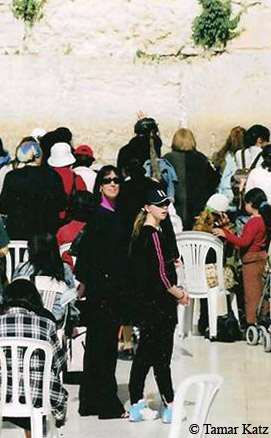 In general, do you feel yourself Israeli? If yes, then why? What is being Israeli for you?
I was born in the United States to a very Israeli family. My dual citizenship represents my personality – I am a girl of two worlds. I speak both languages fluently, although at home and with my family I only speak in Hebrew. Although I have a room here and a room in Israel, my home is in Israel because that's where all of my childhood possessions are and that's where my parents live. I have a life here and I have a life there, a bed here and there, friends here and there. When I am in Israel I only want to be in Israel and when I am in the United States I only want to be in the United States. It kind of creates a confusing situation for me and since my two worlds don't really collide in any way, I guess you can say I am living two lives.
When I was injured last season, I spent two months in Israel at the Wingate Sports Institute. The excellent treatment I received, the people I met, the other Israeli athletes – it was so motivating and so refreshing to be surrounded by people who share the same goal as me – to represent Israel in the Olympics. However, when I went to Metula to skate, it didn't feel the same. The attitude to figure skating in Israel and the conditions under which we train are different. It's difficult to be a skater in Israel. The United States has plenty of ice rinks and available ice time, coaches, advertisements, colleges, and the general public views figure skating as a prominent sport. But it's more than that, I think Israel lacks "the sports culture" and there is much less respect for athletes in Israel than there is in other countries such as the United States, Russia, Japan and Korea. These countries view their athletes as superstars, while in Israel even Olympic champions are hardly recognized.
You're very right about the situation with sports in Israel. I wonder what can be done. What we can do to improve it. What can I do? What can you do?

Figure skating is not developed enough in Israel because there is no rink in central Israel. We need, actually we MUST open a rink in Bat Yam or somewhere in Tel Aviv, and this will completely change the sport in Israel. Israel is a warm country, can you imagine how many kids will sign up for group classes during the summer? Summer camps could be available; people would come to cool down, to enjoy themselves, to have a good time. And the top skaters could put on weekly shows...
Another thing that would help is more media coverage. For instance, if we have skaters competing at the Olympics, the media needs to cover it; athletes in Israel need to be promoted - they can do commercials, model sports clothes, vitamins, etc.
I want to dedicate time to developing the sport in Israel but the only way I can do that right now is by concentrating on what I am doing and succeeding. If Israeli skaters succeed then it will obviously help, look at Yu-Na Kim, for example. I hope I can make a difference, too.
You mentioned that you spent two months at the Wingate Sports Institute because of the injury. I know, it was a rather bad one and it almost ruined this season for you, tell me more about it.
I had a very difficult and disappointing 08/09 season. I had set certain goals for that season: to create a new image for myself with the help of Lea Ann Miller, to incorporate new elements in my program, such as triple-triple combinations. I wanted to make a splash that season, so that I would be more recognized going into the Olympics. I believe I put too much pressure on myself and over-worked myself. I ended up having a grade two stress fracture in my right foot that was not immediately diagnosed and therefore mistreated. I went to the Wingate institute for diagnosis and treatment which took nearly two months.
While off the ice, I trained a lot in the gym trying to keep up my fitness levels and then, unfortunately, I tripped and broke my hand. So I actually had a broken hand and a broken foot, and even after my stress fracture had healed, I still experienced pain because of inflammation in the injured area. Two weeks before Worlds, I had to receive cortisone in my foot so that I could skate. I had to compete at Worlds only two weeks after returning to the ice, following five months off. It was one of my lowest points. I had to develop a completely different approach to competing at Worlds and look at it from a different perspective. You can read more about this period in my journal.
Needless to say, it was testing, but I lived up to the challenge and was able to nearly qualify for the final round even with only double jumps. Although I am still utterly disappointed by last season, I do not regret the lessons I learned. I will be able to incorporate those tough times into the rest of my life, not just in skating, but in all future challenges that life will most definitely bring.
Classic question to ask every figure skater: do you have any role model in the sport?
Michelle Kwan!! I used to skate with Michelle when I trained in Lake Arrowhead, California. She is the most amazing person to skate with, she is like a shark - she never stops moving in an entire 45 minute session and she looks like she is flying and having the time of her life. I think that you usually have to separate a celebrity from their art: just because they are great artists, doesn't make them great people, but in Michelle's case it's different. She is an amazing person, I often sat next to her and she always took an interest in my skating and was very supportive.
I heard that she has come back to do shows, I'd love to see Michelle as a show skater, that would make me very happy. I want to see her bring artistry back to show skating, like Shizuka Arakawa is doing, another idol of mine. And actually Shizuka has developed as a show skater, she is better now than when she was an amateur. Did you see her "Frozen" program? It's my favorite show program OF ALL TIMES.
Do you see yourself in any other sport? What would you be if not choosing this road?
I think if I had not chosen this road I would definitely have pursued some other musical sport. I think I would have ended up being a dancer or a
gymnast. I am glad I did not end up as a gymnast because the injuries are tough and the longevity in the sport is even shorter than in figure skating. Figure skating is actually something you can do forever. At my rink we have an 82 year old man who skates every day for two hours and he has like 3 routines. It's pretty amazing. But I think if I was not a skater, I would probably be a dancer. Dancing is actually something I pursue when I have time (which is like never), I go to the Broadway Dance Center in New York and take jazz or hip hop lessons when I can. I would like to some day audition for "Do you think you can dance?"
Wow, jazz and hip hop are really cool, it'll add to your skating too especially when you skate to Gershwin.
Yeah, my Gershwin program is very jazzy and very fast, it's quite challenging. I showed it only once in competition, at the Karl Schaeffer Memorial in Austria, in 2008. But as it was the beginning of the season, it wasn't ready yet and needed more improvement. I hope it'll be better this season; I really want to show my more jazzy side.
So, good luck with it this season, with both your programs of course! Fingers crossed for the Nebelhorn Trophy. :)
Once again thank you very much for this interview and welcome to AbsoluteSkating.
P.S. If anyone knows who Walter from Cabin John was, or knows anything about him, Tamar would love to hear from you.
Back to Part I