Valentina Marchei - "I never look back;
I just attack."
 
By Suzanne Herrmann
Photos © Suzanne Herrmann
Valentina Marchei is the two-time Italian Ladies National Champion. Most recently, she suffered ankle injuries causing her to miss most of the 2008-2009 figure skating season. Valentina has an incredibly positive attitude and will not let anything keep her down. This season, as she did not receive any Grand Prix events, she plans to compete in smaller competitions in Europe, including Finlandia Trophy, before challenging for a spot on the podium at Europeans and for the only Italian ladies spot for the Olympics in Vancouver.
I had the pleasure of meeting Valentina when I participated in the Adult Training Camp at Ice House in Hackensack, New Jersey earlier this summer. She was kind enough to take the time to meet with me for this interview later in the summer during the Moran Memorial Championships, the annual competition at Ice House. She has an expressive nature which made her answers to the questions interesting and enjoyable!
You began working with Nikolai last year, correct?
Yes, in September of last year.
Do you have any other coaches you work with on or off of the ice?
Nikolai is the only one--he is the coach for everything on and off the ice. When I am skating at my club in Italy, Olympic Dream Ice School, Valter Rizzo oversees my skating. He is a dance coach.
Your injury occurred at Skate America. What happened?
I sprained my right ankle doing a triple Lutz.
How long did it take to recover from the injury?
I decided to recover in the US and it took one and a half months off of the ice. It was a really slow start because in December, I discovered that the recovery was not well done. I had a lot of work to do on the ice and I did not understand why it was not working. I lost a lot of energy and power. I got through Nationals but it was not really good. After Nationals, I was supposed to get ready for Europeans—working on the ice and power work off the ice—but I only had 40 percent of the strength back in my foot. We decided that I was not ready for Europeans and I would not do it, but I would start work for Worlds. I came back here to Ice House and after one week back, I strained a ligament in my left ankle. Recovery for that injury took me three months without skating. I went home to recover and did six hours of physical therapy a day for two and a half months. Now I feel good but I am still not ready. April, May and June were the hardest. I would cry after skating every day. I could not even skate two hours in a row and I got tired fast. But I never give up in whatever I do. Everything is a challenge with myself.
What challenges do you face?
There is one spot for the Olympics and two skaters for that spot. One is a two-time European champion. It is not impossible to make the team, but not the easiest thing for me to do. But why would I not try? If I do not try, I will not know. I feel that I have to try my best—as usual! I believe that I am able to be competitive, so even if I will not make this Olympics, I love skating too much so I will not give up. I will keep skating. My passion that I want to show—I do not skate for somebody, I skate for myself. I want to show the public what I feel—to transfer the emotions. I love shows and skating for the public. Skating is another world. It is our world and I am proud to be a part of it.
What advice do you have for injured skaters?
Of course there is not just skating. There is a lot besides skating. What I tried to do when I was injured was concentrate on not what I was losing on the ice, but concentrate on what I could do off the ice. Even after one month, it is not easy to go back. I focused on college and I also met other people that are not in the skating world. I got to live the life of a normal girl and of course not taking too much advantage of this because people who go to college party more in Italy. Mental preparation is good work because it is like a daily practice on the ice. We do not give up because our dreams are stronger than any injury or part of our body. The thing I was thinking, of course, was to think not of what I was losing, but what I could discover in this time.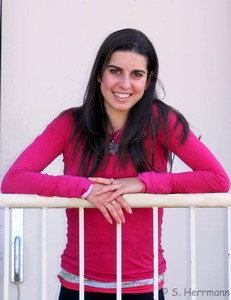 What is skating here in the US like?
Since I moved here, I discovered another kind of skating I enjoy more and more. In Italy, I like skating in a different way. Here I am going to bed early. We skate early here, not like in Italy. The coach-skater relationship here is professional and on-ice only. Off of the ice is our private life. Skating here changed my style and I focus on other things. Every morning I am excited. What is new in practice? I want to keep doing this and enjoy it the most I can. The career of a figure skater is not that long. But also, I want a life after skating that involves skating. I graduate in a year. Already, I have worked on television in Italy as a commentator for basketball and also for a skating show. Sports Journalism interests me.
What are your goals for this season?
Make the Olympic team of course! And maybe medal at Europeans. That I have been fighting for for two years. Then continue to enjoy skating because that is the only thing I do and the reason why I skate.
Are you doing any competitions or exhibitions this fall?
I did not have any Grand Prix invitations but I am still confident—there are still free spots. If not, Finlandia is in the first week of October and I will do the other smaller European competitions. I am excited to do them because I received invitations for Grand Prix events since I was 16 and was not able to compete at the smaller events. It would be nice to enjoy normal competitions. Sometimes they are more relaxing and sometimes more stressful!
My base in October and November if I don't get any Grand Prix events would be in Italy. I would do shows in Italy and I would try to be there for my Italian public. A lot of people have been writing me and asking about me, wondering where I went. The best thing for me was to stay away from everybody and to find myself again while working by myself without having pressure or any kind of distraction.
Where is your favorite place to travel to for competition?
I love to compete in France. I love to do Troph ée Eric Bompard. I like competitions in the US too because even a small competition like Moran [American Academy Figure Skating Club's Moran Memorial Championships at Ice House] is crowded and like a big championship.
What is your training regimen like?
How many hours do you skate a week?
Every day I do around 5 or 6 sessions which are 45mins each... probably more than 3 hours every day. We usually have one day off per week.
Do you have certain sessions for practicing programs, jumps, spins or other elements?
No, we have a goal every day. For example, I do the long program or the short program and it depends on how I feel in the first practice what I do. Sometimes I practice the short in the morning and sometimes the long in the afternoon. It depends on my shape. If I am too tired in the afternoon, I just do stroking or power work.
How many times a day do you run through your program?
I skate one of my programs two times per session.
Do you have an off-ice or conditioning program?
We do not do a lot of off-ice because we skate a lot. I used to run to keep my shape and I used to lift weights in certain periods of the year but not all season long. I do a lot of off-ice during the summer, but I do not during winter; it is just to keep in shape. I do not want to get tired because the competitions are close.
Do you have any competition rituals?
I cannot tell because otherwise it would not work! I am a little superstitious.
It looks like a supportive atmosphere with a number of elite skaters here at Ice House. Is it helpful in motivating you?
Nikolai's group is close because we travel often with Nikolai. In June, we spent three weeks in Japan and shared rooms. In towns with nothing, we spend our time together and have fun together with small things. We are close because we live together and stay together. We are all different ages but still supportive and friendly to each other. Even during the weekends here in New Jersey, we try to stay together. I am very happy because even champions can be natural people. Miki and Nobu, for example, are two wonderful people. They always support you and take care of people if they are not fine. I feel protective and comfortable. I am not alone even if I do not live with my parents.
What music will you be using this season?
Long Program
We are keeping last year's long program because I feel like I never skated it since I only competed at Nationals. The music is on the soundtrack from the movie 2046 –a Japanese movie, plus Requiem for a Dream from Lord of the Rings.
Short program
We decided to change the short program completely. It is slow and intense music and very strong. For example, the first time my host family came to watch it, they cried. I did not expect them to have this reaction but the strong music helped their feelings. It is called Meditation and it is written by a Japanese composer. To always meditate, Nikolai told me. To understand and think about what you are going to do!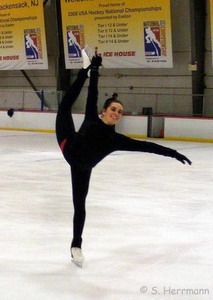 How long did it take to construct your programs?
A very short time, believe me. I will not tell you how long, but a very short time! We are still building it every day and always changing it. When you are getting stronger and landing your jumps, you can change your program. I share what I think with Nikolai and I think he is one of the most open coaches I have ever met. He really listens to us and pays attention to what we think and he shares his thoughts with us. We work together. He wants us to skate comfortably. We need to be comfortable in order to skate well on the ice. First I do the jumps like I am used to jumping them. Then we find a new entrance to the jump—making it easier or more difficult. We build the bones and then we change it. We are still changing my long program, for example. In order to do my jumps and skate a clean program, I need to put myself under pressure every time.
What is your favorite skating move?
I love spirals because I feel beautiful doing them. I do not know if others have the same feeling, but I will keep doing them! Of course, I love to jump. I do not really like to spin. Jumps – I like to let them go. My favorite is the triple Lutz and my worst is the double Axel... But everyone already knows that!
Do you coach or choreograph?
When I was in Italy, yes. I do not have a green card here. I enjoy it. I enjoyed the adult camp [Ice House Adult Training Camp]. It opened my eyes. I was surprised about how I was teaching. Things I was experiencing on the ice came out. I learned more from teaching you guys than from what I would do in one month alone. I plan to coach not as my full-time job, but I would love to keep teaching.
Have you ever participated in another discipline in skating?
No, but I would love to do pairs. It is my dream. I have always had people telling me I am too tall. …And actually, I love to win by myself, and being the only one.
How is life in the New York City area?
Actually, when I first got here, it was huge fun and I spent most of my time in the city when I had the chance. It was my first time in New York. Now we are practicing and I rest in my time off the ice to have the most energy for the start of the week. I will have all of my life to see New York, so let us concentrate on the goals and what is to be. I have to give 200%. If that is not enough, I tried anyway.
New Jersey is quiet. I live with a family which is half Italian and half American, and they really do love me and give me a lot of possibility. I eat with them and it is very comfortable there. They are the perfect family and are really like my second family. I do not feel lonely.
What is your favorite place to visit in the city?
Italian restaurant! What a silly question! The name of the restaurant is Via della Pace. I meet my Italian friends there. We go to eat and spend time together. It is real Italian food—not American-Italian food. The owner is Italian and that is the best part of the restaurant. We spend nights chatting and watching my friend, a basketball player. I feel comfortable in the Italian atmosphere. After my family, home is there.
What is your favorite skating season food?
Eggplants... My American mom makes fantastic Eggplant Parmesan! It is my favorite, but I cannot have it. And steak! My American dad cooks unbelievably fantastic steak!
What food do you try to avoid while training?
I do not eat pasta, bread, cereal or ice cream. Occasionally I will eat bread one day but of course I do not mix it with pasta or anything I should not eat. I can eat it sometimes but very rarely.
What is your favorite food to indulge in?
Ice cream. I dream about eating ice cream when I sleep because I cannot have it!
What is your favorite thing to do outside of the rink?
Going to theatres, watching movies on the couch with my American family, and staying with my friends—but not losing my concentration. I do not go to the mall a lot because I will get tired walking and I will spend money! I am a movie fan and I watch a lot of movies. My favorite movie... What is my favorite movie? The Notebook. It's really sad, haha! I cried a lot but I keep watching it tons of times. My friends and I have lots of barbeques together in the summer. Also, my computer is the only way I can talk to my parents in Italy. I have not been home for five months—that is really hard. Next week I will return for the Italian Training Camp!
What are three of the songs from your iPod that you enjoy listening to?
I do not have one because they always break! Even the new one does not charge anymore. I like to have music around me all the time, even the radio on at a low level.
I love pop music and country music so probably I would have a romantic song from Taylor Swift and of course I will have Italian songs like Bocelli's slow songs and songs like Cascada's and the ones of the moment. I have to have music that helps me dream and it helps me when I am not home.
What is your favorite quotation?
When I do something, I should enjoy it and not think about it. Do something for the satisfaction afterward. I like to be happy later and happy now and enjoy the moment.
Never look back. If you look at people behind you, you will never make it. If you look at people stronger than you, you can step over faster. I never look back, I just attack.
What is a dream that you have?
A dream? Ok. Being somebody to me is not being a name in ice skating but I want to be an example for skaters. It does not matter if I am World or Olympic champion. I just want other skaters to feel what I felt in my entire career. The feelings I have to enjoy skating as I am enjoying it. Most of the skaters are doing this because they have to do it and ... I want to be an example to follow. I love when kids come to me and say, "Oh Vale! We love how you skate!" I'm the one who always smiles and I keep smiling even when there is something wrong. That is who I am. I am not a sad person and can turn my mood around anytime I want. Being an example. That is my dream. That is it.
Thank you, Valentina, for taking the time to sit down and share a bit about yourself for Absolute Skating! Best wishes and good luck to you for a super skating season!