Michal Březina: "Practice is like competition for me"
 
By Titanilla Bőd
Photos © 2010 Absolute Skating
He is admirably calm and cool. He takes everything as it comes, doesn't worry about the past or the future - he just concentrates on his job on the ice. We talked to Michal Březina, the new hope of Czech figure skating, two days after his surprising 4th place finish at the Europeans in Tallinn.
How do you feel about your performance at Europeans?
For me it was like any other competition. The result is great, and the only thing I'm not 100% satisfied with is the long program, because I had some little mistakes there. I have to correct them before the next competition.
Did you expect to be 4th here? What were your goals?
My main goal was to place higher than last year and I managed to do it quite well. I'm satisfied but still, there is room for improvement. I don't think I could get the bronze medal but I could have earned more points with a better free program.
Were you excited after the short program? You were fourth, so you had practice with the best skaters – did it make you more nervous?
Not really. Some people might be all hyper about the fourth place but not me. I just thought, 'tomorrow is another day and we will see how we skate the next day'. So I tried not to think about my placement, just focus on the competition, as always.
What are your impressions about the biggest stars like Plushenko or Joubert?
Everyone is concentrating on himself. It's true that at the practice we have to take care and we have to follow where the others are on the ice to avoid collision, but everyone is concentrating just on himself and doesn't really care about anything else.
You said immediately after your free program that you are not nervous at competitions. What is your secret?
It's all about practice. I skate both my short program and long program every day at practice, so for me a practice is like a competition and when I go to a competition, it feels like practice. When skating my programs at practice, there are no excuses, I have to finish it, good or bad, it doesn't matter. So I'm used to this feeling and this helps a lot mentally.
Can you completely forget about the surroundings, if there are three people at the practice or thousands of fans at a competition?
I see if there are more people, but you have to learn how not to notice it and, just like a horse wearing blinkers, focus on your job on the ice.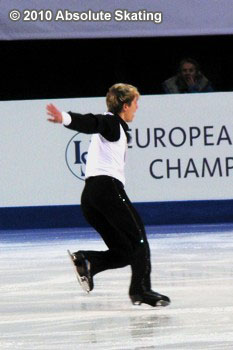 Were you born with this attitude or did you have to learn it?
I haven't been like this always. I learnt it in the last three years and practices helped me a lot. When we skate at practice, it really feels like a competition. The music is played and it is turned off just at the end of the program.
How did you become a figure skater?
I wanted to play ice hockey, like everybody in Czech Republic. But I tried figure skating and I liked it. I stopped thinking about ice hockey at once.
What do you like about figure skating?
I don't really know. I just like this sport, skating is a pleasure for me. I think I made a good decision when I chose figure skating and I don't regret it at all.
Didn't your classmates make fun of you because you were doing figure skating?
Sometimes it happened, but I think now I proved that figure skating is also a very tough sport.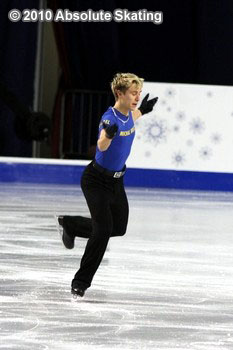 Tomáš Verner was European champion in 2008 but you have beaten him several times lately. What is your relationship like?
I don't see any rivalry, we are friends. What happens on the ice should stay on the ice. We are not enemies, not even rivals outside the ice-rink. We compete and fight with each other on the ice, in front of the judges.
Are you friends also with other skaters?
I get along with the others well, but there are some guys I don't know so well and I don't know what to talk about with them. But the other skaters I usually meet at competition are fine, there are no problems.
What about Plushenko?
He is a different chapter. When he comes into the locker room, he has so many people around him that there is no chance to speak with him. He behaves as a world champion should behave, he has nothing to lose. When he competed with Yagudin, there was such a rivalry between them that they couldn't stand each other even on the podium, so he is used to this.
What do you think about his comeback?
I think he shouldn't have come back, because in my opinion an Olympic champion shouldn't come back. But he can win the gold medal at two consecutive Olympics. Probably this is his motivation.
Plushenko said after his European victory that one of the reasons for his comeback was the fact that there were world champions without a quad jump the last two years. What do you think about it, do you think the quad is important?
The quad is the top of everything. If someone wants to win, he has to land a quad. Just look at Plushenko, Yagudin, the American and the Canadian skaters of the past – they all had a quad included in their programs and they were fantastic skaters. They managed to skate such clean programs with quads like now some skaters with triples. I think the quad is important in men's skating. It should be an additional value. It's acceptable to have a world champion without a quad but it shouldn't happen too often. It's not right if someone who can't land a quad gets enormous scores for triple jumps and the components.
What about you and the quads?
At practice I'm landing salchow and toe-loop but I haven't tried them in competition yet. However, next year I will have to include them into my programs, because if I want even better placements, the quad is necessary.
What are your plans with figure skating? How do you see your future in five years?
I don't know. I'm not thinking about it. When this season ends, a new season starts and I think just until the end of the season. Fate will decide what happens in three or four years. Let's hope I will be healthy - that's the most important thing. We will see.
It seems you really don't speculate too much about your career.
This is true. I don't worry about it. It's absolutely the same if I become world champion or not. I just want to enjoy skating and if someone does his job with pleasure then everything is easier.
How do you choose your music for your programs?
My coach chooses my music, so I don't really think about it. Of course, if I like something, I give it to him to get his opinion. He has spent so many years in the world of figure skating, so he knows best what the judges might like, how to catch their heart from the first moment. I absolutely trust his choices but if I have an idea, we listen to it together and we choose the best.
Has he ever chosen something you liked the first time, but after you listened to it more, you went crazy hearing it?
No, it hasn't happened to him but to me. Once I chose some music, I don't exactly remember what it was but it was a classical piece. We were doing the choreography for a week but I realized I couldn't bear the music any more! So I asked my coach to find me something else.
What do you want to express with your skating to specific music?
I try to express the story or the feelings of the movie which the music was originally made for. The most important thing is to create a program that has a beginning, middle and an end, just like the movie.
Do you watch the movies you take your music from?
Yes, it is important to observe what kind of gestures the actors use and try to include them into the program.
And what if you skate to a classical piece not to a soundtrack?
Then it's up to the choreographer to think about the moves.
How do you spend your spare time?
I sleep. There is really nothing better than a good sleep.