Fleur Maxwell: "I have come back to skating a much fuller person"
 
May 24, 2010
By Nadin Vernon
Photos © Silvia Ulenberg, Nadin Vernon
Back in 2005, I noticed a beautiful young skater from Luxembourg at the European Championships in Turin: Fleur Maxwell. It was her first senior competition and unfortunately we only got to enjoy one more season of her skating before she left the competition world. This was after the Olympics in Turin where she carried the flag for her country. After a three-year break, I was very pleased to see Fleur again at the Nebelhorn Trophy in 2009. While you can't help but admire her gorgeous spirals and endless variations of the Bielman spin, there's much more to Fleur's skating than her incredible flexibility. Fleur's skating has really grown this season, it's become very expressive and it's a joy to watch her perform. Evidently many people in the skating world picked up on this as Fleur was invited to perform in various shows over the last couple of months. During a week off, I met Fleur in London and we enjoyed a lovely morning in a bustling Notting Hill Café, chatting about the past season as well as all the excitement that lies ahead.
Fleur, after only two seasons of senior competitions you stopped skating. Why?
I was really burnt out and didn't know if I could achieve much more. Also during the Olympics I went to a really difficult school and had loads of work every day, plus training. I did the best I could do during that time. So I stopped skating. I went to acting school in Los Angeles and Paris and just enjoyed doing other things for a while. I didn't touch my skates for three years, I didn't even know where they were. They were downstairs in the cellar somewhere.
What made you decide to give it another go?
Last year in May I went skiing in Courchevel and also skated there and just really enjoyed it, so I thought I should maybe give it another go.
And the prospect of skating in Vancouver played a role, too?
Of course my goal was to come back and go to the Olympics but I'm not Plushenko and it was a bit unrealistic to come back after not having done anything for three years and make it to the Olympics. I didn't watch any skating during my break, and when I came back I had no idea what was going on. I had to see how the new judging system worked. Also I hadn't worked out at all, so physically it was hard. But I didn't really put that much pressure on myself, I just wanted to come back and test the waters.
I think I could have qualified in Oberstdorf with a clean program. I could have gotten the levels, but that was my first competition after such a long break, so it was difficult.
But for me the glass is full because I know now that I want to continue and that I want to skate.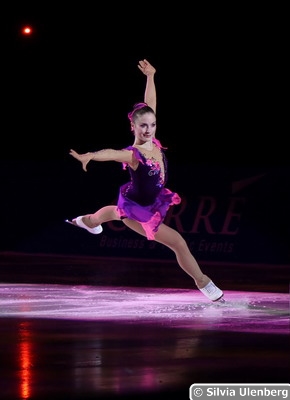 Are you now planning to keep going til Sochi?
Sochi is definitely my goal. That's why I didn't want to push myself too much this year, I didn't want to burn out. It's about slowly working my way up now and getting consistent. Next season I want to do as many competitions as I can, starting off in Oberstdorf. I have been out of the game and I really need to get back into it and also work on my rankings. I need to work on my jumps which are getting better and have to especially focus on triple-triples. If you want to be a player in this field, you really need the triple-triples.
Because I had a break I was able to recuperate and I'm so much stronger now and I'm much more flexible than I was before.
The break has done me the world of good, I was able to study, live a bit more of a normal life and come back to skating a much fuller person. I had so much freedom for three years that I'm happy now to have discipline again and get up at 6am in the morning.
Do you train in Luxembourg?
I do have a really good coach in Luxembourg, she is Russian and was a student of Mishin. I work with her every day but since nobody else trains with me, I have to buy the ice and it's very expensive. So last season I couldn't skate for more than an hour a day in Luxembourg and was travelling quite a lot. We'll have to see how it works out next season. I'm very happy with my coach, we get on very well. She's strict when she must be strict and she pushes me but we're great friends also. I really enjoy working with her.
Hopefully when I get better results next season I will be able to get a sponsor to improve my training situation, because I really need more than an hour a day. I'd like to stay a bit more at home, because I do like being with my family and having a bit more of a stable life.
I did train in Russia last season and will go to St. Petersburg again over the summer. In Russia it's good to train with other skaters. When you skate by yourself it's so difficult to get motivated. Especially on a Sunday or Monday, so being with people definitely motivates you.
How does a normal training day look like for you?
When I'm in Russia, I usually train for an hour and a half in the morning, an hour and a half in the evening and then I do an hour and a half of off-ice. We do all kinds of stuff with my coach; we do ballet, exercises for coordination and strength training, but never with machines.
You've been working with Ari Zakarian this season. How did that come about?
Ari saw me in Oberstdorf during training which went really well and suggested for us to work together. I had so many great opportunities thanks to Ari - he got me into Art on Ice. He's a great person to have, a great businessman and a lovely person. I trust him very much and we get on very well as people. I'm really happy with my team right now, I have a great coach, great manager, a really great mental coach and a great physio who lives really close to my house, I see her every day.
How did you benefit from working with a mental coach?
I'm always very nervous, so for me the mental coaching is very important. At competition, I just stay in my bubble and try and focus on what I have to do. I don't have any power over what the other girls do, but I can help myself so focusing on other people is a waste of energy and it takes your focus away. I think far too much though which can affect my confidence, but I think it's something you can learn so I worked with a mental coach and he really helped me. It's an area that I will keep working on. Everything goes together: the skating, the off-ice, the nutrition and the mental preparation – it's the whole package.
Do you have a strict nutritional plan that you follow?
I wanted to go and see a nutritionist in Germany who specializes in athletes. Nutrition is very important and many skaters don't eat well. Especially on tour, it was a disaster area, we must have been to every single McDonald's. I think it's an area that could really benefit everything else I do, and also my health in general.
I try not to put on too much weight and be a bit sensible but I have a horrible sweet tooth which doesn't help, especially here – there are cup cakes everywhere (laughs). But I want to be a bit more strict which doesn't necessarily mean eating less but understanding the whole science and what's best for me to eat. So I need to talk to somebody, get a plan and just try it and see if it makes a difference. I've spoken to some other athletes, not skaters, for example cyclists and they said that in the first months it's very difficult to get used to and it's a bit like you're in prison but you feel so much better. I just want to do anything I can to make my skating the best I can.
Have you thought about programs for next season yet?
I hardly showed my programs and when I showed them, they were not very good. I really love my music and I think I can make the programs work so much more, so I'm going to keep them. Ari chose my short program. In Oberstdorf I had a different short program, I had Secret Garden. But Julia Sebestyen also had this music and there we skated back to back, so I changed it immediately after that competition.
And Peer Gynt for my long program is quite good because everyone knows it and claps to it, but I haven't really shown it, so that's why I'm going to keep it for next season and just rework it. Stéphane Lambiel will help me with my short program, we will change it and make it more interesting.
Excellent, so you're planning on doing some choreography together?
Yes, I will work with Stéphane and also another choreographer. With Stéphane we want to rework the short and also do a show program. We will hopefully spend a week or two in Zürich together, maybe at the end of May. Hopefully I'll see him more during the season as well. I'm really looking forward to working with him, I just love watching him and I have so much to learn from him. Stéphane is an incredible skater, he is a great friend and a wonderful person, so I'm really honoured that he wants to work with me. But he's doing a lot of shows and he'll be working with other skaters as well, so we'll have to see when we can fit it in.
It was great to perform with him recently. When he skates, there's this silence. It's just magical. It's almost like people first need to take in what he did before they can clap.
Have you got any ideas yet for the show program?
I love doing show programs, I want to do something really different for next season. I want to work with Stéphane and Marvin (Marvin A. Smith who also choreographed several numbers with the AoI dancers). I love what he does and we get on very well, he wants to help me with a program. So it's going to be something completely different and interesting, along the lines of Dita von Teese maybe, but less, how can I say… naked (laughs).
You participated in some very exciting shows this year and performed alongside the best skaters in the world. It all started with Art on Ice, didn't it?
Yes, I had never done shows before and working with Art on Ice was fantastic. They are such a wonderful company and working with them was so much fun. I learnt a lot from it and it was such an incredible experience. Actually with both Art on Ice and Kings on Ice, it was a nice change to be with other athletes, the whole show atmosphere, getting ready and stuff. And of course it was incredible to go on tour with so many skaters that I look up to, like Stéphane and Plushenko, Yagudin, Slutskaya, Sasha Cohen, it's an incredible honour. You just get so many ideas right there.
What was your reaction when you first saw the Hallenstadion?
It was such a big venue and all these people…I was really starstruck and so nervous. I was very impressed by everything, the whole organization.
It was actually very intimidating for me to be on the ice with all these stars. It's so great to watch them, the way they train and I think my skating progressed from it.
You skated to Nothing Else Matters performed live by David Garrett. This was a beautifully choreographed program and you were on the ice together with Emanuelle Balori doing her hoop routine. Tell me a little bit about how this program came together.
They sent me the music in advance so I could put together a program. Then I got to Zürich and they wanted me and Emanuelle together, so we had very little time to work on the program. But it got more refined as the shows went on and for example in Lausanne we came up with the idea that she would lift me up and I would then let go of one hand. Emanuelle is a wonderful person with so much experience and what she does is incredible. I had a great time working with her.
How did Kings on Ice compare to Art on Ice?
Art on Ice really sums up Swiss perfection while Kings on Ice was a completely different experience. We had some adventures with Kings on Ice - it was very rock n' roll and fun. In Odessa they were on the ice with a hose, they didn't have an ice machine. Stéphane did a quad after every finale on this tiny ice which was incredible. If he can do it there, he can do it anywhere. The crowd was so great. They were so enthusiastic, warm and cheerful even to skaters they didn't know that well like myself. Of course there was all the travelling with Kings on Ice, 25 of us in a tourbus. At Art on Ice everything was in one place. They honestly couldn't make it any easier for skaters, we're carried everywhere. Both teams and shows were fantastic though. I miss everybody already.
Apart from the professional experience, it sounds like you made some great friends, too.
It was like a long party, everybody was so relaxed, a great atmosphere. Stéphane and Florent were my family on tour and Ari's been like a real father to me. Denis is not only a great skater but he's so funny, as is Edvin. The same is true for Florent and he's such a showman. It's going to be so exciting next season in the men's event.
I'm actually seeing Stéphane and Florent tomorrow. It's Florent's birthday and we all got very close during the tour. So we're going to surprise him and go to Paris tomorrow. We'll have dinner together and then go to this party and surprise him.
Brilliant. So you're in Paris tomorrow and where do you go from there?
This is my week off, so after Paris I'll be going to Cannes and Monaco. I'm going to a Nelson Mandela Foundation Gala. I try to be as involved as I can in these organizations. Then I'm coming back to Oxford because I'm working with my friend to do a big charity event for an orphanage in Malawi. We have incredible designers including John Galliano and we're planning a fashion show and a big auction. It's a really great cause and a great event. So I'm back for that and then I have exams in June before I go to train in St. Petersburg for a month, then to Courchevel for a month and back to Russia for a few weeks.
What kind of exam are you taking?
It's a module on literature, all about Shakespeare. I'm doing a degree at the Open University as I'm never in one place long enough.
How important is it for you to have other things in your life outside of skating?
I like to do some interesting stuff on the side, and am especially interested in events, fashion, theatre and film and then also focus on my skating. And if I do that it really complements each other. Education is so important because it gets your mind working and it feels great, even though it's difficult to sit down and learn when you're tired after training. But then it feels great. And even if I don't do a whole degree, it's very interesting for me to learn more about marketing and management as well.
Is this a direction you'd like to pursue after your skating career?
My ultimate goal would be to be an actress, and I will try that but otherwise I would enjoy to go into marketing or communications or event planning. I would love something in the fashion or beauty world. I couldn't sit in an office all day every day. It would have to be something more creative, but we'll see. For now, I'm interested to see where this sport will take me, if I have a future in it. I've had a really great year with so many opportunities and I look forward to building on that.
You can't help but be drawn in by Fleur's bubbly personality, as well as her enthusiasm and ambition. I'm very much looking forward to seeing more of Fleur's skating next season and am certainly intrigued by that new show program. Are we going to see the first giant Martini glass on ice?