Stacey Kemp and David King: "Don't write us off yet!"
November 13, 2010Â 
By Suzanne Herrmann (Suzie)
Photos © Suzanne Herrmann
Once Stacy and David could finally part from an autograph-hungry crowd, we sat down to talk about their goals for this seasonÂ…shortly after David explained a comment about what happened to them in China! David is definitely the talkative half of the team while Stacey, a bit more shy. They were both a delight to chat with.
Suzie: You said you had a bad experience in China (David laughs). Can you share that one?
David: UmmÂ…(laughs)Â…Well, because they have so much cool merchandise out in China and Japan, we decided to go out and have a look. The whole crowd was filled with military uniforms so we thought, "We'll be safe in here." We went out and they're just kids that were forced into the army, then came here and were forced to support the country. It was very regimental and a bit strange. We're looking around anyway, a few people came over, we're signing and ten minutes went by - the place swarmed with people and Stacey was on the other side. I was here and we're waving at each other and the security came in and blew the whistles and we're like, all right, let's just stick to our cores from now on! It was a bit crazy.
Suzie: It's got to be crazy just visiting cultures that are that different.
Stacey: Yeah.
David: China was really strange. Athletes are put above everyone else and you can see why the Chinese pairs are doing so well. The support that's there for them is amazing.
Suzie: Where in Great Britain are you from?
Stacey: Near Manchester, in the North.
David: I'm from right - even further north than Stacey - from Carlisle. It's right on the border. I'm not quite in Scotland, but I'm on the border with Scotland.
Suzie: Yeah, you sound like you're from that area.
How many times have you been National champions again?
David & Stacey: Five.
David: We have Nationals in about 3 weeks, then maybe, hopefully, six.
Stacey: Yeah.
Suzie: That's awesome. Ok, so your programs this season. I saw you in Skate America last year and it looks like you've added more difficulty in this year's programs.
David & Stacey: Yeah.
David: Just with the twist really. I also find the lifts have more to them this season
Stacey: Yeah
David: But I think that's kind of taken away from [our] GOEs, which isn't a positive step, but with a bit of luck -
Stacey: I think with time it will -
David: With more work. Yeah. I mean, the problem this season was we added difficulty but put less time into it because we took a bit time off after last season since it was after the Olympics. I think you can see that with all the senior skaters from NHK and from here.
Stacey: Yeah
David: All the guys who did well at Olympics and Worlds this year are down. I'm guessing a lot of people are finding the same problem.
Suzie: It's not a bad season to do that in though.
Stacey & David: Yeah, exactly.
David: We've got a lot of time to build up now and we can keep the difficulty from this season and improve in the next few seasons. We need to do it anyway. We've gotten to the highest mark we could get with the elements we were doing. In these few weeks back we actually had the axel in the program. The whole look - was a bit too messy and we need less risk [so Stacey and David took some elements and difficulty out].
Suzie: Is there a story behind your programs? Do you pick the music?
Stacey: [To David] Yeah, I think you chose it this year.
David I picked both pieces this year.
Stacey: We both have a say in it.
David: I mean, yeah, we basically come up with ideas, both of us, we bounce them off of each other and this season, mine worked!
(Everyone laughs)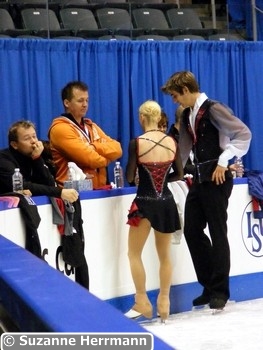 David: I love the music from both programs and I think we can play a lot more with the free program. It's got a lot more movement to it at the moment - we had to take a lot of choreography out and so it's time to put it back in now that we have gotten our fitness back. Usually we have an idea of what we want; what we want to portray. Last season we got into a [television] program called The Tudors - have you seen it? It's about King Henry VIII in England, but it's an American-run show so it's Americanized. We love the music and the theme behind it so we wanted something to mirror that image. We came up with the piece from the long program music from last year [Numb by Linkin Park] and that was done well. We suited that music and we had a good season with it so I'm hoping with timeÂ…with timeÂ…
Stacey & David: (laugh)
Suzie: Now, you train with Mariusz Siudek - Did I say that right?
Stacey: Yup.
David: Yeah, Mariusz and Dorota.
Suzie: Where?
David: Torun, Poland. Warsaw is right in the middle of the country and Gdansk is right at the top on the coast and we're in between the two. [Poland is] big.
Suzie: Where in relation to - how do they say it…Kraków - are you?
David: Yeah, it's called "The Kraków" [the South], but it's about a 7 hour drive, an 8 hour drive. We have Nationals that way every year.
Stacey & David: It's a long drive.
Suzie: Yeah, that is a long drive.
You've kind of glazed over what your goals are with your programs and the difficulty but what are your immediate goals for this season?
David: Immediate goals are to get the difficulty in the program. At least by Europeans and Worlds we want the Axel or the Toe back in the program. With the twist there is actually base [GOE], not minuses preferably and just to get the programs feeling a lot smoother. Like we said, we now are to a point in the programs where they're getting easy again and we've worked the fitness so we're not actually knackered by the end. Now we need to add a lot more choreography, a lot more involvement and hopefully a lot more character - especially we really want the free program to shine come Worlds. We were kind of looking at Grand Prix events and Internationals just as a warm-up, really. It's never easy to take a result like this, but Mariusz says it's this season's process.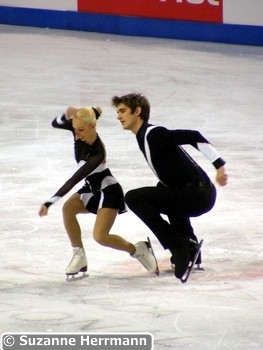 Suzie: With the change from the double to the triple twist, what are your challenges? Achieving rotation? Height?
David: With the twist at the moment we're not getting a full catch and I think that's the problem the judges would have. I think obviously we need more height and quicker rotation. You can always work on that angle.
Stacey: Yeah.
David: We've got the rotation on the twist; it just needs to be a better catch.
Stacey: Well, yeah, it needs a landing.
David: Yeah, a landing.
Stacey: We can do it neat, but it can always get better.
David: Yeah, yeah. The reason we put the triple in this season was because they've raised the points for the triple. We could always do a triple but we never [competed] it because the double was worth more points, but now the triple is worth more points even with minuses. So, we got a level 3 double twist last season and now even with minus 2's on the triple twist, we're getting a higher score.
Suzie: Why not?
Stacey: Might as well take the risk.
David: With time I'm sure it will improve. I mean, from when we first started doing it, it's already a lot better than what we were doing at the start of the season.
Suzie: How do you deal with the anticipation before you compete? Day of? Hour before? How do you contain yourselves?
Stacey: I don't know. Today we went for a nice walk, and just tried to chill out and not think about it.
Suzie: Do you think it helps having a partner with you?
Stacey: Yeah. I think so.
David: Yeah, I'd definitely sayÂ… If I was on my own, I'd just goÂ…
Stacey: Yeah - just thinking in your room!
Suzie: I know when I compete, I just have to stop thinking and it's hard when there's nobody else to distract you.
David: Yeah, I mean even trying not to think about things you start drifting. You can have negative thoughts and everything - no, I have to get them off my mind; got to think about something else. It's hard.
Suzie: Which skaters inspire you?
Stacey: I don't knowÂ… (David laughs)
David: For me, Xue Shen & Hongbo Zhao.
Stacey: Yeah.
David: Just the amount of years they've given to our sport and the amount of great skates.
Stacey: Coming back and winning the Olympics.
David: I know how hard it is at the start of the season after last season of doing full programs for a whole season and then getting back to doing full programs is such a big challenge. It's hard doing full free programs and for them to come out of retirement after three years and start doing full frees at [Hongbo Zhao's age of] 36.
Stacey: With that quality, it's pretty amazing.
David: The quality of the elements. They even came back to Olympics just to push our sport a little bit further forward and it was great for me. We were skating alongside them thinking, "Wowwwww."
Suzie: Was that cool?
Stacey & David: Yeah! Yes!
David: Just little things - they did the forward outside death spiral - nobody else does that! They're an inspiration for me.
Suzie: They're something else.
Stacey: Yeah, they're pretty special.
David: Obviously we always admired and respected Mariusz with the lifts and his character on the ice was always fantastic.
Suzie: Agreed.
What do you guys like to do for fun when you're not skating?
Stacey: Shopping!
Stacey, David & Suzie: (laugh)
Stacey: See friends, family.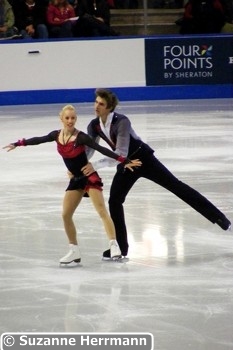 David: When we're not in training, I like doing sports. The start of this season before we actually got back on the ice, I was playing a lot of football and doing a lot of rock climbing. I just like to keep active even if I'm not training on the ice. We like to see our friends. It's weird; in Torun, it's a very small British community that we live in which is incredible because you wouldn't have thought in this little town in Poland there'd be a British community. But it's great. We like to see them [friends and family] and we try to keep up to date as much as we can on Skype I suppose.
Stacey: Yeah, Skype is great.
Suzie: Do you enjoy when you have Grand Prix events being able to see teammates and other people you never ever get to see?
Stacey & David: Yeah.
David: It's great. TomᚠVerner was here earlier and we're very good friends with Tomáš. It's great to see guys like him. It's great. It's still business, it's still work, but yeah, you have time to have fun. Especially now, we've got a full day tomorrow, just to catch up and chat with people. It's a good sport to be in. I can't really put my finger on any skaters, pairs especially, that we don't particularly like. It's good.
Suzie: I don't have any more questions at this time; do you have anything you were thinking about?
David: No, just don't write us off yet, we still got a lot left!
Stacey, David & Suzie: (laugh)
Suzie: I'd never write you off!
David: It was a tough event for us.
Suzie: I like the underdogs.
David: YEAH! We're looking towards Europeans now. Skate America's going to be fun, but again it's going to be another hard learning lesson.
Suzie: Two weeks?
David: Two weeks, yes.
Suzie: Do you go from there [Skate America] to nationals?
Stacey & David: Yeah
Suzie: It'll be your warm-up for Nationals.
Stacey: It'll be a busy few weeks. We have this next week then Skate America, then one
week, then Nationals.
David: Then our federation wanted us to do a competition the week after Nationals and we just said no, we need to work on stuff.
Stacey: We need a bit of time just to do some work as well.
David: That's our schedule and we're sticking to it!
Suzie: Well, thank you!
David: Super!