2010 World Synchronized Skating Championships:




Interview with team captain Liselott Nilsson and vice captain Hanna Andersson of the Sweden1 team, Surprise
 
By Marina Johansson
Photos © EkovisionPhotos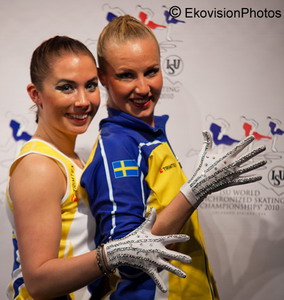 You are the most decorated team at Worlds with one medal from each of the championships from 2000 to 2009. This year is your first time without a medal. I know you are very disappointed with the results but how do you feel about your programs and your skating?
The goal was to be happy with our skating in both the short and free. The judging of the programs is up to the technical panel and the judges. After the short program we were very happy and we had a great time during that skate. In the free program we had too many small mistakes and with 4 falls in total we knew that our chance of a medal was gone, so we felt very sad about that fact.
You have a great support from synchronized skating fans around the arena when you skate. What are your thoughts about the audience here at Worlds?
When we started dancing in the beginning of our "They don´t care about us" Michael Jackson short program, the audience got loud and crazy - it just gave us so much energy and the feeling was unbelievable. It was so great. Thank you to all people that have cheered for us, we love you!
My favourite moment in the entire competition was the wow effect that you have put into your moves in the field when you all spread your arms perfectly synched to the music for just a split second and I know the audience loved it too by their loud reactions. You really used your entire bodies to create art. What are your favourite things about this year's programs?
This year we have really worked so hard on getting a good and complete story for our free skating program. Half of the team are cops in blue uniforms and half are thieves in classic black and white stripes. The thieves have been sentenced to prison but in the beginning of the program they escaped. So in this free skating program you get to see the cops trying to catch the thieves and in the end they succeed. It's a great, innovative and fun program to both skate and watch.
Over all we have been really good at listening to the music and taking good care of all the sound effects in both programs.
Next year the World Synchronized Skating Championships will be held in Helsinki, Finland and in 2012 you will be at your home arena in Scandinavium, Gothenburg, Sweden. How will you recharge and make your comeback?
We will be back, that's for sure. We will continue to work hard on taking synchronized skating to a new level never seen before. We have a great coach and lots of loyal friends and family supporting us on the way. Only the rules can stop us. We want to have fun on the ice and share our passion for this sport with the rest of the world.