John Kerr - A Season Just For Us
 
January 22, 2011
By Suzanne Herrmann
Photos © Suzanne Herrmann
While Sinead and John Kerr's season began well, the team encountered an obstacle they have averted well previous to this season; injury. Approximately a month prior to Skate Canada, Sinead suffered from a shoulder injury that sidelined them for a short period of time, causing them to miss the smaller, early-season competitions that they have used to set them up for the season. Luckily Sinead and John were able to resume training again in time to compete in Canada, their first of two Grand Prix events. Following the competition Gala, I walked through Kingston with John, joined shortly thereafter by his girlfriend, Jessica. We discussed the season thus far, gaining insight on the new Short Dance as well as their Free Dance, and their goals and intentions for this season. We did not have it in mind to leave Sinead out of the interview, but she was on stealth mode and went MIA. As much as I missed talking to the sprightly Sinead, I enjoyed speaking one on one with the equally animated John!
John: Fire away!
Suzie: Ok, so thoughts on this competition?
John: I think we're a little disappointed because we obviously had a good chance to win, but you know, I think it's kind of the new way of ice dancing, where if you make mistakes—in the past maybe the more experienced teams would be protected from that—but as we've seen at NHK and as we've seen here, if you make mistakes and the other teams get a good technical score, then it's difficult to win. That's just the way it is.
Suzie: I was taking a picture so I didn't see exactly what happened, but I know there was a mistake on the lift…
John: Yeah, yeah. To be honest, I mean think it wasn't so much the problem was with the lift—ok the lift was a bit of a balls-up and everything—but I think the problem was that [the mistake on the lift] got us a little off timing for the next part and it was a bit of a domino-effect, so that was a shame because it's been going pretty well in practice. It was probably going better in practice before Sinead got her injury, [though] we've managed to get back to a certain level of where we were. It probably wasn't quite as good as if we didn't have the injury, but you know that's part and partial of it. You just have to deal with that.
Suzie: I honestly [temporarily] forgot about it!
John: Well, that's good! That's good!
Suzie: I'm not noticing anything! You guys just look so good out there and what I noticed especially about the… [<pause> …because it still sounds different to me!]
Suzie & John: … Short Dance…
Suzie: …you just came out like you owned the place!
John: Yeah, it's really nice—it's a really nice song [At Last by Etta James/Shut Up and Let Me Go by the Ting Tings] and we really like skating to it.
Suzie: It's been in my head all week!
John: Yeah! It's a really nice song and Paul and Vanessa laid it down before us and we were able to give a good response. (Vanessa Crone and Paul Poirier revved up the crowd with their Short Dance and Sinead and John fed off the energy from the crowd!) You know, it would have been nice to have done the same in the free dance, but the problem is with the amount of elements there are, you make one mistake…it's kind of difficult.
Suzie: Especially here, you're in Canada.
John: Yeah—
Suzie: The Canadians' score can be a little inflated…
John: I think there's always an element of that when you're on home turf. We've seen that through the ages be it in Japan, Italy or wherever, you can get a bit of a home field advantage, but they have to cope with the pressure of dealing with that because they're in front of their home audience. There's a little more pressure on them, but there's a little bit more reward if they're able to cope with it.
[Unfortunately the wind garbled a question and its response, but what I did make out was John saying, "Really good! The audiences are great!!" Go Canada!]
Suzie: What is the story behind your Short Dance?
John: Well, in the Short Dance, there isn't so much of a story. I think we had a bit of an idea in the waltz that Sinead was this sort of a posh girl, I guess you could say, on the deck of a ship and I was just some hum drum waiter. I kind of tap her on her shoulder—I see her on the deck, she's alone, so I ask for a dance and that's the little idea we had for that. When the music changes, it's just pretty much that we've shown a waltz and now we're going to show you a quickstep. It's just a change of pace; we've shown a nice lilting waltz and then we'll show a much more fast-paced quickstep. It is cool because you're seeing [a variety of tempos]. People might say, "Oh, well it's a bit of a juxtaposition," but juxtaposition is good sometimes because you're showing a real difference in pace. If there was no juxtaposition, then the music would be the same all of the time.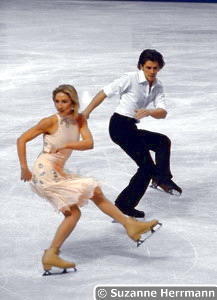 Suzie: Right and some teams do that—it's not as exciting.
John: Yeah, yeah.
Suzie: How do you feel about the Short Dance?
John: To find that a lot of people seem to enjoy ours is really nice. With a lot of the ones I've seen so far, I think the problem is that it's better than compulsories, but it's probably not as good as the old OD.
Suzie: I agree.
John: So the [Short Dance] kind of falls between two stools. With that, I don't think you're going to see an Indian Style OD of the quality of which you saw—OR—not so much the quality but the interest-level that you saw with Davis and White, or the Flamenco that you saw with Tessa and Scott.
Suzie: Or the Scottish dance we saw from you guys.
John: Yeahhhh, I mean, that's the problem. I mean how—we wouldn't have been able to do that and that's the problem because you're always going to have to present a waltz or a quickstep. The thing is, even though they had Tango this year, the Tango's not really always a great fit for a waltz. It can be if the waltz is almost done using the old squeeze box on the waltz and then [compromise it] to a Tango, it can kind of work musically. But, eh…
*** Interview will return after this brief message—err, encounter with Random Canadian Fan!! ***
Random Canadian fan: Hey! Love Madmen!
John: Aww, thank you so much!
Random Canadian Fan: It's brilliant!!
John: Aww, thanks for your [support!]. Cheers!
Random Canadian Fan: Do you have time for a photo?
John: Yeah, sure! Do you want to be in it?
Suzie: Here, want me to take it?
Random Canadian Fan: Where is your sister?
John: I don't—
Suzie: She disappeared!
John: I think she ran off!
Suzie: How do you like it [the photo]?
Random Canadian Fan: It's great!
John: My pleasure.
Random Canadian Fan: Madmen was fabulous.
John: Aww, thank you thank you! It was funny because we'd only done it once before, so we were frantically trying to remember it…what were the steps again??? [John, Suzie and Random Canadian Fan laugh] We managed to get through it anyway [laughs].
Random Canadian Fan: We loved your short and long too!
John: Thank you so much! Thank you!
Random Canadian Fan: Take care!
John: Cheers! You too! Thanks!
This "Random Canadian" fan was a great example of the warm support I saw Sinead and John receive on and off the ice throughout the weekend. Just during the interview there were at least a couple of encounters with appreciative fans!
*** Back to scheduled programming—err, interview! ***
Suzie: How about the Free Dance?
John: The free dance is almost something where it's kind of funny because it's almost been more impressive in practice than the Short Dance. Here we skated the short dance great and then the free dance didn't work out too well. It's one of those strange anomalies. I think with losing a couple weeks in training and losing little bit of momentum affected the short dance less. The problem was that without doing Finland, we didn't really get a big feel for how the levels were, so really we were coming in here a little cold. That's not an excuse, that's just how it is.
Suzie: Right.
John: What's the difference between an excuse and a reason? You know, sometimes you're just making an excuse but …an excuse is a reason…
Suzie: It is!
John: … or a reason is an excuse!
Suzie: Yeah! Well, yours is a good reason!
John: Yeah. I'm gonna stick to it!
Suzie: How did you like Shall We Dance?
John: Oh… when we went to the show?
Suzie: In Hamilton.
John: Oh that! Sorry, I totally forgot! It was great! To do a show just with ice dancers felt very—there was something special about it because it felt very one-off [exclusive]. We even got to do an opening choreographed by Marina Zoueva. She wanted to include all these elements that have come back in the last five or six years. It was very, very cool, and to skate with Tessa and Scott, Meryl and Charlie, and Tanith and Ben, it was great! Trying to think what everybody did…
Suzie: I was so close—I wanted to go but I came here instead.
John: It was kind of [ironic] funny though because after the show a bunch of people got injured. Obviously Tessa with her operation, Evan Bates hurt his Achilles and then Sinead threw her shoulder out. It was kind of interesting that there were so many injuries after that.
Suzie: What is it like skating the season after the Olympiad?
John: I think we feel like this is another season just for us. We're not getting too stressed about different things. We are just going to enjoy it more. I think that sometimes when it's the Olympic season; it's difficult to enjoy [skating] because you get caught up in the scale of it all. It's always something that can be on top of you—you can either embrace it or it crushes you. It wasn't always extra pressure that I enjoyed, so I feel like that could affect how you were training or how much you were enjoying training and so on. This year has been more enjoyable I think—it's just for us.
Suzie: Are you glad you returned?
John: Yeah, yeah, I think so, I think so. I think that the way this sport is going and the way a lot of teams have been brought up in the new system, we're up against it because we've had to be in this transition period when ice dancing is changing. It's tough, but yeah, we're glad we stayed in another year.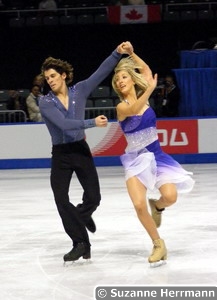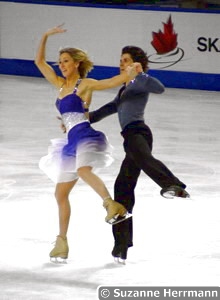 Suzie: Did you like Kingston?
John: Kingston, yeah, it was great! Fans were great, venue was great, the event was run well and we really enjoyed it. We would have enjoyed [being slated for the Grand Prix Final], but we'll just try to do it in Russia.
Suzie: Good luck with Russia!
John: Thank you so much!
Suzie: Quick—top three songs on your iPod or what you like to skate to.
John: Ah, you mean like just to listen to?
Suzie: Yeah. Currently, what are your favorite songs?
John: Umm… [To girlfriend, Jessica,] What's the song, Just the Way You Are?
Jessica: The Way You Are.
John: Just the way you are? Love that song.
Jessica: Actually, they were playing it.
John: Yeah? Umm...Wait a minute; I'll just check what's in my faves at the moment.
Jessica: We're doing a duet together of it at home.
Suzie: Fun! Do you skate?
Jessica: I was a skater. I skated for Greece the last two years and now I [go to University at] Columbia in New York City.
Suzie: Cool.
John: How It Ends from Devotchka, Collide—acoustic version from Howie Day…
Suzie: Cool, thank you.
John: And uh what was the first one?
Suzie & Jessica: Just the Way You Are [by Bruno Mars].
John: Yeah, that one. That's what I listen to at the moment anyway.
Suzie: Thank you very much!
John: You're welcome.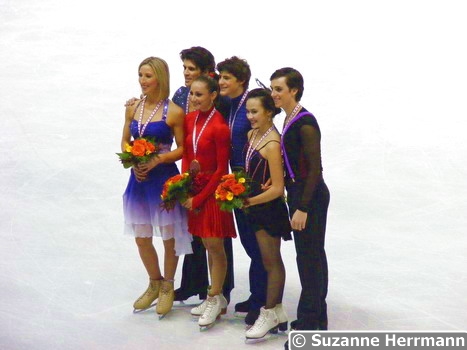 Those who have followed Sinead and John in the past few months are well-aware that they were unable to compete at the Grand Prix event in Russia because they were again sidelined by Sinead's shoulder injury. This time, it unfortunately meant an end to their hopes of qualifying for the Grand Prix Final. With a bit of recuperation time, John and Sinead were able to resume training and prepare for the second half of the season. They recently posted an update in their diary on www.sineadandjohn.com about their eagerness to compete at the European Championships. We wish them the lots of luck!
John, thank you for sharing your time for this interview and all the best to you and Sinead on your endeavors!!