Brian Joubert: "It's much more important to fight than to win"
 
February 8, 2011
By Titanilla Bőd
Photo © Joy, Johanna Welnicki, Mireille Geurts, EMJO
You can't be sure he won't miss a jump, you can't be sure he will be flawless -- just as other skaters, he is also only human. But one thing you can be sure of: no matter what happens, he will fight. Brian Joubert was only on the seventh place after the short program in Bern, but by winning the free he managed to grab the silver -- his tenth consecutive medal at his tenth European championships.

Did you believe after the short program, that you would be on the podium?
It was difficult, because I was only seventh, but it was close, the score was not so bad compared to the other skaters. So I was lucky, it was possible to medal. But I didn't think about it. When I came on the ice, I just focused on my program, to give 100 percent. I didn't care about the place.

How did it feel to you to skate in the penultimate group? Usually you are in the last group.
I don't like it, but after I had a very bad short program, it was normal for me to skate in this group. I was so disappointed about my short program, because I like it so much, and I definitely don't like to make these kind of mistakes, especially on the triple lutz. So I was disappointed but then I thought, that's life, even though I'm not in the last group, I have to do my job. That's what I did.

How did you feel while watching the others? You had to wait for a long time to know if you medal or not. Were you nervous?
In the beginning it was okay. When I saw that I'm already sixth, then fifth, then fourth and that I could win a medal, I started to get nervous. It was very long, I was more nervous than before my free program! However, I was with my mum and it was great, because we had this experience together, and I didn't want to be alone in those moments. So in the end it was very nice. I was so close to be European champion, but I still showed that I can skate like a champion, like a fighter, and that's the most important thing.

Robin Szolkowy (European Champion in pairs, together with Aljona Savchenko) said after pairs' free skating that waiting for the score of the rivals was much harder than to skate the entire program. Do you agree?
It's special. After my free program I was happy about my performance, about what I did and I felt fine. I started to be nervous when Michal Brezina, Artur Gachinski and Kevin van der Perren skated, because I really wanted to see two French guys on the podium. First and second place is great for my federation.

Florent Amodio jumped into your arms when he realized he is European champion. (they showed this on the screens in the arena) Are you happy for him?
Yes, I'm very happy. He works a lot, these were his first European championships and he earned a fantastic result. Of course I'm happy for him, I'm always glad for my friends, the team, for everybody -- but I prefer to win.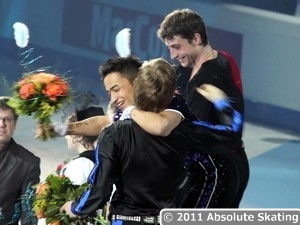 All the three guys on the podium were so nice and those hugs and firm handshakes showed true sportsmanship. You seem to respect each other a lot and have a great fun together.
That's true. I was also nervous for Tom√°s, because I wanted to see him doing a very good performance. I like this guy, he is very nice. To be on the podium with him was great. After the competition we had a cocktail with the French federation and Tom√°s also came with us. I was very happy for him. He could become European champion as well, it was close, but he still didn't have a bad competition here.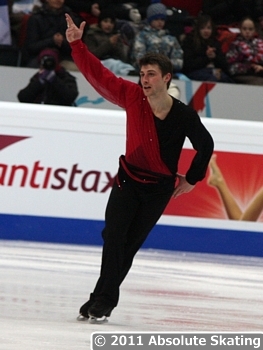 You won the free program in Bern. Are you satisfied, this is what it should be like?
I think the last time I won the free program was in 2007. It doesn't happen often, I think I won the free only two times... So I was really happy about this, but I still have to improve this program. I love it, I feel confident, with the audience it's great, but I still have to work on it, because it's very difficult physically. That's what I felt also in the free program, especially when I did the triple loop. That's why I put my hand down, I was just very tired.

How did the cold at this ice rink affected you?
I prefer when it's cold, because in my ice rink it's also very cold. But then I practice every day one hour or two hours, so I feel warm. Then it's easier to skate my program. At a competition you have only six minutes for warm-up, then you wait, so you are getting cold. I think every skater was disappointed about the temperature. And specially, what I didn't like was the difference between the practice rink and the main rink. The ice was completely different and the practice rink was very warm. It was not easy for us, skaters.

This year you skate to a classical music in your free program. Do you like this new style?
I enjoy it, because I feel that I can improve on this music. I don't know if I continue with the classical music in the future, but I just need this program to be better, that's the main goal for me. I wanted a change, I don't want to do the same thing every time.

Do you like listening to Beethoven over and over again at practice? Does it give you energy?
This music makes me really relaxed and I like it. I don't want to rush, I want to take my time, so it's easier for me.

You have two jumps at the very end of your program. Isn't it too tiresome?
I think I have to change it, because two jumps are a big risk. One is okay, but two are too difficult. So I have to put the one of the jumps before the last footwork. I wanted to do it in Bern, but I didn't want to change my program and be disturbed. So I kept it like this, even though I made a mistake on the triple salchow. Maybe I will change the jump layout for the Worlds.

So no more program-changing right during the competition? In the past you did it a few times...
When I did it, it didn't always work. So it's just wasn't the moment for me to take this kind of risk. I worked like this on this program, so I have to do the same at competition.

What about your spins? You had some low levels at some competitions at the beginning of the season on them.
My flying upright spin is level four, so it's okay. I just made some mistakes on the combo spin, I didn't count the eight revolutions, so I lost a few points. I just have to count, I have to work on my condition, because when I do spins, I lose a lot of energy.

So far you did one quad in this free program. Do you plan to add a second one until Worlds?
I really want to do two quads. I don't know if it's two quad toes or two different quads, I also don't know if I keep two triple axels, but two quads are my goal for Tokyo.

So do you prefer the quad to triple axel?
When I feel confident, I know the triple axel much more than the quad, but I prefer to do quads. It's much more interesting and it feels so great during a program.

At TEB you had a grey and black costume for your free program, now you changed to red and black. Why?
The grey and black was too dark for me, I didn't like it. That's why I wanted to change the colour. I don't like so much this new costume, but I have just one more competition in the season, so I will keep it. A lot of people told me they like it, so I will skate in it also at Worlds. The costume is not so important for me.
After the short program you said you have a psychological problem on the triple lutz. What's going on? When you land it, the lutz is one of your best jumps and sometimes you still struggle.
Lutz is a very easy jump for me, in the free program for example it was great! I'd really like to work on the lutz with four rotations, I'd love to try a quad lutz. But in the short programs I had so much trouble with this jump at competitions -- in Göteborg, at GP Final 2008, I had so many mistakes, I cut my foot two times when landing this jump... Before the short program I was thinking about this and then I made a mistake... It's difficult, because at practice I never miss the lutz.

So you shouldn't recall the bad memories...
Yes, that's all! Before the free program I didn't think about it. I wanted to be relaxed and I landed the lutz perfectly.

In Bern you once again showed that you are always a fighter. Even if you are down, you always come back. Where does this strength come from?
I don't want to give up. This is very important. When you are at a competition, you might be ready or not, you have to give everything. For me it's much more important to fight during the competition than to win. I was European champion in 2009, but I wasn't happy about that title, because I didn't give everything. I'm prouder of this silver medal, because I fought. After the short program lot of people in France said that I was dead, I was finished, and I gave them the answer. I know what I'm able to do. I know I still can do a lot of good performances. I still have to work, I still have to improve, but I love to skate, I love to compete, so I won't give up. When it is the time to stop, I will stop.

Ten years, ten Europeans, ten medals -- this is an impressive result.
I'm very proud about it. I don't know why, but I feel good at this competition. I like the European championships, I try to medal every time. I really wanted to be four-time European champion, but who knows, maybe in the next season. My first European championships were in Lausanne, and I won my first medal, so this made me very confident about this competition and I managed to continue like this each year.

Did you think about the Europeans in Lausanne now? It was also in Switzerland, you were young and all happy to stand on the podium next to Alexei Yagudin.
It was unbelievable. One of the best memories for me. I really like to skate in Switzerland, because I feel like in France, but I'm not in France, so I don't feel the pressure. I saw a lots of French flags in Bern, everybody was supporting the French skaters, so it was great.

Seeing Florent's happiness did you remember your first European title? In Budapest you were also happy, although in a different way.
Florent and me we are completely different. I don't like to show very much of what I think and what I feel. I'm happy, it's okay, but it was my goal to be a European champion, I worked for this, so it was not a surprise for me that time. Budapest is a great memory, because I did a very good competition, good quality and I beat Yevgeni.

How was the French party after the competition? You and Florent were late for the gala practice...
We had a cocktail with the federation until two o'clock and then we went to a disco. I went to bed at seven in the morning, so it was very difficult to wake up. I couldn't do any jump at the gala practice... I don't even know if Florent was talking in his sleep again, because I was too tired, I couldn't hear.