Sarah Meier: The Bern Miracle
 
April 6, 2011
By Ia Remmel (Pia)
Photo © Ia Remmel (Pia), Silvia Ulenberg, Joy Geurts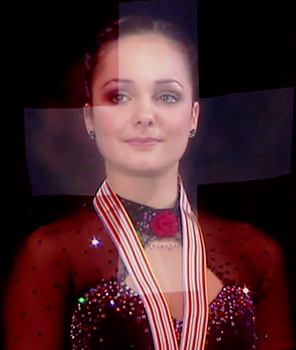 The skating world will long remember the moment at the Postfinance Arena in Bern where dainty wide-eyed Sarah Meier finishes her free skate and bursts into tears. Wearing a shimmering black Spanish-style dress with a red rose in her hair, she gave a brilliant performance to the soundtrack of "Love in the Time of Cholera". At the end of her program, the 18 000 spectators go ecstatic and rise, with the full arena becoming a billowing sea of red and white Swiss flags.
Behind the art and beauty of figure skating are a lot of tears, as figure skaters struggle with disappointments and injuries. In order to succeed, a figure skater must have a lot of talent and a strong support team; last but not least, a figure skater needs luck.
Sarah Meier's talent was revealed at a very young age. She landed her first double axel at the age of ten and by the age of thirteen she could perform all 6 of the triple jumps. She won bronze at the 2000 World Junior Championships, is a double silver medalist at the European Championships (2007 and 2008) and 2006 Grand Prix Final bronze medal winner. She was 6th at the 2006 and 2008 World Championships and 8th at the 2006 Winter Olympics in Turin.
However, her way to success was not easy. The two previous seasons especially were not very fortunate for Sarah Meier. In the 2008/2009 season she missed several competitions due to back problems involving spinal disc herniation. However, she fought back bravely and won an Olympic spot at the World Championships in Los Angeles. In the 2009/2010 season, she had problems with Achilles tendon inflammation. In the current season she wasn't able to participate in any competitions before the European Championships, as her injury caused her to withdraw from Skate Canada, the Rostelecom Cup in Moscow and also the Swiss Championships. Even before the European Championships, the state of her health was not clear.
On the 25 th of January, the Swiss television channel SF1 aired a broadcast "Sportlounge", showing Sarah Meier's way to Bern. The broadcast detailed several stages of her preparation.
* 72 days before Bern.
Sarah Meier is with a doctor who is inspecting her left leg. It is possible to see surgical scars. She is in pain. The doctor diagnoses her with tendons overload. Sarah Meier must pause her training.
* 36 days before Bern.
Sarah Meier skates at an open-air gala taking place at the Swiss mountain resort of Wengen. She feels better and is able to train and jump without pain.
* 12 days before Bern.
Sarah is with her physiotherapist Martin Wälchli. She receives intense physiotherapy and does a lot of special training for her left leg. She is already able to train at near full capacity but her body needs to regenerate. Everything is improving but she has very little time, making her nervous. She has lost a lot of time with injuries.
During the last week before Bern her condition is decent. In one of her interviews after the competition, Sarah Meier said that she thought that fifth place would be respectable.
You have left behind the great competition in Bern and also some troubles. How did you feel before the competition? How does it feel now?
I was of course very nervous before my short and even more before my long program because I wasn't so well prepared. All the problems I have had so far during this season and the fact that I wasn't able to participate in any competition before Bern – so I was really nervous and I wondered what would come of it and whether it would be OK. So I was really happy to have skated so well and was lucky to win.
Even now I can't really describe how I did it. I just don't know. It was amazing, it was like a dream. It was like a miracle.
Injuries have plagued you throughout the whole season and your way to the European Champion title wasn't easy.
I twisted my foot in Skate Canada and injured the ligaments on my foot. That's why I couldn't continue competing and was forced to withdraw. After that I couldn't train for a long time. When I slipped or practiced skating for too long, I would feel pain. It was quite a hard time. I couldn't train and I couldn't compete but I had two totally new programs for Bern that I needed to prepare. I couldn't train jumps. Sometimes I was despairing and didn't know what would come of it.
Sarah Meier's coach, her aunt Eva Fehr was always there to support her. They could understand each other even without words but in crucial moments she would find the right words to encourage Sarah. Before Sarah's free program she told her: don't enjoy, fight! It worked – Sarah has said that she doesn't do her best skating when she is enjoying herself. The adrenaline of competition enables her to give her best performance.
Sometimes it is problematic to work with a close relative. Did working with your aunt always go well for you?
For me to work with my aunt was always OK, as we have always had a very good relationship. Of course we have fought sometimes, but afterwards we have always talked about problems we encountered.
Moreover, I used to go to different camps every year and worked there with other coaches. So I always got new influences.
My aunt is also very open to new ideas. She does not necessarily hang on to tradition and was ready to try new methods.
Renowned Swiss sport psychologist Hanspeter Gubelmann has said that psychologists can assist athletes to forget their frustration and shed their emotional ballast, helping them focus on the essential. "However, the final result depends on the athlete. In the end, the athlete stands alone and must give her best".
In difficult and complicated situations athletes turn to psychologists for help. Did you work with a psychologist?
Yes, I have worked with a psychologist for many years. (Sarah has consulted with the previously mentioned Hanspeter Gubelmann who has also worked with the Swiss ski jump team, Simon Ammann amongst others).
For me, the psychological training was very important because I couldn't skate as much. I visualized what I needed to do and worked a lot in my head. This was a part of my preparation.
We prepared for other things as well. For instance, we knew that the temperature in the Bern arena was going to be low and so I prepared myself for it. I also knew that this competition would be psychologically different for me with a lot of pressure on me to perform well in front of my home crowd. Knowing all that, we thought how to use it to my advantage.
What was crucial to your winning performance? How did you prepare yourself for this moment, as the last skater in the hot group and in front of your home crowd?
I don't really know, it is hard for me to even remember the moment.
Some hours before the competition I was horribly nervous but over time I became calm and
concentrated. In that moment I wasn't thinking about anything that would bother me. I was very focused and then it was already over... I really don't know how I did it.
Now I meet Sarah Meier in Davos, getting ready for the ice gala "World's Best on Ice". After the European Championships she has just finished a very successful Art on Ice tour in Zürich and Lausanne, where she performed with Welsh singer Katherine Jenkins. Together they performed the impressive program "Prayer". She floated on the ice, dressed in white and wearing a white veil. Above her, on a massive screen, she appeared in a video in the light of dozens of candles.
She appears relaxed and glad under the blue sky of the Swiss mountains. For the second show, the organizers arrange a horse carriage ride, where all the stars ride through the city to the arena. After that Sarah Meier will conduct a master class with Aliona Savchenko and Robin Szolkowy with little skaters. This happens in an open air rink in front of an arena thickly surrounded by mothers, fathers and other people proud to see their champion.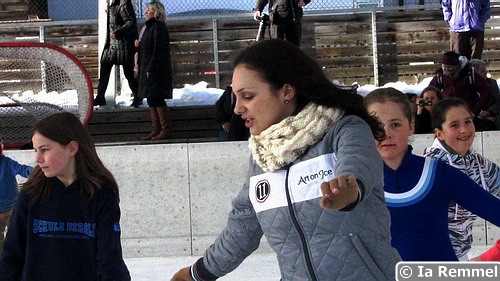 In the Swiss media, there was a poll on whether Sarah Meier should continue and compete at the World Championships in Tokyo. Do you want to continue competing after your success?
No, not at all, I don't plan to continue competing. I had already planned to stop earlier and I always considered Bern to be my last competition. I know that I can't do any better than what I did in Bern. I peaked here.
Hopefully we can see Sarah's skating for many years to come. Her fascination with figure skating goes back to her early childhood.
You first came to figure skating from a skating family...
My entire family is involved with skating. My dad was a hockey player and my mother is an international skating judge. My sister was keen on synchronized skating. My aunt is a former figure skater and skating coach. It was just natural for me to start get involved in skating.
What do you plan to do after competitive skating?
I want to continue doing shows and then go to a university.
You didn't decide yet what do you want to study...
Maybe something connected with sports or event management.
During the summer I will relax and consider my options.
What do you do aside from skating?
I like all kinds of sport. I just do normal things like everyone. I go out with my friends, go to movies – all that.