Shizuka Arakawa enjoys show skating
 
August 8, 2011
By Ia Remmel (Pia)
Photo © Ia Remmel (Pia), Natasha Ponarina, Silvia Ulenberg
The Japanese "cool beauty" Shizuka Arakawa greatly impressed me in the 2006 Turin Olympic Games. It was there that Arakawa became the first Japanese figure skater to win an Olympic gold medal.
More than anyone she embodies perfection on ice. Her movements are extremely clean and pure. She glides like a swan over the ice, easily performing complicated jumps, while telling dramatic stories. Shizuka Arakawa has got a symbolic name: she was named after Shizuka Gozen who was a 12th century Japanese court dancer who was mentioned in the ancient Japanese story-book "The Tale of Heike".
Arakawa wasn't a favourite to win back in 2006, when the favourites were Irina Slutskaya and Sasha Cohen. However, they slowly faded away and it was Shizuka Arakawa's turn to shine. She started her program with Puccini's "Turandot", where she sliced through the air like a sword, embodying the ruthless Asian princess in this opera. Her coach Nikolai Morozov said: "She looks so mature, like a beautiful woman. Today she looked like a princess."
I have always wanted to speak with her and was always looking for an interview. To my amazement it wasn't easy to find. There were almost no interviews with her in English. The last non-Japanese interview dated back to 2006. Finally, I had a chance for a small interview in Davos where she was taking part in the show "World's Best on Ice".
Every year you participate in a lot of shows. Do you think there are enough skating shows for pro skaters?
Yes, I think there are many possibilities.
When you think back to your competitive career: what do you like more – competitions or shows?
I do like shows more.
Why shows?
I have more freedom in show skating.
However, your skating in Turin Olympics was just superb...
Thank you, it was important for me. But now I just feel well in show skating.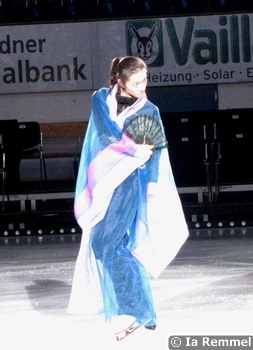 The way to Olympic gold was not easy. Arakawa won her first and only world title at the 2004 World Championships in Dortmund. She was the third Japanese female world champion at figure skating after Midori Ito and Yuka Sato. Her seasons before and after weren't very successful though.
Shizuka Arakawa's first coach was Hiroshi Nagakubo, a renown specialist, who also coached Takeshi Honda and Akiko Suzuki. Among Arakawa's coaches have been Nanami Abe, Richard Callaghan and Nikolai Morozov. Her choreographers have been Yuka Sato, Nanami Abe, Tatiana Tarasova, Nikolai Morozov.
Shizuka executed her first triple jump at eight years old. Her jumping ability has always been excellent: in her competitive days she was able to do complicated combos like the triple salchow - triple toe or the triple lutz - triple toe. In training she has landed a combination of three triple jumps. On Youtube, there is a video where Arakawa does 37 double jumps in a row.
Shizuka has some trademark moves, especially her "Ina Bauer". She has got very flexible back that allows her to bend right back. She also has perfect spirals and spins, for instance her donut spin, which is reminiscent of the parallel Biellmann with a raised hand writhing like a snake, "Kerrigan spin" and also the Biellmann spin.
How did you start figure skating?
As a little girl I wanted a shiny costume... (laughs). And then it went to training and work.
Did you have idols during your youth who you wanted to be like?
Yes, Kristi Yamaguchi, Yuka Sato.
Which skaters do you like now, who are your favourites?
(Thinks a while) Every skater is interesting, I appreciate everyone. I can't name a specific favourite.
Arakawa has created in recent years many impressive exhibition programs like "It's a Beautiful Day" and "Who Wants to Live Forever" by Sarah Brightman, "Candyman" by Christina Aquileira, "Listen" by Beyoncé, a program using flamenco music and "Frozen" by Madonna which has Shae-Lynn Bourne's sophisticated choreography and Arakawa, wearing an original rock-style black dress and a band wrapped around her leg, performs to this grim music which sings: "You only see what your eyes want to see, how life could be, what you want it to be, you're frozen."
Maybe her most significant program that goes back to her roots is "Yugao", choreographed by Kenji Miyamoto. The program is based on part of a famous Japanese traditional story "Genji Monogatari". In this story, the protagonist Genji sees a moonflower (yugao) and sends a servant to pick it. Then a girl in a long tunic gives him a fan to adorn with flowers. After she leaves Genji notices a romantic poem written on it. Genji writes a poem in response and sends it to the house with yugao flowers. They fall in love. Genji knows that she is the wife of a close friend, although he doesn't know her name. Genji names her Yugao (moonflower). They agree to keep their love secret. However, at night the ghost of Genji's ex-lover appears and kills Yugao. Later, Genji finds Yugao dead.
Wearing a kimono-like costume, with a fan in her hand she perfectly exhibits deep tragedy of this story.
Who creates your beautiful show programs?
I have a very good Japanese choreographer, Kenji Miyamoto. Do you know him? Then Shae-Lynn Bourne, David Wilson.
When you start with a new program do you have your own idea for choreography? Or do they come from the choreographer?
I often have my own ideas. I tell them to the choreographer. Then we see what to do with this idea.
It is said that you are one of the most perfect show skaters, also technically. I read on an internet forum that people think you can come back easily and get a high placement in competitions. How do you keep your shape?
Thank you! It is lots of practice. I practice hard for shows.
What is the most important message you would want to tell your audience?
Feeling is the most important to me. I want to show the audience my best skating skills. I want to bring emotion to the audience, in every program.
After turning pro Shizuka Arakawa is one of the most sought show skater. She performs regularly in shows all around the world. She has her own gala called "Friends on Ice". Arakawa also works as a TV commentator for Japanese channels. In 2006, Arakawa appeared in a Japanese TV drama, " Shichinin no onna bengoshi" , presented by Asahi TV . She competed in ABC skating series "Thin Ice", aired on March 19, 2010, paired with 2006 Olympic men's silver medallist Stéphane Lambiel. They were voted first by the viewers but overall ended up in third place. She does charity work.
Shizuka's favourite season is winter, her favourite colours are black, white, purple and pink. She adores her four little dogs, named Choco, Tiramisu, Aroma and Rosa.
Skating is so popular in Japan – why so?
I don't really know. I haven't thought about it. It's hard to say when you are part of it. It is becoming something natural and part of our life. People like skating a lot, we have lots of skating shows and youngsters coming to learn to skate.
What are your favourite shows?
"Art on ice"... Our Japanese shows. My own show "Friends on Ice" is very important to me.
Have you thought of coaching one day?
I don't know yet, I am thinking. Now I just enjoy show skating.