Ossi Kanervo and Henna Lindholm: "We would love to have more couples skating."
 
January 22, 2012
By Lena Halonen
Photos © Eva Maria Jangbro (EMJO), Lena Halonen
Ossi Kanervo and Henna Lindholm are a young ice dance couple who competed at senior level for the fourth time at the recent Finnish Nationals. And for the second year in a row they placed first. This year they are going to the European Championships for the qualifying round, with a new coach and programs which they feel are more their style. I had a talk with them about training, having a new coach and life outside the rink.
How and when did you get started in skating/ice dance?
Ossi: I started when I was 5 years old, first in single skating, and then ice dance at the age of 16-17. I practiced ice dance once a week in Susanna Rahkamo's ice dance school. Then it started getting more serious, and now it is what I do full time. I stopped single skating a couple of years ago, but one year I did both ice dance and single skating. That was really tough (smiles).
Henna: I started skating when I was 4, and did single skating until I was 18. Then I started skating with Ossi.
Did you have another coach before Maurizio Margaglio?
Henna: Yes, Sergei Astashev. (Former coach of Johnny Weir and others, now working with the Korean national team - ed.)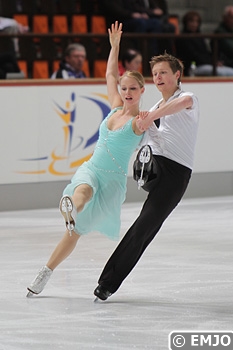 Has the way you are working changed with your new coach?
Ossi: Yes. You can say they are very different styles, the Italian style and the Russian style.
Henna: They pretty much ask the same things skating wise, but in different ways. Sergei was more about power and deep edges.
Ossi: And now we talk about how to build a program; it is more like telling a story. With Sergei it was more showing the speed and edges. Now we are showing a story. That is probably the biggest difference.
How involved are you in creating your programs?
Ossi: Quite a bit.
Henna: This year we actually had the chance to pick the music for both the long and short dance together with our coach. We did not have this opportunity earlier. This year we did it together in a way that is great for us and it shows the best part of our skating.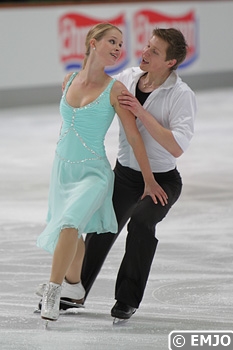 Could you tell a little more about how you made the programs and about "the story" the programs are telling?
Ossi: For the short dance we started on the floor with ballroom dancers. We found our music (rhumba and samba) from the music used at the dance studio. After learning some Latin floor moves, we transferred it to the ice with Maurizio. For the free dance we had a brainstorming session with Maurizio, and together we found "Unchained melody", and then we got the idea for a ghost/love story theme. In this story Henna and I are lovers, but I have died and come back as a ghost. At first she can't see me, but she can feel that something is there. During the story she sees the ghost and they spent their last moments together before the ghost is gone forever.
How much do you practice and what does a normal day look like?
Ossi: We skate in the morning or early afternoon, probably 2-4 hours per day, it depends on the day, and then we do off-ice training and dancing and ballet. And in the evening we are working.
Do you work with a sport psychologist?
Henna: No, not really. But it is something we should do; it might be the next step.
Do you share the ice with Olesia Karmi and Max Lindholm during practice ?
Henna: There are only two senior couples so we have a lot of space (smiles).
Is it good to have that much space?
Henna: We would love to have more couples skating. It is so nice to see other couples because you learn from watching. And if someone is doing something good, you want to push more.
Ossi: It is good to have that little "competition".
Henna: But practice at competitions are a bit hard because we are not used to so many couples on the ice, you have to watch out (smiles).
Finland has a long history of successful lady skaters. Are the Finnish people as interested in ice dance?
Ossi: When Maurizio Margaglio came to Finland last spring, he wanted to establish an ice dance program in Finland. But he knew that two international senior teams are not enough in the long run, so we needed younger dancers to build the future of Finnish ice dance. He has succeeded in forming three novice teams already, so the Finnish skating people are getting interested in ice dance once again. People were interested when Susanna Rahkamo and Petri Kokko were top ice dancers, but after they quit ice dance kind of died in Finland. There were some teams after Rahkamo/Kokko, but until now it has been pretty minimal. Six years ago we started building ice dance again and now we are at this point!
What kind of attention do you get in the media?
Ossi: Well, we don't get a lot of attention at the moment, but we have done some interviews.
Which ice dance teams have inspired you?
Ossi: My favorite teams are: Federica Faiella/Massimo Scali, Albena Denkova/Maxim Staviski, Shae-Lynn Bourne/Victor Kraatz, Tessa Virtue/Scott Moir and of course Barbara Fusar Poli/Maurizio Margaglio.
Do you think you will inspire other Finnish skaters to take up ice dance?
Ossi: I really hope so. And I hope that I can do my part and develop our Finnish skating and ice dance.
What do you do in you spare time?
Henna: I work evening shifts in a restaurant.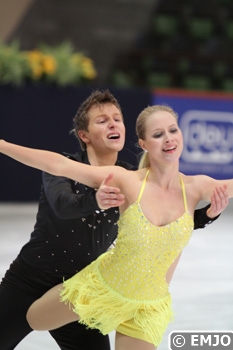 Ossi: I work as a personal assistant to my father (he is in a wheelchair). I work at home and have flexible hours, so it is a good job to combine with skating. I like to spend time with my friends and them and I like to play the piano.
What are your goals for this season?
Ossi: Our main goal for this season was to win the Finnish Nationals and earn a spot for the European Championships, and hopefully for the World Championships too. Our second goal is to show the international skating world our very best.
Which competitions are you going to participate in?
Ossi: Last fall we did the Nebelhorn Trophy, the Finlandia Trophy, the NRW Trophy, the P. Roman Memorial, two national qualifications and the Finnish Nationals. This spring we are going to the European Championships, the Nordics, the Mont Blanc Trophy and hopefully to the World Championships.
It sure is exciting to get to know a new dance team, especially from Finland.
Best of luck in Sheffield!