It's an Artist's season for Denis Ten
 
October 26, 2012
By Reut Golinsky
Photo © Eva Maria Jangbro (EMJO), Reut Golinsky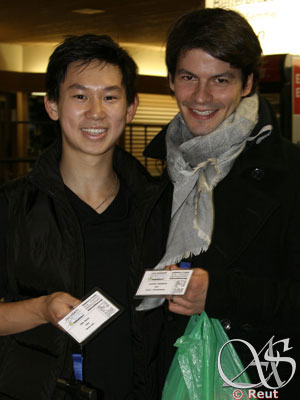 This time the leading skater of Kazakhstan, Denis Ten, came to the Nebelhorn Trophy in Oberstdorf not with his coach, Frank Carroll, but with his friend and choreographer, two-time World champion, Stéphane Lambiel. As in previous seasons we talked a lot with Denis about Stéphane and with Stéphane about Denis, I jumped at this opportunity to talk to them together. During the practice session both looked very serious and concentrated on their work, but ten minutes later during our interview they were all jokes and laughter, interrupting each other and finishing each other's sentences. You could feel how comfortable they are with each other; and it's always fun to talk to people who are on the same wavelength.
Tell me about your program. Which one was it, by the way, that you worked on together? Short? Long?
Denis: Not really... Actually we did an exhibition program...
Stéphane: I am a fake choreographer! (laughs)
Denis: Both of my competitive programs were made by Lori Nichol, but Stéphane put so much into them: his soul, his eyes, he gave so much advice...
Stéphane: ...my fragrance...
Denis: It's like I mixed two choreographers!
What were you working on here, in Oberstdorf, during the summer?
Stéphane: On those programs. I gave my opinion, we made some changes. When Denis came [to Oberstdorf] I thought that both programs looked amazing already, but the more I watched them the more I could fix little things, get more the mood of the programs, of the style, of the music. What I really like about both programs is that they are in his style, very dramatic but at the same time very swingy; the concept is not simple.
But let's talk more about the exhibition program which is yours only.
Denis: It's "Singin' in the rain". It's a nice program, something very cool, very new to me.
After the Worlds in Nice we agreed to work on the exhibition program for my shows in Korea. We had a few different ideas, first I even thought of making the program based on some musical comedy.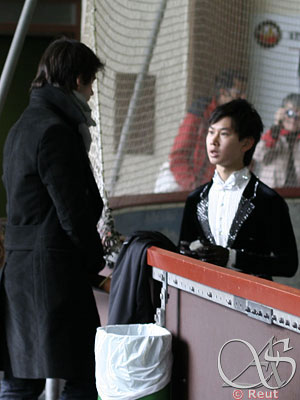 Then the idea of something jazzy came. The story behind it is about this guy who walks down the street, he is in a great mood, having a good day. Suddenly it starts raining. You can hear the raindrops in the music; we also added some sound effects of rain to the track. I take out my umbrella but the wind carries it away so I decide: "Never mind! I will dance in the rain". It was really interesting to work on this program, Stéphane showed me some movements, and we invented some together. We had so much fun that at the end of my stay [in Switzerland], when the program was ready, Stéphane said: "Oh, I love this program so much..."
Stéphane: "...give it back to me!"
You know there is this iconic Kurt Browning program to this music...
Denis: Stéph was so surprised, and I was surprised too, that I didn't know about this program before! I watch so many [skating] videos, I always have a bunch of them with me and I never saw it!
It was more like a film...
Denis: Maybe that's why I never paid attention to it on YouTube, because I thought it was a montage or something. We had different options for the music, and when I chose this one, Stéph said: "Are you sure you want to do this? Because it was done by Kurt". Then we watched the movie and decided to make something totally different. Maybe there are some similarities, but similar to the original...
Stéphane: I think the style has to be that style anyway...
Denis: The style, yes, but even the storyline of the program is more our own, yes?
Stéphane: I think so too. And we made our own montage of the music.
How has it been for you here, Denis, competing without your coach?
Stéphane: With a fake coach... (laughs)
Denis: No, Stéphane is my coach too. When we are off ice I don't feel it but as soon as I step on the ice we have this hierarchy...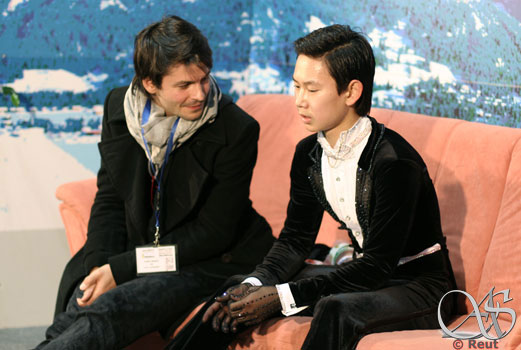 Yes, I saw you bowed to him after the practice.
Denis: And it was very sincere! It was Frank Carroll who asked me if I could go here with Stéphane, he thought it would be comfortable [for me], he really trusts him. I was very surprised because I never talked about it with Frank. But I felt very comfortable with Stéph. We are close friends and we always feel at ease when talking...
Stéphane: We don't need to force our friendship.
On the other hand it's sometimes harder to work with friends...
Stéphane: No, I don't think so, because Denis is very determined, he knows what he needs to do. He is very focused and when he steps on the ice he is ready to work.
Denis: And we spent lots of time on the ice [in the past], it's not like we've never practiced together before and I just met Stéphane for the first time. We already had a good experience together. Every time I come to Switzerland or Oberstdorf I sometimes forget that I came to work. We have fun but then in the end the programs are ready.
Stéphane: And even though we have so much fun, when we are working we are really working.
Two days later, after the end of the competition, we continued our interview with Denis, talking about his competitive programs, costumes, Carroll's move to Palm Springs and the success of Kazakh team... at the summer Olympics.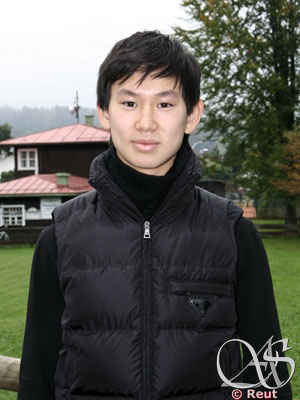 Let's go back to the previous season and start with Frank's move to Palm Springs, California. Are you training there now?
When I was still thinking about working with Frank in the US, I was already told there were plans to move to another rink. In the end we started to train in Palm Springs only last autumn. But Palm Springs is not that far away; I stayed where we lived before in Lake Arrowhead. Three to four times a week I'd travel to Palm Springs to meet Frank, the rest of the time I continued skating in Lake Arrowhead. This way it's just more comfortable for me.
Do you continue to work with Rafael Arutunian, who also stayed in Lake Arrowhead?
Sometimes [I work] with him and sometimes I just train on my own.
Have you already met Adam Rippon?
Yes, I saw him. He came just as I was leaving [for the Nebelhorn Trophy]. It was quite unexpected. He skated at our rink after the Champs Camp in Colorado Springs, and I thought he just came for a summer camp; we have such visitors pretty often. But then all those articles about him changing coaches appeared. And now, yes, we have one more skater in our group.
So now you have a strong skater there during practices.
We had strong skaters at our rink even before that: Tatsuki Machida, Daisuke Murakami, American skaters Jonathan Cassar, Andrew Gonzales...
Last season you succeeded with a quadruple jump in competition.
Yes, during the first half of the season the quad was more stable, like at the Grand Prix events, and at competitions in Croatia and in Turkey. Then there were some problems with it at Four Continents and at junior Worlds. But at senior Worlds I did it again!
According to what we've seen here you are determined to keep it, and you've even added it to your short program.
I actually already tried it in my short last year after the Grand Prix. But at the Golden Spin in Zagreb it wasn't perfect, I stepped out, and in Turkey it was a triple instead of a quad. This year I will try it again, why not? I think it's great to have a quad in the program, both in the short and long. When we worked with Lori Nichol on my long program, we planned it so the spot where the Axel is now can be used for a second quad. Now is only the beginning of the season, but later I hope to have two quads [in the long program].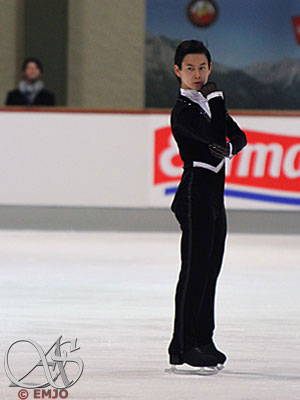 So it is stable in practice, also in combination?
Yes, since last season. And even one of the jump options for the short program is to have a quad in combination.
Let's move to your programs. You use the soundtrack from "The Artist" for both of them. Tell me more about it.
It is a very interesting concept we use for this season, which I really like. Maybe it's a bit risky. The whole idea is that my programs are connected and they both follow the storyline of the film. It is so close that even the order of the music tracks we're using follows the one in the film.
The first part of the film, my short program, tells the story of the main character who is an artist at the peak of his glory. I show this successful man, but during the step sequence, there is a change in music and mood. This is the moment in the film when he gets depressed and suicidal. So where my short programs ends, you could write "To be continued..." The long program starts when he wakes up and can't understand where he is. There is an episode, during the circular step sequence, where he recalls his better days, but then he falls back into his miserable reality; the dramatic part starts. But after his doubts and struggles he eventually comes to the happy end, just like in the film.
I think the program is great and it was always my dream to show many different images in one program. I also really wanted to have something similar in style, after an exhibition program we did with Stéphane - something swingy, jazzy - for competitions.
On my way from Korea to Canada I watched "The Artist", which won so many awards as you know. I really loved this film and noticed at once the beautiful soundtrack and thought it would be very suitable for a skating program. I was listening to the music for a few hours and when I arrived in Canada I was already sure that one program would be to "The Artist".
Working with Lori is always a very long process. We try to put together what Frank asked us to do, with her ideas and mine, which are not always compatible. We chose different musical pieces to work with and brought them on the ice. Before we started to work I showed Lori what we created with Stéphane and she agreed that it's possible to make something in this style for competition.
We tried many musical pieces in this swingy style, including instrumental versions of "Singin' in the rain", but "The Artist" was the best. We had so much fun improvising to this music, and I really wanted to use it. So Lori approved it, because she loves when the skater is so inspired by something. When "The Artist" was our final decision we went to the studio and started to listen to the soundtrack carefully, trying to choose tracks and thinking of how to connect them. It was one of those rare cases where almost all the tracks were equally great; we wanted to use all of them! And then Lori proposed this idea of connecting two programs. I was really excited about it but wasn't sure Frank would agree. But Lori talked to him and told me he was thrilled about it too.
Overall it took us around a month to create those programs, where it usually takes just a few days for each. The whole process of creating was long but very interesting for both of us, the idea was very inspiring. We put so much into those programs; our souls and our time. I really love them and hope I will be able to skate them cleanly so the audience will see the potential they have.
What about the costumes?
We tried to be close to the film in this too. In the short program, where he is still rich and famous, I wear the tail coat. But even when the character of the film drops to the very bottom he still wears a white shirt, which is what I wear in my long program. Maybe we will change that, we'll see, but still we want to have something rather simple.
According to your Twitter you closely followed the Games in London. Do you follow other sports in general, or are the Olympics special?
I don't have many opportunities to follow any sports. I love tennis, but I probably didn't see any match in full; I don't have the time! But I love sport and of course the Olympic Games are exceptional. Especially this time I felt what a huge event it was, and that it really unites all nations and all people around the world. Whether they watch it on TV or live at the arena, all people are united by the same goals, fans and sportsmen.
I followed it and I was curious how my team would do. There are some athletes I know personally, for example, Ilya Ilyin (Kazakh weightlifter). And when he won and set a new world record, I was so happy for him, I immediately sent him a text message. It's always nerve-wracking to watch someone you know compete.
Another example, I know the Kazakh team is very strong in cycling. Alexander Vinokourov won and this result was expected, because he is indeed one of the best in the world. In general Kazakhstan had a very good Olympics, we got seven gold medals and 13 medals overall. The "Olympic luck" was on our side; I hope it will be the same in Sochi.
Unfortunately winter sports are less developed in my country; in Vancouver we only had one silver medal (in biathlon) and that was already very good for us. But little by little things improve, and I hope we will soon have a "winter team" on a higher level too.
So in general I don't have much time to follow other sports, but the Olympic Games are special, also because you cheer not only for the athletes, but for your country.
Do you feel that more is invested in sports in Kazakhstan now?
We've always had more resources put into summer sports. As always, the more success a sport has, the bigger the investment next year. So with figure skating it was really hard to start, since it didn't exist in our country. I started it because I liked it and my parents liked it, but when it came down to something more serious, people didn't really understand. They didn't get why I practiced so hard or why I decided to leave for Moscow. I feel that in a way it's my achievement - mine, my parents', my coaches' - that figure skating has started developing in our country. Now it's getting better! I know many little children who skate, all the skating groups are full, new rinks have been built in almost every big city; in Astana there are even several rinks. This summer when I came for the show, I visited two different rinks and saw many kids excited about skating. Hopefully in a few years we will have more skaters representing our country on an international level. Right now I feel pretty lonely since at every competition it's only me and my coach. And then you see the Russian team or the Japanese team or the Canadian one...
By the way, do people recognize you in Kazakhstan?
Yes, rather often. Sometimes they hesitate if it's really me, because they know that I train in the US and don't expect to see me in Kazakhstan. Of course, it's very nice that people recognize and respect me, they even bring gifts sometimes.
Do you feel the responsibility, or pressure from being the main figure skater of your country?
To tell you the truth I've felt it since childhood, especially since I started competing in big events as a senior. I've gotten more attention after Worlds 2009, and during the Olympic season I pretty often heard: "Denis, fire ahead, the country is behind you!" But now I'm used to this pressure, especially because these are not empty words; I'm indeed the only figure skater on this level in my country. And if people put this pressure on you it means you're worth it, they believe that you can do even better. So the only thing I can do is to work hard to live up to those expectations.
But don't allow this responsibility to overcome you, because it seems sometimes you put too much pressure on yourself. You looked very disappointed in the K&C here... don't forget to enjoy!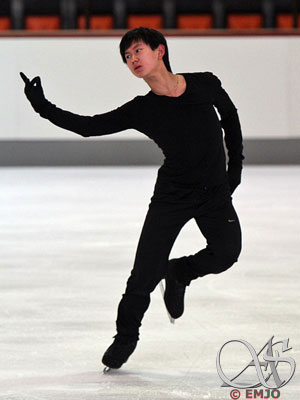 I didn't see the point in being very happy. I wasn't disappointed because I knew I wasn't 100% ready for this competition. I had had so much trouble with my boots during the summer. I have unusual feet, so it's always a long process to attach the blades to the boots, trying the find the proper position. We were trying to solve this issue with Stéphane here in Oberstdorf, driving almost every day to the person who sets the blades. And when I was back in the US, I changed my boots and tried to fix it again. I couldn't train hard and focus on my practice. Because of the boots I also had problems with my ankle and couldn't skate for five days.
But whatever problems you have with the boots, your mood or the state you're in, you still try to get maximum from the competition. It could have been worse here, it could also have been better. I came to this competition with my eyes set on the rest of the season; I love to compete but I usually start my season low. But it's OK, it's worse if you start the season on the peak of your possibilities, then you have no room to grow. You should always have room to grow. I personally feel a big difference between the beginning and the end of the season, a huge gap. And I love this feeling that you progress. Maybe this is what I value the most since every athlete wants to keep growing. Sometimes I see sportsmen who are at the end of their careers, but they work and improve all the time!
So I hope to not stop, but to continue on my road, and my closest goal is to be ready for the Grand Prix.
And that will happen very soon as Denis is scheduled to compete at Skate Canada this weekend. Best of luck!