Jason Brown: "I was not flexible at all as a kid"
 
November 14, 2013
By Eva Maria Jangbro (EMJO)
Photos © Eva Maria Jangbro (EMJO)
The Nebelhorn Trophy this year hosted not only skaters who were fighting for the remaining Olympic spots but also those making their debut into senior level competition.
One of those skaters was the Junior Grand Prix winner and the silver World Junior medalist of last season, Jason Brown.
Jason started skating at the age of 5 and has been with his coach, Kori Ade, ever since. She is his second mom he says. I had a chance to talk to Jason about what his choreographer, Rohene Ward, means when he says Jason should 'marinate' with his programs. We also discussed how it felt to be making his senior debut and his hopes for this season.
This is your debut as a senior skater. Did you expect to be on the podium here?
It is definitely a big goal of mine. The biggest thing is I wanted to skate 2 good programs and that would hopefully put me on the podium. So my first goal is always that I want to skate my best and then hopefully I will make it to the podium. So I was really, really excited since I have never competed senior before. I didn't have that many expectations about what it would be like.
So how was it compared to juniors?
It was amazing, but what I think was funny with this event is that it's so interesting, since it is not only a senior-B event but also the Olympic qualifier, so the crowd is incredible. The amount of support that was out there was huge for every country. So many guys are fighting, girls and pairs, ice dance; all fighting for their spots. It is so thrilling and exciting knowing that these people are making the Olympics. That is really cool to start out the Olympic season here.
You are very flexible. Do you do ballet or anything else to keep your flexibility?
I was not flexible at all as a kid. As a juvenile I couldn't do anything at all. Kori told me at a competition, trying to motivate me: "Look at that guy, look how flexible he is, doesn't that look awesome?" And I said: "Yeah, it would be cool to do a donut [spin] one day". Little by little I started working on it; after I skate I do off-ice stretching every day and I kept going and going and eventually after 2.5 years that is when I got my first split. I do take ballet and dance too.
Oh that is noticeable that you do ballet; you have the arms, the open, balletic arm positions!
Thank you, my ballet teacher will be very happy to hear that.
Are you involved in the choreography?
Not really. I have worked with the same choreographer, Rohene Ward, for the last 5 years. He knows what works for me. The music was picked by my choreographer and my coach. I have worked with Rob for such a long time now that he knows me. He takes every piece of music and looks at it and every skater differently and individually. He takes the choreography and tries to take it to a twist - like the [long program] Riverdance; he has really pushed it, I really enjoyed it a lot. There are times we change things, if they're not working, but in the beginning of the season we try to keep everything in, to make it as hard as possible; to hopefully continue to grow during the season.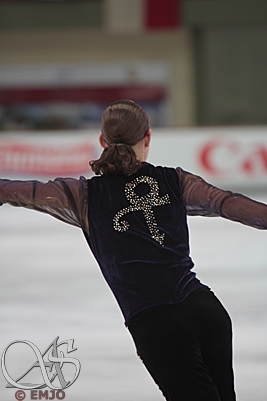 You have kept the short program from last season.
Yes, one of my choreographers suggested the music 3 years ago, but my coach said: "I am not sure if he is ready for it." It is very sophisticated. You don't want to underdo or underplay the music but skate with it and skate to it really well. My skating was not at that level yet but last year we did it. My choreographer wanted to keep it for 2 years and develop it and make it my own. He always says, 'marinating it', that's his word, to marinate it, to make it your own.
I have to ask you, what is the sign on the back of your shirt?
Technically it is Prince the artist's symbol, but it is changed because you are not allowed to have the same symbol due to the copyright, so it's a variation of his symbol.
What are you doing next?
Trophée Eric Bompard. I've never been to Paris so I am really excited to go there. After that it's Nationals.
Being an Olympic year, getting a spot on the Olympic team would be a great achievement and a goal - what do you say?
My main goal is, I'd love to go to Nationals and skate 2 clean programs and hopefully that would be good enough to earn a spot on the Olympic team. After Nationals we will see where they will send me. I am young enough for Junior Worlds or I could be sent to the Four Continents or to Worlds after the Olympics, so I am really focusing on Nationals. I am really focusing on every individual event and haven't looked further than the Nationals at the moment.
You seem to have a good head; you are equipped with a very competitive brain?
No, actually not. When I was young I told my mom I wanted to quit and told Kori I wanted to quit. I said I wanted to skate but I didn't want to compete anymore. I just couldn't handle the nerves even at juvenile level. I used to feel sick before I competed so I felt like it was not worth it, putting me through so much that was so horrible. I just wanted to play volleyball. I liked team sports where you're not alone. My coach actually started working with me mentally. She did some reverse psychology and checked me into competing more, liking it a little more. I do work with a sport psychiatrist now. I think it started to take off from there. I love training though and always have. I love leaving the rink
exhausted; that's my favorite feeling. When I came to compete when I was younger I felt sick and it just wasn't enjoyable. Then as I got older, I started loving competitions. I can't even tell you how much I enjoy competing now. I love performing so my mind is set so differently now; I think that is a huge attribute for the way I view competitions.
Do your parents follow you around the world to watch you compete?
My parents are so funny about that, they ask: "Where do we want to go to watch you skate?"
But today they are here in Oberstdorf. :)
After the interview ….
Jason's next event was Skate America; this was due to Evan Lysacek having to withdraw. Jason performed very well in the short program and placed 2nd going into the free program. He finished in an impressive 5th place in his senior Grand Prix debut.
In Paris at the Trophée Eric Bompard event, he will have another chance to perform well and perhaps gain another podium place.