The Swedes in Denmark: Kalle Strid and Martin Johansson
 
October 10, 2013
By Eva Maria Jangbro (EMJO)
Photos © Eva Maria Jangbro (EMJO), Mireille Geurts
They became youtube favorites overnight after their very enthusiastic cheering was captured during their student Anita Madsen's Free program at the European Championships in Zagreb earlier this year. Kalle Strid and Martin Johansson are both Swedes but left for their neighbor in the west, Denmark, to coach. I spent a late afternoon at the Copenhagen skating club to find out why Denmark attracted Kalle and Martin to start working there. It turned out, not surprisingly, they are as enthusiastic on a normal training day as they are by the boards during a competition.
Tell me about how and why you became a coaching team?
Kalle: Well, because Martin is so good looking, ha ha! No seriously, we had talked about working together, teaming up as coaches, ever since we were 12-13 years old and trained together. We used to joke about going to Euros and Worlds as coaches! That was 15 years ago. I stayed eligible longer than Martin, but I was working as a coach and choreographer at the same time. I started working as a fulltime coach the day I stopped competing. You chose another way at first, Martin, didn't you?
Martin: Yes, I stopped competing when I turned 18. I finished my last year of high school and then did military service, so for 2 or maybe even 3 years my contact with ice was very sporadic. I started coaching in my mother'sclub in Trollhättan. I met Thomas Öberg (the head coach at the Lerum skating club) at a competition, and he asked me to come to Lerum to coach instead, and I did that for 2 years. Now I have been in Copenhagen for 4 years. Kalle came here a year before me.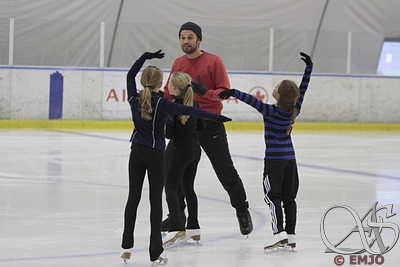 Kalle: Yes, I was in Kungsbacka for 2 years. I had received a request for Copenhagen already when I choreographed for the daughter of the former chairman of the club, but I chose Kungsbacka since I was a student at the University of Göteborg, so it suited me better to stay there. I moved here when mygirlfriend (at the time) had just been accepted to the University of Copenhagen, so it was a natural move.
When did Martin join you?
Kalle: Things turned out really well here and the club kept getting better and better results every season. Suddenly it was not enough with just one a-coach; we needed one more. I told the club and they were so generous and great and said I could choose the new coach myself. I knew exactly whom I wanted, so I called Martin and told him he had to come! He had some doubts at first and the Lerumskating club was not very happy to release him. But in the end I convinced you to move and I hope you haven't regretted it!
Martin: No, I have definitely not regretted it! The big difference between working here and in Sweden, at the time I did, is that here you have the possibility to make it as good for the skaters as you possibly can. In Sweden we had 6 hours of ice time a week, so how do we train the skaters the best way without keeping them on the ice for 6 hours in one day? Here we have ice time 4-8 hours 7 days a week. We can almost do what we want with our elite skaters to make conditions as great as possible for them. I would almost say that's impossible in Sweden since ice hockey is the main sport and a big competitor for the ice.
Kalle: Some skating clubs have ok conditions, like Malmö and Linköping where they have lots of ice time since there are more arenas in the area and not so many skating clubs. Still, also in Denmark ice hockey wants more ice time, but as long as we have skaters that do as well as the ones we currently have it's not a problem.
How many groups of students do you train?
Kalle: They are over 200 members in the club and Martin and I actively train 40 kids of all ages. There are other coaches who take care of the b-skaters and we sometimes attend their training sessions, but mostly to guide the coaches. We also have a beginners group for seniors once a week and an adult group, in which the students are able to do a single Lutz. There are also former skaters that can still do double jumps and that group has 15 members. To coach them is really relaxing since they skate more for fun.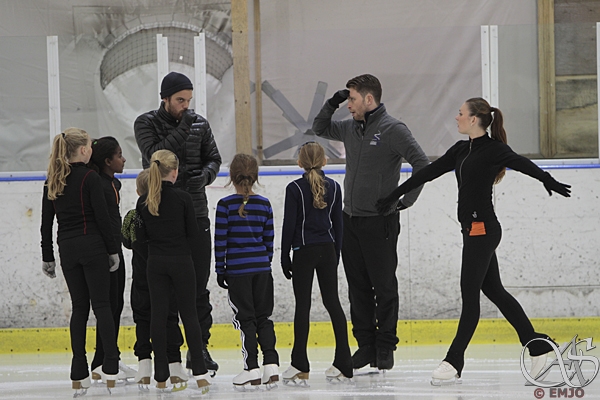 How do you divide up the coaching job between you?
Martin: We spend 95 % of the ice time together.
Kalle: But we differ a little from for instance Kickioch Regina who also coach together (Kristina Helgesson and Regina Olsson are Viktoria Helgesson's coaches), since they do a lot together. We do too, but there are areas where Martin is way better than I and vice versa.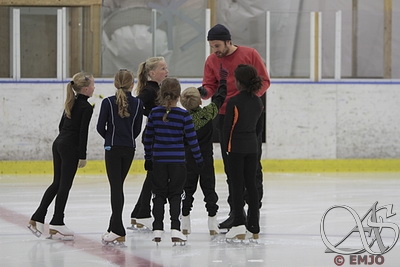 Areas such as?
Kalle: I think Martin is a very good technical coach, the best in Denmark. He has a unique eye for technical details and notices everything. I coach the mini skaters and Martin takes over and is really good at teaching them single Axels and single jumps, and then I take over and teach them the double jumps. Then we collaborate on teaching the triples.
Martin: … and Kalle has about 100 times more musicality than me. We complement each other and are not afraid to talk about anything. I guess that's why we can work so closely together. It would never work if we weren't united or competed against each other coaching wise. I also know I can't make even a third as good programs as Kalle can.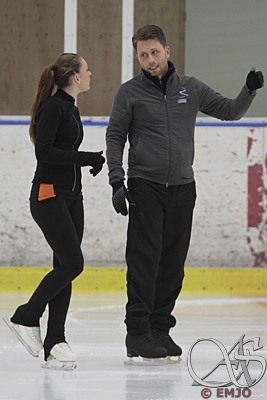 Kalle: We have known each other for such a long time, we can be quite frank. And there's no prestige; like if one of us thinks a music piece does not suit the skater, we can talk it out. We also think alike, for example, how do we teach this person a triple Salchow? We have the same basics, but when you want someone to land a triple jump you have to make exceptions. We discuss things all the time; call each other in the mornings and evenings.
Martin: But that's what's so good! We both have high ambitions and we like discussing ideas and possibilities to find the best possible solution. Human bodies are not alike; different technics are needed while som erotate fast and some don't, some jump high, some don't etc. The technic has to be adjusted to the body. As coaches we try to be open to other technics and look at other skaters. For example, the Russian, the Japanese and the Canadian skaters all have great jumps, but with very different technic.
Kalle: But of course if you are Mishin and can choose from 2 million Russian skaters and have the 8 best come to you, then you are able to pick skaters that suit your technic. We have all types of skaters and we try to find what is best for each one. We can perhaps find 5 really talented skaters among 200 children, but of course we take in a lot more than that.
What, in your point of view, makes a good coach?
Kalle: To stay curious!
Martin: To love competition (well, we have seen that)… sure I'd love to be on the ice but at the competition I want our skaters to get better and in the end we want to be the best.
Kalle: To love to win!
So how do you prepare your skaters to be able to do their best at competitions, including the mental part?
Martin: Well, on the competition day I think we just know who should give the pep talk before the skate.
Kalle: We're not very old and perhaps that's the reason why we don't want to pick on details and say: 'you should think like this and do like this'. Mental training for us includes good preparations:that you have trained well, that you have had two extra days off before an important competition so that you peak at the competition. Then we just have to lay back and enjoy the performance one the ice! Bringing in a mental coach is necessary when you notice there is an actual problem. Then I think it's great and you need an expert, but that's more
on an elite level. We recently got help from a mental coach for Anita. She had a need, so we had to do what was best for her. But again, what is best for each skater is very individual.
Maybe it's an advantage to be as young as you are and that your own competitive skating wasn't so long ago?
Martin: Well, yes, that is true, especially when it comes to understanding the effect heavy training has on a skater. We know how much they train and we know first-hand how tiring all the training is. We tried to cheat at practice too, like every skater does.
Kalle: Skaters don't cheat because they are lazy but because they're so tired. But as a coach you know the skater has 30 % more to give and you need to kick his/her hiney to bring out their best.
With the Olympics coming up, this is a very important season. Have you prepared differently for it?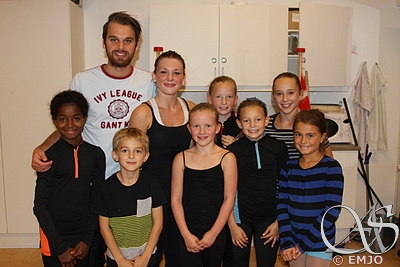 Martin: What is different is that it starts earlier for our skaters. For Justus there is an enormous difference. He started competing almost 6 weeks before he normally starts his competitive season.
Kalle: And he had to peek at his second competition to get one of the last 6 spots for the Olympics (which he didn't quite reach). Most seasons start in late October/early November. It'll also be a challenge for Justus to keep the energy up until Worlds, as the season started so early.
Martin: We are lucky that Anita got a scholarship from IF, which is a talent program, so until the Olympic Games we have more money than before. Among other things she has her own physio therapist now.
Kalle: Which is really great for us too. We know lots about training and injuries, but this physio therapist from Team Denmark knows tons more in this field than we do and that goes for Anita's mental coach as well. To have these two is worth gold to us. We don't have to worry about Anita's groin issue; the physio therapist knows all about it and takes care of it. We can let it go and concentrate on the training.
One final question: did you get any comments on your active way of following Anita's performance during her free skate in Zagreb?
Kalle: Haha, yes, we did get quite a few comments both in Zagreb, and after we got back, comments from both Sweden and Denmark. There were even a couple of Japanese people who filmed only us during Anita's skate and put it on youtube.
Well, we are all looking forward to not only following Martin and Kalle's off-ice activities during competitions, but also to following their great students on their way to their goal.