Anne Line Gjersem, the Norwegian skater who finally did it!
February 19, 2014
By Eva Maria Jangbro (EMJO)
Photos © Eva Maria Jangbro (EMJO)
Anne Line, 20, finally broke the curse haunting Norwegian skaters by qualifying for an Olympic spot, and will be heading to the Games in Sochi. This happened at the Nebelhorn Trophy in Oberstdorf, Germany, last September. It has been 50 years since a Norwegian entered the Olympic Ice, a little surprising for a country that produced legendary skater and movie star Sonja Henie (who won Olympic gold in 1928, 1932 and 1936). Even though Anne Line qualified at the Nebelhorn Trophy, her spot was not to be secured until after the European Championships. The Norwegian federation required a 6th to 8th place in Budapest. Anne Line finished 19th, but was given a ticket to Sochi anyway.
A couple of years ago, Anne Line moved to Sweden to train with Ela Magnusson and Laco Vince in Malmö. But her road to achieving her goals started in Jövik, Norway. Anne Line and her twin sister Camilla started skating in a club that didn't quite have the figure skating knowledge necessary, nor the coaches. But none of that mattered; she had made up her mind! Here is her story:
You started skating a little later in life than other skaters, didn't you?
Yes, my sister and I were 8,5 years old when we started skating at the Jövik club, but we loved it right away. We were soon the best students in the club, but wanted to get better still, so we started skating at the club in Lillehammer. It took an hour each way to drive there. We trained 4 hours every day so we went from training an hour a week in Jövik, to 4 hours a day in Lillehammer. It was a big change, but without that kind of training I would not be here today. Because we began skating so late, we needed those hours. Then we moved to Asker and trained there and now I am in Malmö. My sister Camilla still lives in Asker with my parents. She is also still in figure skating and competes as well.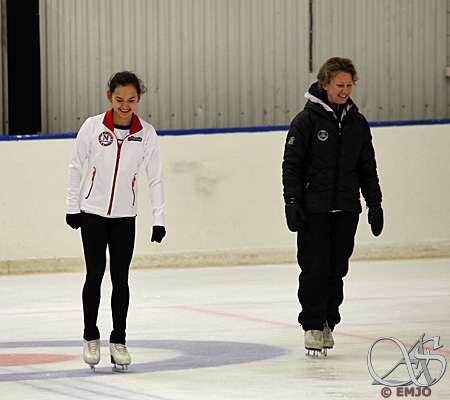 Why did you choose to train in Malmö?
I came to Malmö 2 years ago in August. I had trained for Ela at the Icedome summer camp in Oberstdorf and I really liked training for her so I asked if I could come to Malmö and have her as my coach. She said "yes" which made me very happy. We have pretty good ice time in Malmö since there are several rinks, otherwise, ice time can be a problem.
Does your sister follow you when you compete?
Yes, she follows from home. I am so glad I have her; she skates well too. We have this mutual incitement, and always have, and it has helped both of us getting better. Right now I am the better one, like with the jumps, but we have always learned from each other.
You are identical twins, who is the oldest?
Camilla is one minute older than me.
Tell me about the Qualifier at the Nebelhorn Trophy, you looked very determined!
I was very focused, but also nervous since there were so many great skaters there. To participate in the Olympic Games has been my dream since I started skating. In 2006 we began collaborating with "Olympia Toppen" in Norway, a program that aims to send one Norwegian skater to Sochi. There are two more girls besides me and Camilla. I was particularly happy the Qualifier took place in Oberstdorf since I go there for camps and feel very comfortable there.
Congratulations to this great achievement!
Thank you! It is so great Norway got an Olympic spot! It's been 50 years since we had a skater at the Olympics; the last one was in 1964. This is a really big deal at home; I've been in all the newspapers in Norway. This time it'll be me participating; Camilla will try to make it to the 2018 Olympics instead.
At Nebelhorn you performed in the Gala, were you prepared for that?
Well, no. They asked me to perform, but I didn't have a gala program prepared or a dress. I have a friend in Oberstdorf and it was her umbrella I used. My twin sister skated to Miss Saigon some time ago, and so did my friend. I used both of them as inspiration.
Talking about Oberstdorf, you've been there a lot.
I have been there every summer since 2006 for the Icedome camps, and the last 2 summers I stayed 6 weeks, so I really like Oberstdorf. My friends are there and I love the atmosphere; so it was perfect that the qualifier was held in Oberstdorf.
You have new programs this year?
Yes, I have two new programs. The short is to Maria and the Violin's String by Ashram. It was already done in April. Ela found the music and did the base, then Rostislav Sinicyn helped me polish it during the summer and so did Salome Brunner right before the competition here in Oberstdorf. Michael Huth made the step sequence, so my short program is a mix by everyone. (smiles) At the end of August, we decided to make a new free program. Michael Huth chose the music from West Side Story since he thought it would suit me. Again my coach Ela Magnusson did the base and Michael Huth and Salome Brunner helped polishing it.
What are your goals for the season?
My goal is to do well at the European Championships (Anne Line placed 19th) and at the Olympic Games. I hope to develop as much as I possibly can so I am ready, like for example get more speed and add the triple Lutz. What I like most in skating is the jumps, specially the Lutz, because when you get the height it is such a great feeling. You have to fight for the jumps and when you've been doing that for many years, the joy you feel when you finally land them is great.
What skaters do you look up to?
Carolina Kostner, we train together in Oberstdorf and I really like her skating. I also like Viktoria Helgesson.
Do you watch any other disciplines?
Yes, I watch the Men and a little Pair skating, and Ice dance too.
What do you do in your spare time, if you have any?
I do have some spare time. Sometimes I like being with my friends and go to the movies. Since my family lives in Norway, I don't see them so often. I am a high school student, a senior. I have thought about what to study at the University, perhaps economics, but right now it is nice to "only" be a high school student.
We wish Anne Line the best of luck at the Olympic Games and hope she will not only have a great experience, but lots of fun as well!