Penny Coomes and Nick Buckland: "We're lucky to be different"
February 16, 2014
By Reut Golinsky
Photo © Photo © Ksenia Nurtdinova, Reut Golinsky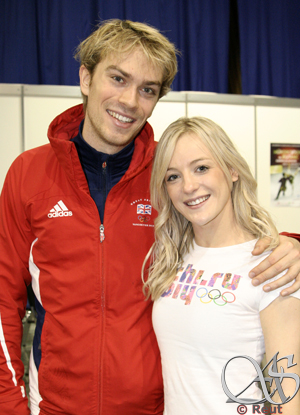 Three-time British national champions (2012-2014) Penny Coomes and Nicholas Buckland were unexpected by many to win the bronze medal at the Europeans 2014. They didn't let this success go to their heads, but planned to work even harder towards the Olympics. On our last day in Budapest we discussed how they deal with success, their Olympic blog, advantages and drawbacks of their height difference and more.
First of all, congratulations on your bronze medal. Was it something unexpected? Or you were thinking about it as a possibility?
Nick: It was a little bit unexpected. I mean, you always aim, you always want to medal at the European championships, but you can't really think about medals too much. We wanted to come here and do two really good performances; we felt we haven't done that so far this season. But we felt that we've got two great programs and we wanted everybody to see that. So we did that, and everything else took care of it itself. This season we worked really hard and it all came together.
Let's talk about those two great programs you mentioned, starting with the short dance.
Nick: Like all the other teams we worked with ballroom dancers to get a feel for the quickstep. It's important going into the season to make sure you have a flavor of the quickstep and you know the moves. But we also tried to pick a piece of music which is modern, not a kind of old fashioned quickstep; we wanted to mix the two.
Penny: We also worked with Robert Royston - John and Sinead Kerr have worked with him in the past. He is the most incredible and inspiring man we were lucky enough to work with. The way he puts things and explains things to you and brings things out of you is amazing, he makes it easy. He was able to put his little touches into our program.
Your free dance is to Michael Jackson's music, it was probably hard to choose out of so many great songs he had.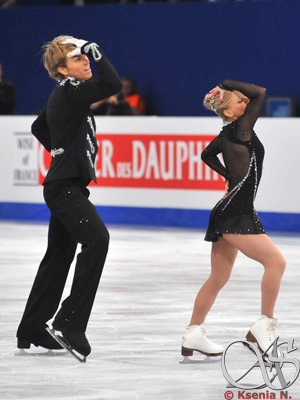 Penny: It was so hard. We were pretty much set on the last piece; that was probably the first thing we chose at the very beginning. And then two transitional pieces - "Smooth criminal" and "You're Not Alone" - we played with a few different ideas and a few different tracks. Like you said, he has so much to choose from. We watched some of the videos of his dance moves and danced on the floor with someone who is a street dancer and had worked in that genre... The "Smooth Criminal" was a sound that we connected with and we really loved the dance moves in the music videos. And "You're Not Alone" I just think it's the most beautiful song and we all can relate to it, in some way or another, it has a real meaning for us and we're happy that we've picked it.
You mentioned in your interviews that you took the music from the "Cirque du Soleil" show, not just choosing from his albums. Did you happen to see this show?
Nick: Yes! We were thinking about what we were going to skate for the free dance, it was last year, at Europeans actually. We were sitting in our hotel and I said: "This might be a really nice idea, I'm just going to check on the computer if it's coming to England." And they came about an hour away from my house, the week after the Worlds, the week that we were home. All just fit together perfectly. So we went to see the show!
Did you see other "Cirque du Soleil" shows?
Penny: Yeah, we've seen a couple, they are just incredible. A couple of years ago we skated to the music from their "Elvis" show. I've been to see their shows in Florida. They are just not like anything else in the world! They manage to combine the acrobatics with the dance; they are very, very clever. They way how they can take the music and make it something interesting and new, it's fantastic.
One of my favorite pieces within our program is the cut between the beginning into the "Smooth Criminal", and Nick and I do like a pendulum and I swing between his legs. That's my favorite part, I love the lift, it goes so well. Great music, you can put things there [in the program] because the music tells you to, it makes the choreography easier.
You're always asked about Torvill and Dean. You've got your bronze medal and the first thing you're asked at the press conference is about them. You actually need to deal with both the Kerrs and Torvill and Dean, you get compared to them all, are asked about them. Do you mind? Aren't you tired?
Nick: They've done so much for us. Torvill and Dean are the best inspiration in ice dance, really, for everybody, not just British teams. And John and Sinead were huge personal mentors and great friends to us. We couldn't have imagined moving to Evgeni Platov, training with him without them. They both provided so much help.
I think, each generation, each new team helps the next. And it is very important for British skating, and Penny and I are trying to do that, teaching new generations now, just as they've done for us. I think it's very important and I don't get sick and tired, because we are our own team and we've got so much ahead of us.
Penny: They (Torvill/Dean) actually sent us a "well done" tweet. That was really nice, Nick and I have looked up to them forever, and to have that message from them makes us even more proud. We would feel nothing but honored to be compared to and talked about with them in the same conversation. They are such great skaters, legendary. And still relevant now. We're very proud to have that history and hopefully we can make our own.
Have you ever considered working with Christopher Dean? He is choreographing for Canadian ice dancers now. Or Evgeni wouldn't be happy about it?
Nick: No, Evgeni is a huge fan of him actually.
We saw them at the Olympic torch gala that we did (before the Olympic Games in London, in summer 2012) and spoke to them a few times. They just said if we need anything to let them know and they'd be happy to help. So the option is always there for us. We're going to work really hard and see what the future holds.
Tell me more about the Olympic blog you're writing for metro.co.uk.
Penny: Nick and I had an interview for the "Metro", we really enjoyed talking to their reporter and he seemed to like us, so they proposed that we do a blog about our journey leading up to the Olympic Games and for us that's an honor. "Metro" is a newspaper that is all over the local transport in England so it's great publicity for us...
Nick: We were doing this online, so we're not 100% sure if it was in their paper too.

It's been a nice opportunity to connect with people, those who wanted to know generally about figure skating, about what we do and how it all works, how our season is structured and what's important, how we build up to Sochi. It was really nice to share our story with people. And also when I had the problems with my heart I could write it down, explain in my own words exactly what happened. It came from me and everybody saw it straight away, it wasn't taken out of proportion. I said: "This is what happened, we thought it was serious, it was OK in the end and now I'm fine, so there is nothing to worry about." I wrote about it about four weeks after it all happened.
Penny: It's nice to have a vehicle to really explain what goes into everything that we do. People come and watch us here [at the competition] or on the TV, they see the end product, they don't necessarily know, unless they've done it themselves, how much time, how much of everything goes into it. You come here and see one or two coaches, but there is a whole team of people, who all have input, we work with so many people. And even down to the things we eat, the amount we sleep... It's nice to offer that explanation about what is going on in our lives.
It wasn't easy for you to write it, I guess, it's also not easy for the athlete to admit that his body fails him...
Nick: It was kind of hard because it's your heart and when somebody says that you have a heart problem immediately anybody else who doesn't know the situation thinks it's extremely serious. It is serious, too, but it was something they could deal with quite quickly and easily. So it was nice that I was able to tell people that everything was OK, it did worry a lot of people. As an athlete you know your body so well, sometimes you do know when there is something not quite right. So it was a little bit scary, but also they told me they could fix it which is great. I'm fine now, it's been a really quick recovery and it didn't really interrupt the Olympic season. Just set us back a few weeks which probably didn't leave us with the most preparation for the Grand Prix. But we got through it and we're now here and we couldn't have done any better.
You wrote in that blog entry: "Being given the chance to bounce back from this has made me realize I'm ready for anything this Olympic season throws at me!" You obviously meant more challenges but wise people say you need to be ready for success no less than for failure. Were you ready for this bronze medal the Olympic season threw at you?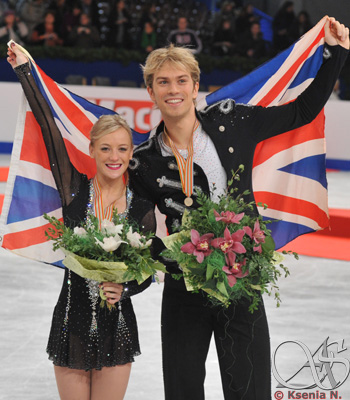 Nick: Obviously we didn't expect to get the bronze medal this time, but we have to be careful and remember that the main focus is Sochi. We're using this as a huge confidence boost. It's not going to go into our heads in any way, shape or form. We've actually watched our performances back and we could see we've done the free dance so much better than that in practice. There are a lot of levels we can improve on in the short dance too. We use this as: great, we've got a bronze medal, we've got really good feedback and lots of people were pleased for us, however we can do it much better than that. And that's so nice to feel, it adds so much confidence going to Sochi.
Penny: Our coach, Evgeni Platov, is a two-time Olympic champion so who else better to teach us how to deal with success. He is the most down to earth person, he is not big headed in any shape or form, and he's very, very humble. We're very lucky to have him. And I'm sure he'll guide us in every way that we need to go.
Nick: He kind of brought us down to earth as well. He's been extremely pleased with us but he also said that we can improve here, we can do this and that, we've been told where exactly we can move on from here and we know how to do it.
Some people say: "Something very wrong happened to the world of ice dance where acrobatic dancers Penny and Nick can medal at Europeans." Your answer to them.
Penny: I think one of the best things about ice dance is that each couple is different, each couple has something that they can do very well, that perhaps other couples can't. And it just happens to be that we can do lifts very well, I'm small so we have the ability to do it acrobatically. Meryl and Charlie (Davis/White), Tessa and Scott (Virtue/Moir), they started with all those crazy lifts, pushing the boundaries within the rules. And we have the ability to do that, so why not? Some people have other amazing qualities and they may do something else better. We're lucky to be different. We're trying to be different in our music choices and in other things.
Nick: That's what we strive for, to be a little bit different and do things other people can't do.
Penny: Looking at Torvill and Dean all those years ago, if you look at the lifts they were doing, other things they were doing compared to the other teams at the time. They achieved brilliance by doing something different, and they're remembered for it. John and Sinead, they picked new modern music, and they had different programs, they just brought new things to the table and will be remembered for it.

Nick: I think it's something the audience likes to see as well. Probably people who said that were more traditional ice skating people...
You mention that your big difference in height enables you to perform these spectacular lifts. Are there any drawbacks in this difference?
Penny: For example, we've played with a lot of different spins because sometimes he just pulls me off my feet, little things like that. But you learn and you create you own spin. Now I do a layback [spin] underneath Nick because I'm small, I can do that. And a couple of the same height can't.
Nick: Some of the holds and things like that. Couples with similar height can do the kind of mirrored holds, but we can still do different holds... I remember the compulsory dances when we were doing those years back, some of the teams found certain sections a lot easier than we did. You have something that you find easier, something that you find harder, that's same with everybody.
Penny: It's funny that when we're doing the choreography and things like that our coaches never say: "Oh, that's hard because Penny is too small". It's always because Nick is too tall. (laughs)
In general when you started as an ice dancer didn't people say to you: "Why don't you skate pairs instead?"
Penny: (laughs) I've always been an ice dancer, I've never been a single skater. I feel so lucky, I enjoy every single day of my life, I am able to do what I love, I feel very passionate about ice dance. Whether I'm tall or small, that's what I love so I'm going to do it.
Four years ago before the Olympics versus now before the Olympics, you've been in two different situations: at your first Europeans in Tallinn 2010 back then and medalling now.
Nick: Yes, it was our first senior season and we did it quite well and then all of a sudden we got to go to Europeans and the Olympics. It was crazy, we didn't know what to expect, we could just go and enjoy. Now we've got a lot more experience, there is more pressure on us, but on the other hand we know what to expect. We know what the practices are going to be like. We know how to take ourselves through situations where we have a lot of pressure on us, like for the free dance here. I thought that we learned so much, not being in that situation before, sitting on the medal, we both learned so much and we will take that to the future now. And I'm sure we're going to improve immensely in the next four years.

Penny: I think it's such a huge difference. Back then we'd just moved to Evgeni, we'd spent the summer with him and loved it. And we had John and Sinead there with us and even though they were concentrating on their own thing they were so lovely to us, helping us to deal with the experience, we had the best time with them at the Olympic Games. Now we don't have them with us and we miss them. I miss training with them, being at competitions with them, we had so much fun. It's nice that now we're doing so well. And I feel very grateful for everything they did for us during that time, they did so much.
Based on your Olympic experience from Vancouver, is there anything you didn't have time to do and you'd like to do in Sochi?
Nick: Honestly a few more events this time. We didn't get to see much last time.
Penny: We competed quite late last time so a lot of the competitions were over by the time we finished. This time we'll try to see a bit more. I'd really want to go to see some ski jumping. I think that's incredible. I don't know how they learn to do that! I would love to try that one day, obviously not for a few years. I'm just intrigued by it. I'm crazy. (laughs)
Nick: Downhill skiing too.
Penny: Yes, to go to the mountains a bit more.
And something you tried there and you're looking forward to seeing and experiencing again?
Nick: I enjoyed being part of Team Great Britain, you experience everything together as a team, an opening ceremony is amazing and you do it as a team, you are all in the Village together, the Great Britain block, athletes' lounge. You're doing all those different things together and you're all behind each other. You know who is competing which day and you all will gather near the TV. It's so nice to be part of a big family. I'm so looking forward to Monday, when we're going to get our Olympic kit. The team is going to get together again, the old friends from four years ago - now we're going to see them again. And we will also make some new friends. I can't wait for that.
Penny: For me being part of that team was something that I'd dreamed of my whole life, I watched the Olympics since I was little, I always told everybody: "One day I'm going to go to the Olympics". And I feel so lucky and proud to say: "I've done it and I'm going again." Being part of that team and having the words "Great Britain" on your back and having the whole nation of Great Britain watch you... Figure skating in England isn't the most popular sport, but once every four years the whole nation gets behind you and I feel so, so proud.
Penny and Nick made their first appearance of the Sochi Games a week ago when they performed their short dance in the team competition. This debut wasn't very successful, they finished seventh, getting a deduction for an extended lift and only level one for both parts of their Finnstep... We wish them luck and a better performance tonight!