Elladj Baldé: "You take both cultures and learn from them"
November 1, 2014
By Eva Maria Jangbro (EMJO)
Photos © Eva Maria Jangbro (EMJO)
Elladj Baldé has a Russian mother and a Guinean father. He has lived in Russia and Germany, and then moved to Quebec, Canada, the country he represents as a skater. He placed 4th at the Canadian nationals last season. Since 2011 he trains for Yuka Sato and Jason Dungjen in Bloomfield Hills, Michigan. Not bad for a late bloomer; Elladj's skating didn't really take off until he was 10 years old. He now wants his skating to entertain the audience, so for the choreography of his new short program he sought the expertise of dancer Benjamin "Benji" Schwimmer, to get his dance moves just right and raise the level of entertainment. I had a chat with Elladj after the gala practice in Oberstdorf to find out about the new season, programs and shows. I learned he has a new favorite place in the world and, believe it or not, it's not Oberstdorf! But he really likes the Nebelhorn Trophy since it has a strong field of competitors, and he appreciates that you can "make a statement".
You placed 5th at the Nebelhorn Trophy, well done! Your short program to James Brown's singing is very dancey, please tell me about it!
It is a new project we wanted to try this year, with lyrics and vocals. I wanted to go back to performance and entertaining with my programs; something old school like Motown, Prince or James Brown. We decided that James Brown was the way to go.
Well, great choice, it fits you like a glove! From the costume to the choreography, it's spot on!
Thank you! Benji worked with me on the choreography. He is the winner of the second season of the American So you think you can dance show. His choreography has worked really well for me and everything went perfect here.
But aren't you a great dancer on the floor too?
I have danced my whole life, just by myself. I love moving, the rhythm - I just love dancing! I did take a few ballet classes too.
You always have very strong choreography with character, and you are very good at expressing yourself. What about your free program, it's also very dancey!
We (my coaches and Pasquale Camerlengo, choregrapher) wanted to do something that again is entertaining, but in a different way. I love the Flamenco and it's a style that I think is absolutely beautiful. I did a Flamenco short program a couple of years ago, but it was a modern Flamenco so this year we decided to go with the classic, traditional Flamenco. I loved that short program so much I wanted to do it again, but better. This program is really, really hard and really, really good, but of course there is still a lot to polish and work on. I also wanted a costume that is very much Flamenco, strong and macho with the open chest etc. It's very masculine.
You were in Denis Ten's show (Denis and friends) in Kazakhstan. How did you end up there?
Denis and I have been friends since our Junior Grand prix days, so we have known each other for a long time. When we were at Worlds he said: "I might be doing a show in Kazakhstan, do you want to be part of it?" Sure I wanted to! I had never been to Kazakhstan before, and now it's probably one of my favorite places in the world, it is so beautiful! Almaty was beautiful and in Astana the architecture is like in Dubai; everything is new because Astana is a new city, only 15 years old. Everybody speaks Russian so it was easy for me to communicate. And I got to do a show with Alexei Yagudin, my all-time idol, and all those Olympic champions and medalists. It was a very good experience for me.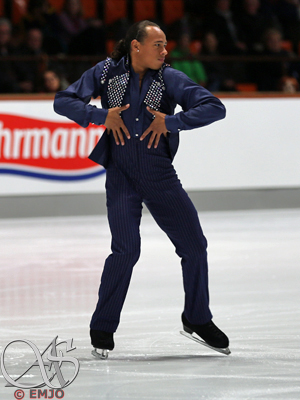 You are Russian and African; that is some combination. What was is it like to be brought up with two such different cultures?
I was born in Russia and I speak Russian. But honestly, it's an unbelievable blessing to have two so diverse cultures. My mom and my dads' cultures are very different, but I became part of both. I have the strong character of a Russian and the hard working attitude of an African. You take both cultures and you learn from them. It is so incredible; I wouldn't want to be anyone else!
But then you ended up in Canada, how come?
I had an older sister who got cancer when she was 7; I was only a year old at the time. We left Russia and went to Germany to get treatment for her. We lived in Bonn for a year, and then my sister passed away. This was in 1991 during the fall of communism, and everything was a mess. In Russia the mafia took over and it was not a good place to be, so we decided to go to Canada. It's a great place to raise kids, education is good, and the health care system is great.
What language do you speak at home?
We speak Russian and French. My dad is from Guinea in Africa where people speak French (one of the official languages). He has his tribal language too, but I don't speak it.
Don't miss Elladj this season! His programs are really wonderful and he's a great entertainer. His next competition should have been Skate Canada, but unfortunately he wasn't able to compete because of an injury. We wish him a fast recovery!