Peter Liebers: "The hard work has paid off"
February 6, 2014
By Reut Golinsky
Photo © Ksenia Nurtdinova, Reut Golinsky
Five-time German national champion, Peter Liebers, found time for this interview after the short program at the European championships in Budapest. While talking about his goals to surpass everything his idol - his father - accomplished, he probably didn't think that one of his goals would be achieved as soon as the next day, when he finished sixth, his - and his father's - highest placement at the Europeans.
From the very beginning, this interview was planned as a portrait of a young Olympian to be published during the Games, so we naturally started from that topic.
Congratulations on becoming an Olympian for the first time. How does it feel? Probably it was almost certain you would qualify for the Games, but still...
First of all, I'm really, really happy to go to the Olympic Games. It will be my first time and it took a long time to reach this goal, to qualify to skate there. It's a great feeling that the hard work has paid off. It's not the end. Now when I skate there, of course, I want to skate really well.
Maybe it was obvious that I'd be going to Sochi, but nevertheless it was a long way, hard work, this thing doesn't come by itself, so it is a great success, yes.
Do you have already plans for Sochi? Besides your own competition what are you going to see? What else will you do there?
I hope that I will have time to do and see some things. I really want to see a few hockey games, I'm a fan. And, of course, to see the other German athletes. I have good friends in luge and bobsleigh, so I'll try to go to those venues in the mountains to see them compete.
For most of you on the German skating team it will be your first time at the Olympics. Except Aljona Savchenko and Robin Szolkowy.
Maylin and Daniel Wende were in Vancouver. And, of course, Aljona and Robin have so much experience. It's great to have them on the team. It's always fun with them.
Back to the competition here in Budapest: last year you were top ten at Europeans, what were your goals for this year?
Since I was top ten the previous year then of course I want to place higher.
Right now (after the short program) I'm in eighth place, a good position for the long program. I see this competition as a step towards the Olympic Games so it's not that important, I want to get my best score at the Olympics. I'm at around 90% [of my top shape] right now.
Are you content with your short program?
There was a fall on the quad but that's not too bad, it is still the highest score I ever had at an international competition; my previous personal best was 71, at Worlds last year. And right now it's six points higher. I'm happy with this score. It could have been more with the quad, but overall eighth place and 77 points are great.
You know, I was watching the Grand Prix series on British Eurosport, and the commentators were really excited about your short program, I don't know if you heard...
(smiles) I did, yes! I usually don't listen, but a friend of mine saw the video with this commentary on YouTube, and he told me to check it out. I did. In a way I was surprised, and I was happy too, because they really understood the costume, the choreography. I was glad that people understand what I'm doing on the ice, what I'm trying to say.
(British Eurosport's commentator during men's short program at Cup of China 2013: "I really-really enjoyed it, from the outfit to the interpretation, to the technical elements in the program. That was for me probably the first program of the day where you can honestly say that the skater has gone out there and skated to the music. He hit just about every bit, even the jumps were on the crescendos, and I thought it was fabulous. Really, really good. The team behind him has done a great job, because his skating ability is not as good as of some other guys but they really have focused on the things that he does well, and that is so important...")
They mentioned that the program was built wisely. So maybe that's why you could improve your personal best? Who in your team should be thanked for that?
Of course, it's my choreographer, Lori Nichol. For the short program. And for the long it's Shin Amano. They have done a great job since I started to work with them in 2010. My skating has changed so much and I'm really happy that I made that step. Their influence on my skating is huge. It's also my work, I have to show what they are telling me, but all the ideas, everything comes from them. It's a pleasure to work with them.
How much are you involved in the creation of your programs?
Lori has a lot of advice, but she also wants me to do a lot of improvisations at the beginning, to show what I'm feeling about the music. And then Lori picks things which are interesting and will look good. We're trying to create a story and tell it to the audience with the choreography. That's the whole point, that's what makes it interesting.
Who chose the music for your short program, "The Clocks"?
Lori. We talked about the music, I told her what styles I prefer. And then she had some ideas about what suited my personality.
Well, your official site lists something quite different as your favorite music - techno!
Yes, I love all the types of electronic dance music but it's different - to just listen to the music or to skate to it. I think in that type of music there is no much space for interesting things, for creativity. So it's different - what I like to listen to and what I like to skate to. I listen to other styles as well, not only to electronic music. When you're figure skater you have to know different musical styles, you can't just choose one; you have to listen to everything.
The very first program of yours I noticed and liked was your "Sherlock Holmes" long program from season 2010/11. Even if it's an old program, can you tell me more about it?
(smiles) It was a really nice program; it was great for that moment of my career, a huge difference from what I had before. It was the first program I did in Toronto; the short of that season was choreographed by Lori and that program we created with Shin Amano. It was a big improvement on everything I did before.
It was so fun to work on it, because I love the movie, and I tried to show the story of the movie on the ice, to portray the character. We even thought about keeping that program for another season but in the end we didn't. I loved that program but I wanted to improve even more and to move forward. But this is a really, really nice memory.
How did your collaboration with Lori and Shin start? Why did you decide to go to them in 2010?
The Olympic season 2009/10 was not good; I missed the Olympics though I was really close. And the World championship was not good, I was 25th. We decided we had to make some serious changes, in the training process and in everything I do, to try new choreography and a new way of skating. I had known Shin Amano for a long time, so I asked him and he agreed. People who knew Lori Nichol helped me to meet her and she also agreed.

Usually I go to Toronto three or four times a year, for two-three weeks. My main training base is still Berlin, but every time I go to Toronto I love the atmosphere there. It's a lot of fun, not only to work with Lori and Shin, but also to see other skaters. At the Cricket Club where I work with Shin there are Yuzuru (Hanyu), Javier (Fernandez). It's great to see them and how they work, to skate on the same ice with them, to learn from them.
Because in Berlin you don't have skaters at such a level...
Well, in Berlin I'm the top skater, but there are two other skaters, including Franz (Streubel) who is here in Budapest. They both are great, not top skaters right now, but they could be. It's different when you're a strong skater and the others are good too; you can work together on jumps. Or when you have skaters who are at the very top, you look up to them and you can learn from them a lot.
So while you're at your rink, being the one who is the strongest and you're pushing others to get to your level, what or who motivates you?
The motivation is, of course, to keep the distance from them. For example, in points. If last year it was twenty points, this year it should be at least twenty points too. They are improving, so I have to improve even more, to make it a twenty five point margin. The other thing is the jumps, they are already almost as good as me, and they've mastered the quad. Sometimes when I have a bad day, and they jump quad after quad, it pushes me to get up, do my thing, to show them what I can do.
In general how does your day look?
Usually my training day starts around 8:00 with the off ice practice until 9:00. Then there is a skating session from 9:15 until 11:00. Then there is physiotherapy, massage, maybe another off ice session or ballet until around 13:00. Then there is a break. I'm back to training at 16:00-16:30 until 19:00-20:00 with one or two sessions on the ice and another physiotherapy. It is six-seven hours overall, a full time job.
And the other guys are with you on the ice? Always?
Always. We have a special session on the ice for all skaters who are on the "Olympic" team- those who potentially could make the Olympics. Right now we have four male skaters and two ladies from the national senior level, so it's six people on the ice. It's fun to be on the ice with them.
More from your official site: "outstanding characteristic - fighting spirit". Can you name me three more things about your character?
(takes time to think) Shy. When I don't know people, when I meet them for the first time I'm really shy, I'm not easygoing like: "Hey! What's up?" But with the people I know I can be really funny, I make jokes all the time. And the third thing: I never wish bad luck for my rivals, I wish them well and try to be a fair sportsman.
Who are your skating idols, people you looked up to, watching their videos when you were a child?
First of all there's my father, of course. He used to be a skater too (Mario Liebers, five-time East German national silver medalist - ed). There are a few things he achieved in skating which I wanted to complete too. He was the first German skater who did a triple Axel in the competition, when he was sixteen. So I wanted to be younger than him when I landed a triple Axel. And I did it, I was around fifteen years old. He never had a chance to go to Olympics, and I will do that. But there were other things. For example, his best place at Europeans was sixth (in 1978) and at Worlds it was ninth. So there are a few other things that I want to beat.
But there are other skaters too. Ten years ago it was Evgeni Plushenko. But with the years I learned to pick the good things from every skater, so now there is no one skater who is my idol. There are nice, positive things I would like to learn from many people. Javi (Fernandez) has some; Patrick (Chan) has some too...
So, for example, which qualities would you want to learn from Patrick, or Javier, or Evgeni?
Patrick has great skating skills, he is doing a great job and is very focused on what he does. I love Javier's quads, I would love to do such a nice quadruple Salchow as he does. And it is Stéphane Lambiel, when we're talking about really great spins, still. I don't think there is any other skater, now competing, who can do such fast interesting spins as he does.
Do you watch others at competitions or on video? Are you interested in general in what is going on in the skating world?
Yes, of course. You always have to follow the developments, figure skating has changed a lot.
Do you also watch other disciplines? Pairs, ice dance, ladies?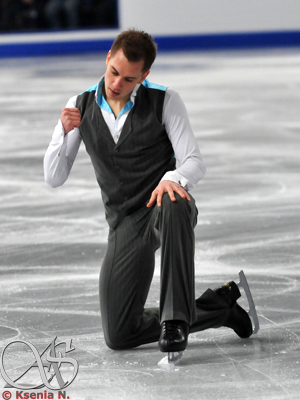 I love to watch all the German skaters, I'm always fighting for them on the ice, cheering for them. I love to watch Carolina Kostner in ladies...
Any specific program you loved this season? From any discipline.
Patrick's programs are great almost every season. I love the long program of Aljona and Robin ("The Nutcracker"). I love Carolina's short program ("Ave Maria"), I saw it just yesterday, it was amazing. Usually I love to watch the programs Lori choreographed, so I love Tomás Verner's programs. In Toronto I could see how they worked together and what hard work it was. Lori was in Oberstdorf to work with Carolina and it was always fun to watch them working, trying to improve. You are thinking: "Wow, it's already great". And they continue to work, making it even better.
If you're asked to choose one of your programs, for example, someone asks you: "What are you doing?" You say: "I'm a figure skater". And then he asks: "Which program of yours should I check on YouTube?"
Right now it would be performances from Worlds 2013 in London, the long program probably. I think it was the best program, I loved the music, the choreography, and everything was great. Yes, I think it was the best program so far.
And the last question is not about figure skating. Berlin is a popular tourist destination. As someone who was born there and lived there his whole life, what would you advise to your fans that come to see your city? What is the absolute must see?
You have to see the Brandenburg Gate, the TV tower, the Reichstag. There are so many well-known places, but also so many nice places in Berlin which are less known. There are historical places and there is a modern, new side of the city. You have to see the whole city and to feel those differences. For me Berlin is the most interesting city in the world!