Catching up with Sarah Meier
March 19, 2014
By Anna Bertoloni, Reut Golinsky
Photos © Anna Bertoloni
In the middle of the busy "Art on Ice" tour schedule, with sometimes two shows per day, 2011 European champion Sarah Meier still found some time to talk with us. It was a pleasure to meet her and chat about her current projects, future plans and "Art on Ice" programs, with which we started our talk.
I'm doing one piece to Loreen's "My heart is refusing me" and I really like it. It's very emotional and kind of slow, and then in the end the rhythm becomes fast, it's like disco music. So it's everything combined, and I like that I can show different sides in my skating. And then in the second part I skate [to "Silver lining"] - well, it's just one and a half minute with Hurts. It's also great to skate to them, while they're also on the ice. I always feel great, their music is really amazing, they sound perfect every show.
Aren't you scared of the fireworks?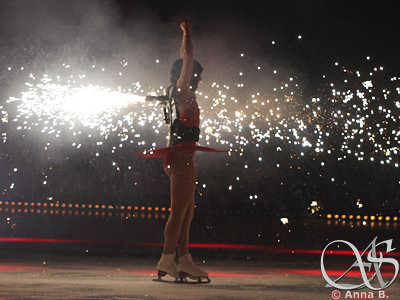 (at the end of Sarah's program "My heart is refusing me", fireworks come out of her costume and she kind of "catches fire" - ed.)
No, I just have to be careful. I can't breathe, because it's really... like, it's hard to breathe in the smoke! And my costume smells already like it's been burned by the fire... I have to cover my hair, and yesterday the cover fell and they were scared that I could burn, but in the end nothing happened. I just don't know what it looks like, because I see the fire around me but [I still didn't see the final effect], one time I have to see it!
Except "Music on Ice" and "Art on Ice", do you have other shows planned?
After the "Art on Ice" tour I don't have any [big shows]... I'll have some little shows in Switzerland, with kids on the ice. We'll see next year if I have something in winter, but for the summer I have nothing planned. But of course if I'll get an offer, I'll go.
Do you still practice every day?
Well, it's hard to do it every day, because I work every day - just on Sunday and Monday I don't. And on Sunday we don't have much ice. I practice in the morning before I go to work, but we don't have much ice then - or in the evening. Yeah, I try to do it every day, but sometimes itÂ's only 3 times a week, sometimes 4 times a week. When I don't skate I just try to stay fit and do weight training, fitness and jogging or swimming.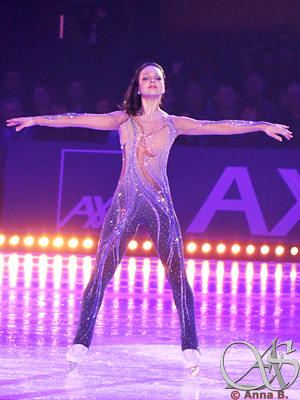 You are now working as a journalist, aren't you?
Yes, since last year I'm working as a journalist and I'm following different sports. Just about any famous Swiss sportsman in different [disciplines]. For example, I did soccer, ski...
... not figure skating?
I wrote some little things about Stéphane, but it's about famous people, so maybe Denise Biellmann. If there are more skaters coming up, with good results, I hope I can write about them - but at the moment... for example at the Olympics we had no skaters, so there was nothing to write.
So, did you have an interview with Stéphane?
Well, it wasn't like an interview, but I wrote a bit about him. He was doing his "Rock Circus" and I wrote something like: "How is he doing the 'Rock Circus' now, without skating".
Now that you are "on the other side of the microphone", do you remember what you were being asked, what you didn't like about journalists?
Yes, yes... I know what questions always bothered me, so I don't like to ask those questions about which I always felt: "why do they ask that?". But I also understand better now why journalists always ask the same things, for example: because they need to have the quote, and they can't just "steal" from the others when they write something.
So yes, sometimes [my background] helps me, because I understand it, but at the same time... I don't like asking the same questions again and again, if the other person doesn't answer... I should be more persistent to get more information!
For how many years do you think you will keep skating?
I think that I will do one more year. Next year will be the 20th anniversary of "Art on Ice", so it would be a good career ending.
And after that? Do you think you will keep working as a journalist? Or maybe you have plans to become a coach, a choreographer?
No, not at the moment. But you never know! I'm also attending a journalism school, and I will finish the school in a bit more than one year. And after that I don't know. I'm going to decide afterwards. For now I'm doing it and not thinking too much about what I'm going to do after. Maybe some new doors will open. But I want to stay in the media, maybe I will try radio, I don't know... or TV!