Valentina Marchei: "I raised the bar, and I keep raising it"
February 20, 2014
By Titanilla Bőd
Photos © Mireille Geurts, Joy, Anna Bertoloni, Ia Remmel, LMDJ
After a long wait she is getting ready for her very first Olympics. She feels ready to face the challenge and she wants to leave her mark on the ice. Not just to compete, but to perform at a high level.
Italy's Valentina Marchei is excited about her Sochi experience and she talked about her feelings and plans after the Europeans in Budapest, where she placed sixth.
You are one of the few skaters who already competed in Budapest in 2004. How did it feel to come back to this city?
Valentina: It was a crazy experience. Ten years later I'm full of memories and I'm a different skater. Before I was a foolish one that would go without fear and then throw herself, but now I say: "Think and have your goals." Of course I came here with big goals, but if you had asked me at the beginning of the season, I would have had huge goals. Now we have turned this European championship into an experience towards the Olympics. It was already a long season; it was unexpected to do the University Games and Nationals in such a short time, so it was very tiring. It took me time to recover. A couple of weeks are never enough to recover and get ready for such a big competition like Europeans. It's not sad, but coming and saying: "this is a step going to something else", is not the same as coming to win. I needed to try new things and it was fairly hard as a competition. I'm happy of what I did in the short program, I'm happy about what I did in the long [double Axel-triple toeloop combination, then a triple Lutz]. There are still a few things to fix, but I'm happy they are not big issues, just minor ones. Hopefully I will do the team event in Sochi. I know Europeans were going to be a warm-up for the team event and the Olympic atmosphere. I'm happy overall.
If you do the team event, will you stay in Sochi until the individual event?
Valentina: I might go back to Milan. But it's still just a plan, nothing is decided yet. We had to plan everything, on and off the ice, but there are two different plans: if I do the team event or if I don't. Until we leave for the Olympics I just have to keep repeating. I also think that my long program at the Europeans was not affected by the pressure [Vale had troubles with her Salchow and second triple Lutz], but more by the long wait. I skated last; my program was 40 minutes after the warm-up. Even if you don't watch, you can hear the screams and you know that everybody skated pretty well. But it's not something that affected me. It [my performance] was very-very strong. I raised the bar, and I keep raising it.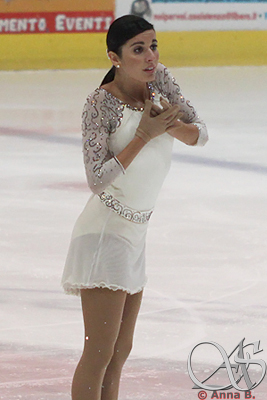 Your free program is to a Mission Impossible soundtrack piece.
Valentina: My program is a totally different story; it doesn't come from the movie. Our idea for the free program was Carmen at the beginning, but we couldn't really find the right piece of music. Yuka [Sato] and Roberto [Campanella] had the same idea about Nyah, but they weren't sure. Kurt [Browning]'s was such a memorable piece and I watched it so many times before that. I wasn't sure if I could face this challenge, but this time it's a female Nyah, so Roberto created something totally different. I still think I have to perform it; up till now I've been concentrating hard, but I think next time it's going to be ready to be performed. I just really hope that Kurt is going to be there, because I really want him to... well, to just say: "Hm that was interesting." I'm a huge fan of his program, and that's why at the beginning I thought: "I'm not going to do this, I can't do this." But Yuka said: "Trust me, it's going to be totally different." And she was right. When we were creating it, a part of me I didn't even know was there came out and it was amazing. As a woman, I thought: "Now I'm going to use that outside!"
In Budapest, you landed a triple-triple combination in the short program and a double Axel-triple toe combination in your free program.
Valentina: The first time I tried double Axel-triple toe was last year at Europeans, because I needed it. We just said, let's go for it. Even if I had a medal to lose [Valentina was 3rd after the short program in Zagreb, and in the end placed 4th], Tuktamysheva skated before me and she was amazing, so I said, let's go for it! And it worked. But I didn't have a triple-triple back then. This year there is the Axel-toe, and there is the triple-triple in the short program. At Nationals I landed triple-triple, but then fell on the Lutz; this time I landed Salchow-toe, even if it was rated as under-rotated, but I did the Lutz. I'm pretty sure third is a charm, right?
How was your preparation going into the Europeans?
Valentina:
I stayed at home because after University Games I had a back problem. I had to do Nationals with the back problem, too. I kept doing my layback spin during the program but I could feel something was wrong, so after that I had to take a week off. When I started again, I couldn't jump, so it was a tough way to go into the Europeans. But even though it was tough, it was still kind of smooth. It happens, I was blessed not to have a major injury, so if it's just that, I'm fine. I'm up for another pain!
You are probably very careful these days...
Valentina: Sure, even if walk outside, I just look down. I'm really unlucky with feet and I'm not able to use my feet without skates. Most of my injuries come from off the ice, not on the ice, because I'm looking around, lalalala... But now I'm really paying attention, and when I see other Olympians, they are very careful, too. Just when we walked around here in Budapest town I kept saying: "Watch, there is a hole!"
What are your plans until the Olympics?
Valentina: I will probably go back to the US, even if it's just for ten days and I see my friends there, too. I really miss them. Jeremy [Abbot] is one of my first supporters with Alissa [Czisny]. We constantly text, we constantly are there for each other. With the two of them I've really found my circle - and with Yuka [Sato] and Jason [Dungjen], too. They are the first ones to cheer me on these days; they are really there with me, even if they were not there in person.
What are your feelings about the Olympics? It was a long wait for you to get there... [In 2006 Italy sent Silvia Fontana along with Carolina Kostner and in 2010 Italy had only one spot, so Kostner went to Vancouver.]
Valentina: I'm excited, but I would expect to be even more! Now I understand what it would be to live the Olympics before, and what is it now. Before it would be to live the experience and now I'm ready to face it. Not just be there, but to do something at a high level.