Vanessa James and Morgan Cipres: "There is always something to work on; it's never perfect"
November 24, 2018
By Anna Kellar
Photos © Anna Kellar, Joy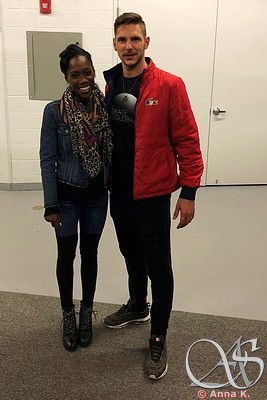 In the last two years, Vanessa James and Morgan Cipres have claimed their place among the top pair teams in the world. The 2018 world bronze medalists have had a strong start to their season, winning the Autumn Classic in September, and winning their first Grand Prix, Skate Canada, with the best free skate of their career to date. Tonight they skate their free at the Grand Prix in Grenoble, currently sitting in third place.
I caught up with Vanessa and Morgan after the gala practice at Skate Canada.
Congratulations!
Vanessa: Thank you!
How are you feeling?
Vanessa and Morgan, together: Tired!
Vanessa: Tired, but, happy! It's emotional.
So, what did you work on between the Autumn Classic and coming here?
Morgan: Everything. You know, it was just the first competition, so we took a look at what we did at this competition, the Autumn Classic I mean, and we watched it, what was good, what was not good, and after that we had to make a few changes, more in the choreography part I think, and a few transitions, and we had to keep going on all the elements, and the stamina, and just work the program more and more and more. That's it.
Vanessa: I think we worked a lot on the levels, we had to be more vigilant because we knew we'd missed levels in the Masters, which was better than the Autumn Classic, and at the Autumn Classic we knew we had to make a few changes for this competition. We didn't have enough time between the Autumn Classic and the Masters to really work on the levels for the twist and the steps and holding our spin. Since then, we've added a feature to the first lift, so that we can get level four, so it was all really detail, little details.
I saw you working on flexibility, is that for that lift?
Vanessa: For that lift, and for many other things to come, even in the Choreo Step I have, I think I can do a better split when I'm on Morgan. Even in all of my lifts, with the middle split, it's not only working on my flexibility, (I'm working with a) a rhythmic gymnast so she's helping me with my strength, in my back and being able to hold my leg properly to the back instead of to the side, where we see a lot of figure skaters doing it, so it's a different type of work, and a different type of technique that I think will help my overall skating. I'm proud of it, it's not easy and it's going to take some time, but I see the benefits of it already.
With such a great performance, especially in the Free Skate, what are you going to be looking to improve between here and your next Grand Prix?
Morgan: I think we have to keep going like this. We know it was good yesterday, it was a little bit less good in the short program, so we have to work on the short program, especially on a few details that made us shaky Friday night. But we just have to keep going like this. We know already we are going to have some ups and downs, obviously, like everybody, but I think we are in a good way, in the way we work.
How do you stay focused over the course of the season, and not get bored training the same thing? Do you have any tricks you use?
Vanessa: I think the difference, for us, anyway, is we aren't just trying to do the same thing every time. Since the Autumn Classic we've changed quite a bit in our program, we're always looking for a new position, a better transition, we're working on more unison, we still have to pay attention to details in our arms and our matching everywhere, so I think to be better you shouldn't just keep trying to do the same thing, we're really trying to evolve. So if something is perfect to our standard, so we're going to search to find what wasn't perfect, and make it better, and if the elements are going well, then we have to fix the quality. So I have to pay attention to my extensions, to the point of my toes and my back, expression…there is always something to work on, it's never perfect, and those are the points we're going to be looking for in our components now.
Being last to skate, and in this position of being the one being chased, is relatively new for you. How do you handle the nerves in that kind of competition?
Morgan: I think for me, it was kind of hard in the short program, to step on the ice, be chasing everybody, and everybody before us did very well in the short program, so it was a little bit hard I guess. For the long, well, I guess we had already done something the day before for the short program, so it was…we were more calm and confident in ourselves. It is kind of different, actually, but we're going to be used to it – I hope so.
Vanessa: We had the experience of skating last at Europeans, I believe, when we won our first bronze medal, and that was the first time also skating last. I think when we're confident in our training, which we were in this long program, it wasn't anything different than we've done at home, it was skated better because there was passion, it was emotional, but the elements were done how we pretty much do them at home. We were able to skate on the same sized rink as we do at home, for the long program, but lately we've been doing a lot of short programs on an Olympic sized rink, so that was our downfall in the short program, I think, at this competition. I don't think we were really nervous, we knew there were great competitors and great skates just before us, we could hear it, we couldn't see it, but we could definitely hear it in the scores, but you can never really worry what everyone else is doing, you have to focus on what you're doing, and what you've been training, and I think we skated like we've been skating at home.
Are you going to be doing the throw flip with your arms over your head at some point this season?
Vanessa: I really want to, I think when the programs become consistent both in the short and the long. It's a different technique and a different timing than a normal triple flip, so we don't want to mess it up, the normal timing, but I think at the end of the season when we have a little more mileage on the programs, I think it's something we should do.
How about the timing on the throw Salchow - I noticed that it looked great this weekend. Is that harder to go back to that after having worked on the quad?
Vanessa: It was hard work. Now it's much easier, now that we've had some time with it, but in the beginning, and sometimes with a little fatigue I still do three and a half turns, its rare but it happens, because I've been doing quad for the last two, three years. Now we've got it down, but it was hard to switch back.
How did you come up with the music for the free skate?
Morgan: I found it, I don't know how.
Vanessa: Youtube
Morgan: Youtube, like I was listening to a lot of music, and I found this version of Wicked Game, and I don't know, I just felt something in this music, and I sent it to her [Vanessa] directly, and she was like, oh yeah, I like it, and we proposed it to our coaches, our team, and everyone was down for it. That was maybe a bit of a surprise at the beginning, because it just happened like this, but we spent a lot of time searching.
Vanessa: A long time.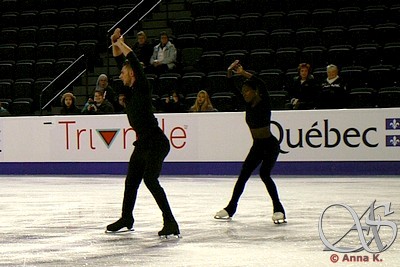 It's really strong music, and kind of unusual, but then Alexa [Scimeca Knierim] and Chris [Knierim] are also doing a version of Wicked Game this year, it's kind of funny to see – but they are very different programs.
Vanessa: Yeah, they are very different programs, and they are very different songs – it's the same song, but the versions are different. They skate well to their version, and I think we wouldn't have been able to skate to it, and this one suits us much better.
Do you take a role in designing your costumes?
Vanessa: A little bit, yeah. Guillaume designed the short program, and then my seamstress made her own version of it. And for the long program, she had to come up with a whole different outfit, and I told her exactly what I wanted and she gave it to me. But she is an amazing artist, she knows what suits me, and what goes with the music, she has her job down to a "t"! She is amazing.
Last question: what is your favorite thing about your partner?
Vanessa: Nothing! (laughs) Just kidding! My favorite thing about my partner [thinks a while] I like that he is so passionate about what he does. He likes to say he's not, he never really liked skating that much, but he does it because he's passionate about it, he wants to win, he doesn't waste his time. He's a perfectionist who wants to be perfect – which is not easy all the time, you have to be tolerant, but he pushes us, and he pushes me, and I think that's what has attributed to where we are today.
Morgan: It's hard to pick only one thing, to be honest. I like what we are. Because of her, and maybe because of me, but she gave me the confidence from the beginning, she helps me a lot, she helps me every day, in my life, in figure skating, and she takes care of me a lot. It's a big package.
Vanessa: Thank you!