Daniel Grassl: "I want to be the first European who can land all the quads"
April 8, 2019
By N├│ra Bruckner
Photos © Robin Ritoss Photography
During the past few years Daniel Grassl has gained more and more fame thanks to his results at the junior level. Then he grabbed the whole world's attention in 2017 when he landed a quad Lutz at the Golden Spin of Zagreb and became the youngest skater ever to do that. He continued to break records this season in the capital city of Croatia when - the first European skater to do so - he completed a quad loop. Italy's sweetheart repeated this at his first European Championships and came 6th before he returned to his beloved Zagreb to earn the bronze medal at his first Junior Worlds.
It is the last stage of the season; the World Team Trophy is round the corner. We chatted with one of the biggest rising stars in figure skating, who has just turned 17, about his love for the sport, the great successes of this year and his future goals.
When and how did you get involved in skating?
I began with playing hockey but one day I watched a figure skating competition with my mum. I think it was the Merano Cup, and I really liked it. I asked her if I could try it – she said yes and since then I've stuck to skating.
You competed and won in Budapest, my hometown, at the 2015 and 2016 Santa Claus Cup. What memories do you have of those events?
I have a lot of good memories. I reached 60 points for the first time in the short program at that competition in 2015. I was very happy with the result, especially as at the beginning of the long program I fell but then stood up and in a few seconds did the triple Lutz-triple toe loop combination as a quick recovery.
I must tell you I will never forget the moment that I saw your parents urging you to get up off your seat, get on your costume and start warming up for the short program. You did but after a short while came back, sat down and continued watching the competition. So, I guess, besides being a sportsman, you are also a massive fan.
Oh really? So great that you remember this. (laughs) Yes, definitely, I love watching figure skating. I follow every event when I'm at home, and what's more, sometimes during the warm up before my competitions I watch skating videos, which helps me relax.
What other things do you like doing for relaxation?
I love playing tennis with my father and my sister, spending time with my family and friends. I also surf on the internet a lot. I'm always on my phone doing my social media pages.
How can you fit in your studies and skating?
I train every day from 8 am then I study from 14.30 pm with a teacher who comes to Egna to tutor us. This system works really well for me and everybody is very supportive so I can focus on the training and on my studies, all in a good time.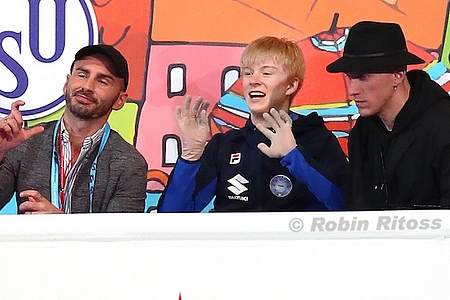 What is the common work with Lorenzo [Magri] and Benoît [Richaud] like? When and why did you choose them, why are they the best for you?
At the very beginning my coach was Ludmila Mladenova but she had to move to Padova. Lorenzo was the only option and I felt good in this group from the very first moment. At that time I worked mainly with Ilaria Maria Ponti but she had to go to Milan so since then I have been training with Lorenzo and I'm really happy with my choice. Three years ago we started our collaboration with Benoît who is really strict but it's good because with that he always pushes me to do my best.
You have grown so much in a short time. Is it harder now to control your body?
No, I don't feel like it. I train as much as I did before and I think if I continue to work hard, I won't lose my jumps.
There is an everlasting argument about the amount of the quads, the balance of the technical and artistic side in figure skating. Before this season the ISU reduced the number of quads in free skating. As a really technical skater, what's your opinion about that?
I know they changed the rules in order to avoid the injuries but I think you can do this cleverly. For me quads symbolize the progression of the sport that I do want to keep up with and I really enjoy learning new things.
Yes, indeed, and you seem to enjoy being a pioneer too, before Stephen Gogolev landed the quad Lutz last year at the age of 13, you were the youngest skater to land this jump in competition (at 15y old). Then you became the first European to land a quad loop. What other records do you want to break?
I want to be the first European skater who can land all the quads because until now only Nathan Chen can do that.
Who chose your music pieces for this season?
Benoît and Lorenzo always pick the music together, sometimes I also say my opinion.
What expectations did you have before this season?
As for the Europeans my goal was the top 10 and I came 6th. At the Junior Worlds I wanted to be in the top 5 and I got a medal. So I'm beyond satisfied, not just for me but for my country as with these results I helped Italy to qualify for the World Team Trophy.
I know you really love competing in Zagreb. What does getting such an important medal there mean to you?
I always do the 'firsts' in Zagreb: I landed my first double Axel, first triple Lutz, first quad Lutz, first quad loop there and I continued this line with the first big medal. It was an unbelievable feeling to stand on the podium in that rink, an other unforgettable memory that made me love this city even more.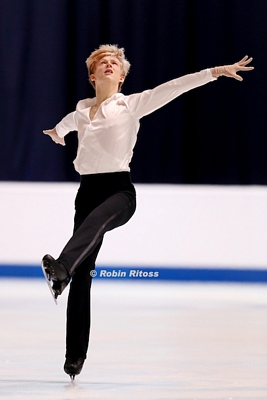 In previous years ladies carried the torch for Italy in single skating but now men, you and Matteo [Rizzo] are achieving big results. Why do you think men started to be more successful?
Matteo is such a good skater, the quality of his jumps is great and I'm doing more and more quads. I don't know if there is a key why we are more successful than the ladies now but I'm happy finally we, Italian men, can get up to the level of our pairs and ice dancers. We're both working hard to achieve better and better results and make our country proud.
You have showed many different styles and characters through the years. Is bringing something new every season a main thing for you?
Yes, I want to renew and push my limits year by year. Although the season isn't over yet, I can say that we'll try a combination of classical and modern style next year.
What skaters do you look up to and who are your biggest inspirations?
I really like Patrick Chan because he has the full package: his skating skills are outstanding, he has got the jumps and has very nice spins as well.
Who else do you want to work with in your career?
During the summer I would like to try to join to Eteri Tutberidze's group for one week and we may also go for a training with Tom Zakrajsek in the USA.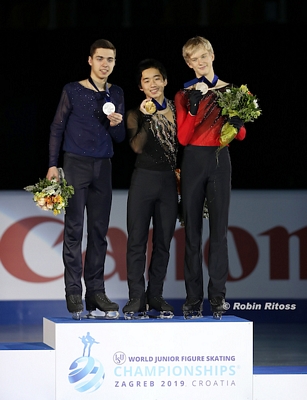 I know it's not so easy to pick one or two but what was your favourite moment this season?
The Italian Championships because I didn't expect to win it and I was so happy with my performances. But I have a favourite story from Zagreb too: Gabriele [Frangipani] and me made our teamleader [Anna Cappellini] very angry as we partied in the hotel too loudly after the free skate. When she got to know of it, she rushed into our room and told us off. It was really funny for us – not for her, obviously. (laughs)
So you will end your season at the World Team Trophy. How does it feel to go back to Japan after three years? Are you going to stay there to relax after this long season?
I adore the country, the audience there is fantastic; every competition held in Japan has that special vibe. The World Team Trophy is really a fun event, it will be a perfect end of the season. And, according to our plans, after that we will stay in Japan for one more week and try to see as many parts as we can.
What are your main goals for the next season? What do you want to improve on the most?
I have a plan to add the quad flip to my technical lineup and I'm constantly working hard with Benoît on ameliorating my skating skills. I don't know yet if I will compete at the senior or junior grand prix series – if I do junior grand prix, I'll try my best to qualify for the final because it will be held in Turin. At the Europeans I want to get in to the top 5 and win the Junior Worlds; it would be a dream come true.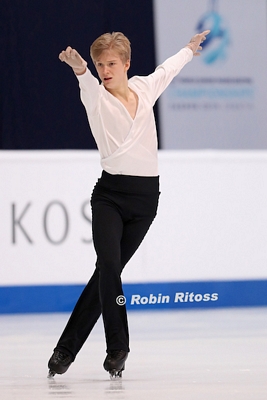 As Matteo placed 7th in Saitama, next season two male skaters will represent Italy so most likely Daniel will also debute at the senior Worlds. Wishing him a successful preparation and many more great results!
For those who don't have the chance to go to the World Team Trophy and can't wait until the next season to see him skating live, he will appear in Bol On Ice, Bologna on May 4th.