Hungarian debutants look up to their coaches
May 11, 2020
By Titanilla Bőd
Photos © Joy & Mireille Geurts, Titanilla Bőd
For the first time in four years, Hungary had a competitor in every discipline at the Europeans. For singles skater András Csernoch and ice dancers Emily Monaghan and Ilias Fourati it was their debut at a major competition. They talked to Absolute Skating about their impressions and future plans.
Not bothered by skating first
21-year-old András Csernoch was born in Debrecen but trains in Budapest with the 2004 European champion Júlia Sebestyén. After winning the National Championships in December he competed in Graz where he placed 35th,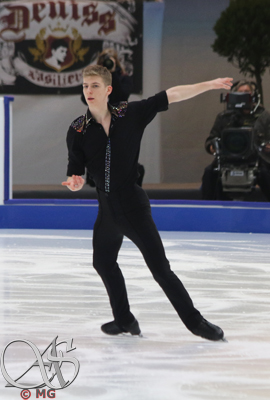 and the event was a huge learning experience for him.
How would you comment on your performance in Graz?
I expected more from myself. I was also a bit nervous, but at practice I managed to deal with it, and I felt it's getting better and better. Unfortunately, I made a mistake on one element so I had no chance to qualify for the free. But being here is a great experience. I hope that I can go to Europeans in the future too.
It was your first major competition. Was it hard to adjust to the environment and the atmosphere?
For me it's a totally new experience. I was satisfied with the organization and I enjoyed so much that I could be with my friends. I met lot of competitors from other countries, we are in the hotel together and we are watching the competition together.
You were the first to skate in the entire competition. Was it hard to open the event?
I think it didn't affect my performance. Sooner or later you have to take the ice anyway, so it didn't bother me to skate first.
What are your goals for the future?
I would like to skate at Worlds and at the Olympics. That would be my ultimate goal. I also hope to try at least two different quads and a triple Axel.
Do you train these jumps already?
Not the quads, but I often try the triple Axel; however, my success rate is not so good yet.
Can you reveal how did you become a figure skater?
I went to a skating session with a school group and the teacher said I'm standing stable on my feet and asked if I wanted to try this sport. I did, and I'm still here.
Do you have any idols or role models?
My coach, Júlia Sebestyén, is my role model, because in Hungary only a few people reached what she's reached. I also like the world champions from the mid-2000 years, like Brian Joubert.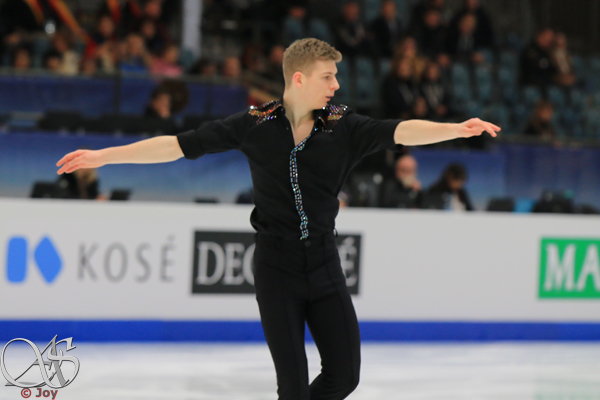 Living their Hungarian dream
Emily Monaghan and Ilias Fourati were both born in the United States, but they now represent Hungary together. Ilias has Hungarian roots and they dream of skating for the red-white-green colours at the Olympics one day. In Graz they were 24th out of 27 couples.
Are you satisfied with your performance at the Europeans?
Emily: For our first Europeans I think it was okay. There is definitely room for improvement, but there are always things to improve.
Ilias: In the twizzles I had my foot down at one rotation, but it can happen.
It's your first Europeans, how do you like it here?
Emily: Graz is a beautiful city and it's brilliant to be here. I like that it's such a big event and all the athletes are together.
Ilias: We wanted to qualify for the free skating but unfortunately it didn't work out. But we are so happy to win the Nationals and to be here. Nationals was probably one the most beautiful moments of our career so far, but we were third at the Halloween Cup and fifth at the Volvo Cup, those were also great results.
How was your preparation coming to Graz?
Emily: We train in New York, in Connecticut with Melissa Gregory and Denis Petukhov.
Ilias: But we are very happy that the week before the Europeans we were able to work with Irina Zhuk and Alexander Svinin in Moscow.
This is your second season together. Can you tell us how did you find each other?
Ilias: We started skating together in January 2018. At that time we were both without a partner and we decided to have a tryout. And it worked right away.
Emily: It's a privilege to represent Hungary. It's always been a dream of mine to go to a different country, so it was like a dream coming true. I've visited Hungary quite a few times now and of course I'm biased but it's my favourite country of all I've visited!
Do you have any connection to Hungary?
Emily (points at her partner): He is my connection!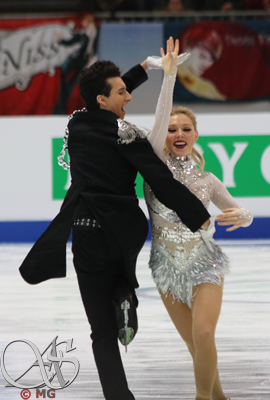 Ilias, you speak Hungarian very well, although you were also born in the US.
Ilias: I have double citizenship, American and Hungarian. I started skating for Hungary in 2015 with my previous partner. It's a big experience for me. At home we speak Hungarian, because my grandma, who was born in Pápa and later had an apartment in Érd, moved to our place from Hungary eight-ten years ago. So we speak Hungarian, we eat Hungarian food, it feels as if we were in Hungary.
What is your favourite Hungarian food?
Ilias: Paprika chicken, goulash soup, butter crescent rolls... I love those. I go to the shop and buy 15 of them! But the mayonnaise is also much better in Hungary than in America.
Emily: I also like paprika chicken.
What are your goals together?
Emily: Olympics!
Ilias: Of course! And the World Championships.
Do you have a favourite style?
Ilias: It's hard to pick one. We like every kind of music - modern, classical, everything...
The more experienced Hungarian couple, Anna Yanovskaya and Ádám Lukács, could not compete this season because of Anna's injury. Do they inspire you in any way?
Emily: We train at different places, but we competed against them several times in the past. They are a very nice team.
Which skaters do you look up to?
Ilias: We look up to our coaches, Melissa and Denis, and my favourite ice dancing couple is Oxana Grishuk and Evgeni Platov. We watch a lot of videos of their skating.