Minerva Fabienne Hase and Nolan Seegert: defying all resistances
February 18, 2022
By Judith Dombrowski and Reut Golinsky
Photos © Judith Dombrowski, Joy, Mireille Geurts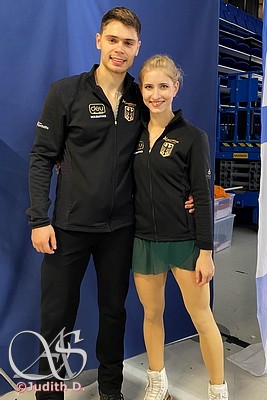 The 2021 Nebelhorn Trophy champions Minerva Fabienne Hase and Nolan Seegert had a rocky road full of ups and downs leading into what will be their first Olympic Games. Additionally the Games started with one of the worst possible scenarios: on February 2 Nolan tested positive for Covid, thus preventing them from competing at the team event. Nolan went into isolation so they could be cleared to fight at the individual event. And today they did, tomorrow they will go into the free skate from a 14th place.
In our talk with them we discussed their decision to move to Russia for training, their Olympic programs, took a walk down memory lane to their first steps together as a team, their first successes, disappointment of not making the Olympic team four years ago, and more.
Minerva: At the beginning of August, we decided to completely move to Dmitri Savin's team, because we wanted to get out of our comfort zone which was Berlin. Both of us have trained there since we were little, so it was pretty much every day, every month was the same, same people, same coaches. And we had a feeling that we needed a little extra to continue to grow and get closer to pairs' elite. We worked a lot with Dmitri in various training camps, we loved the work and him as a person, so it was a pretty good fit for us. And because he is based in Sochi, we decided that we should go there, too.
Nolan: The idea to move to Russia wasn't that far-fetched. When you look even at this event and the top placements here in Tallinn, the Russians are really dominant, especially in pair skating. And so, we just try to get the "heart" of this successful Russian school.
It must feel pretty different from Berlin, your life is probably only the ice rink, getting some rest at home, the ice rink again and basically no life outside of that loop.
Minerva: Yes. But that's what we committed to for this Olympic season. We knew exactly what we were going to do in Sochi and it was pretty clear for us that we want to do it anyway. We said we will do it for now, for just one season and then after Worlds, we are going to decide what will happen next. We had a lot of traveling around the world for the competitions, so usually we don't spend longer than two weeks in a row in Sochi.
I noticed you also list Fedor Klimov as one of your coaches in your ISU profile.
Minerva: Fedor is the part of the team that is working in Sochi. We are practicing all together on the ice. Dmitri is our main coach but part of the time we also work with Fedor, so we added him to our ISU profile.
Nolan: And he was also at the boards today with us, so we added his name to avoid confusion.
This season you have a new short program to "You Are the Reason" by Callum Scott. Can you tell us a bit more about it?
Minerva: We first considered for quite a while to bring back "Say Something" (short program from season 2018/19). "You Are the Reason" was our exhibition program, and we received very positive feedback for it, so it was a spontaneous decision to use it as our short program. We said: "It's similar to "Say Something' but still something new." And I have to say now it's become one of my favourite short programs, together with "Say something". Every competition I am looking forward to performing it. I think it was the right decision.
Nolan: We didn't think the Olympic season was the right time to experiment with a totally new style, so we stayed in our comfort zone.
Looks like it was the right choice for you and it's definitely a beautiful program. You decided to keep your free skate to "People Help the People" by Birdy. What was the idea behind this music choice?
Nolan: You could possibly think it's because of the current worldwide situation, COVID pandemic or world crises, but actually it's not. We searched for a song that suits us and our style and found this one, also thinking that it's a song people could like.
Minerva: It's always our goal to find music that has a certain recognition factor, that can be connected to us and that additionally hasn't been used in figure skating before. So far, we always managed that pretty well. We haven't heard the song being used by anyone else which is big plus for us.
What does your choreography process usually look like?
Minerva: We worked a lot with Mark Pillay. But for our free skate we tried a new choreographer, ice dance coach, Rostislav Sinicyn. He gave us a lot of nice new input; it was an exciting new challenge.
In general, we usually participate in music choices and decisions about the order of the elements. Sometimes we also work on our transitions, suggest to choreographers, for example, what is possible to do.
Nolan: In between seasons we often search for new transitions - choreographers usually call them "tricks" - some special moves that can be included in the programs. Then the choreographer looks at them and considers where that could fit into the program and then they develop the rest of the program together with us.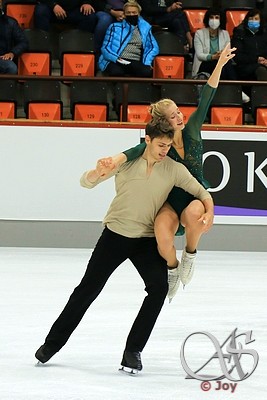 With the current situation with the pandemic what was the biggest difference in preparations for you last and this season?
Nolan: Definitely that we can't really plan. Everything is uncertain, no-one can tell which events are going to happen, what is actually possible.
Minerva: Regarding our practices last season, we were really lucky, I think. The ice rink in Berlin was closed for three weeks around April (2020) and after that we could come back on the ice under very strict rules and conditions.
Nolan: Yes, we were lucky as our training center in Berlin was mainly for competitive sports. There are hardly any public ice sessions. So as competitive athletes we got a special permit to re-start our training.
Let's move a few steps back. You started skating together in 2014. How did you meet?
Minerva: (laughs) Oh well, we were kind of thrown together. I was officially still a singles skater back then. I had tried pairs a few times with another partner, but it hadn't been serious. Then it so happened that Nolan needed a partner, I was asked, and that's how it started.
Nolan: Oh, that's really a very old story (laughs). I had been a pair skater already, Mini is my fourth partner. It didn't work anymore with my former partner and my coach asked me if I would do a try-out in Berlin. To be totally honest I didn't really want to at the beginning. Mini had been only 14 and I had skated in seniors already. I didn't really think that could work. So, I told my coach back then I would try for a season and didn't really expect this to be a long partnership. But then, after training together for only eight months, we could compete at Europeans. Thanks to Aljona and Robin (Savchenko/Szolkowy) Germany had the spots. Because of that we stayed together, so we weren't the dream couple from the very start.
How and when did you realize that you were actually a great couple together?
Nolan: It sort of progressed over the years. We really didn't develop fast, rather the opposite. It took a lot of time to learn and accomplish some of the elements. The input of certain people was a big part of it. The German Skating Federation helped us get in touch with various people, including our coach, Dmitri Savin. Working with him we made progress step by step.
So, the first seasons together started quite promising, but you were plagued by injuries which was also one of the reasons why you didn't qualify for the Games in 2018.
Minerva: I would say it was rather one big injury.
Nolan: Oh, and that was really great progress as my old partner had been injured every three weeks!
Minerva: That Olympic season was a hard one. Initially we hadn't really thought we would have the opportunity to qualify. But suddenly we got a chance as Mari and Ruben (Vartmann/ Blommaert) had split up the year before. So, there was a lot of pressure. Additionally, I had problems with my back in the summer and that continued during the season. The whole season was difficult, and when we didn't make the Olympic team, we were at the deepest point of our career.
Nolan: Yes, it was hard. We also ended that season earlier. During the first half of the season Mini skated with pain and as it had been clear we wouldn't make the team. We tried to research the origin of her problem which was certainly a good idea.
So, you had time to recuperate and could come back even stronger.
Minerva: Yes, we took a break for a whole month, and I didn't skate on the ice for three months until the injury was totally healed. We needed that pause to reprocess that difficult season, the fact that it hadn't worked out as planned. After that it was like a new start, everything worked better than ever before and things are looking up ever since.
Nolan: After the Olympic season the whole pair skating scene had a kind of a re-start. Many couples retired after the Games. That was our chance to get re-nominated for the Grand Prix events for example.
This resulted in two very successful seasons, with the highlight being the bronze medal at the Rostelecom Cup 2019. Can you tell us more about this victorious moment and how it affected you?
Minerva: We were so happy! It showed us that all the hard work over all these years had paid off. It also built some pressure though because the expectations rose from the German Federation but also internationally. Everyone expected we would continue like that.
Nolan: It was also a very big surprise. Honestly, I didn't go to that Grand Prix expecting to win a medal. Especially in Russia. Everyone expected the three Russian pairs to conquer the podium. It was also a surprise in the sense that we realized that we were internationally competitive and capable of winning medals at the bigger events. That felt amazing.
Minerva: The biggest pressure was the definitely at Europeans 2020 in Graz. Our own expectations were really high as we wanted to repeat our performance in Russia. Then we had an extremely good short program, reaching 70 points for the first time in our career. That helped a lot because it showed us and everyone else that it hadn't been a one-hit wonder in Moscow, that we were improving.
To end our talk, let's get to know you a little bit better with number of rapid fire questions.
What's your favourite pair skating element?
Minerva: The throw Salchow.
Nolan: Oh, I can't really name one, it differs from day to day.
What is your favourite program of your own?
Nolan: "Say Something".
Minerva: I agree, definitely "Say Something".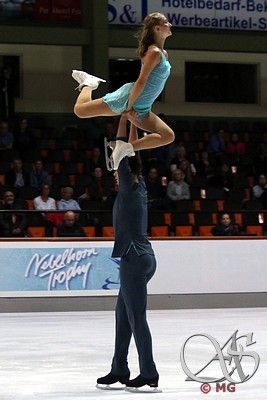 Who are your favorite skaters in singles?
Minerva: Nathan Chen and Kevin Aymoz. They are both amazing. In women I really love Mariah Bell. I love her way of performing. In general, I love mature women who just skate beautifully, not the young children.
Nolan: In men it's Nathan, technically and with his skating skills he is totally above the rest of the field. In women I have to think for a bit. I am not a big fan of children jumping quads, but despite that I would say Alena Kostornaia, because for me she is the most complete skater, she has the whole package.
Your favorite ice dance couple?
Nolan: I don't need to think about that. Tessa Virtue and Scott Moir!
Minerva: Yes, they will stay my number one forever.
Nolan: If we need to choose among the couples that are still competing it's Gabriella Papadakis and Guillaume Cizeron.
Which other sports besides figure skating do you enjoy doing or watching?
Minerva: I love dancing, everything with body movement and I like watching basketball.
Nolan: I have to admit that I don't have enough time or energy to do any other sports besides skating. Sometimes I enjoy watching the big tennis stars, when Roger Federer plays Rafael Nadal in a big final, for example.
What is your most precious career memory so far?
Minerva: The Grand Prix medal and the short program at Europeans 2019. Even though we had a fall during that performance it was an extremely touching moment. The audience was amazing and gave me goosebumps. Also, our 70 points short program in Graz.
Nolan: The Grand Prix medal for sure and Europeans in Minsk, in 2019. Just the whole competition was amazing.
Where do you see yourself in 10 or 20 years? Any long-time goals?
Minerva: In 10 years I hope to be either still competing or being just recently retired. Right now, I can't imagine becoming a coach afterwards, but who knows how everything develops. I think I would prefer a "normal" life away from skating. I started studying psychology, let's see how that goes.
Nolan: I can imagine staying in the figure skating world, in professional sports as a coach. I am already a little active in this direction when I need to earn a little money on the side. I am studying sports and biology for a teaching degree, so maybe I will become a teacher but that's the same direction I would say.
Finishing eighth at the 2022 European Championships was not at all what the reigning German National champions expected. "We put too much pressure on ourselves. We had the goal to come out with a fourth place here, and after the short program did not go so well, we really wanted to skate a good free," they explained in the mixed zone afterwards.
But the disappointment was brightened up by the fact that, while in Tallinn, Minerva and Nolan were officially confirmed as a pair team going to Beijing, and so during their talk with the journalists they were excited and couldn't wait to finally go to Munich and get their Olympic gear. Despite all difficulties we hope they still could enjoy some parts of their Olympic experience in Beijing!