Lukas Britschgi: "The Olympics are my biggest goal!"
February 8, 2022
By Judith Dombrowski
Photos © Eva Maria Jangbro (EMJO-EYES Photography), Mireille Geurts, Judith Dombrowski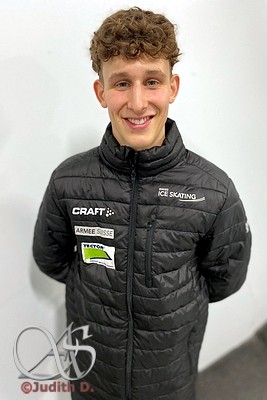 Lukas Britschgi is the first Swiss male single skater who has qualified for the Olympics since double World Champion Stéphane Lambiel in 2010. The 23-year-old achieved this with a very convincing 15th place finish at the last World Championships in Stockholm and has his eyes firmly set on the biggest competition of his career: the Games in Beijing.
We talked with the very likeable Swiss earlier this season to get to know him a bit better.
Let's start at the very beginning - how did you start skating?
My mother used to be an ice dancer and she took us with her to the rink. I liked it instantly and kept liking it - so here I am. I was around six years old when I started.
So you're from an athletic family?
Yes, my mom did ice dance, my dad did a lot of sports, my brother plays soccer, so I think you can tell we are a sportive family.
What specifically do you like about the sport of figure skating?
As a child I loved especially the speed I could gain on the ice. These days I love the daily challenges. Every practice is different. Learning new elements and improving everything, that really thrives me.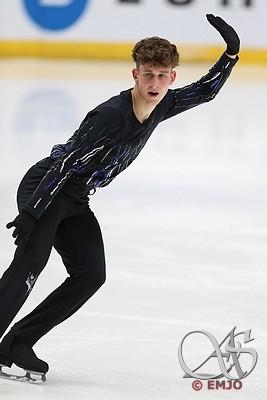 When did you realize you could do this sport professionally and perform at World level?
To be honest, pretty late. When I was 14 or 15 I got ambitious to work a little bit more to achieve more. I think then it started. I trained more and more and two or three years ago I took the next step when I changed my training location to Oberstdorf.
Why did you choose Oberstdorf and what do you like about your training there?
I needed a change. I wanted a new environment, a more professional environment, more professional training, a new team. I really like how Michael Huth works and that's why I chose Oberstdorf. We have ideal ice time, other good skaters to train with - I didn't have all that in Switzerland. And I did find the ideal coach for me in Michael Huth.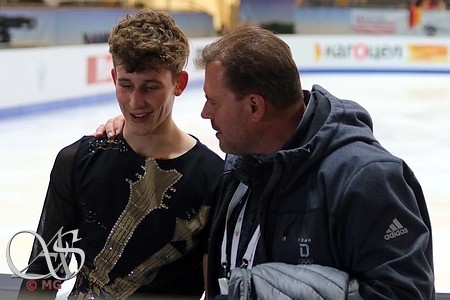 Do you have any role models?
Not so much anymore. When I was younger Stéphane Lambiel was a role model for me but now I am going my own way. Of course, some great athletes inspire me, Nathan Chen, for example, or some great soccer players like Lionel Messi.
What would you say was your biggest success / your biggest moment as a skater so far?
The World Championships in Stockholm in 2021, where I finished 15th and could qualify for the Olympics. That was a really good result for me and it had - I think - the biggest influence on my career so far. It really motivated me a lot to give everything for the Olympic season, to work even more and even harder. It also really gave me a lot of confidence.
Result-wise the pandemic didn't seem to have affected you. But I guess it brought you challenges?
I was quite lucky that we could train quite consistently in Oberstdorf. That was pretty good. It was, of course, a bit frustrating and boring that almost all competitions got cancelled last season but luckily we had the big highlights with the World Championships in Stockholm last season. The long, quiet preparation time for that event turned out to be helpful for me. We had a long, concentrated practice time and that certainly helped me.
What are your next goals and ambitions now?
My biggest goal is definitely the Olympic Games and doing well there. But also for the other big championships, European and World Championships, I would like to continue the good results. I would also like to include more quads into my programs. Still I have to say my focus this season is definitely the Olympics.
Let's talk a bit about your programs. You always choose really modern music pieces, the short program to Keeping Me Aliveby Acoustic and the free skate to several pieces of the band Labrinth.
I really love both of my programs, especially the music. I picked both pieces myself. For the short program I wanted to do a similar style as I had last year, as this was quite successful and I had liked that one a lot. For the free - I listened to Labrinth in my free time already and really like their music so I thought: "Why don't I try it on the ice?"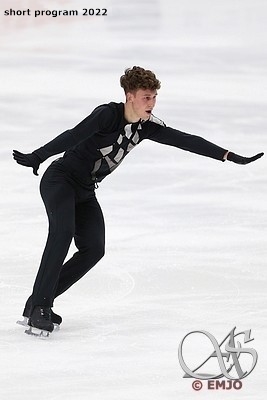 Definitely a good choice.
Are you studying or working on anything next to skating?
Yes, I studied business psychology for one semester and now changed to business administration. It's a part time study and I really like having something next to the sport that demands my brain a bit.
Do you have any plans for after your career?
I want to finish my studies first and I do have some plans to maybe found a start-up together with some friends. I can't tell too much about this yet as these plans aren't too concrete but we'll see how it develops.
We wish you a lot of success with that, Lukas, but we firstly hope now that you can fully enjoy your Olympic experience in Beijing and will hopefully keep entertaining us on the ice for many more seasons to come.
We also did a little video interview with Lukas where we talked a bit more specifically about his Olympic dreams and inspirations.