Lorenzo Magri: "I'm living my dream"
February 16, 2022
By Reut Golinsky
Photo © International Skating Union (ISU), Iana Saveleva, Jay Adeff/U.S. Figure Skating, Reut Golinsky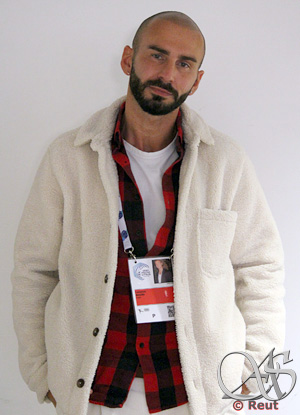 Lorenzo Magri is an up-and-coming Italian coach whose name you hear more and more often at the big competitions. Three of his students were present in Tallinn at the European Championships; Italian Daniel Grassl took silver and Poland's Ekaterina Kurakova finished in a very respectable top five. Both Daniel and Ekaterina are representing their countries in Beijing 2022.
We met with Lorenzo earlier this season, during Gran Premio d'Italia in Turin, and discussed how all this started for him, his students, his teaching philosophy, and more. You could totally see how passionate he is about everything he does, and this passion was very contagious.
Lorenzo, while I was preparing for our talk, I couldn't find any mention of your competitive results or skating career. I did find your LinkedIn profile which said the following: "Head-Coach & Director of the Young Goose Academy, Egna (ITA). International Choreographer of Figure Skating. ISU Technical Specialist Singles & Pairs. ISU Data & Video Operator. TV Commentator & Conductor of sport events. Manager & Producer of Shows and Competitions." You wear a lot of hats! But how has it all started for you?
I was a skater myself, but not an ice skater; I was a roller skater. As a kid, I really wanted to skate, but I don't come from North Italy [where I work now], I come from Bologna which is in the centre. Bologna is world-famous for the oldest university, and for its food; but we're in the centre of Italy and, I have to say, south of Milano there are no ice rinks. Well, we have an ice rink in Bologna but more like for winter vacations, Christmas period. It's very difficult in Italy, which has around 70 million people and not so many rinks, all of which are concentrated in two regions basically. In the region where I live now, Trentino-Alto Adige, we have more ice rinks, and that was the reason I moved there.
So initially I wanted to skate on ice, but competed in roller skating. And when I moved to skate with my partner - I was a pair skater actually - I had a very short career. First, because I was a bit older when I started. And second, because on my way from training I had a serious car accident and broke both my legs. Franca Bianconi took care of me, she said: "OK, you can't compete but why don't you coach with me." And I also started university.
I was working as Franca Bianconi's assistant for almost nine years, and finished my studies in Polytechnic University of Milan. But then I decided to do that professionally. I needed a different project and more ice, so I moved to the Bolzano region and found a place there. Egna had a new ice rink without any kind of figure skating but a lot of ice, and they believed in my project. In 2004 I also started with ISU, did various courses and exams for seven years and became an ISU data video replay operator, ISU technical specialist for pairs and later on also for singles.
Looking back, I think that moment when I was injured and couldn't express myself on the ice became the moment when I decided to give this energy to other people.
And you have a lot of energy, I should say!
(laughs) Well, I don't know... I have a lot of passion. When I see - I don't like to say "my skater", I prefer "skater I'm going with", because we joined this adventure together - so when I see that they are able to stay in the moment, to express themselves, it's the best feeling ever.
I should say that your life story is pretty crazy. And you needed a lot of courage to do that move from Bergamo to Bolzano and start from scratch, on your own. So who out of your current students was the first one to move to you?
It was Daniel Grassl. I started to collaborate with his club when he made his first steps on the ice. So, I was there with him his whole career.
How old was he back then?
He was eight. Before skating, he was playing tennis and hockey, and then he watched a figure skating competition and said to his parents: "I want to jump! I don't care, I want to jump!" And this is how he started. For three years I was working at that club, although not every day, and I saw him skating regularly. I have some really funny photos from that time. The coach he was working with moved to a different place and so his father approached me: "I would like my kid to continue, and I was thinking about you." By then we already knew each other and worked together, and so I said: "Okay." And we've been together for 8-9 years now.
It's been a beautiful journey, you're in the middle of it and still have a lot ahead of you. Daniel is, obviously, very talented and there are now high expectations from him. When everything goes as planned, he is very impressive, but sometimes it doesn't. And so, I just wondered where this lack of consistency is coming from.
When you see a skater every day, you have a picture which is hardly available to all those people who just see him on TV. [From afar] you never know what actually happened, maybe somebody was sick, maybe somebody is not consistent or maybe he's just trying a new element.
Daniel is a very consistent skater. Almost every day he is doing clean run-throughs. Of course, we also add some elements, put more stuff in. For example, we try the program with five quads. But, of course, when you grow from a boy to a man - or from a girl to a woman - you start feeling pressure, you start having an individuality and you start thinking, being afraid, which is human. We have people on our team who look after the skaters and analyse their mental state, but every skater has his own character, everybody has an individual career and their own path. Daniel is more introverted. He is very sweet and shy, for some reason, and he is very stubborn. But what happened to him 2-3 years ago is what's usually happening, I would say, to all European skaters other than Russians. I think that he needed something like that now (bronze at Gran Premio d'Italia - ed.) to feel that he belongs. For a long period of time, he was thinking that everything was too big for him. Most of the skaters he was competing with were the same skaters he was asking for an autograph not so long ago, and he was not feeling that he was at the same level. So when, after the COVID pause, we finally arrived at the senior Worlds 2021 and he was in the last warm-up group, he was totally freaking out. Because he was with Yuzuru Hanyu, who is his idol and whose photos and autographs he was collecting just yesterday, and then he had to compete with him while thinking: "This is not really my place [to be here]."
This is quite a revelation. I mean, he was definitely not a no-name at that point, he was one of the favourites, on the European level for sure.
You need to realize that figure skating in Italy is not very popular. It doesn't engage crowds of fans or money or TV attention. If you come to Nationals, you will find maybe 10 parents at the stands.
So it's hard for us, we keep thinking of the championships but when we finally arrive there, the reaction is: "Oh my god, I'm really here! I just saw that on TV!"
I feel that the Gran Premio d'Italia really turned the page for him, he is now at that stage where he is thinking: "Whatever I do, whether I fail or not, I deserve [to be here]". And this is the major difference between us and the US, Canadian, or Russian skaters. They have a huge audience at home, they have a big competition at home, when they go out it's just more of the same. If you come to Italy, we have competitions, we call them "for the church". You have people bringing food and asking, "how are you doing?", but it's mostly parents, nothing big. And then you come to this big event... I remember a few times when before the free skate Daniel went to the dressing room and said: "I'm not going to skate." And then I said: "Okay, withdraw," just because saying the opposite helps in his case. "No, no, okay, I'll do it" - "Yes, let's do this, whatever happens, you already participate in it." - "Okay, I'll do my best." But this whole situation is very stressful, although he is actually very competitive, he has been since he was a child. When you were asking him about his dream he would answer: "To win the Olympic Games."
And maybe he will...
"Whatever happens," I always say to him, "destiny is destiny, you don't know what might happen, but I'd like you to be ready to fight for it."
At his previous Grand Prix Daniel mentioned that he is trying a quintuple. Was it his initiative?
You know, he is that skater who on a normal day can do, from a standing position, something like 3-turn - push backwards - quad loop. And then you say: "OK, what's next?" When an element becomes very consistent and easy you have two options: to make it better or to make it more difficult. And I don't think there is a limit for the human body to try to go for the quintuple. Of course, there is a limit in biomechanics, you need to jump higher or longer because you need more time in the air for the rotation. But the technique itself and the boots and the material and the way we pre-rotate the jump are of course the base.

I'm very into this discussion about whether we need or not to teach pre-rotation, which is a huge matter in the media. I think, like in other sports, we have to use innovation. Pre-rotation is a tactic, it's not easier, it's different and it's not for everybody, it depends on body type, height, age, it's complicated. And when a jump looks nice, but it has technically something new that makes it more complicated in the end, [then why not?]
I wanted to ask you about your other students as well, but before that I'm just curious, why is your school called "Young Goose Academy"? Where does this name come from?
It's an interesting story, it's a historical name. Egna is situated on the plain, on the left side of the Adige river. In the past when in autumn the river was bursting its banks it created swamps, small lakes which froze during the winter. And then when geese were leaving because the water was starting to get covered with ice, hockey players and skaters were coming to train there. So, in the past it was called the "Geese place" and then it became the name of the local hockey team, "Wild Goose", all this happened years ago. And then we just decided to use this story because it's very regional. And I was all for it, I thought it was different. Also, the goose is a very strong and very stubborn animal, and it always walks in a gaggle, it has a "team", and so it looked like a good name.
What a fun story! Okay, let's move to Gabriele Frangipani.
It's been five years since Gabriele has started to work with me.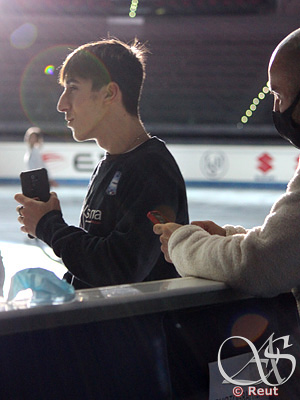 He has a complicated character, he is very dramatic, theatrical, very "Italian". He is from Pisa originally and he has a very "southern" education, it's always a fire, a lot of emotions. He has a great talent, he is a very good skater, but we need to teach him to work precisely, to repeat things day after day.
He didn't come prepared [to Turin], he had many problems with his skates, his ankle. Actually, he didn't want to compete, but we decided not to withdraw. I told him: "Face the truth and try to do your best, just try to be the best version of yourself in this specific moment." He had good preparation this summer and he did quite well at the Nebelhorn Trophy. But then he changed the boots and started feeling pain, got an injection, but he was not able to really feel the landing of the jumps. You could notice that his skating was a bit "strange" and in the spin he was not able to go down. We made the program lighter, but he was not in the right shape. But he is young, he will do better [in the future].
This season Katya Kurakova is officially with you. When I talked to her at Worlds 2021, she said it was just a temporary solution, because she was not able to go to Canada. When did she change her mind? How did it happen?
At Worlds she decided to come with me to Brian and say that she would like to stay with me. There were multiple reasons - COVID, money. Also, she had her close ones in Poland and Russia, so she was feeling very much alone in Canada. Some other skaters were not there, because of COVID, and she was thinking: "If I go to Canada now, I will be stuck there for a year or longer." And she was not comfortable with that. Brian was very nice, he told me something special, he said: "You are one of the few I trust." It was like a dream, one of my idols would say something like that to me.
I feel Katya and I have matching characters. She's very strong but at the same time she is determined, she has passion. I try to calm her down, because sometimes she can get stressed out, without any reason. She's improving, we're working on things which are complicated for her. And she's a good competitor.
We're trying to put more stuff in her programs, we are going for triple-triple in the free skate as well because she has this beautiful triple Lutz - Euler - triple flip (Katya succeeded to do it at the Europeans, with positive GOE - ed.) but we also go for another triple-triple, Lutz-toe or flip-loop, she has good loop combos. And we are working on the triple Axel. It won't be this season, because it's an Olympic season, but she is very close to it. There is space for improvement, also in her skating. Katya is a fine skater, but she doesn't remember that when she performs her program. I think she can add more in the interpretation without thinking about the jumps. My comments to her are that she interrupts the flow, she has this: I want to do a good jump, then I land the jump, then I do the interpretation part, then I start preparing for the next jump, etc. She has this fluent technique that doesn't require so much preparation, but she thinks that she needs this preparation, and this breaks the rhythm of the program for me. So, I want to get to the point when she doesn't feel like that.
Tell me more about Alysa Liu, she spent quite a lot of time this summer in your school.
She also stayed at the beginning of the season until after the Nebelhorn Trophy, almost till Skate Canada. There were no top-level skaters at her rink and sometimes this is a problem, because you need to feel... not pressure, but energy. When you say to yourself: "Oh, he is trying something difficult, I should too." And you also see that it's possible, which is an additional reason. When something is complicated you say: "This is too much for me." And then when you see someone else doing it, you try to copy, you see the rhythm. So that's a good thing. Also, now we have started to have a system, we have a ballet coach, we have a physiotherapist, a mental coach, nutritionists. Judges are coming to check the elements; it is an academy, and a lot of things are happening every week.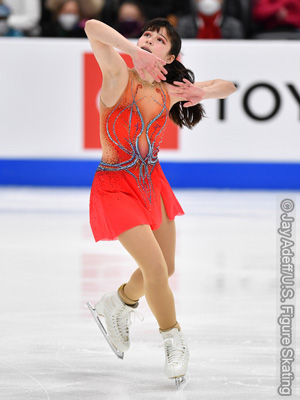 And Massimo (Scalli, Alysa's coach at that time) was very happy because he didn't need to think about everything by himself. When you travel around a few rinks with your skaters, you need to organise everything, and it's stressful. Here he could relax, work but then also have some rest. Which is important, because it's not only the skater who needs to be happy, you must remember that the team needs to be happy too. So, the atmosphere was nice, we worked together, and it was very enjoyable; I liked it.
I see that you're becoming a name in this sport and more and more people are gravitating towards your academy.
I'm a social person, that is one of the reasons. And maybe because I have a different approach?
I am living a dream. I'm really grateful, blessed because of how everything worked out. I didn't ever think about becoming a name or something like that. And if people appreciate what I do it's the best gift.
When Alysa came, I said: "I was watching you on TV, me and Daniel, we were cheering on you, it's such an honour to be working together." But she's such a sweet girl, she's amazing. She's always full of joy, she smiles a lot, and she has a lot of talent. She is passing through adolescence now and it's not easy and we need to just have more time not judging her because of what she can or can't do.
If she gets into shape, the way she's working, I think she will be great. Of course, her body is growing, and this period is complicated, for everyone. You saw Lipnitskaya falling apart, Zagitova was not good after a while. The body changes, we need to accept that. We don't have to kill them, please. I'm so sorry for these little girls disappearing, "Okay, you gave your best, ciao bye". If we give them time, we will see some people with charisma, like Carolina Kostner, Ashley Wagner. I miss Michelle Kwan's style, Sasha Cohen. And I can name skaters who were not so high, but I enjoyed their skating, like Júlia Sebestyén, Laura Lepistö. So many names... Maybe they couldn't do quads, but I remember how much they changed and improved in artistry. And this is what I miss a lot.