A young and ambitious talent from Switzerland: meet Naoki Rossi
April 13, 2022
By Judith Dombrowski
Photos © Judith Dombrowski, Naoki Rossi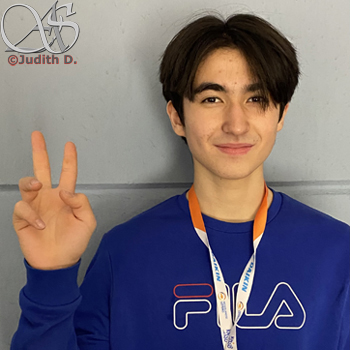 He is Switzerland's future prospect in men's figure skating: 15 year old Naoki Rossi finished 4th and 8th at his Junior Grand Prix assignments this season, won junior events in Graz and Merano and went on to win the Swiss Junior National championships by landing two beautiful triple Axels in his free skate. Naoki is a skater who executes not only his jumps but skates with musicality and shows great interpretation skills.
Switzerland has high hopes for him. In 2020 - still too young to compete in the senior events - Naoki skated at the opening of the Youth Olympic Games in Lausanne, next to Switzerland's skating superstar Stéphane Lambiel, and participated in the biggest Swiss ice show, "Art on Ice". I met Naoki after he finished second in the Challenge Cup in Tilburg, and we got to know an ambitious and bright young man.
Naoki, nice to meet you. Let's start at the very beginning. How did you start skating?
I was a restless child and destroyed many things at home because I was constantly moving and jumping around. So, when I was five years old, my parents decided to take me to the ice rink that was literally next door, so I could move around there. And it worked: I moved around on the ice and became calmer at home. I enjoyed it and soon told my mom that I wanted to continue and to train more.
What did you enjoy most about it?
At first it was the jumps. The moment when you land a jump is just amazing. You are so full of adrenaline and energy. I would even call it an addiction. I got addicted to jumping. (laughs)
When did you decide to skate at a professional level?
I think I was around eight or nine. I landed my first double Axel at eight so it motivated me to train more and I got better and better.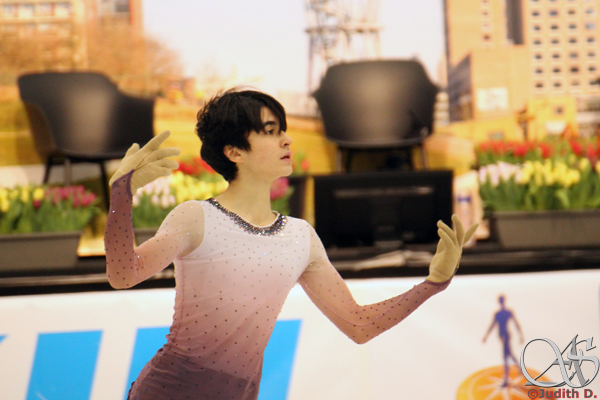 Who would you consider a role model?
Currently Yuma Kagiyama and Shoma Uno. But also Ilia Malinin, as he is so good already even if he is not that much older than I am.
One year and a half ago you moved from Switzerland to Egna, Italy, to train at the Young Goose Academy.
Yes, I went there first in 2020 together with Rika Kihira for choreography. Originally we wanted to go to Courchevel to work with Benoît Richaud, but as travel restrictions didn't allow us to go there, we decided to meet Benoît in Egna. I really liked it there but never intended to stay. On the very last day Benoît asked me about my training conditions in Switzerland. I admitted that I wasn't able to train as much as I wanted, as I must go to school every day from 8 am to 3.30 pm. He explained the system they have in Egna: they train first and then go to school in the afternoon.
That sounds like a very interesting system.
Yes, definitely and it convinced me. It's an Italian private school and our program is especially for athletes. We practice in the morning and have school afterwards. We train from 8 am until 3 pm and have school from 3 pm until 6:30 or 7:30 pm. So it's different from a normal school. But like that we can focus on our training. On the other hand, it's hard sometimes to focus at school after hours of training.
So, this system, liking the training environment and the fact that I felt like I needed a change, made me want to try Egna. I tried it for two weeks and I liked it. The difficulty was that the entire school spoke Italian, so that was hard for me at the beginning, but we also have German, French and English lessons, and I have some advantage there.
That's a few languages. How many do you speak in total?
Japanese, German, English, French and Italian. I am not fluent in the last two though. I do understand almost everything in French and Italian but I don't speak them too well yet.
Still, respect. It's such a blessing to know multiple languages.
Are you living by yourself? Big responsibility at such a young age.
Yes, I am living in an apartment with five other skaters. Currently I am living with two Russians and some Italians who come from further away. It's great, a whole apartment for figure skaters. We live together, train together, cook and clean together, everything on our own. It wasn't easy at first but you get used to it.
You trained with Rika Kihira for quite a while when she was in Europe. What did you learn from her?
A lot. Without Rika I would never be where I am today. I got to Egna because of her in the first place. It was her idea to work with Benoît. She told me there was a very good choreographer from France and convinced me to go with her. In general she taught me so many things. Unfortunately we don't have that much contact anymore since she moved to Canada but I am very grateful to her and we will surely meet again at some point.
In Champéry you trained with Stéphane Lambiel, alongside Shoma Uno. How was training with them?
It was great to train especially with Deniss Vasiljevs and Koshiro Shimada. They are both amazing athletes and I could learn a lot from them. Being on the ice together with Shoma was fascinating. He just starts his training session and right away starts jumping the most difficult quads. He turns so incredibly quickly. I was always asking myself: how does he manage to turn that fast.
Did you ask him eventually?
Unfortunately I didn't dare talk to him. I could have as I speak Japanese, but I was too shy to approach him.
That's a pity but I understand. You are half Japanese yourself, right?
Yes, my mother is Japanese, and my dad is Italian-Swiss. The entire family on my mom's side still lives in Japan: cousins, aunts, uncles, my grandmother. During the off season I would finally like to go back to Japan. Due to the pandemic we couldn't visit our family for more than two years, so I hope we can manage to visit them soon. I've spoken Japanese with my mom since I could talk, so I would consider Japanese my main language. When I was very young my dad used to speak Italian with me but in kindergarten the teachers recommended my parents to speak more German with me so that I could improve my German. Now I live in Italy so I've come back to my Italian roots.
What are your next goals in figure skating?
At Junior Worlds I aim for a top ten finish.
Looking ahead to the next season, I would like to add more transitions and more choreography to my programs. I would also like to improve the speed of my spins. Jump-wise I am working on the quad Lutz and I want to stabilize this jump to put it into my programs. I plan to work on more quads in general.
Next season is also the first one where I am eligible for senior competitions. I plan on competing nationally at senior level and internationally at junior level. I hope to finish on the podium at the Junior Grand Prix next season. I was very close this year with my 4th place finish. I missed the podium because I popped my loop in the free skate: that was unfortunate, so next season I want to reach the podium and possibly qualify for the Junior Grand Prix Final. That's a great goal of mine.
As a young skater you gained experience performing at great shows like "Art on Ice", and the opening of the Youth Olympic Games. What do you remember from back then?
It was absolutely amazing to perform with the Jackson brothers at "Art on Ice". Meeting such famous celebrities was an overwhelming feeling. It was a great experience. Same for the Youth Olympics. It was great to see all the amazing artists there and it is a goal of mine to participate in two years at the next Youth Olympics as I am eligible then.
Next to skating you are also a very talented violinist (check this link). Are you still playing?
I actually started playing violin even before I started figure skating. I played it quite a lot but since I moved to Egna I unfortunately don't have time for it anymore. I didn't even take my violin to Egna. Even though it's a pity I had to decide between violin and skating and I would always pick skating. I really would love to play again soon, it's really been too long and I miss it quite a bit.
You really don't have too much free time obviously but if you do, how do you like to spend it?
I like watching YouTube or TikTok. I am not a gamer at all. I do watch some skating videos or animes.
As you mentioned watching skating, which performances did you enjoy most at the Olympics?
Definitley Nathan Chen. What he showed there was just incredible. I was quite shocked about the situation with Kamila. It was just so sad to watch, my heart was literally hurting when I saw her skate. Another highlight for me was also the performance of Alexandra Trusova. Amazing content that she put out there. I have such a great respect for her that she went for the five quads.
Let's finish with some personal questions to get to know you even better as a person.
What is your dream travel destination?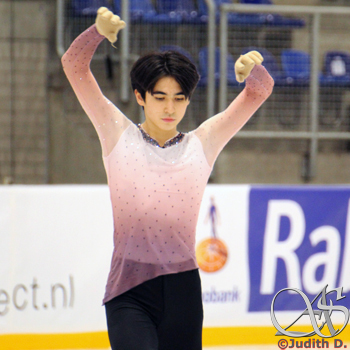 The United States. Mainly Colorado as I would love to go there for training, hopefully this year. And I would love to see New York!
What's your favorite animal?
I love dogs and turtles. We have five turtles at home. We used to have one and bought another one for company; they got along quite well so shortly after we had some little ones. Unfortunately one of the babies was eaten by the neighbor's dog, but the others survived.
What's your favorite element in figure skating?
Definitley the jumps, my favorite ones are Lutz, Axel and flip. Actually I like them all except the loop. This jump haunts me in my dreams; it's inconvenient for me.
What's your favorite food?
Everything. I love food, but if I had to choose I would go for Japanese and Italian food. I love sushi.
What's your favorite subject at school?
English and German, as they are quite easy for me.
As you come from the beautiful country of Switzerland, what would you recommend to foreign visitors?
If you enjoy visiting cities I would recommend Zurich. It's a very beautiful city. But of course we are famous for the mountains. I would recommend Engadin, it's in the south and the mountains there are beautiful.
Thanks so much for this very interesting talk, Naoki. Good luck for Junior Worlds and we are looking forward to following your journey.