Roman Sadovsky: "I want to be as original as possible"
February 6, 2022
By Judith Dombrowski
Photos © Judith Dombrowski, Joy, Mireille Geurts, Iana Saveleva
Canadian Roman Sadovsky is known for his exquisite and extraordinary programs. He is a true artist that lives every movement of his performances. But Roman is far more than a figure skater - he is a photographer, a film director, a K-Pop fan and partly a comedian. He shows this side of him on his own YouTube Channel - Romsky - where you can see some practice impressions as well as his many hobbies and interests in a very humorous way. A young man with a very interesting personality that I was excited to meet in Oberstdorf, Germany, after he had successfully earned the second Olympic spot for his country.
Roman, nice to meet you; let's start right at the beginning - how did you start skating?
I actually started playing ice hockey or rather learned how to skate with the intention to become a hockey player. But one of my coaches said at some point that I should try figure skating because she saw something in me. She sold it to me like this: it will be good for hockey, you will be a good hockey player afterwards. So I agreed, tried figure skating and never ever did hockey afterwards.
What did you like about it then?
Just skating around and jumping was fun, also skating with music really attracted me. Hockey doesn't have any of this. Additionally I preferred to keep my teeth.
That's a good point for sure. What would you say was your biggest achievement in the sport so far?
When I was younger big successes where definitely qualifying for the Junior Grand Prix Final twice. It was during a time where I struggled a bit with my growth and I was competing against people that jumped triple Axels and quads and I wasn't. So it meant a lot for me to see that my skating was still good enough to compete. Definitely winning Canadian Nationals in 2020. Winning the bronze medal at NHK Trophy the same season was kind of a step towards that success. It was a big stepping stone towards the right direction but Canadian Nationals still means the most to me and was life changing for me. I finally had this moment when I realized all the training paid off.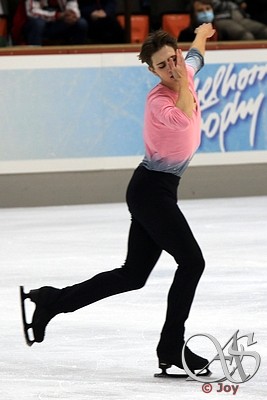 After earning the Olympic spot, what are the next goals you set for yourself?
Of course, going there after all. But I also finally want to go to a World Championship. I am planning to do one more Olympic cycle after this. I want to constantly keep improving and go into the direction I am going in right now.
Who would you call your idol?
Growing up it was Jeffery Buttle for a long time. I remember when he first lost against Patrick Chan at Nationals in 2008 I was really upset. But he went to win Worlds afterwards, so I am sure he doesn't mind too much after all. I love how he combined his artistry, his spins and his jumps together that really drew me towards him. At the time I was around 8 years old and just jumped my first single Axels. But he really inspired me to work on spins and my skating skills.
Later on I learned to appreciate Patrick (Chan) way more as well as Yuzu and Plushenko. All of these top skaters have a lot of good stuff to offer and I try to get inspired by different things within different people's skating.
Outside of skating I really like BTS quite a bit recently and what I like most about them is their performance. Seeing that and realizing how it makes me feel, makes me want to do that more on the ice. People were often telling me that I had really good lines but was maybe lacking some facial expressions, or that they weren't matching with my skating. So looking up to BTS helped me bring more to the program and be more of a performer.
Besides skating you have your YouTube Channel, how did you come up with that and why should people tune in and watch it?
I was following some people, and this vlog genre started to boom quite a bit and I just felt it was a really good way to connect with people that you don't even know. Skating is such a small world and I wanted to connect with that small world and show people what the training is like, the stuff that I do. Sometimes I just show random, personal stuff. It's a good distraction and a good thing to have, a hobby, I really like doing it a lot.
People should tune in when they have any care for skating at all. I give sneak peaks into what my training is like, insights how my season is going, where I am at with training during the season, what my goals are. Sometimes I have some of my skating friends featured in my videos even though that was, of course, harder to do in recent times.
I think one can also really see you, as a person, grow in skating and also off the ice.
Yes, definitely. And it's actually funny because I don't see my skating but once I see my own videos, I watch it more and I can see what I like and what I don't like, so it's even a little bit of self coaching. Also at the beginning, when I started doing videos, I hated hearing myself talk. But once you do it more and more you get used to it.
You had a great series with many parts of showing people your progress on getting back on the ice after the lock down.
Yes, that was really successful, as I think no one else did a similar kind of thing. And it was actually really interesting for me doing it, because I also had no idea what was going to happen. It was my longest I've ever been off the ice so I had no idea how it would turn out. Now it is cool to be able to look back on it and see what it was like.
You could really see that in the series and you could really see how you hoped for some competitions last season and then new setbacks came. How did you manage to keep yourself motivated during those tough times?
For the most part I just really knew what I wanted and where I wanted to be and that was the most important part. Competitions or no competitions, the Olympics were coming and other competitions were coming at some point, so I wanted to make sure that I was ready and I wanted Skate Canada to know I was ready.
A really interesting video of yours showed you watching your own virtual competition. You said you were super nervous even though you knew exactly what was coming and how you had skated. Where do you think this nervousness came from?
I am so used to the situation that you finish your program and then you would wait for around 3 minutes and then you'll get your marks and then it's done. I get an immediate result which will result in either disappointment or happiness. This was drawn out for a long time. I finished Challenge and I knew what I did and I was pleased with what I did and then I moved on. And then when they actually showed it on TV and it was getting judged it all came back and of course I had forgotten about some details and you are going to calculate points. You have more time for that. You get to think a lot: where did I lose points, where could I have done better. All of that was going through my mind and that's why it was so hard watching.
Did you calculate your own points correctly?
In the short I was pretty close. But for the free I had no idea. When you perform you go on kind of an autopilot mode. So when you finish it's actually hard to remember what you did and then give another two months on top of that you really don't know anymore what you did. So watching it was really nerve-racking as I had no idea what was going to happen and I had no influence.
That reminds me of the situation of a coach, who stands nervously next to the board and has no influence anymore.
Yes, exactly, that's what I thought too. That this is how it must feel like to be a coach.
Let's talk a bit about your programs for this season. Your free skate is to a live version of the famous song, "Chasing Cars" by Snow Patrol. Why did you choose this song and what does it mean to you?
My choreographer (Mark Pillay) usually generates ideas through the year and he gives me six or seven pieces or music and for him it's a really big thing. He creates this massive email with a description of what he thinks about every piece of music and why it could be a good program. He is almost scared sending it to me because he is afraid of what I am going to say - not that I am that super strict, but he just loves so much what he is doing. So once he send out this email, "Chasing Cars" stood out the most to me, and my coach Tracey (Wainman) agreed with me. He additionally had the idea of composing on top of the song. So he had this composer, Maxim Rodrigues, who is in France. You can tell, it was a massive amount of work flow. So we used a live version of the song and the last part is composed. It's a huge creative progress, but it was really cool and it worked out. I would say it was a little bit of a gamble because I had no idea how the music would sound like in the end. We choreographed the first 1 1/2 minutes while the rest of the music wasn't ready yet. But eventually the music came and I knew right away it would be really special. I don't want to recycle stuff that someone else has done before. I want to be as original as possible. And with this program I could be absolutely sure that no one has skated to it before, because we made it ourselves.
As I was a huge fan of your free skate to the "Schindler List" / "Bells of Moscow" mix, I was wondering how you would ever top that but then you came out with this.
Yea, I thought the same. So you can imagine, it gets harder every year, I have no idea what we will do next season. (laughs)
The whole originality part makes this program very special. As for what it means, I would say it's for the most part about love in general. Whether it's romantic or parental, or friendship, it's about all of this together. That's how I feel about this program and that's what I try to bring on the ice.
What about your short program? You have a totally new one this season. (Roman has used the free skate during the 20/21 season already but hasn't been able to perform it much due to the pandemic.) You are skating to the song "Breath for Me" by Unsecret and I think it is a bit of a similar style than the free skate.
Yes, that's right. I had this discussion with my team: do we go really different or similar. We actually decided that it wouldn't matter that it's a bit similar and it after all really suits my style. We had other pieces in mind that were actually a bit different from what I usually do but we decided that we wouldn't do it this year. I won't reveal them as I might still use them in the future. When listening to this song - "Breath for Me" - we had an image of water and waves. We also took inspiration from ballet for this program.
A program that also caught a lot of attention is your exhibition program to BTS; we know you're a great fan.
Oh yes, I love that one. I wanted to do this for a while as I have been into them for a while, but I didn't have time before to choreograph it. So it was really nice that after coming back from the World Team Trophy I had the time to do it. During the quarantine I talked a lot to David (Wilson) and we agreed on this specific song and then we created it afterwards.
Did you do parts of the choreography yourself?
Well, the choreography mostly already existed. David and I worked on getting it a little bit more ice-friendly.
We hope to get many opportunities to see it. You unfortunately missed the BTS concert you planned going to last year, due to the pandemic. Any options ahead that you can go to see them live after all?
No, unfortunately not. We finally got a refund for the tickets. I really hope one day the day will come.
It initially would have worked out really well because the concert was scheduled for May, during the off-season. So if there is a tour in fall, there's just no way for me to go.
Let's talk about another hobby of yours: we've seen on your social media that you also play piano?
Well, barely. I was inspired and wanted to learn something around the age of 18. I wish I had started earlier because when you start at a young age you have this natural confidence which I don't have about it now.
I think your skills seem really remarkable considering you started at 18.
Thank you. My sister is actually a piano player and even teaches piano. And I had the opportunity as a kid to be taught by her. But well, after two weeks I decided that I don't like this, and now I really regret it. I asked her to teach me some basic stuff, but I am doing it only as a hobby. I am not going to a concert hall anytime soon. Unfortunately I often don't have enough time to do it. Even when I am at home, I feel like I literally live at the rink. Once home, it's usually rest, sleep, and off we go again.
You are also coaching yourself already, right?
Yes, a little bit. But ever since coronavirus hit, definitely considerably less. I used to coach 10-15 hours a week, it was a good part time job. I needed to work to support my skating. Since then I got more funding possibilities with Skate Canada, so that's been helping a lot to just be able to focus on skating full time. And even if I wanted to coach more, it would be tough now with COVID. There aren't a lot of skaters on a low level that just started skating in Canada right now. But as I said before I really value my rest. If I'd just keep working, working, working I would get burned out. So you really have to come up with a good plan - combining on ice and off ice training.
That sounds reasonable.
Let's finish the interview with a little "This or That". We will start easy and then I will try to be a bit creative for a creative guy.
Tea or coffee?
Tea, I am not a coffee drinker.
Spins or steps?
You are making me choose between my two nemeses. But I am going to say steps, as there is more creative freedom in steps.
Short program or free skate?
Free. Again because there are more creative opportunities objectively. When you look at the draft of a short program: 3 jumps - 45 seconds. 3 spins... that leaves maximum a minute for creativity and the free skate has more room for that.
Winter or summer?
Summer. I wouldn't mind living in California with the sun shine all year.
Winning the Olympics or winning an Oscar for best director?
Winning the Olympics.
Being part of a BTS music video or hitting 1 million subscribers on YouTube?
Uhh, that's a tough one, but I am gonna say music video because that will get me the subs anyways. (laughs)
Skating in ice dance with your girlfriend or doing an all male pairs team with Nam Nguyen?
I have to say ice dance with my girlfriend - sorry, Nam. Basically my girlfriend will kill me if I say anything else, so I have no choice.
Thank you so much, Roman, that was such an enjoyable talk.
Even though the team event didn't got as he had hoped for, we are looking forward to seeing Roman's beautiful programs again during the individual event! And we are overly excited for him that his dream to skate at the Olympic Games came true.