Team Israel talks Olympics
February 17, 2022
By Reut Golinsky
Photo © Reut Golinsky
It was an unexpected and nice surprise that during the pandemic and all the travel complications related thereto team Israel still decided to partake in Israeli Nationals last December. And hence we were able to enjoy their skating live, to wish good luck to those who qualified for Beijing and to catch up with them about their season, unusual Worlds 2021, Olympic preparations during worldwide pandemic and more.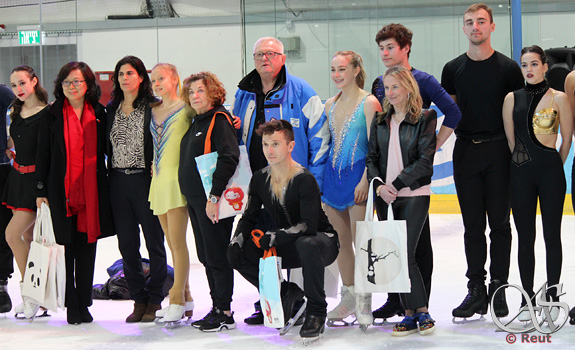 Alexei Bychenko: "I've accomplished more than I could ever dream of"
With European silver and two Grand Prix bronze medals, Alexei is the most successful Israeli single figure skater. He competed for Israel in 2014 in Sochi, where he finished 21st, and in 2018 in PyeongChang, where his 11th place became Israel's best result ever in men's event at the Games. Largely thanks to his international results Israel
could also participate in the Team Event, where he finished second in the short program (the team didn't qualify for the free). And he was also Israel's flag bearer at the Opening Ceremony. After his impressive fourth place at Worlds 2018 many suggested he would retire, but he had one more dream to make true - qualify for his third Games. "Never in my life was I so happy while skating!" he recalled, and so he wanted to repeat this experience. With sweat and tears, this last Olympic cycle was much harder for him, of course, but he finally did it, qualifying Israel at Worlds 2021.
How did it feel to be at Worlds 2021, was it too bizarre?
It was interesting. You know, all the people who participated, skaters, coaches, all those who were in this bubble, they tried to fill out the stands and there was such an acoustics there, such an echo that you almost didn't feel that there was no audience. It felt great, actually. Many skaters agreed that they were so happy that even with such restrictions this event was still possible, and we could finally see each other, to have this skating get-together, because every competition is also that... You might not be friends with someone, but you see this person every day and it feels a bit like this big family. So, it was nice to see everyone, even those you usually don't socialise with. After all this hard time when we all were locked down, sometimes even without family and close ones...
Let's get to this season. You didn't have that many competitions...
It was not that crucial for me as I have no goals for the next season. For me it was even better, with all this COVID situation we couldn't travel because it was very complicated to get back, so my first competitions this season were Warsaw Cup and Golden Spin.
Tell me more about your programs. You went with the classical music in both programs, "Peer Gynt" and "Turandot".
Yes, indeed. At first, we thought about doing some interesting mix, EDM (electronic dance music) is actually one of my hobbies. So, we thought about something in that direction for my short. But because of this pandemic, choreographers couldn't come, so we decided not to take a risk and went for sure, we did what we know to do well. Especially because many people told me that this style suits me (among his other classical programs in previous seasons there were "Pagliacci" and "La Traviata" - ed.), that I'm one of not many skaters who still represent this old school of men's figure skating.
Your short program has a very interesting arrangement of Grieg.
Because we didn't want to be like everyone else. The idea was to take some recognizable musical piece but with a twist, not like what everyone else already used. And I think we succeeded with this.
All these discussions about the Games, will they happen, will they be postponed...
I don't want to think about it. You never know what will happen to you tomorrow, how awful this might be. So, I prefer to live day by day, not to project too much ahead. Of course, I do have goals I set for the future, but I live every day today, tomorrow we'll think about tomorrow. For me personally this approach works better. Less disappointment and less pressure on myself.
What will you miss the most in competitions when you retire?
I don't think I will miss anything. Also, I'm not leaving, I will stay in this world [as a coach], let's call it a "regeneration". I will definitely have no regrets. I think I've accomplished more than I could ever dream of. And I'm really glad and feel really proud about that.
Men's short program was held on February 8th. Unfortunately, Alexei finished in 26th place and didn't qualify for the free. But he was there at his third Games, marching with his team during the Opening Ceremony, stepping on the Olympic ice one more time, at the age of 34, just like he wished for.
Hailey Kops and Evgeni Krasnopolski: "You must be crazy to try it"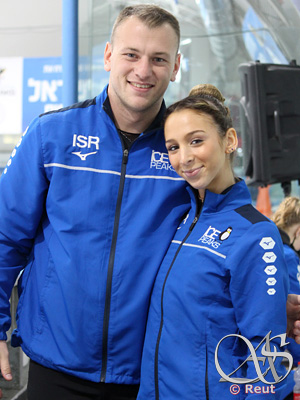 Theirs is one of those fairy tales when chances are close to zero, but the main hero nevertheless sets off on a journey/starts the fight/works hard, perseveres and then the miracle happens. For Evgeni it was already his third successful attempt to qualify for the Games at the Nebelhorn Trophy. And Hailey had experience in pairs: in 2016, she teamed up with Artem Tsoglin to compete for Israel in juniors and they finished respectable 11th at the 2017 World Junior Championships in Taipei. But after the end of her partnership with Tsoglin, Hailey took a year away from the ice and when they decided to team up with Evgeni, they had less than three months to make it work. So, when they qualified for the Games, it was quite a miraculous happy ending.
When you started this project of getting to the Games together how did you evaluate your chances?
Hailey: When we first had this idea, we both said: "You must be crazy to try it." And I think we both are crazy enough to try it. But the second we started skating together, from the first day, we clicked immediately, with elements, with our partnership. I think we wouldn't have even tried if we didn't think it was possible. From the very beginning we knew we had a really good shot, but I definitely think it was a little crazy.
When did you start? In spring? Around May?
Hailey: We started in July.
What?! But the Nebelhorn Trophy was in September!
Both: Yes, three months.
Hailey: I returned from my studies in Israel and then a couple of days later I was back on the ice.
What were your feelings in Oberstdorf when you understood that you did it?
Hailey: When we found out that we qualified? We freaked out! We were sitting there, shaking, watching the scores,
all our emotions going through our minds then came out. I think it was one of the best moments of my life! I will never forget that moment! We were screaming, jumping, hugging, crying, I was crying, he was crying, it was really emotional, it was crazy.
Evgeni, for you it was probably less exciting, you already got used to that, no? It was your third time after all.
Evgeni: No, each time it's exciting. Each time you can't really believe it. First time it was six months [to skate together and prepare towards Nebelhorn], the second time it was six months, this time it was three months! Chances were good, but that was already really close. You can't not be excited when something like this succeeds. It's something you work years for, you prepare for it, you just need to work and hope for the best. And then everything happens so quickly.
Evgeni, did you give Hailey some advice, share some stories about how it will be in Oberstdorf?
Evgeni: Yes, of course, I told her it's going to be crazy; everybody will be nervous, it will be really hard to stay calm and focused and do what we need to do and not pay attention to anybody else. I said it's going to be unlike any competition she knows, a completely new experience, very tense.
And any advice you gave Hailey about the Games?
Evgeni: I said it won't be the same as in Oberstdorf. I said the Nebelhorn Trophy is going to be the hardest competition. In. Her. Life. Because it's at the beginning of the season, but also, something about this event is not the same. For the Olympics, we need to work hard and show results, but we will also have fun, it's not every day that you get to the Olympic Games. So mostly to enjoy the atmosphere, which hopefully will still be nice even though COVID is all over the place. So, we'll try to enjoy as much as we can there.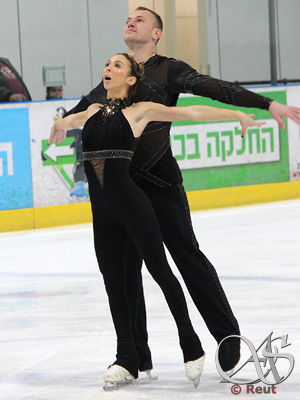 From the moment you qualified, how closely did you follow the "will it/won't it happen" discussions?
Hailey: This situation is out of our hands. So, in my head the Olympics are happening, we're going, I'm set on track with this mindset, this is how I'm training. I think that's a better way to go about it than to doubt it's going to happen. That's one of the things which are not in our control, so I try not to give too much attention to it. I can control how I train and how I think about it, so I set my mindset on that.
Tell me a few words about your programs.
Hailey: [For SP] We chose the music together ("Torn" by Nathan Lanier, "Heart Cry" by Drehz). I loved that music, I think the buildup is interesting for the step sequence, it's really fun, we got to perform a little bit which is always nice. Also, having an off-beat short is good because we have an emotional free skate. So that was the idea for the short program. And for the free skate, "The Impossible Dream" is literally what it was for us. And it's cool to be skating to something that represents [our journey].
Evgeni was chosen to be the flag bearer for Israel during the Opening Ceremony. Hailey and Evgeni start their competition on February 18th.
Galit Chait: on her way to the seventh Games
Three-time Olympian and the 2002 World bronze medalist in ice dance, Galit Chait is now a head coach for Israeli team and most of Israeli skaters competing at the international level are training under her tutelage in New Jersey, US. Keeping her skaters motivated during the pandemic, lockdowns and with the lack of competitions was not an easy task for her; add to this that she is also a mom of three. We discussed how these two years have been for her and what she expects from Beijing 2022.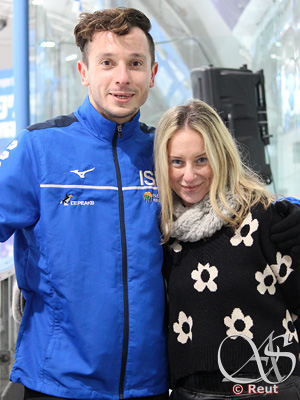 Let's start from the very beginning, two years ago you learned about the cancellation of the Worlds 2020...
We waited, we were hoping till the last minute, like every other athlete around the world. But it was a global pandemic and as hard as it was for all the athletes and coaches it was the right thing to do.
And then what do you do? The situation is unclear but you still might - or might not - have the Games coming in a year and a half, you can't stop but where to find motivation?
No, we didn't stop, we continued training. When the rinks were closed, we had intensive off-ice training and we were just trying to keep the morale up. It was not easy, but everybody started getting used to it. And I was really proud of all our skaters because they never missed practice; they came, and they worked really hard. I think in a way it brought everyone closer together, because they were all going through the same thing. It was a very difficult time, but they all pushed each other and helped each other.
Adding to all that, you also have three children who were forced to stay at home!
Yes, it was difficult because we also started doing school online... It was really hard. But after a few weeks we found the rhythm, understood what we should be doing, there was practice every day, I was taking my kids with me, they were also working every day.
And in the middle of all this you also moved to a different ice rink.
Yes, in September 2020 we moved to Montclair University Ice Arena. I actually used to train there myself, so I know this rink. It's a nice rink and a good environment, all our skaters really like it. There are a lot of coaches there, but the management is very helpful with whatever we might need. I enjoy working there a lot.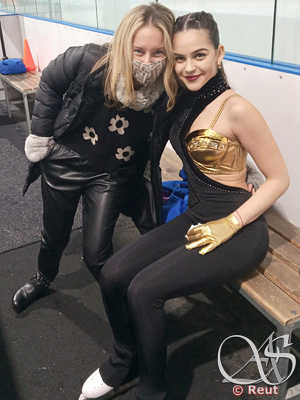 There were almost no competitions that season, 2020/21, while you had to keep them motivated.
We, coaches, try to help our skaters, but honestly, the skaters pushed themselves, they all were so motivated. They really wanted that by themselves, they knew they had to keep going.
We tried to do the best we could as we couldn't travel to competitions. In Europe the situation was a bit better, and people could partake in some events, whereas in the US we couldn't. So once or twice a week we would hold mock competitions and we would have various judges from different countries helping us online via Zoom. This also helped our skaters with the motivation to do more run-throughs.
And then there were Worlds 2021 where you came to fight for quotas. And it was with this bubble and no audience. How did it go for you?
The organisers did a great job with the bubble, everything was organised effectively and worked well. And, you know, all the skaters were just so happy to actually be competing, that was the most important thing.
I talked to Hailey and Evgeni about this truly crazy Olympic project you all took upon and succeeded. How did it feel for you in Oberstdorf when you learned that you qualified?
I couldn't stop crying. It was very emotional. For every athlete qualifying for the Olympics is an emotional moment, but they just went all in, put their hearts into it. It was also a difficult time for Evgeni because just before they teamed up his mom had passed away. They have an amazing work ethic, and they enjoyed every single day, every practice was meaningful, and we had a good support system.
I saw in photos that you also had Robin (Szolkowy, the 2010 and 2014 Olympic bronze medalist and five-time World champion with Aljona Savchenko) helping you with this team.
Yes, Robin worked with us for a few weeks, and he was in Oberstdorf with us. Actually, the idea of this collaboration came from a US official. My father (Boris Chait, president of the Israeli Ice Skating Federation) and I discussed it and decided to invite him. So, Robin came to the States, we worked for a few weeks, he went back home, then we flew to Germany, and he met us there. It was an amazing team effort.
How many Olympic Games did you go to?
These are going to be my seventh.
If you were asked to choose one special thing about each of the Games...
I was a flag bearer, twice (at the Opening Ceremony in 2002, at both the Opening and the Closing Ceremonies in 2006 - ed). I met my future husband at the Olympics, when I was competing in Turin 2006, he was a part of security detail for the Israeli team. Each Games that I competed at, and then each Games you go to with your athletes, each time is really special.
What do you expect from Beijing 2022? It's going to be very different from your previous experiences.
I actually think it's going to be amazing. Obviously, we're going to be in a bubble, and we will need to stay safe, but I'm sure they will do a great job. And because of this situation they will even go further to make it special. And we will just try to take it all in. I feel so lucky, many people don't have an opportunity to go to the Games even once in their lifetime and I'm going to my seventh Games!
You have worked and continue working really hard and you've deserved every single one of them!