Alexia Paganini: a season to slay
September 21, 2023
By Reut Golinsky
Photo © Reut Golinsky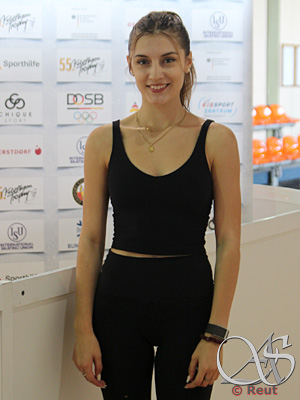 Alexia Paganini's previous season was shortened due to injuries and illness, leading to her withdrawal from the Swiss Nationals and effectively concluding her competitive season. We had the opportunity to meet in January in Bellinzona, where she participated in the popular 'Music on Ice' show. Later, we caught up in Oberstdorf just before the Nebelhorn Trophy, her first competition of the 2023/24 season. This interview is a compilation of both our talks.
I did a spring show with them, - she explained back then in Bellinzona, - and I also did a show with Laurent (Tobel) in IceLab in 2021, it was during the COVID. It's always fun to skate in "Music on Ice" because Lauren is a really creative person to work with and he always has a cool story, interesting transitions that you wouldn't normally do at shows... So I enjoy coming here because he has a different approach than other producers. Laurent chooses a really good cast every time, it's not always about how many titles people have, but I think he chooses really interesting skaters, skaters that are really good at performing in shows. He has a really good eye for picking the cast out. And also, the public in Ticino is really fun to skate for, they're always in the music, they appreciate the art of skating.
It's nice to see you smiling and having fun. Last time we briefly met in the mixed zone in Sheffield the mood was quite different...
Yes, in November I had a few injuries. And when the body is not strong more health issues appear... So after that I didn't train for six weeks because I had shingles and so I couldn't do Nationals, obviously. Right now I'm recovering, trying to get my health back, to build some stamina with the cardio, it's more of building slowly back. I've got time to heal everything - which was forced upon me - but in the end I think I needed that time.
Well, maybe the beginning of the new Olympic cycle is a good time...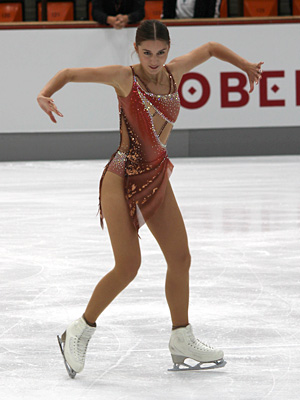 ...to take a moment, yes. Last season was tough, I was very weak, even with little sickness I couldn't manage, I was so exhausted and tired. So it was good to have a second to catch my breath. At a certain point last season I felt so overwhelmed. I was not able to manage my emotions well, stuff could catch me easily and so I got overwhelmed easily. Now it's much more calm.
Let's talk about this season and your new programs. Did you work with Adam Solya like you planned? By the way, how did your collaboration start last year? Whose idea was it initially?
I don't even remember. I liked his choreography and I have a good relationship with Robert Dierking who is working with the German Federation and works a lot with Adam, so he put us in contact. But I think I asked him to do that.
I loved working with him, he's so much fun to work with. So in May I went to Belgium for two weeks and I had both of my programs choreographed by him. When we made my short program the steps were super natural and comfortable right away. Usually you have this adjustment period, but here it was comfortable right away, maybe because he understands my style well.
My short is a tango, on "Tango Jalousie" and more modern electro tango in the second half. And my free is the "Swan Lake" and I'm a black swan, we're going dark this year. (smiles)
With the free we knew exactly what we wanted, with the short we had a few directions, tried a lot of stuff on the ice, different musical pieces and nothing felt like something I could relate to, understand super well. And then we played this music and we felt it suited me the best. I've done the Spanish theme, tangos before, but we didn't really think: "We did a lot of tangos, let's not do another one." We just liked the music and then decided to add this "modern twist."
And who brought the music? How does it usually work?
I think this piece specifically, "Tango Jalousie", was the one I proposed. But in general we make this playlist that we send back and forth and then play and try it. With "Black Swan" Adam proposed it almost as a joke, and when we tried it we immediately loved it. The direction is closer to the classical one, we focused more on the ballet, but there are some pieces from the movie.
You don't usually have a story to your programs, you're more conveying the mood, right?
It depends. Sometimes there is just a cool song I want to skate to, and sometimes we do think about some deep story. But with this short program it's not really a story, I'm just trying to be powerful and slay.
So, motto for this season: to slay!
(laughs) Yes!
It will be your first time competing against Kimmy Rippond, who is your main rival at the national level. How important is this first meeting between you two? Will it influence the rest of the season?
I think it definitely contributes, people who select us for the major international events, they will watch during the season to see who is delivering, who has the best chance to bring good results at Europeans and Worlds. But we do have two spots, so that's good. For me personally... I'm not super focused on winning this, that's not my goal.
You just want to slay, in general.
Yes, I just want to slay generally. (laughs) No, but the judges will see and I will skate as well as I can skate. I just want to skate. If I am selected, that's good, I'm not selected, that's also okay, the sun will still rise the next day, it's fine. I just want to enjoy skating.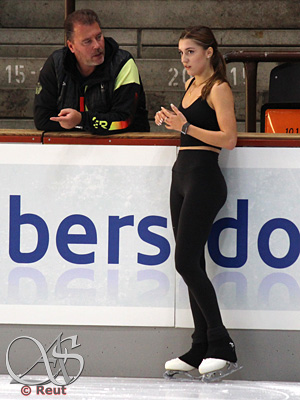 You moved to Oberstdorf and I remember how you mentioned once that Champéry was a small place with not enough shops. And here you are back in a similar environment!
(smiles) Yes, exactly! Oberstdorf is definitely beautiful. I still go to Zurich almost every weekend, really often. When I have a day or two off I always go back to Switzerland because a lot of my friends are there and I liked my life there a lot. When I'm training in Oberstdorf, everything is good because we are busy from morning till night so you can't do much anyway. I'm so tired at the end of the day that I just want to go to sleep, so I don't feel it's boring there.
With Lukas Britschgi also training there you have a mini "team Switzerland". But that wasn't what influenced your decision to move, right?
I moved to Oberstdorf because I really wanted to work with Mr. Huth but it definitely made me more comfortable that I already had a lot of friends there, it made the transition a lot easier.
During practice I noticed Robert Dierking working with you, too. Is he a part of your team now?
He works with Mr. Huth and he is at training every day, and I knew him from when I trained in Champéry already, so it's good to have someone familiar. And also his mother tongue in English, too, which is also nice.
Talking about your team, a few days ago I read that Sarah van Berkel (née Meier) will also be a part of it, she will "mentor and head the athlete management team".
Yes, I'm managed by Oliver HĂśner and "Art on Ice", and so from now on Sarah will be managing me, Kimmy and Lukas, all those cases when we have contracts, when we get show requests.
So she won't be your mentor on ice?
Not really, I can always ask her for advice, and she gives me advice which I'm happy to take but it's not her role.
You do go back to the US a lot, too, your family is there. So, the big question is what do you call home now? Where do you feel at home?
That's a good question! And I actually asked it myself. I don't really know... When I go back to the US I don't feel that it is my home. I don't know... I definitely love living in Switzerland and I see myself living there when I'm older. But I don't really feel anywhere at home, don't feel like I have this one place where I can say "I'm from here."
And the last question. When things don't go well, there are ups and downs, what do you tell yourself? What advice would you give to younger skaters?
An important thing for me while I'm skating or right before that is to always focus on doing one jump, one element at a time rather than getting overwhelmed from the beginning. Sometimes it gets lost when you're at competition, but the big thing that I always tell myself: "You perform, you do well for yourself, not for anyone else. It's just for you, because you love it. It's not for anyone else or for any points or for any placement or for the judges, it's because you worked hard and now you deserve to show everyone what you've been working on."