Boyang Jin: "This competition proves that we are on the right track"
October 2, 2023
By Krystal Yeung
Photo © Krystal Yeung
The 2022-2023 season has been challenging for the Four Continents champion and two-time World bronze medalist Boyang Jin. He faced setbacks, having to withdraw from both of his Grand Prix assignments due to injuries. On top of that, he needed to adapt to a new training base in Toronto.
Despite the numerous ups and downs, Boyang made a strong start to his new season at the 2023 CS Autumn Classic International. He incorporated his signature quadruple Lutz-triple toe combination into his short program, which was set to the tune of "Vienna" by Ultravox and choreographed by Joey Russell. With a total score of 230.99, he concluded his first international competition of the season, securing a fifth-place finish.
Boyang managed to find some time to chat with me before embarking on his long drive back to Toronto from Montreal.
What do you think about your skate today?
I feel very satisfied. I felt great skating on the ice today, although I was still a bit stiff during my warm up session and perhaps still a bit stiff during my free skate. But I wouldn't have skated like this, with this level of completion, if it was in previous events. I would say I was decisive today.
Last season was tough for you, skating fans were happy to see the comeback of the quadruple Lutz-triple toe loop combination, how was the training going?
Last season was hard. Mainly because of the surgery. Although it's a minor surgery (he had appendicitis - ed.), to me, my body still felt different and that made things difficult. This year I put a lot of time and effort into training. And I think the way I trained this year was right. I had some nice training time with the team, Brian (Orser) and Tracy (Wilson). I think this competition proves that we are on the right track. I'm happy about that.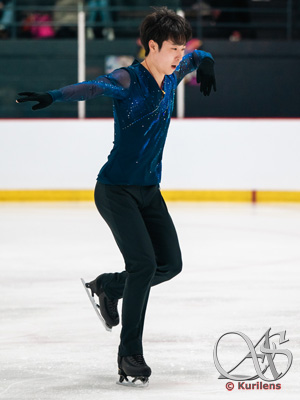 And how is your recovery?
Totally fine. My task now is to do my best to not get injured and sick, and then it should be fine.
As you mentioned Brian and Tracy, tell me more about your work with them, does the training feel different?
It's not just different, it's two separate worlds! (giggles) Training overseas is definitely going to be different than training in your home country. Since I was young, I have been training in my home country. It is a big challenge for a senior athlete to switch and adjust to another training system. Add to this last year's surgery... a lot of different challenges were being thrown at me. But at the same time, the coaching change can be a good thing, I feel it better prepares me for the new season. I'm happy about that.
Were there any particular challenges to adjust your training?
The change was smooth, it was mostly my physical condition being unideal. But I'm looking forward to this season.
Your free skate, "This" by Ed Sheeran is an interesting music choice, how did you come to it?
Everything's new [for me now]. The music symbolizes a new start, basically the idea of "being new." The song embodies my new phase of moving to Toronto, new team, and a different self.
There are different stages and phases in an athlete's career, how would you describe your 26-year-old self?
I would say "enjoyment." I am 26, with my physical condition and everything I still feel young, but 26 is not considered young in men's single skating. I hope I can enjoy every competition in future, just like today, being happy and doing my best. That's the type of skating that I am looking for.
We mentioned the quadruple Lutz-triple toe combination earlier. A lot of discussion has been going on regarding the Quad Revolution. As one of the driving forces behind the Quad Revolution, what do you think about figure skating in 2023?
I felt lucky to start skating at the earlier phase of the Quad Revolution. That's why I am one of the earlier quad jumpers. But one thing for sure is that there are more skaters who can do quads better than I do now. It's just me being lucky to accomplish that during the earlier phase.
From the competition just now, we can see and hear your fans' support, banners, and chants. Is there any message that you would like to pass to them?
Thank you, and... this is a smaller competition. I didn't expect this many fans from my home country to come and support me. I was hyped and excited. I didn't expect this many people to come, for real. I felt great today! I gained energy from them and finished a good free skate. I am very happy.
Boyang is set to compete this week at the Shanghai Trophy 2023, and his upcoming Grand Prix events include the Cup of China and the Grand Prix de France. We're looking forward to following his progress and wish him a succesful season ahead.