Junhwan Cha: "I will come back strong"
November 16, 2023
By Krystal Yeung
Photo © Krystal Yeung
"Our scars can destroy us, even after the physical wounds have healed. But if we survive them, they can transform us. They can give us the power to endure, and the strength to fight."
The Batman.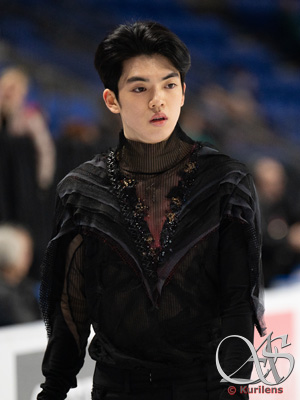 Skate Canada International 2023 has been a long weekend for the 2023 Worlds silver medalist and 2022 Four Continents Champion Junhwan Cha. Closely following first-place Sota Yamamoto, Junhwan finished his short program with 89.18 points. But the free skate was difficult. Sustaining the pain and shock from three hard falls, Junhwan pulled himself together and finished his skate with a total skating score of 130.43, which put him in 9th place overall.
This interview was conducted a day after that and we appreciated the fact that even after a difficult event for him, Junhwan found time to talk. We discussed recent changes in his career, his goals, and had an opportunity to ask him some fun fan questions, too.
When asked about his plans for his next Grand Prix event in Espoo, he mentioned that his main approach would be not to rush things and to 'keep building up until the end of the season.' Unfortunately, a few days ago, it was announced that he decided to withdraw, citing an ankle injury that has bothered him since the start of the season and worsened after Skate Canada. We wish him a speedy recovery and hope to see him come back strong, just as he promised us.
It has been five years since your previous Skate Canada. How do you feel about coming back to this event? Do you notice a difference between yourself five years ago and now?
First of all, I am very happy that I can compete again in Canada. I think it's my second time being in Vancouver, so I am very excited about that.
A lot of things have changed since 2018. Back then, I was a very young senior skater - though I'm still young, it was really the beginning of my senior career. Now, I have spent more time as a senior skater, so many things have grown, and I believe I've improved. Unfortunately, this time I didn't skate well, so that's sad.
You talked about the coaching change during the press conference. Is there anything specific about the Korean training system that made you stay there?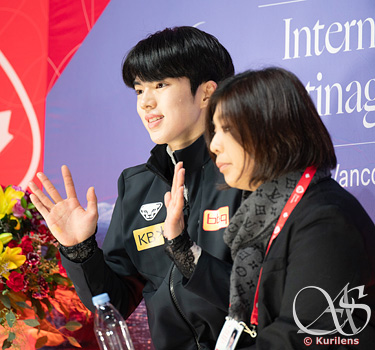 For the last three years, I have been trying to organise my training because it was challenging to go back to Canada and also difficult to combine it with university. Now, I am organising both my on- and off-ice training, with a strong focus on taking care of my body and prioritising my health.
Can you tell us more about your coach Ms. Chi?
(smiles) I have been working with her for four seasons now, and this is our fourth season together. She has always been supportive, pushing me to work hard while maintaining a positive atmosphere. I met her during a difficult time, amid COVID. Making all those changes in 2020 with Team Cricket was not easy, but thanks to her help, I've adapted well and can organise myself efficiently. I feel very comfortable and can train hard. I am really happy about that.
Now that you're spending more time in Korea, what do you love the most about it?
First of all, I can spend more time with my family, and that's a big part of it. I also get to see my university friends, and we can finally have lunch together from time to time.
You are graduating soon, what are your plans for after that?
I still don't know. For now, I am just focusing on my skating and want to keep working hard.
There are a lot of younger shining stars in Team Korea, with more skaters participating in the Junior Grand Prix events. How do you feel about it?
I feel very, very happy about that because both last and this season, many Korean junior skaters have been delivering strong performances internationally. Skating alongside younger teammates in the national team, I see their dedication and hard work, which sometimes gives me more energy too. So, I feel very satisfied.
Now you have switched to a "big brother" position in Team Korea, are there any changes in your mindset?
How do you see your role in it?
Yes, within Team Korea, I'm the older one. However, as a competitor and athlete, I don't see a big difference; it's almost the same.
Team Korea impressed us last season. What do you think is special about your team?
Team Korea is a younger team right now, even in seniors. We had a great season last season. I can say we are very passionate about skating, [driven by] our love of skating, and we have a youthful spirit.
Your exhibition this season is the "Golden Hour." Is there a moment in your skating career that you see as your "golden hour"?
There are a few moments. One of them was at the PyeongChang Games in 2018. That season, I was going through a tough time, but making it to PyeongChang and competing there was a turning point for me. Also, probably at the Beijing Games in 2022. I would say the last World Championships in Saitama was more like a golden hour, while PyeongChang and Beijing were more like turning points.
Your free skate didn't go well. How do you rationalise skates that do not turn out the way you envisioned?
Sometimes skates like yesterday just happen. What I can say right now is that I just want to stay strong, take a step back, recover, and then push a little harder. I think that's it.
Korean fans read your lips when you were in the Kiss and Cry, and they saw you said you were in pain?
Being figure skaters, sometimes we fall, and it hurts. I'm not very used to it, but it happens sometimes. And that's one of the things I have to recover from... But I'm fine! (Junhwan did a "fighting" pose)
Last season, you had issues with your triple Axel but sorted that out and performed a triple Axel - double Axel combination at Worlds and even triple Axel - double Axel - double Axel at the Shanghai Trophy. How did you work that out?
At the beginning of that season, I indeed had mistakes with my Axels, but I just kept training and working hard. There's nothing big or special. Just keep training; that's the main point.
You have been known for your quadruple Salchow and Ina Bauer, is there anything you want to trademark in the future?
That's hard, well... (taking time to think)
Personally, I miss your quad flip.
Yeah, that's a good one. Even during the off-season, I kept working on it. But I didn't put it in the program because I just want to do it step by step. For now, the first step is doing two quads in the short and three quads in the free. That's the very first step. But in the future - yes.
Three fun questions to end this interview with.
During the World Team Trophy, you used "Attention" by NewJeans for your team's introduction, whose idea was that?
It was my idea!
I thought it was Haein Lee's!
Hahaha, I think at that time the captains were taking videos introducing the teams. I chose "Attention" because it was our first time at the World Team Trophy, and we are a new and younger team. So I wanted to say "Attention! We are coming!" Something like that. (laughs)
Second question: If you are to choose a K-pop song for the gala, what would that be? You can name groups if that's easier.
Oh, that's really hard... There are so many good songs. Oh my god. I like SM [Entertainment] artists, but I love other groups too. Sometimes it just comes to me, and I listen to them. I am also listening to others, like HYBE, JYP.
It's really hard. Maybe if fans would recommend me song choices, I can try.
Third question: we've seen two "Masquerade" costumes already, if you were to have a new Masquerade costume, what colour would that be?
Oh, I don't know! I never thought about it!
Because we always see you going for the black and white!
Yes, that's true. Even for the black "Masquerade" costume I have some white in it... Ummm... (laughs) I have no idea!
To end our talk, is there anything that you would like to let your fans know?
First of all, thank you for your support. I've got a lot of energy skating yesterday. Right now, I'm focusing on working harder, staying healthy, and staying strong. I will come back even stronger. Please keep cheering for me!